Banner by pachi, Screenshots from GSL Open Season 1


"Precursor, Part 1"
Ro64 Recap: Days 1-4

Welcome to Part 1 of the GSL Round of 64 Recap! You may be sitting in your seat at home thinking, "Nobody is crazy enough to attempt to recap every single game of the GSL." But you are wrong: the TL writing staff is that crazy. We know that the GSL has a ton of games and they come at you rapid fire, so it's difficult to pick and choose which ones to watch. Here you'll find recaps, player grades, and recommended VODs. As the tournament progresses, we'll add more detailed analysis and fun stuff. But for now, we're just here to help you organize and catch up.

Links and Resources: GSL Game/Series Rating Scale

- One player played very well, but his opponent played amazing. Watch this right now!

- One player played very well, usually with a great micro move or strategy. A must-watch game.

- One player played solid, his opponent played average. If you have time, watch.

- One player played average, the other played poorly. Don't bother watching unless you're a fan.

- One player played very badly. Not worth watching at all.
No stars - One player failed, usually in a very hilarious way. Actually very watchable just for laughs.

Remember, we're recommending games to watch assuming a neutral viewer. If you want to have TLO's babies, you probably don't need our recommendation to watch his games. If you don't wan't to wade through all the recap text, here's a short list of our ratings for each series.

Recommended Series Short List
+ Show Spoiler [Recommended Series] +

All ratings out of 5 stars.

Day 1
IdrA vs
JiTaeHunZenith -
MakaPrime vs
BEV (Focus) -
Day 2
LotzePrime vs
Golmgh (Breeze) -
AugustWeRRa vs
oGsLeader (Spunky) -
oGsJunwi vs
LegalMind -
NesTea (ZergBong) vs
NEXLiveForever -
AoryPrime vs
TankBoyPrime -
Day 3
jookToJung vs
RenieHouR -
Xian vs
NEXTaeJa - Walkover
MaruPrime vs
CellaWeRRa -
CoolTSL vs
EternalPrime -
sanZenith vs
TorcH -
Day 4
oGsTOP vs
WindPrime -
SengCunWeRRa vs
oGsInCa -
PoltPrime vs
JangMinChul (Iron) -
ReXZanDarke vs
ChipmunkPrime -
---

Day 1 - "Eye of the IdrA"
Recaps by BroOd

"Idralisk immune to nerves and nukes."

IdrA < 2-0 >
JiTaeHunZenith -

Game 1 @ Xel'Naga Caverns + Show Spoiler [Show Recap] +

The inaugural match of the GSL kicked off with the American Zerg IdrA against the Korean Terran JiTaeHoon on Xel'Naga Caverns. The game immediately seemed headed into familiar territory when JiTaeHoon opened with multiple-rax speed reapers, but IdrA, disgusted and ready, expanded and held off the harassment with early ling speed into roach speed. JiTaeHoon opts to make his own expansion and transition into 5-rax bio, but loses too many small groups of units to IdrA's roaming army.

JiTaeHoon attempted some multi-pronged drops and harassment but was held to minimal gain by IdrA's quick reaction times and recently spawned infestors. Having a powerful economy, IdrA teched up to ultralisks and sealed his win by rolling the terran army as it attempted to secure a third base at the gold expansion.
- Watch if you like Idra or you hate reaper openings.

Game 2 @ Desert Oasis + Show Spoiler [Show Recap] +

JiTaeHoon opens fast double gas with a fast factory while IdrA opts for a fast expand with ling speed. JTH floats his factory to make a harassment hellion while adding a starport and putting down his trademark fast ghost academy. After his dropship arrives, he swings down to drop two early nukes which only manage to kill a couple of drones and some extractors. IdrA, meanwhile, has teched to mutas and holds off JTH's transition into marine ghost drops. JiTaeHoon finds himself on one base for too long and eventually succumbs to IdrA's increasing muta numbers.
- Watch if you really like Idra or you like nukes even if they don't work.

Player Grades + Show Spoiler [Show Player Grades] +
IdrA -
A
Calm and composed, Idra never got flustered and kept both games well in hand.
JiTaeHunZenith -
C
Promise of inspiring ghost play was never fulfilled as this Terran failed to make both conventional and unconventional builds work vs the Idralisk.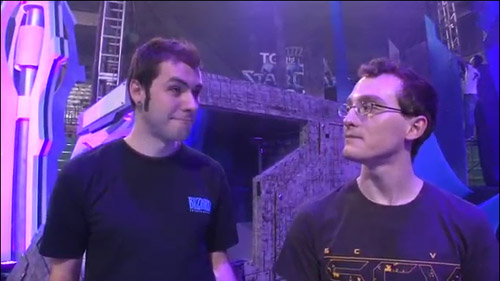 "I heard that JiTaeHun will be a tough first opponent."
"Missed forcefields: it can happen to anyone."
MakaPrime < 2-0 >
BEV (Focus) -

Game 1 @ Delta Quadrant + Show Spoiler [Show Recap] +

Maka opens with a clever bunker placed among Focus' buildings but fails to get a marine in. Maka gets an early stim for his reactor marine/marauder opening and simply walks into Focus's base, catching him completely off-guard as he attempts to open fast colossus and reacts too slowly with a ramp forcefield. Focus instantly GGs.
- Watch if you want to remind yourself that good players miss forcefields too.

Game 2 @ Lost Temple + Show Spoiler [Show Recap] +

Both players open fairly standard, trading some early units. Maka drops an early expo after a couple of marauders pop out while Focus gets an early robo to compliment his 3-gate force with an early immortal. After an unimpressive early attack, Focus puts his own expo down and gets a quick colossus out. Focus keeps the pressure up, making more colossus and warping to a forward pylon as Maka defends the pressure with viking/marauder. The lack of thermal lance allows Maka to come out of the exchange ahead and simultaneously expand to 12. Maka denies Focus' attempts to grab a third and sets up at the Xel'Naga tower between the two bases. Maka continues to out-expand the protoss and secures his pass to the next round.
- Watch if you want to see how to weather early toss aggression, or you just like saying "Maka Maka Maka."

Player Grades + Show Spoiler [Show Player Grades] +
MakaPrime -
A
Maka showed why the little things are important, and how far ahead they can put you.
BEV (Focus) -
C+
Focus seemed jittery and made some clear mistakes due to nerves, and found his play breaking against the rock that is Maka.
Maybe "Focus" was being sarcastic when he chose his ID.
---

Day 2 - "Balls and Bongs and Battlecruisers"
Recaps by BroOd

"Colossus > Immortal."

LotzePrime < 2-1 >
Golmgh (Breeze) -

Game 1 @ Xel'Naga Caverns + Show Spoiler [Show Recap] +

Both players both open standard gateway-core builds into robo/warpgates. Breeze grabs an early immortal while Lotza instead gets a colossus. Both players posture a bit as they expand, but Lotze puts on some pressure when his second colossus arrives and does major damage to Breeze in the encounter, wiping out his army and a number of probes before finally retreating. The increasing colossus numbers for Lotze prove to be too strong and he quickly walks over Breeze.
- Watch if you find yourself wondering, "Colossus or Immortal?"

Game 2 @ Delta Quadrant + Show Spoiler [Show Recap] +

Lotze drops two fast gates and boosts out some zealots while Breeze grabs a fast gas and core. Lotze wanders into the wrong base after not scouting and decides not to attack as both players work up to warp gates. Breeze puts on counter pressure with zealots and stalkers and warps units in on both the front and back ramps, quickly overwhelming Lotze's attempts at defense.
- Watch if you're not sure if scouting is important.

Game 3 @ Metalopolis + Show Spoiler [Show Recap] +

Breeze opens with a 4 gate build and drops multiple pylons in Lotze's base, but his warpgate upgrade is mistimed and Lotze is able to kill the pylons just before the warpgates are ready. Lotze makes 4 gates of his own and techs to colossus. Breeze makes an ill-advised attack up Lotze's ramp, but works back into the game by distracting his opponents army as he forces a cancel on Lotze's warping expansion. Lotze still manages to expand and get his colossus up while Breeze falls further and further behind, eventually losing after a one-sided engagement outside Lotze's natural.
- Watch if you really like PvP.

Player Grades + Show Spoiler [Show Player Grades] +
LotzePrime -
B+
Lotze showed some nice decision making, not counting his scouting mishap in game 2.
Golmgh (Breeze) -
C
He capitalized on Lotze's mistakes in the second game, bout found himself outplayed in the other two games. Better timing on his warpgate build in the third game might have made this a different series, but we'll never know.
"BCs are mathematically impossible to beat as Protoss." -- orb
AugustWeRRa < 2-1 >
oGsLeader (Spunky) -

Game 1 @ Xel'Naga Caverns + Show Spoiler [Show Recap] +

Spunky opens with a hidden stargate but gets scouted early, negating any early aggression. Spunky then expands into immortals and warp gate units while August stays on one base bio. Spunky's army takes a relaxing stroll into the middle of the map so August sneaks a drop into the protoss's main, sniping the nexus before running away. Spunky grabs the gold though, and with some nice forcefields and feedbacks is able to build up and overwhelm August after a short time.
- Watch if you like nice Protoss spell usage.

Game 2 @ Lost Temple + Show Spoiler [Show Recap] +

August opens with two barracks, getting one reactor and one tech lab as Spunky puts a quick robo down after one gate. August adds a starport for an early medivac with his bio as Spunky gets an immortal and 3 warpgates. Spunky starts to tech to voidrays but August surpises his with a fast BC/bio push. Spunky attacks into a horrible position and is soundly beaten.
- Watch if you like seeing giant ships that cruise into battle.

Game 3 @ Scrap Station + Show Spoiler [Show Recap] +

Spunky opens with a phoenix build this game while August opens with bio and immediately begins working on the destructible rocks. August adapts to the phoenix harassment by switching from mules to supply drops and soon reveals his battlecruiser again. The BC absorbs a ton of damage while eliminating the sentries and immortal before the ground army of August runs in and crushes Spunky with ease.
- Watch if you want to see the build you'll face this week on the ladder.

Player Grades + Show Spoiler [Show Player Grades] +
AugustWeRRa -
A
His battlecruiser play dominated games 2 and 3 in style.
oGsLeader (Spunky) -
B
Solid play in game 1 was overshadowed by his inability to adapt in the remaining games.
Fear me, weaklings!
"Objection! No Zerg can defeat... the BALL."
oGsJunwi < 0-2 >
LegalMind -

Game 1 @ Xel'Naga Caverns + Show Spoiler [Show Recap] +

Legalmind opens with a quick expo behind an early zealot/sentry force and drops double robo while Junwi goes for a standard roach/corruptor/hydra army. Junwi manages to take out Legalmind's third base a couple of times, but is not able to hold off the protoss user's diverse, massive army bolstered by colossus and immortals.
- Watch if you like seeing a Zerg struggle against "the ball."

Game 2 @ Metalopolis + Show Spoiler [Show Recap] +

Legalmind opens with a standard 2 gate into expo build while Junwi opts to use the close positions to try a hydra/sunken push. Junwi keeps up heavy aggression while Legalmind relies solely on warpgate units with a couple of immortals. Junwi tech switches to mutas and does some damage, but Legalmind's counter and constant reinforcements are too much for Junwi to hold with just mutas, and he eventually GGs.
- Watch if the idea of hydra + sunken rush excites you, and if hydra + sunken rush fails excite you.

Player Grades + Show Spoiler [Show Player Grades] +
LegalMind -
B
Legal's macro seemed his strong point in these games.
oGsJunwi -
C
Despite his experience as a Brood War pro, Junwi's fast hands and aggression couldn't stop the Protoss army.
Keep rollin' rollin' rollin' rollin'.
"ZergBong side effects include slow reaction time."
NesTea (ZergBong) < 1-2 >
NEXLiveForever -

Game 1 @ Xel'Naga Caverns + Show Spoiler [Show Recap] +

Nestea opens with a hatch-first build while LiveForever throws down a CC and 3 rax after a failed bunker rush attempt. LiveForever's first attack is mismicro'd and Nestea masses up roaches and banelings and ends the game quickly.
- Some poor marine marauder micro cost LiveForever too much early, and he was never able to build up a big enough army to stop the roach baneling combo.

Game 2 @ Lost Temple + Show Spoiler [Show Recap] +

Nestea opens hatch first again, going for a fast lair while the Terran gets a fast factory and starport to tank drop the cliff over the natural. Nestea loses his hatchery while trying to tech to mutas. LiveForever's thor pops just in time to hold off the muta harass. Liveforever drops thors again, killing the natural for a second time, while Nestea grabs another expansion. The harass pays off and LiveForever pushes out with a large biomech army and rolls Nestea.
- Losing his expansion multiple times was too much for Nestea to overcome, as LiveForever took full advantage of his position.

Game 3 @ Delta Quadrant + Show Spoiler [Show Recap] +

LiveForever opened with a 3-barracks opening while Nestea chose pool and ling speed into banelings to bust the front. The speed reapers hold off the bust and the counter kills Nestea's attempt to expand as well as both Zerg queens. LiveForever takes the safe back expansion and constantly harasses successfully with reapers. The terran takes his third and decides to push with a tank marauder army, walking over the small roach army and advancing to the next round.
- LiveForever showed some nice reaper harassment, and Nestea's complete lack of creep tumors cost him dearly, rendering him unable to fend off the constant attacks.

Player Grades + Show Spoiler [Show Player Grades] +
NEXLiveForever -
B+
After a shaky first game, this Terran showed solid harassment and flustered his opponent by keeping him constantly on his toes.
NesTea (ZergBong) -
C-
An inability to deal with harassment and some basic mechanical issues plagued old SC player Zergbong's performance this round.
"TankBoy changes ID to MedivacMan."
AoryPrime < 1-2 >
TankBoyPrime -

Game 1 @ Xel'Naga Caverns + Show Spoiler [Show Recap] +

Both players open with relatively fast expansions, with the terran opting for 5-rax bio and the toss grabs 5 warpgates and a robo for some colossus. After both players build up and engage, the toss player pulls ahead with templar and colossus play. He kills the terran's third and comes ahead in the subsequent engagements, eventually killing both the economy and army of the terran player.
- TankBoy's attempts at drop harass weren't enough to deal any damage, and Aory's build up of colossus and templars won him the battles and the game.

Game 2 @ Blistering Sands + Show Spoiler [Show Recap] +

TankBoy uses an aggresive 3-rax build of marauder marine to push the toss, microing well and killing the initial force of warp units and immortals. Aory eeks out a colossus to hold, but some nice micro and constant rally from the barracks end the game quickly.
- TankBoy's aggression really paid off this game, and coupled with some nice micro, netted him the quick win.

Game 3 @ Lost Temple + Show Spoiler [Show Recap] +

TankBoy tries to open with a proxy rax, but is immediately scouted by a probe from Aory and cancels. Aory, meanwhile, gets a robo after 2 warpgates for some colossus. TankBoy runs around the map with some marauder medivac drops, cleverly sniping some units, including some colossus, which proves clutch as TankBoy comes out far ahead in the engagement in the middle. He goes up an expansion and finishes the game soon after.
- TankBoy's play was impressive, using medivacs well and never allowing the Protoss to get a lead.

Player Grades + Show Spoiler [Show Player Grades] +
TankBoyPrime -
A-
After some early slip ups, TankBoy kicked it into gear, culminating in an impressive game 3 win using clever medivac drops.
AoryPrime -
C+
Aory won the first game but seemed completely outclassed in games 2 and 3.
Lost Temple wouldn't be Lost Temple without killing natural gas from a cliff.
---

Day 3 - "Torch Extinguished"
Recaps by Hot_Bid

"Cancel all-in only works once."

jookToJung < 2-1 >
RenieHouR -

Game 1 @ Delta Quadrant + Show Spoiler [Show Recap] +

JookToJung opens expand without killing the destructable rocks at his back natural for the gas only. Renie opens 3 Warpgate, Robotics, Twilight Council. JTJ turtles with many spine crawlers, going into spire. Renie gets a Warp Prism and blinks into JTJ's back natural cliff, killing the hatchery. JTJ moves his sunkens and expands to the front. Renie attempts to harass with his stalkers but overextends, losing his stalkers to mutaling. JTJ's mutas do some significant damage and Renie can't secure an expansion (his sneak expand to another main was scouted). Renie's last ditch attack is crushed by a huge group of muta roach ling.
- Nice idea by Renie but no follow up plan.

Game 2 @ Xel'Naga Caverns + Show Spoiler [Show Recap] +

JTJ opens expand into roaches, while Renie opens 3 warpgate, letting JTJ's drone scout see them. He then builds a nexus, lets it get scouted, and then cancels and builds two more gates. JTJ doesn't notice the 5 warpgate attack until too late and his 3 spine crawlers and small roach force get rolled by a huge ball of stalker sentry.
- +1 star only because of a tricky nexus cancel and well executed all-in.

Game 3 @ Metalopolis + Show Spoiler [Show Recap] +

Renie opens robo, but cancels it after killing JTJ's scouting drone and goes four warpgate. However, the close air distances on Meta allow JTJ to notice the cancellation of the building, and thus JTJ is much more prepared than in Game 2. Renie harasses with stalkers but JTJ is prepared with roaches, speedlings, and spine crawlers. JTJ eventually traps Renie's army and crushes it. Renie gets dark templars and a secret expansion to another main, but JTJ has way too many burrowed roaches and mutas and just busts Renie's front.
- Did Renie really expect JTJ to fall for the exact same cancel-into-allin trick again? A few tense moments but no sweat for JTJ after scouting well.

Player Grades + Show Spoiler [Show Player Grades] +
jookToJung -
B
Smart, solid, and learned that Renie was all-ins only after game 2. Can't really blame him about losing to the nexus cancel, but he could have reacted better
RenieHouR -
C+
Creative with the nexus cancel, but ultimately a one-strategy wonder who uses only all-ins and secret expos. Had he won this series, he probably would not have made it past the next round now that players know his style.
"Hwaseung proxy coaching job 2-0's Xian"
Xian < W.O >
NEXTaeJa - Walkover


"Baby 2.0 doesn't care about fan hype or stream viewers."

MaruPrime < 2:1 >
CellaWeRRa -

Game 1 @ Lost Temple + Show Spoiler [Show Recap] +

Maru opens reaper, CC, many raxes with reactors. Cella opens expand, makes a group of lings and then goes for lair with spire and roach den. Maru moves out with his first group of units, about 12 stimmed marines, 2 marauders and a reaper blow right through Cella's natural, which only had one spine crawler and a handful of lings defending. Maru's attack wasn't even a weird timing, Cella was just completely unprepared.

No stars - Cella either forgot to scout or had some seriously bad first game nerves. Horrible game.

Game 2 @ Delta Quadrant + Show Spoiler [Show Recap] +

Maru opens proxy hellion in the back of Cella's base, then goes two starport vikings. Cella opens expand into roach hydra. The proxy hellions don't get many drone kills at all, and Maru's wall is broken by Cella's roach ling counter. Maru holds, but loses many SCVs. Cella, comfortably ahead, takes two more bases while Maru attempts to turtle his natural expand with tank viking. Cella deflects Maru's medivac harass, but performs a horrible flank through a narrow choke and loses most of his army. Maru's attack proceeds forward and Cella counters behind, taking out Maru's natural expansion. Maru's attack reaches Cella's main ramp, but Cella flanks with several ultralisks and defeats the attack.
- Entertaining because of several momentum swings during the game. Cella looked shaky, almost losing a huge advantage, but pulled it out.

Game 3 @ Desert Oasis + Show Spoiler [Show Recap] +

Cella opens one base muta while Maru opens reaper into medivac and tank harass. Cella expands but promptly loses it to marines marauders and thors, but eventually kills the army with muta roach. Cella retakes his natural expand, while Maru is stuck on one base with no way to defend his natural and main simultaneously. However, Maru sneaks a medivac past and 8 marines kill Cella's natural. Cella has a larger army but is distance mining, while Maru tries to slowly push out with tank marine. Cella loses a ton of roaches carelessly, and Maru is able to secure his natural. Maru eventually attacks with tank marine and Cella's roach baneling army fails to stop it.
- Close game featuring a lot of bad decision making by both players, but lots of harass and entertaining situations throughout. Cella lost this game as much as Maru won it, but entertainment factor means +1 extra star.

Player Grades + Show Spoiler [Show Player Grades] +
MaruPrime -
B+
Extra points for creativity and 13-year-old-ness. Maru seemed sloppy at times but executed his strategies well. A real crowd favorite.
CellaWeRRa -
C
Bad decisions at critical times in all three games. Not sure why there was so much hype about this guy, maybe he was nervous during the broadcast matches.
He's in middle school, but he can own you.
Cella should spend less time on nonsensical win celebrations and more time at the watch tower on Lost Temple.
"Nice try, but I'm golden."
CoolTSL < 2-0 >
EternalPrime -

Game 1 @ Scrap Station + Show Spoiler [Show Recap] +

Many people picked Cool to win the GSL, and he faces a relatively unknown Protoss in the first round. Eternal walls below his ramp and goes early stalker harass, forcing Cool to make a group of speedlings but retreats. Cool kills the destructable rocks at Eternal's nat, and scouts Eternal's units being warped in. Eternal's four warpgate attack comes out hugely ahead after the first battle against Cool's roach ling army, but he gets overzealous and loses his army in Cool's mineral line to a drone ling suround. Cool has enough zerglings and brushes off the attack, and since Eternal GGs with no no rocks to prevent zerglings from backdooring his natural. Had Eternal just been a bit more patient, warping in another round of units, he probably takes this game.
- Almost an upset, very close game with nice defense by the winner. High level play from both players but one big mistake by the loser.

Game 2 @ Kulas Ravine + Show Spoiler [Show Recap] +

Cool spawns top left and Eternal bottom left. Cool takes the gold expand between them and goes to work on the rocks. Eternal goes standard warpgates with blink, only to find Cool has almost broken through to access his back door. The extra income from the gold minerals powers a huge roach ling force, and Cool rolls through Eternal's army.
- +1 for the cute gold expansion strategy. Cool is just on another level.

Player Grades + Show Spoiler [Show Player Grades] +
CoolTSL -
A-
"Fruitseller" misjudged Eternal's army size in game 1 but capitalized on his positioning mistake to barely defend. He looked dominant in game 2 with a great gold expand strategy.
EternalPrime -
B
Most people gave this guy no chance, but he almost took game 1. In the end, he was just outclassed, and it's hard to judge exactly how good he is.
Attack of the Drones - beating the stalker droids just like in the movie.
"Torch to Korea: 18 hours. Void ray to Torch's base: 5 seconds."
sanZenith < 2-1 >
TorcH -

Game 1 @ Scrap Station + Show Spoiler [Show Recap] +

Torch opens factory with reactor, while San opens void ray. San scouts it, and does a great job minimizing probe damage, losing only 3-4 to Torch's 3 hellions. San's first void ray gets up to full charge and Torch does not have enough anti-air to deal with it. Torch moves out with his marine marauder hellion army and that also promptly gets crushed by San's stalkers zealots and sentries.
- This would be 0/5 but there were a few exciting moments where Torch almost scored a ton of probe kills. Other than that, very sloppy play, as Torch should have scouted the stargate with his hellions but was still unable to defend against the first void ray.

Game 2 @ Metalopolis + Show Spoiler [Show Recap] +

Close air distance allows Torch to float a factory into San's base, making a hellion to scout. San opens warpgates and robo for observers. Torch follows up with two starports and a cc while San gets more gates and techs to templars. Torch fakes going all-in with banshee viking raven, and San doesn't get his expansion until much later. Torch carelessly loses a few banshees and a raven to feedback, but does successfully kill a few outlying pylons around San's base. San attacks, and his army is easily defeated by marauders and a freshly created battlecruiser that went deep into red health before being revived by several repairing SCVs. Torch counterattacks with a marine marauder and two battlecruiser army and easily beats San's stalker heavy army.
- Torch's creative build confused San enough to secure a resource advantage. Both casters were scratching their heads, but Torch's fast starport strategy against Protoss turned out to be brilliant.

Game 3 @ Blistering Sands + Show Spoiler [Show Recap] +

Torch opens rax CC, adding two more raxes and a factory. San opens several warpgates and a stargate, preparing for an allin with ground units and void rays. Torch scouts it, but it's too late: San attacks, using his own pylon and zealots to charge up his void rays. Torch does not have enough marines to defend and taps out.
- Torch shows his inexperience by not scouting the properly yet again. Cool move by San to charge up the void rays before attacking. Strong 1 base attack by San that Torch did not expect.

Player Grades + Show Spoiler [Show Player Grades] +
sanZenith -
B+
Void ray rushing PvT counts more on the Terran being unprepared than the Protoss microing well, and thus game 1 showed us nothing about San's skill level. In game 2 he got rolled very badly, and in game 3 he showed some nice void ray charge micro. +1 grade for that.
TorcH -
C+
Great play in game 2, but woefully bad reactions to void rays in games 1 and 3 doomed him. Torch should have scouted the stargate in game 1 and been better prepared in game 3.
Torch is disappointed, but he was living the dream. TL is proud of you, see you next season!
---

Day 4 - "You Just Got PoltPrimed"
Recaps by Hot_Bid

"Top counters proxy void ray with a mule."

oGsTOP < 2-0 >
WindPrime -

Game 1 @ Lost Temple + Show Spoiler [Show Recap] +

Top goes 1rax marauder expand, adding two more raxes. Wind makes several warpgates and expands, but Top moves in with three stimpack-enabled marauders and manages to kills the defending two stalkers and a zealots without losing anything, then snipes two more warped in units. Top retreats and techs to medivacs, doing a two pronged attack with two medivacs in Wind's main and another group of mm at Wind's natural. The drop does huge damage, killing a robo and a nexus. Wind had a chance to trap the second army but misplaces forcefields, and with a severely delayed Colossus tech, falls easily to Top's next infantry medivac attack.
- Wind played terrible, with especially bad mid game decision making and bad micro where he lost a robo and a nexus for half a medivac worth of marines.

Game 2 @ Blistering Sands + Show Spoiler [Show Recap] +

Wind proxies a Stargate but gets scouted. Top trades a reaper for three probes, going two rax factory before expand. Wind loses his first void ray to stimmed marines, and ridiculously sends a second one in that also dies. Then Wind naked expands behind one stalker while Top moves out with two medivacs and a semi-large group of mm. Wind has only a fraction of Top's unit count, and Top uses his medivacs to lift over the ramp forcefield. Top crushes Wind's army, and even drops a GloatMule™.

No stars. If you lose a void ray to marines, killing nothing, what makes you think a second void ray, attacking at the same spot, will succeed? Also, 12 marines, 6 marauders, and 2 medivacs beat 3 sentries and a stalker.

Player Grades + Show Spoiler [Show Player Grades] +
oGsTOP -
A
He looked really sharp game 1, and was basically handed game 2. Again, hard to know if this was mostly Top being good or his opponent being bad. Would've gave him an A- but the mule drop BM bumped him up a grade.
WindPrime -
D
Horrible early control and decisions in game 1, and a desperate all-in in game 2. Wind looked lost in both games. Hint: if one void ray died to marines, a second void ray a minute later isn't going to work.
"Proxy void ray? You trying to proxy void ray ME? Have a mule." -- Top
"Inca is a man with a plan... and forcefields too."
SengCunWeRRa < 0-2 >
oGsInCa -

Game 1 @ Lost Temple + Show Spoiler [Show Recap] +

SengCun opens one gate core, while Inca opens one gate gas and then makes three proxy gates inside SengCun's main. SengCun cancels his core and adds three gates, and the 4gate vs 4gate zealot war begins. SengCun defends, and then counters with his 13 zealots, while Inca only has 3 left, having to rebuild his lost gates. But Inca's sentry finishes just in time, and one forcefield allows Inca to finish warping in cannons on his ramp. SengCun loses 10 zealots to almost nothing. Both players expand, and when the armies meet, Inca uses forcefields beautifully to divide and destroy SengCun's army.
- Truly unorthadox and well-practiced and timed PvP strategy from Inca. Excellent forcefield usage as well.

Game 2 @ Metalopolis + Show Spoiler [Show Recap] +

Both players go multiple warpgates, with Inca making an offensive gas. SengCun tries to do a ramp contain, but loses the battle due to Inca's superior micro with forcefields. SengCun makes a twilight council while Inca goes Robo and expand. Inca pulls off a really awesome forcefield, trapping a few of SengCun's units between buildings and killing them from the lowground using obs. SengCun secret expands to another main but it gets scouted. Inca sacrifices some zealots to kill the nexus, and just rolls SengCun's stalker army with his own stalkers and colossus.
- Very standard game, Inca is just better than Sengcun. Bad decision by SengCun to let the offensive gas live so long, as Inca's extra sentries won him the key early battle.

Player Grades + Show Spoiler [Show Player Grades] +
oGsInCa -
A
Never looked in danger against a semi-competent opponent, and also showed a creative strategy in game 1.
SengCunWeRRa -
B-
He wasn't that bad, but Inca was just better in every way. Hard to judge this guy based on one PvP series, but some sloppy micro and bad decision making cost him.
These gates don't kill SengCun, but Inca had a follow up plan.
"PoltPrime is unimpressed by #1 ladder ranking."
PoltPrime < 2-0 >
JangMinChul (Iron) -

Game 1 @ Scrap Station + Show Spoiler [Show Recap] +

Polt opens two rax with one tech and one reactor, teching hard for two banshees and a raven. Iron goes two warp gate robo into colossus. Both players are still on one base when Polt attacks, planting a key point defense drone on Iron's ramp, which negates Iron's stalker shots, allowing Polt's banshees to kill the colossus. Polt's remaining marine marauder army easily cleans up Iron's remaining units. Iron could have had two colossus out but Polt's potential cloaked banshees forced two obs from Iron. Very smart and well executed strategy by Polt.
- Polt did a cool build and made it work against the former MBC BW player Iron, who was #1 in the Asia ladder at the time. This could be considered an "upset" but Polt ended up winning the series so convincingly.

Game 2 @ Metalopolis + Show Spoiler [Show Recap] +

Polt goes 1 rax reactor, adding two more rax after starting a cc. Iron opens the same way, with two warpgates and a robo, expanding after scouting Polt with an obs. Polt moves out, and the armies trade, Iron's first colossus arriving in the nick of time. But Polt splits his army and baits Iron's colossus zealot army out of position, sniping Iron's natural nexus with a small group of marauders. Iron remakes his nexus and moves out with a 4 colossus army, and Polt just backstabs with marauders and kills the nexus again. Iron moves out a third time and Polt drops in Iron's main with two medivacs and snipes yet another nexus. When Iron's army finally arrives at Polt's natural, Polt has eight vikings and a huge group of marine maruader that easily holds.
- Polt not only beat one of the favored players in the tournament, but did it with style. Polt ran circles around Iron, putting on an abusive marauder nexus sniping clinic.

Player Grades + Show Spoiler [Show Player Grades] +
PoltPrime -
A+
Two games of pure dominance. PoltPrime is a total baller, not just beating one of the favored players but doing it with great style. Polt had both Tasteless and Artosis raving about his top level strategy and mechanics.
JangMinChul (Iron) -
B
Just like that, the #1 Asia ladder goes down in the first round. Iron didn't do anything particularly bad in these games, but he did get rolled by a clearly superior player. Perhaps everyone overrated Iron -- we'll see, depending on how far Polt advances in the GSL.
Sniped. Iron will have nightmares about marauder backstabs for weeks.
"Every move he's doing is beautious. Another nexus? Are you joking me? PoltPrime? Kid, you playin!?" -- Artosis, new PoltPrime fan
"Chipmunk gets Rexrolled."
ReXZanDarke < 2-1 >
ChipmunkPrime -

Game 1 @ Lost Temple + Show Spoiler [Show Recap] +

Rex goes two warpgate forge while Chipmunk gets pool, 6 lings, and speed before expanding. Rex forces a cancel at the cost of a small group of speedlings, and expands himself to a third base. Rex moves out with a stalker sentry immortal army, and Chipmunk tries to engage several times with roach ling, losing the battle every time to well placed forcefields. Eventually, Rex's ball becomes too large and Chipmunk gets rolled.
- Some nice forcefields from Rex, but he won largely because Chipmunk picked horrible times to engage. Rex did a nice job of getting extra sentries early game to build up energy.

Game 2 @ Xel'Naga Caverns + Show Spoiler [Show Recap] +

Both players open the same way, taking their naturals. Chipmunk takes a third and a fourth base. Rex rolls out with a stalker sentry colossus army, and Chipmunk promptly backstabs with roaches and lings. This happens several times until Rex decides to stop coming back to defend, and an elimination race begins. Inexplicably, Rex stops attacking and returns home to defend, but the "You are being revealed" mechanism shows Chipmunk the location of Rex's last pylon and Chipmunk takes it out with lings.
- Not a bad game, but we fans were robbed of a potentially epic ending because of the reveal mechanic. Blizzard should really remove it as long as a player has a unit alive.

Game 3 @ Steppes of War + Show Spoiler [Show Recap] +

Chipmunk opens the same build, but scouts Rex's three warpgates and makes some spine crawlers. Rex opens 3 warpgate forge +1 and expand, adding gates and robo later. Chipmunk takes a third and transitions into mutas, but doesn't do much with his harass. Eventually, Rex gets a huge ball of stalker sentry colossus and moves out. Chimpunk attempts another backstab, but Rex is ready with multiple cannons in his main which limits the damage. Meanwhile, Rex's army crushes through Chipmunk's natural and main.
- Again no huge mistakes, but the outcome was never in doubt the whole time. Just a failed muta harass and a Protoss ball that grew too large.

Player Grades + Show Spoiler [Show Player Grades] +
ReXZanDarke -
B
Rex did the same build every game, sentries into expand. He then moved out with a large stalker based army. It was uninspiring but solid, even against a rather inept opponent.
ChipmunkPrime -
C+
Weak early game and sub par battle micro doomed Chipmunk against an opponent that did nothing besides expand and macro. Backstabs will only work so many times.
---

Soon: Precursor, Part 2

Expect "Precursor, Part 2" a few days after Day 8 finishes. In Part 2 we'll recap GSL Ro64 Days 5-8. Expect the game quality and production value of the GSL to increase exponentially as the tournament goes on. Thus far, the Ro64 Day 5-8 look great, with Tester, TLO, Check, and lots of cloaked units.

Thanks for reading!