B A C C H U S O S L 2 0 0 9
G R A N D F I N A L S
Thanks SilverskY!
Jaedong
YellOw[ArnC]

vs

Career vZ:

81-25 (76%)

Career vZ:

44-44 (50%)

Last 10 vZ:

5-5

Last 10 vZ:

7-3


With its many great Zerg qualifiers and Zerg-friendly maps, it's no surprise the Bacchus OSL 2009 has produced a Zerg versus Zerg Finals — and yet, this outcome has been the cause of much ire and depression here at Teamliquid. I'm here to say: damn the naysayers! The Bacchus OSL 2009's (ZvZ) Grand Finals is going to kick ass, and here are four reasons why. Hype!


---
1. This Is Not Your Father's ZvZ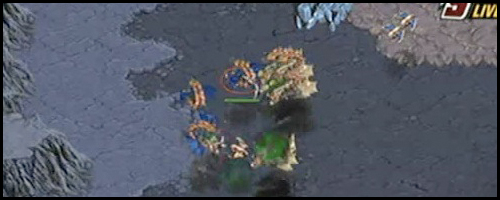 Zerg versus Zerg is simply not what it was when it earned its reputation as a relatively unexciting, skill-less, rock-paper-scissors matchup. Just for kicks, I went into TLPD and pulled up the oldest VOD on record which includes ZvZ muta micro (the oldest ZvZ VOD is Yellow's crazy +1 speedling attack, which ends the game before mutas). Here's what I found: nearly stationary mutalisks which consistently die to scourge — a level of micro which, in today's ZvZ scene, would be considered not microing at all. That is boring.

Fast forward two years. The dynamic, weaving, muta-vs.-muta fights of today are still totally absent — watch Chojja defeat Savior with fleets of scourge in the final set of the MSL's first ZvZ Finals, at the 2005 CYON MSL. Another two years, to 2007 and the twilight of Savior's reign: most mutalisk-scourge battles (Savior vs. Jaedong in PL on 10.20.07, for example) still boil down to "attack-move and see who has more stuff". Even ZvZs from 2008 regularly include scourge-on-muta hits in open air, events which are almost absent from top-class ZvZs today (and which, if they are present, are game-breaking).

The trend is obvious: ZvZ mutalisk micro has changed dramatically over the past several years, and with it the entire matchup. As ZvZ's skill ceiling has skyrocketed, so has its entertainment value. Today's S-class Zerg versus Zerg players understand the matchup's metagame like nobody before them, defy "impossible" build order disadvantages, use a host of clever tricks and builds, and beat lesser Zergs with a regularity that betrays the difficulty of their craft. Is it any wonder that these players (Jaedong, Calm, Effort, Yarnc) have between them many of the recent months' most exciting games, and easily the greatest ZvZs of all time?

Jaedong's Avalon MSL semifinal match with Calm may be the best ZvZ series to date, but this OSL Finals is going to blow it out of the water. With so much at stake, so much raw skill between them, and so much practice time on their hands, Jaedong and Yarnc are poised to push Zerg versus Zerg's envelope just a bit further than ever before.


---
2. A Golden Opportunity for Jaedong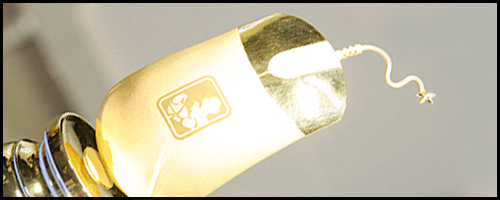 The third-ever Golden Mouse has been forged. If Jaedong claims his third OSL title tomorrow, he will become the youngest player by far to hoist the trophy — both NaDa and July were 21 when they won their third OSLs (the 2nd Shinhan Bank in 2006 and EVER in 2008, respectively) but Jaedong is just 19. The speed with which the Legend Killer has raced to the brink of winning StarCraft's most prestigious individual award is even more impressive in terms of career lengths: while it took both NaDa and July over five years of professional gaming to earn their Golden Mouses, if Jaedong beats Yarnc tomorrow he'll have matched their feat in just over three years. (Jaedong would also join Boxer as the only players ever to win back-to-back OSLs.)

With a Golden Mouse and second consecutive OSL victory on the line, this Finals is Jaedong's opportunity to officially place himself amongst the greatest individual StarCraft players of all time. Having lost in GOM S3, dropped out of the Avalon MSL, and failed his team badly at the Proleague Grand Finals, this series is also JD's only way to salvage a result from this Starleague season worthy of his overall performance in it. In this Finals, Jaedong's unmatched competitiveness will push him harder than ever before.


---


3. Yarnc Under Pressure

Though it's Jaedong who has a Golden Mouse on the line, Yarnc is actually under greater pressure to perform in this OSL Finals — and not simply because he has to play ZvJ.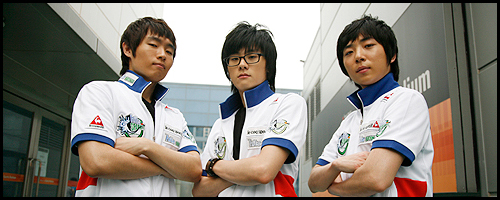 "Don't let us down"


First, Yarnc has all of his vanquished teammates' OSL hopes riding on his shoulders. He had a relatively easy run through Hite's side of the bracket — 2-1 vs. Go.go in the Ro8 and 3-0 vs. Type-b in the Ro4 — which means that his teammates' and coaches' expectations for his performance in this match are running high. If Yarnc bombs the Finals, he'll dash those expectations, leave doubts that another Hite member (Leta?) could have given Jaedong a better match, and, most importantly, embarrass Hite by stripping their little in-house tournament of any significance to this OSL's final outcome. Tomorrow night Yarnc plays not only for his first OSL title, but for Hite's dignity.

Second, Fake Yellow has been served this OSL Finals on a silver platter — it's obviously the best title shot of his career, and will in all likelihood retain that title forever. Thanks to this OSL's maps and poor showings from its few Protosses, Yarnc didn't have to put his horrific ZvP to the test once in his entire Finals run. Go.go's cheesy play in the Ro16 gave Yarnc a powderpuff Terran opponent in the Ro8 (instead of Bisu), and Type-b helped punch his Finals ticket by offing Leta and then rolling over and dying in the Ro4. Aside from his stint in the Ro16's group of death, Yarnc's Bacchus OSL 2009 has been an unrepeatable cakewalk — and that makes this Finals his one big chance. If Yellow[arnc] can't win an OSL under these ideal conditions, it's safe to say he never will.


---
4. Ro16 Grudge Match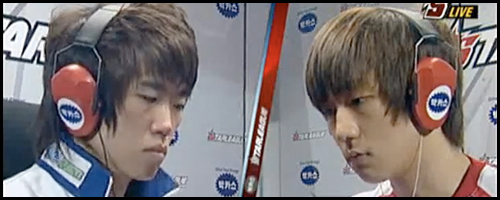 Jaedong is even with Fake Yellow in their career series (4-4), but two of those games (two Yarnc wins) were at JD's tournament debut, a 2006 OSL preliminary. Remember the last game Jaedong and Yarnc played? It was their meeting in this OSL's Group A on July 7, and a solid Yarnc win. Jaedong was on the tail end of an awful 17-day, 12-game run that included several key Proleague games, a GOM series with Violet, the conclusion of his Avalon MSL Ro32 group, and his other two OSL Ro16 games. Up 2-0 in the group and exhausted, Jaedong had little incentive to prepare for this game — but likely regretted his poor performance immediately afterwards. Fans on TL cried "slump" and wondered "what's wrong with Jaedong?"

Now almost two months later, Jaedong finally has a shot to avenge that loss — and on a much bigger stage. For Yarnc, the Finals are the ideal opportunity to prove that his Ro16 win was not a fluke.


---
One More Thing:
+ Show Spoiler [Contains MSL semifinal results] +
Remember
this poll
? Its results: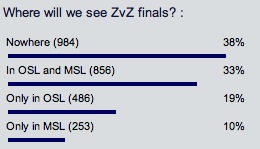 If you're amongst the 33%, give yourself a pat on the back. This season both the OSL and MSL have Zerg versus Zerg Finals, something that has never happened before (the OSL proper has never has a ZvZ Finals, and the MSL has had only two: Chojja > Savior at CYON, and Savior > Silver at Pringles 2). If two StarCraft seasons ago was the Golden Age of Protoss, this must be the Golden Age of Zerg — and if history's any indication, we can expect Zergs to struggle mightily in an unfavorable map pool over the next few seasons. Enjoy Zerg dominance while it lasts!
Oh, and some more fun facts, about Zergs at the 08-09 Proleague playoffs: all three super ace games, and three of four regular ace games, featured a Zerg player. Of these seven pivotal sets, three were ZvZs.
---
I really do think this OSL Finals matchup will defy everyone's expectations and produce an excellent series (fingers crossed that Yarnc brings his A-game). Don't miss it!

Peace,
JWD