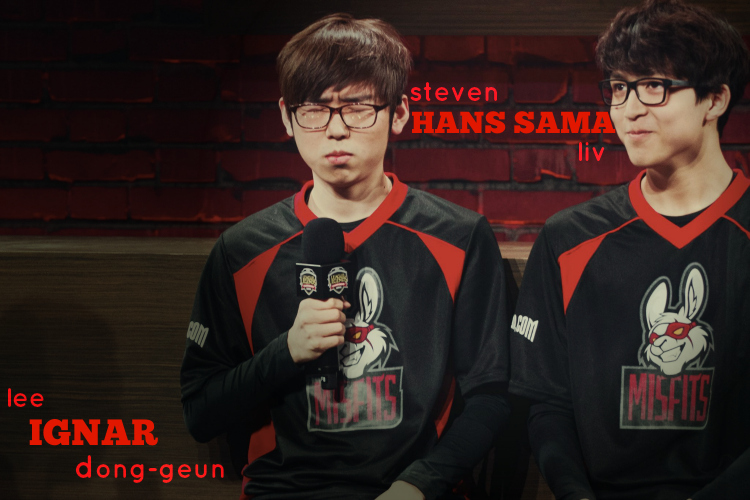 Misfits have been raising eyebrows ever since their EU Challenger Series run, but now they've been pitted against another level of competition and have so far matched up well against their rivals. We spoke to their bot lane duo, Hans Sama and Ignar, after their victory over Fnatic to discuss their journey to the LCS, the bot lane meta and more!

Editor's note: This interview has been lightly edited and condensed for clarity.
Hans Sama & Ignar
Congratulations on the 2-0 victory, what was your take on the games?
Ignar: We won the game, but it was not clean. There were so many mistakes so it was like a 50-60% performance.
Hans Sama: Our communication was good, unlike scrims it was good in these games.
In both games, you ran a poke composition around Corki, Varus, and Ivern. What went into crafting the composition and why did you play it?
Ignar: Mid Corki is really strong and jungle Ivern is really good for team fights. If we don't get caught or engaged on the wins will be clean, it's a good poke comp and can easily take turrets. I think EU LCS games almost always go late so Ivern is really good for late game. Ivern is really good now in my opinion. Really easy to pick up late game fights.
Hans Sama: Three carries is broken. Jayce, Corki, and Varus, poke them down with Ivern and Daisy front lining with Bard for engage. A broken comp, in my opinion. It was tested in scrims and went well. Ivern can clear so fast and other junglers can't in this patch.
Kakao played Ivern in both games today. What's your take on his Ivern? What about it made it work for the team?
Ignar: I think after playing scrims against EU teams only a few teams play a really good ivern and Kakao is one of them.
Hans Sama: Kakao plays any champions to a high level so it works.
As a bot lane you've been through CS and now you're playing in the LCS. What has the transition been like for both of you?
Ignar: Teams are far better in LCS (so) we need more practice. The biggest change is in players from Selfie/Wisdom. It might have been a good move but we need to play more games to know. We've only played four series so far so we need to play more to learn.
Hans Sama: In Challenger, we played really good and always had a top spot. It really improved me as a person in macro and communication. We played around our jungle and mid in CS (Challenger Series). Even though we changed our jungler he's still really good. Kakao is really smart and speaks a lot.

We can go further, we still make a lot of mistakes and can improve even further. We have a lot of time before playoffs so we can continue to improve and be the best team.
The current ADC meta has been dominated by Varus, Jhin, and Ashe. What makes them so strong and is there a realistic chance for others?
Hans Sama: Varus is top tier due to lethality buffs. Jhin can't contest Varus in the early game but post-six he can. This meta is played with ADCs that hit level six to play with the team. Champions like Ezreal and Draven cannot really be played in this meta. In some situations, they (Draven and Ezreal) may be viable but those three ADCs are the strongest.
The current support meta has revolved heavily around Zyra and Malzahar but you played Bard and Tahm Kench today. What went into these choices?
Ignar: Malzahar and Zyra are the best supports, I like engage supports but I like to play mages but since we don't really play around bot we can play with Tahm and Bard.
Hans Sama: Bard and Tahm aren't good for laning but post-laning it's really good due to the engage potential.
Do you have any final words, anything to say to the fans?
Hans Sama: Thank you to the fans cheering for us, I just got my first gift and it feels pretty good. Thank you for cheering for us and I hope we do well!
Ignar: I want to stream!