Knoll King On The Loose
New Hero: Hogger
The last few days there have been many rumors about the next
Heroes of the Storm
character. After Mei's release in June, the second 2020 hero has finally been announced. Get ready to welcome Hogger, the leader of the Riverpaw pack.
The first teaser for this hero showed us a dead murloc and some weapons and pieces of armor. Getting a takedown on the murloc is not that unusual, so these clues didn't narrow the riddle much, just that it was a
Warcraft
hero. However, the second teaser was much more enlightening. It showed a wanted sign pierced by an axe. We still could read some fragments: "Gnoll last seen" and "Southwest Elwynn." Looks like our new hero doesn't like being hunted.
Hogger was first named as a possible hero back in 2013 when Senior Art Director
Samwise Didier mentioned him
as one of the "unsung characters" they might add to the game. The gnoll is also
one of the most wanted heroes
from the
Warcraft
franchise. And his infamy has crawled beyond the Blizzard games after he was named
one of the most diabolical video game villains
. Why is this fierce beast so popular?
Hogger the Terrifying
Originally, Hogger was a lesser
World of Warcraft
character. He was just a mob that players needed to slay. However, he was also the first elite enemy human characters would face, and—as Illidan would say—many of them were not prepared. The gnoll was not the prey, but the hunter, and he killed a bunch of incautious adventurers. It was relatively common organizing "Hogger raids" to take down the dangerous character. This is how an anecdotal NPC became well-known across the WoW playerbase.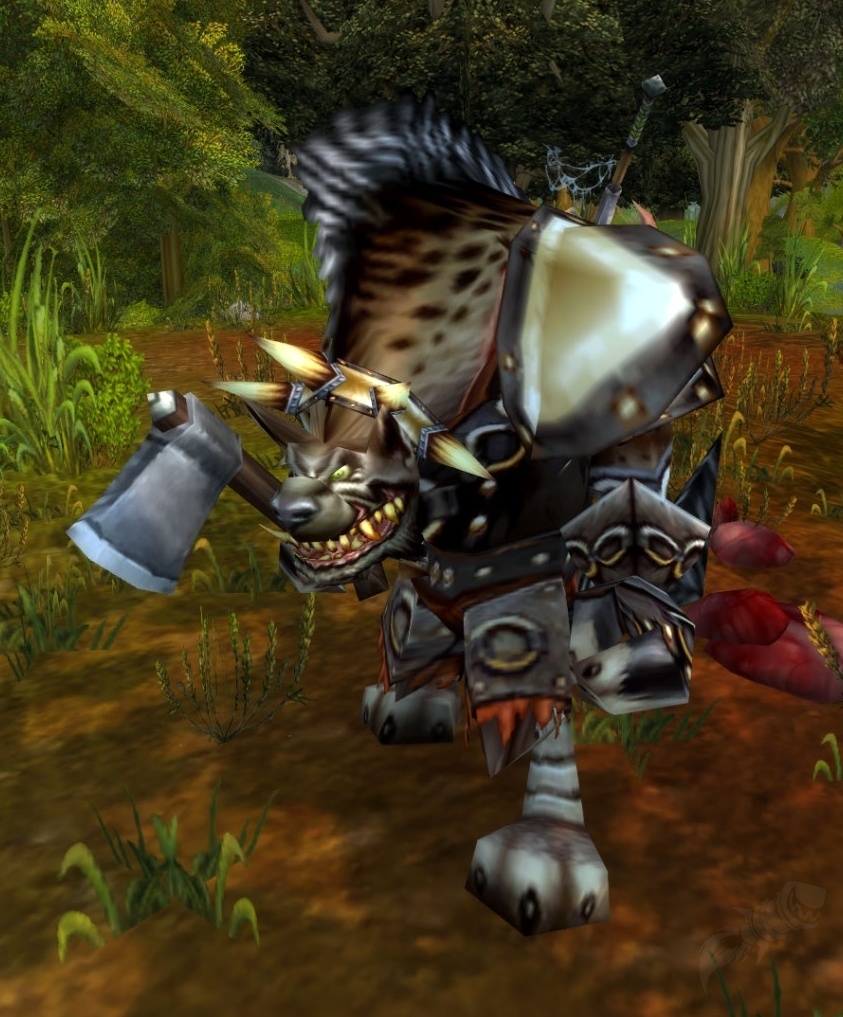 For those wondering, gnolls are those hyena-like humanoids on Alterac Pass camps. They are violent, vicious, and not quite smart. Hogger is the leader of Riverpaw pack, a group of gnolls from Elwynn Forest with ties to the Defias Brotherhood. In a
World of Warcraft
quest he's even nicknamed "The Gnoll King." Before
Cataclysm
, players were asked to kill the dangerous creature, but that changed when Azeroth was shattered.
The original quest was altered, so instead of being killed, Hogger was arrested and imprisoned in the Stormwind Stockade. The Stockade is a high-security prison hidden under the canals of the human capital city (and a playable dungeon). But captivity was just a setback for the gnoll and his pack. Even in prison they kept being violent and terrifying—a threat for the wardens and the players who dared to enter the complex.
We don't know where in Azeroth Hogger is now. In
Battle for Azeroth
, the Horde broke into the Stockade. That's when we saw a "Hogger disguise" that a human, Kazul, wore to terrify Stormwind. Whether he is free or dead, we better stay away from Hogger Hill. But nothing will stop us from terrorizing the Nexus with him.
Are you excited for Hogger too? Let us know what you think!