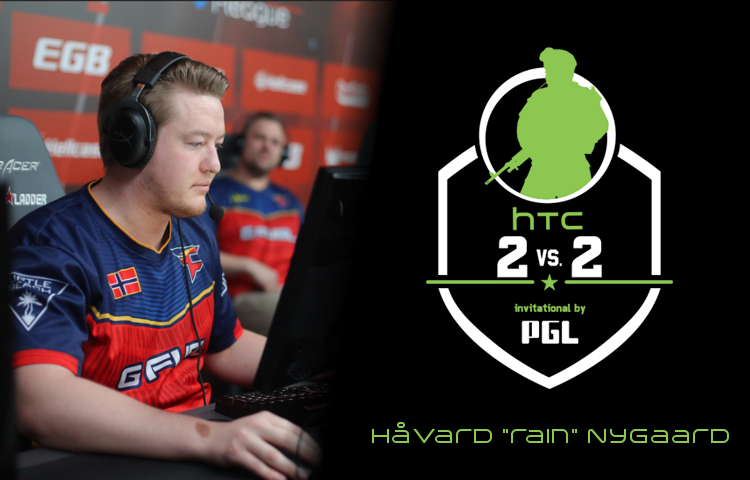 We're in Bucharest with rain, from FaZe Clan, who just lost to kennyS and shox in the semifinals and are now in the lower bracket. First of all, what do you think about the atmosphere and the setup of this competition which is pretty different from the usual?
The atmosphere we have here is really good. It's only two players from a team, so everyone can hang out with everyone else, get to know each other. It's always a good thing. The only thing that kind of pisses me a little is the random factor with grenades and stuff [E/N: stuff is random at the beginning of each round in this format]. It can lose you maps, especially with how it's so T sided on some maps, but other than that everything is pretty great.
You say you're annoyed by the way the halves are "balanced". Do you have the same feeling for the maps, that are in the current 5v5 map pool, which favor one side? Thinking about Cobblestone for example.
I think the map pool where it's now is supposed to be CT favored. Like I don't know if that's what they're going for. For Cobblestone that is T sided… it depends what teams are playing. Cobblestone can be even, depending on the teams playing. So right now I feel that the map pool and how maps are being played is kind of fair both ways.
Your last roster change with FaZe was three months ago, when you picked up NiKo. Since then you've been in three finals, StarLadder Season 3, IEM Sydney, and IEM Katowice, winning one of them. Were you expecting that big and that quick of a success when picking up NiKo?
We didn't expect it would be that fast to end up in three finals. It was kind of expected because I knew that playing with NiKo would fill the role we missed, the super superstar that he is, and he's a really good player. The kind of problems we had went away a little bit faster than expected but we expected at least to get close to finals, or even maybe win events. Before he came we ended our runs in quarters or semis, we never reached the next step. With him we knew we would.
One tournament you unfortunately won't be part of though is the ESL Pro League Finals. What do you think about the way the league plays out, with teams like EnVyUs or mouz making it to the LAN finals, but Astralis is missing, your team is missing, even though you're a top team now as well. What do you think about this format and the way it can play out?
The way we didn't qualify is totally our mistake, our fault. We can't blame it on "online" or anything. We had a rough start. We played some games without NiKo and we had jkaem as a standin. We lost 2-0 to Kinguin, we dropped a map to LDLC even though we're supposed to win against them. So not qualifying is mainly our fault. I know people are blaming online CS and stuff like that. But I don't think it's that unfair because I think people take it more lightly when it's online. If you lose a league match and you don't think about your progression then you might not qualify because you lost these maps. So I don't really see it that big of a problem with online but I would prefer to have some stuff to be on LAN.
The way we didn't qualify [for EPL] is totally our mistake, our fault. We can't blame it on "online" or anything
Moving on to your career in FaZe, you're the only remaining member from the team that was formed actually two years ago, in May 2015, when it was called Kinguin back then. How do you reflect on your career in this team, Kinguin then G2 then FaZe, especially in terms of objectives and achievements? How did things pan out?
I always want to keep a stable team. There's always been some internal issues in the team. We lost dennis to Fnatic, which was a big loss for us. People lost motivation and everything went kind of downhill from there. Then we brought in aizy. We should have let aizy stay on dignitas and progress as the player he was, that's how I feel. We kind of fucked up his career a little bit by letting him join a broken team basically. Other than that it's been going slow. I went from group stages all the time, to getting karrigan and go in semifinals. So lately it's been going upwards. Now it's just about winning tournaments instead of losing finals.
We should have let aizy stay on dignitas and progress as the player he was
Next up for your team there's the ECS Finals, if you qualify in the league part, but there's also ESL One Cologne coming up. For the first time it won't be a major. What's your mindset going there? Are you disappointed it's not going to be a major? Or do you think the major system is good for "building" the hype of that kind of tournament?
Everytime you play in Cologne… I've played here once with Kinguin, we managed to reach the quarterfinals. The stadium is insane, the crowd is insane. So you want to give it all to go to the playoffs, and land in the finals. If you play a major, there's always something extra because it's a major. It's stickers, and hype, and there's so many people watching. Going into every tournament, I still see it as a big thing and I always want to win, just as much a major as I want to in Cologne. I think Cologne might overthrow the major, and it's going to be pretty sick. Too bad Astralis ain't there, though.
Together, Astralis, SK, and your team FaZe are arguably trusting the top, these are the best three teams right now. How do you feel your team matches up against these teams?
These three teams, us, SK, and Astralis, would be able to beat any other team on any day. It depends who has a day, and who's playing the better CS. But at the moment I feel like we can beat them and they can beat us. Last time we played a best-of-five in the finals, we lost to Astralis. We played again in two best-of-threes now, and we beat them twice. So we just have to adapt to how SK plays, and we will be able to beat them eventually as well.
Talking about Astralis, obviously you got karrigan who was formerly with this lineup. You ended up in multiple finals against them, and a semifinals. In that situation, is there an actual rivalry that is building up between your teams, with the history of the players, and the fact you're facing in multiple high-stakes matches? Or is that like any other matches for you?
For me it's the same matches. But for karrigan, it's a totally different picture. He really wants to win and his energy level and everything, is maxed out when he plays against Astralis. He never wants to lose against them. Everytime we lose, like when we lost in Katowice, he's watching everything and he's trying to figure out new stuff to counter them. He has this extra will to beat them because they basically kicked him. So in his case there's a rivalry, indeed.
Alright, I'm done. Do you have any last thing to say?
No, nothing for today. Thank you!
Interviewer:
Ragnarork
Photo:
StarLadder
CSS:
FO-nTTaX