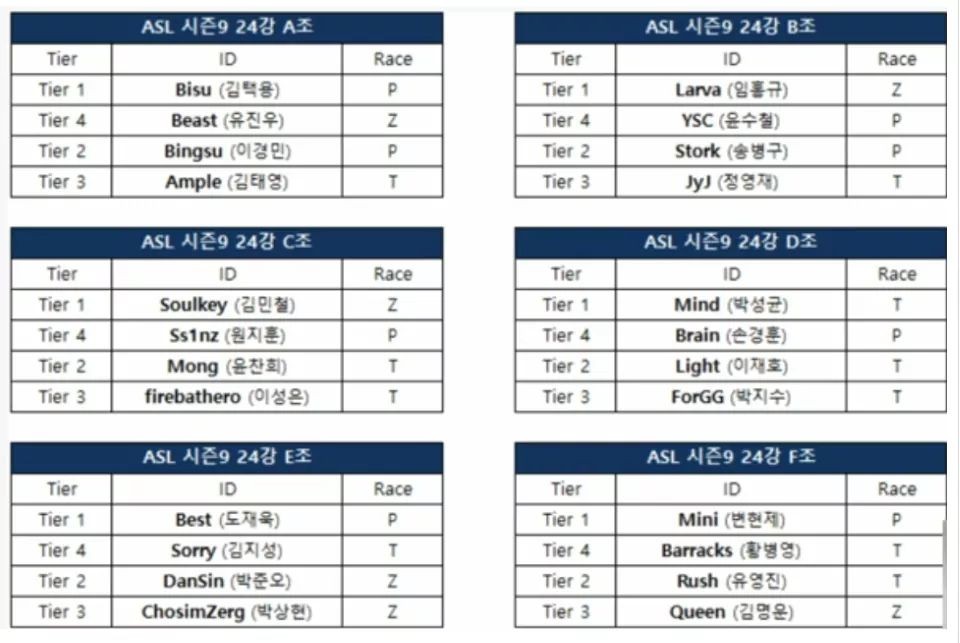 ASL Ro24 groups taken from this thread on Afreeca: http://bj.afreecatv.com/afstar1/post/52435107

Alt IDs
Bingsu = Horang2
YSC = huro
Brain = Sea.KH
DanSin = Killer
ChosimZerg = Soma
Queen = ZerO



2020 Afreeca Starleague Season 9
On February 14 2020 00:01 BLinD-RawR wrote:
ASL9 FAQ:

Has Flash Retired?
No, he took a break after the last ASL and is in fact ready to compete this ASL and is seeded directly into the Ro16

Why is Rain not playing?
no interest, hasn't been playing much BW recently so he decided to give up his seed(from making top 4 last season) which Sharp won, which is why Sharp is in the Ro16 already.

Isn't Soulkey in the military?
Soulkey is on leave due to financial reasons.