BSL5 - Ro8 Preview


We have finally reached the ro8 since BSL5 began a month and a half ago. In a survival of the fittest, only the best remain going into the ro8. Will legacies of old be cemented or shattered as players vie for first place? Featured in today's post are brief introductions for players both well known and obscure. Also, take a minute to read previews for the upcoming ro8 matches.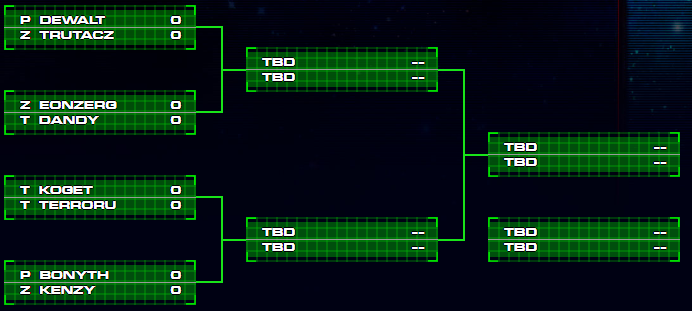 BSL5 PROLEAGUE Round of 8: Day 1
Match 1:


Dewalt vs


trutaCz
Match 2:


eOnzErG vs


Dandy


BSL5 PROLEAGUE Round of 8: Day 2

Match 1:


TerrOr vs


kogeT
Match 2:


Bonyth vs


KenZy





Meet The Players



Dewalt
+ Show Spoiler +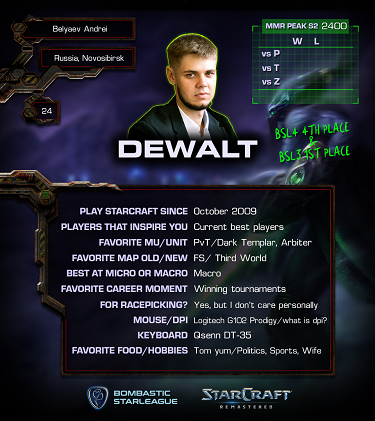 Dewalt sits atop a throne, scepter in hand - it's head adorned by a globe of the foreign scene. Dewalt is a king among men in his single minded approach. His work ethic, passion, and sheer mechanical skill appears unparalleled, having played the most tournament games out of everyone. He works tirelessly to fine tune his mechanics on the Korean ladder to the point no other player can call Dewalt their inferior. While his greater decision making and tactics lack the usual showiness, Dewalt prefers the subtle plays that emphasizes his macro. That is the game Dewalt plays as one of the best players the foreign scene has to offer.
Trutacz
+ Show Spoiler +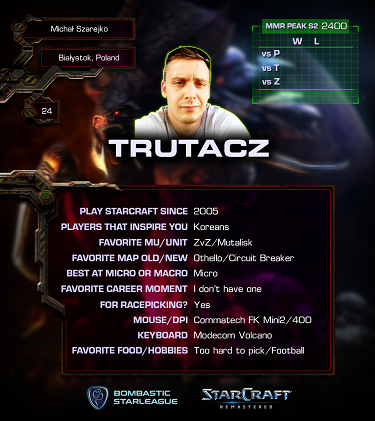 Trutacz was once at the height of the foreign scene in 2016 before dropping off. Some may call him the next in line to undisputed best, and most dominant foreigner, Sziky. Memories of his rule may fade, but flashes of his past brilliance are more than alive today. Capable of making the daring plays few others can, Trutacz is renowned as one of the most aggressive. Poised like a pianist, his play is precise, eloquent, and calculating to dissect his opponents.
Eonzerg
+ Show Spoiler +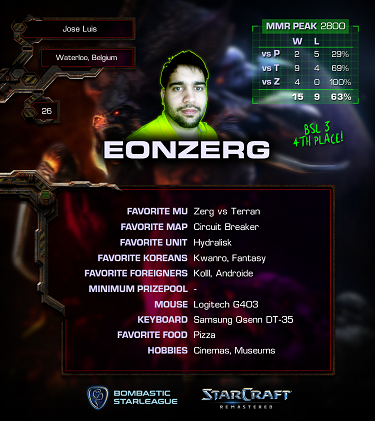 Eonzerg is one of the few remaining known for brashness in attitude and playstyle. He brute forces his way to victory through raw mechanics and a pinch of fiery tenacity to overcome his opponents. Many fear Eon when he's on their side of the bracket, and rightfully so. He was looking to be one of the consistently top players, but has had an unfortunate string of losses to Dewalt as of late. Still, no one can deny Eon is a force to be reckoned with.
Dandy
+ Show Spoiler +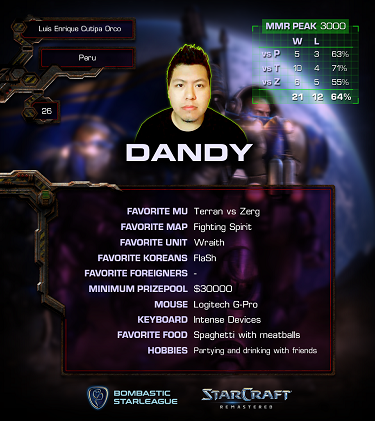 Dandy is one word - stubborn. Stubbornly good mechanics, stubborn fighting spirit, and stubborn from the beginning to the end of a game no matter the situation. He is a man of iron will and mentality, which so exuberantly clawed him back from a 0-2 disadvantage in the previous BSL finals vs. Koget. More importantly, he was the only challenger in the most recent Defiler Tour, the first in many months, to dismantle Dewalt 3-2 in the finals.
Koget
+ Show Spoiler +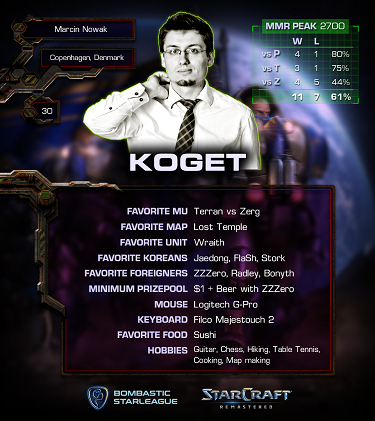 Koget is one of the more unique players endowed with years worth of experience. Technically and intellectually strong, he has fantastic mechanics and sound strategy to round out his skillset. He is more than capable of outthinking even one of the most mechanically frightening players through wit and cunning. Expect to see more from Koget in all of his crafty magnificence.
Terror
+ Show Spoiler +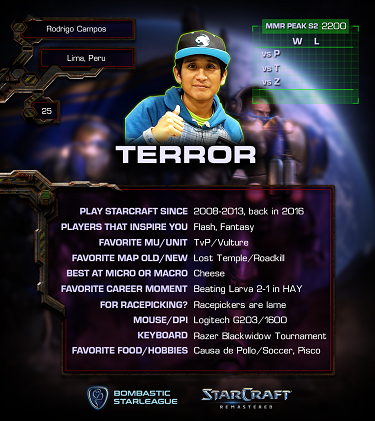 A little elbow-grease and gumption go a long way. That especially holds true for Terror, who can't hold a candle to top tier macro players. He more than makes up for his shortcomings with innovative and abusive builds combined with a winning tenacity. In the tournament arena, the playing field is levelled where he can take games off of anyone in a series. Players beware, even the strongest is not safe from defeat.
Bonyth
+ Show Spoiler +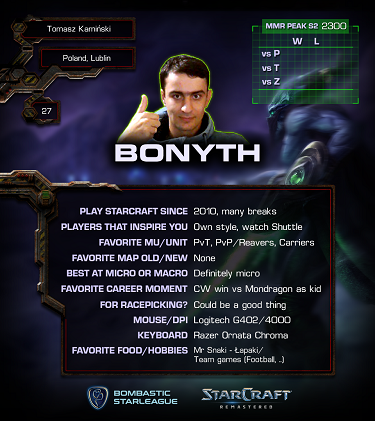 Bonyth is one of the most unique and defined players the foreign scene has to offer whose understanding and sense of the game goes beyond the common talent. Sporting a polarizing playstyle, he goes carriers almost exclusively in PvT. He has among the scene's best micro, easily ex-pro level, and world-class decision making. He was the only foreigner to take a game off of ex-pro veterans in a past foreigner vs. ex-pro team match. If there's anyone capable of making the strong plays to undercut and overtax the purely mechanically talented, that person is Bonyth. His strongest matchups, PvT and PvP make Bonyth a strong sniper of Dandy and Dewalt in a possible finals.
Kenzy
+ Show Spoiler +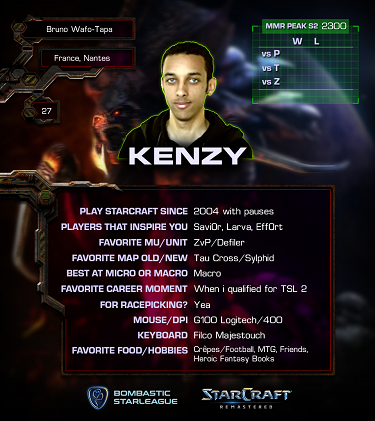 Kenzy possesses a wide repertoire in experience and matchups played. A jack of all trades, he plays all three vZ matchups well in addition to having a dynamic 2v2 game. Such affinity for varied styles bleeds into his whimsical, but still standard set play. While not always the most impressionable, Kenzy's play is simply well rounded and safe. Expect more from Kenzy in his first tournament run this deep where he has a lot to prove.





Previews






Dewalt vs. Trutacz


The impetus is on Dewalt to win this match against the wily Trutacz, but it could go either way. Looking at Trutacz, his style is more one dimensional than previous years where you saw a lot more variance and whimsical muta scourge play. Nowadays his style feels like an overexaggerated, aggressive version of itself, forcing out the wins with 3 hatch hydra busts and ling micro. Such overreliance on aggression can be easily read. However, Trutacz, if his early game pacing, momentum, and control is that much more better, can outright win. We are likely to also see a token muta or lurker build on the unique map Kiseyras. Dewalt on the other hand will vie for the straightforward 2 base, 6 gateway style he so readily prefers to win in macro games.
Prediction: Dewalt 3-2 Trutacz



Eonzerg vs. Dandy


A rematch of the StarLadder Pro Series finals, this is where Dandy looks for revenge. The champion's curse will do its work in a much lower stakes scenario where Dandy's nerves won't get to him. I do think that Eon will have great confidence going into the series, and how the first two games of the series will dictate whether the series quickly snowballs into a win or loss for Eon. Overall, I think Dandy is in prime position to play to his full potential in this lower stakes scenario. Comparably, last season's bumbled finals performance won't have a chance to appear once more.
Prediction Dandy 3-1 Eonzerg



Koget vs. Terror


Again another rematch blesses BSL5. Last season when both of these players met in the ro8, Koget fell 0-2 before miraculously reverse sweeping 3-2. I'm seeing the same prospects for Koget who has a commendable handle of the TvT matchup. His precision, cunning, and knowledge will run deep in this series. However, Koget is also one to be over exasperated, and such a player like Terror is perfect in that case. I do bet that the same tricks won't work though, so Koget ever so slightly has the advantage.
Prediction: Koget 3-0 Terror



Bonyth vs. Kenzy


Bonyth is the clear favorite not only in this series, but the whole tourney. The lesser prominent Kenzy won't attract a second glance from most passerbys, but this is the stage where he could make a name for himself. Overall I find Bonyth's complacency and incredibly predictible 1 gate fe to be weaknesses. I find Kenzy will tailor specially prepared builds to abuse such play to grab some fast games. I also think we'll see classic 1 base reaver play from Bonyth on some of the choice maps. It'll be up to Kenzy to deflect it with 2 hatch muta or some other play. Overall though, Kenzy's mechanics, and his nerves under pressure won't bode well for the clean and decisive Bonyth
Prediction: Bonyth 3-0 Kenzy