Format blatantly stolen from Flamewheel who probably stole it from someone else
The final stretch.
+ Show Spoiler +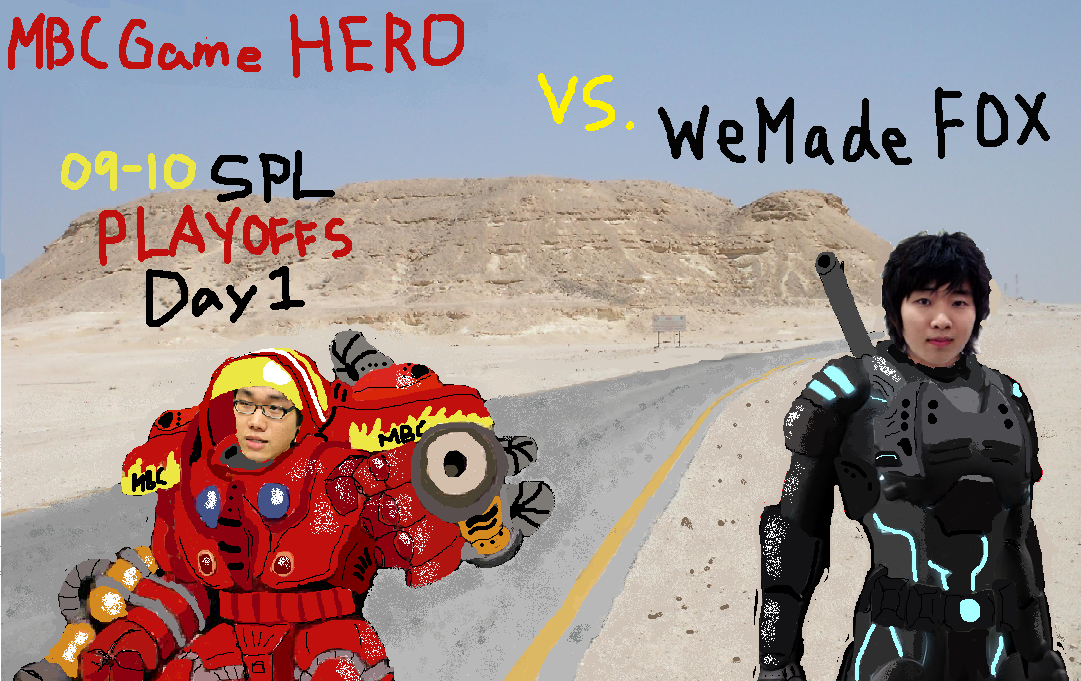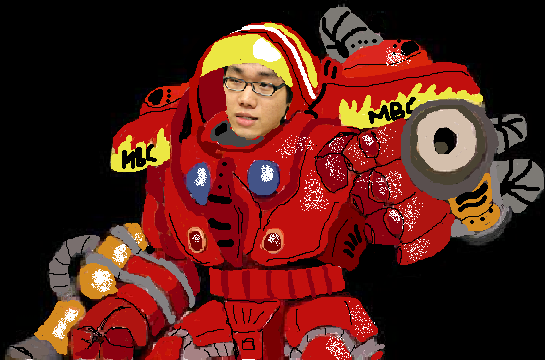 Bonus banner by lastkarrde!
---
2009-2010 Shinhan Bank Proleague, Playoffs: Ro6, Day2 (MBC):


MBCGame HERO vs WeMadeFOX

---
Sunday, July 18 2010: 13:00 KST / 06:00 CEST / 00:00 EDT
---
Current Score: MBC Game Hero 1-0 WeMade Fox. Series Bo3







Set 1:
Roadrunner
Set 2:
Judgment Day
Set 3:
Polaris Rhapsody
Set 4:
Match Point
Set 5:
Fighting Spirit
Set 6:
Grand Line SE
Closer:
New Heartbreak Ridge
---
+ Show Spoiler [You want hype? Click here.] +

Down 0-1, WeMade Fox finds itself down in a huge hole against the mighty MBC Game Hero team. Despite the disappointment of their Ace player Baby, WeMade must find find a way to overcome all adversity and step up their play. However, huge question marks surround the WeMade team.

Will Baby be able to find his lost socks? That mojo that had him hyped as the next big thing has disappeared as of late. Will he be able to recover that spark?

Which Mind will show up to play? The one that destroyed Bisu in the MSL Finals or the one that lost to Jaehoon yesterday?

Does WeMade have an answer to MBC's Terrans? WeMade's aces Baby and Roro had no answers for the Sea/Light combo of MBC.

But if it's the time for players to step up, this is the correct time to do so. On the biggest stage, in front of countless fans cheering for their favorite players and teams. This is where champions are born, where anything goes.

Who will show the true heart of a champion tonight? Can WeMade step their game up? We'll see tonight!

PS: WeMade, you let Jaehoon and Hyun win. How? If you let those two win, of course you're gonna lose.
---

+ Show Spoiler +
---

+ Show Spoiler +
---

+ Show Spoiler +
Game 1: Garbage
Game 2: Not that great either
Game 3: Recommend. Winner's expression at the end is a MUST SEE
Game 4: Okay game, second best game in my opinion
Game 5: Meh
Game 6: Ehh
---
How to watch?
http://www.teamliquid.net/video/userstream.php?user=Kentor
http://www.teamliquid.net/video/userstream.php?user=boesthius
Post me streams in the thread and I'll list them here!