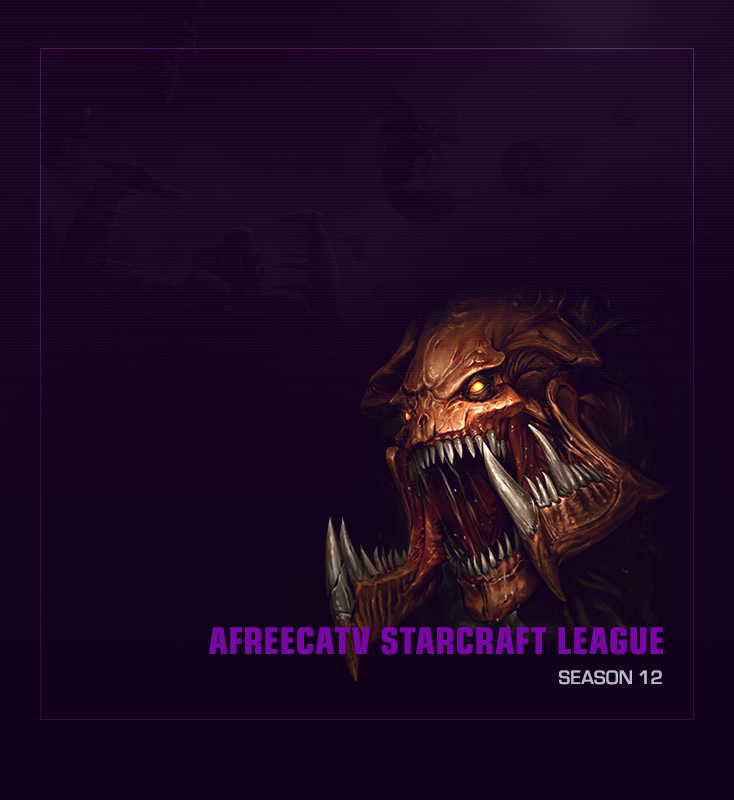 If we weren't sure just how much that this season could be anyone's game, last week made that abundantly clear, with its results with absolutely fantastic games from those designated as "Tier 4" competitiors. nOOB and 815 managed to take out established players like Sharp, BeSt and sSak, who normally not only make it to the bracket stage of the tournament, but to the playoffs as well. Will this week be more of the same? Or will the favorites show why they are a cut above the rest?



Last week set the trend. Clearly one tier 3 or lower player will advance in every group making this the wonkiest round of 16 ever. That is, of course, if struggling individual league Zerg,
Hyuk
can finally win in the group stage or if family man
Movie
can put more time into his practice.
Group C is going to be the most underappreciated group in the round of 24. This is a literal micro-proleague match between CJ-Entus and SK Telecom T1. Entus players
Snow
and
Movie
face of against T1 vets
JyJ
and
Hyuk
. And this is where the fun begins.
Match 1 starts off with a PvZ on Eclipse.... Eclipse! Finally, a map Protoss player can win on. This is just the Khaydrin crystal upgrade
Snow
needs right now. In online matches, you have to go back 5 months before his win rate goes above 50%.
Snow
also was eliminated by Zergs, Soma and by.hero in the two previous ASLs. This man is hungry to trounce zerg players in the early stages while he has the favorable match advantage. This hungry shark is on the hunt and will soon find
Hyuk
. Swim away
Hyuk
. Swim faster.
Hyuk
isn't old enough to be considered part of the "Old Retired" pros, but unfortunately he plays like it. Every couple seasons/years
Hyuk
makes a great run and qualifies for the ASL. His strategy, to put simply, mutas. He's a muta man, with some of the most insane muta micro.
Hyuk
likes to wear you down as much as possible in the first 12 minutes of the game and sometimes that works. We are truly pitting two incredible micro players against each other in the first match, but the old man factor in
Hyuk
should keep him from taking out top tier player
Snow
.
Match 2 should make anyone feel giddy. When speaking of old men,
Movie
might be everyone's old man Protoss.
Movie
refuses to fully decommit from Starcraft to focus on his business and family. He's proven time and again, when he puts the time in, he's easily a tier 2 player. His opponent,
JyJ
, has finally graduated past the "cry terran" title, by advancing to the round of 8. ASL11 was the tournament that cleaned the slate on his past, but ASL12 is where he decides if he will create a legacy for himself the way Soma has over the past few seasons. Eclipse provides for a much more balanced battle ground between these two players.
JyJ
, in online competition, has struggled hard since his last ASL run. Despite a losing PvT percentage,
JyJ
still manages to hold a 3:2 record over
Movie
. From 2013 till now,
Movie
really has failed to re-innovate himself in the PvT matchup. If he doesn't find an odd opener to give him an advantage,
JyJ
looks like the most likely choice here.
Winner's match should feature
Snow
and
JyJ
if the most likely suspects advance.
Snow
has been truly on fire in this matchup winning 127 out his last 164 games and holds a winning record against every Terran except Light over the last four months.
Snow
last loss against a Terran in the ASL was in the Grand Finals of ASL Season 8. This isn't a stat of pure skill, he's actually been starved of the PvT matchup. At this point,
Snow
is probably salivating at the opportunity to play his best matchup in the winner's match.
JyJ
doesn't have his own unique style of TvP, but does have a solid understanding of a straight forward macro TvP. While
Snow
is a heavy favorite in this match,
JyJ
poses a fair threat to the league's top Protoss.
Loser's match holds the potential for a hilarious and fast paced game.
Movie
did reinvent himself in this match of the past 8 years. There's about a 90% chance
Movie
will open up with a gateway first build.
Movie
hates PvZ two base turtling and opts for the Zealot trickle build. This is when he continually pumps zealots out throughout the early game and 1 at a time sends them in to massage drones with the feel of an old, rusty back scratcher. The amazing part is that he has great success with his gateway opening.
Movie
tends to fail only in the way most Protoss failed from 2013-2016, with the worst corsair micro known to man. Assuming
Hyuk
survives the early game, we know he is 100% going muta+scrouge and will wreck
Movie
's air fleet in seconds. This is truly a hard match to pick, but the SKT Zerg looks like the best pick.
Loser's final would feature either
JyJ
versus
Hyuk
or
Movie
. Sticking with
Hyuk
for the sake of discussing a new matchup,
JyJ
has evolved into a very skilled TvZ player. He gained huge victories last season over Soma and Action. Those seemed like major upsets at the time, but trouncing
Hyuk
in the final match would be a nice boost to his record.
Hyuk
doesn't go down easy though. He has crafted and mastered two base muta in ZvT. Two base muta has been his most common build in the matchup for nearly a decade and it's very deadly. Imagine someone has both hands gripped around your neck and is going to choke you until you pass out. Now the only way to survive is to accept that the two hands are around your neck and stay in place until the hands become too weak to hold their tight grip any longer. If
JyJ
can survive
Hyuk
's grip, then he will make his way back into the round of 16.
Alternate Scenario:
In this scenario,
Snow loses to
JyJ in the winner's final.
Movie beats
Hyuk in the loser's match.
Movie, who has a 60% winrate in PvP, then whoops
Snow in a PvP match, thus continuing the trend of upsets in the ASL.
JyJ and
Movie would advance the Ro16!
Snow and
JyJ advance to the round of 16!

An upset is not an upset in the Ro24 of the ASL. This is becoming something of an adage and this season started off in the same fashion, with names such as Sharp and Best already eliminated at the hands of seemingly lesser players. And it's not the tiered system the ASL uses for this stage of the tournament that is lacking in predictive power; most of the lower-tier players don't make it past the Ro16 after such an upset. Exceptions do exist, of course, and group D's Tier 1 player used to be one of them fairly recently. But will Goliath yield to the Davids of the present day again?
I'll spare the reader the long version of the story about Soma's rise to stardom that I so much like to write about. Suffice to say that four seasons ago he had his ASL debut and next season he finished fourth. Then, in ASL10, he finished second and last season he fell victim to the runner-up curse and was eliminated in the Ro16. One view about that turn of events could be that it was him running the gauntlet and, paradoxically, doing the last step of his transformation from an amateur prodigy to a seasoned veteran. He tasted bitter defeat after already being a staple on the scene.
So, if we choose to follow that logic, he should return stronger than ever. But will he? His online stats in the relevant matchups are certainly not what they used to be. A ZvT winrate hovering around 50%, with 4-4 score against Mong and 0-1 against BarrackS in since July, is not the same Soma Flash feared way back in ASL8. A 44% win rate in ZvZ is not that telling because of the way mirror sponmatches work, but it's still a losing record for the guy that gave ZerO a run for his money in the ASL9 finals. Is this a slump? Honestly, I caught quite a few ZvT games on his channel and he feels like the Soma of old with his innate aggression, sharp muta micro, propensity for diving on worker lines with no visible way out and a feel for walking on razor's edge in general. I didn't catch any ZvZs, though, and that's the opening match against HyuN.
HyuN makes a comeback to the ASL after a brief stint in season 3. He managed to score a few ZvZ wins there but that was so long ago that it's not indicative of anything. He's practically a wildcard regarding this tournament. His online stats are not indicative either, with sponmatches few and far between; a random win versus Light and Barracks and a few games against lesser-known players. He's obviously in decent shape, seeing as how he qualified to the ASL and is in fact playing a sponmatch here and there, plus he had a few wins in the KCM Challenge 2021 season 2 in July. With that little information it's hard to bet on him against anyone – or against him, for that matter. That's why I'll predictably go for the safe pick and bet on Soma.
Mong is another player that is somewhat hard to predict in an offline setting and has been so historically. A veteran that rose to prominence in the Sonic days, he's had some fluctuations in shape in the course of the previous ASLs, but was never really more than a Ro8 contender at best – which, considering how stiff the competition used to be, is actually a serious achievement. In his last appearance he reached the Ro16, an all-terran group A in ASL9, where he got eliminated by Flash and Light, but managed to defeat BarrackS. However, his current online stats are dismal: a 34.5% TvZ and horrifying 19% vs Terran. Granted, most of those losses are against Rush, Sharp and JyJ, all of whom have really strong TvT, but still, 19% is extremely low. He was known for his great online play back in the day, but this definitely does not look to be the case at the moment.
BarrackS is a newer complement to the ASL regulars. He was eliminated 0-2 in the Ro24 group stages in his last two ASL appearances, but keeps coming for more and looking to advance to the upper echelons of the scene. He has really good fundamentals that could make him a serious contender, but so far appears to crumble under offline pressure and underperform. His online stats aren't particularly promising either: 43.5% vs Terran and 36.4% vs Zerg where most of his wins are against lesser opponents. It's a really hard pick between those two. Normally I would easily favor Mong because of his considerable experience, but with that kind of statistics, it's a real gamble. I lean towards BarrackS having his revenge for the ASL9 loss.
This would lead to Soma facing BarrackS in the winners' match. In no universe would anyone bet against Soma in such a matchup and I certainly will not. Can't say too much here, Soma wins. If he doesn't, it would eclipse Best's loss to 815 in group B.
Mong versus HyuN is another wild guess. As mentioned earlier, Mong's online stats aren't particularly inspiring in this matchup either. HyuN, on the other hand, is an unkown quantity, but has had glimpses of good performance recently. I am inclined to favor him, honestly, but it's a real toss-up. My guess – HyuN wins against the odds the tiered system suggests.
This wild prediction would lead to a match between HyuN and BarrackS in the final match. BarrackS hasn't performed too well against Zerg in either online or offline settings so far and logic would suggest that if I pick HyuN over Mong in the previous match, I should pick him here, too, and I will. It tears me up to predict two Zergs advancing over the two Terrans in the group and most of those predictions are based off hunches and more than a fair share of chance guesses, but honestly, I was shocked at Mong's online stats when I started preparing for this write-up. I just cannot reasonably argue with numbers that low, whatever the bias.
Final prediction:
Soma
>
HyuN
Mong
<
BarrackS
Soma
>
BarrackS
Mong
<
HyuN
BarrackS
<
HyuN
Soma and
HyuN Advance to the Ro16!
---
Writers: BisuDagger, TaardadAiel
Graphics: v1
Editors: BLinD-RawR