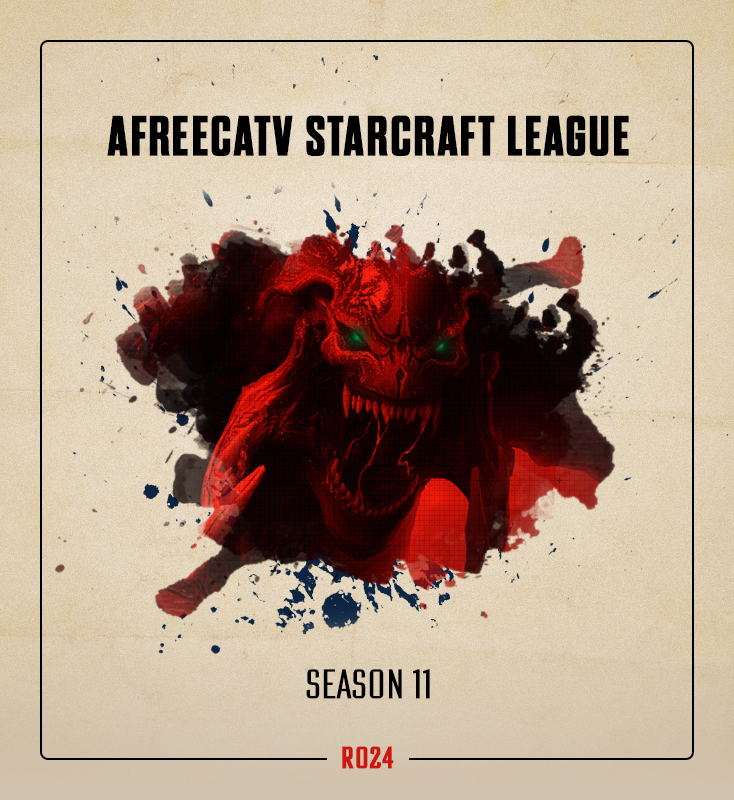 Welcome to the 11th Season of AfreecaTV StarCraft League, while on paper this season looks to have a lot less in terms of pure star power with Flash sitting out for the season to rest his wrists we did manage to get back EffOrt from his military service and hes opening the tournament along with Ss1nz, hero and BarrackS in Group A, following that we got the group of Solid Terran pride represented by Light and sOrry with the bag of builds/former ASL Observer Shine and rounding off Group B with a fresher face than most YSC.

The Road to ASL championship begins here!

The ASL is back! And not just that, EffOrt is finally back in it since his huge ASL6 run, but don't let my excitement of seeing EffOrt back overshadow the fact that hero is more likely to take first place in the group or BarrackS and Ss1nz are there and perfectly capable of breaking some obvious predictions for the group.
As hyped up as I am for seeing EffOrt back in the ASL he isn't at 100%, not even close, the viewers on his stream have said hes at around 70% but I'm sure that is based on a lot more than just his Win-Loss Record which sits at around 90-91(49.7%) overall in all matchups for the month of march with his ZvP being the only one peaking over 50% at 55.6% at the time of writing and while that does mean hes still rusty and struggles against players who are more his long time peers( as seen from his ASTL run with afreeca) he should be the obvious favorite against Ss1nz in the opening match. Seeing as how Ss1nz anticipated playing a lot more PvZ has trained mostly in the matchup but has a low Win-Loss Record of 5-13(27.8%).
Sponbbang stats wise, hero is also in the exact same spot as effort except with more games in hand with a lot more focus on his ZvT compared to his ZvP with almost double the amount of games played against terran, though I do doubt all of it is just in preparation for his opening match opponent BarrackS.
BarrackS has historically struggled in TvZ and just about has a even Win-Loss Record of 16-16(50%) and the only win to write home about in the month of march is the one against ZerO, considering its a Bo1, I wouldn't count out seeing him in the winner's match though very unlikely it will happen.
That brings us to the winner's game of hero vs EffOrt, I'd flip a coin on this one, neither are particularly hot in the matchup in terms of stats but both have shown flashes of genius for the matchup in the past, which ever one loses is still the more likely victor of the final match anyway.
BarrackS would much more prefer to face a protoss than a zerg anyway, PvT is his best matchup and Ss1nz not only did not focus on practicing it but doesn't have a particularly good Win-Loss Record for it sitting at 3-5(37.5%) while BarrackS in his favored matchup sits at 6-3(66.7%) I do believe this former ASL Ro16 alumnus should take the win over Ss1nz.
For the final match I don't see either EffOrt or hero losing to BarrackS unless he prepared a map specific tactic, unfortunately we won't know what map they picked for the winner's, losers' and the final match anyway so hard to speculate on what it could be right now.
EffOrt
>
Ss1nz
hero
>
BarrackS
hero
>
EffOrt
BarrackS
>
Ss1nz
EffOrt
>
BarrackS
EffOrt and
hero Advance to the Ro16!

As much as people tend to look forward to the later stages of a tournament (a sentiment that is very much reflected in viewership figures and LR thread engagement on our website), I can't help but feel all tingly down below thinking about the myriad upset scenarios possible nowhere but in the Ro24 of the ASL. The introduction of untested and competitively unproven maps, paired with the cutthroat nature of a best-of-1 format, introduces an unparalleled shift in the power dynamic where experience gives way to ingenuity. It seeks to pull at all the wobbly blocks in the jenga tower of the competitive hierarchy of Korean StarCraft; to fiddle with the well-established pecking order that's years in the making. AfreecaTV are doing what they can to keep StarCraft afloat in an entertainment context by focusing on the fundamentals of what makes sport appealing - the uncertainty of outcome. And, as an upset aficionado myself, I have to say - this season's map pool looks like curry to a pisshead.
Group B is particularly interesting in that I genuinely believe Light, for years touted the second best Terran in the world by many, could get knocked out in the opening round of the tournament. Out of all the players in group B, Shine stands to benefit the most from best-of-1s played on freshly released maps and I wholeheartedly believe he is fully aware of that.
Worth noting is the sheer abundance of workable builds that characterises the current state of the TvZ metagame (and TvP to a certain extent as well). Likewise worth noting is the role sOrry played in this being the case - he is by and large responsible for the 2 Fact Goliath into Bio build being brought back from the grave (March 1, 2020 - ASL9, sOrry vs Killer on Escalade). This in turn creates a situation where guesswork plays a more pronounced role than it normally would in a stable metagame with clear-cut dos and don'ts. I recall having seen a number of rug-pull games involving Light (quite recently at that) who, despite his superior micro, macro, and gamesense, still ended up getting blindsided by Zergs closer to the lower end of the professional spectrum.
If sponbbang results are anything to go by, Light, despite being the second best player ELO-wise in 2021, has an appalling 11:18 record in TvT. To put that into perspective - he played a total of 529 games over the past three months. sOrry, on the other hand, while perhaps likewise unwilling to practice the dreaded mirror (710 games in 2021, just 53 TvTs), managed to keep a positive win ratio (52.8%) AND TvT happens to be his best matchup (though, arguably, we might be working with too small a sample size compared to TvP / TvZ to draw any meaningful conclusions). Either way, if it weren't all Bo1 I'd expect both Terrans to make it out of this group with relative ease. As is, Shine has a decent shot. Here are their sponbbang head-to-heads in 2021:
Light 3:4 sOrry
Light 5:0 YSC
Light 1:0 Shine
sOrry 11:3 YSC
sOrry 2:1 Shine
Shine 2:2 YSC
Predictions:
Light
>
YSC
Sorry
>
Shine
Light
<
Sorry
YSC
<
Shine
Light
>
Shine
Sorry and
Light to advance to the Ro16!
---
Writers: Ziggy, BLinD-RawR
Graphics: v1
Editors: BLinD-RawR