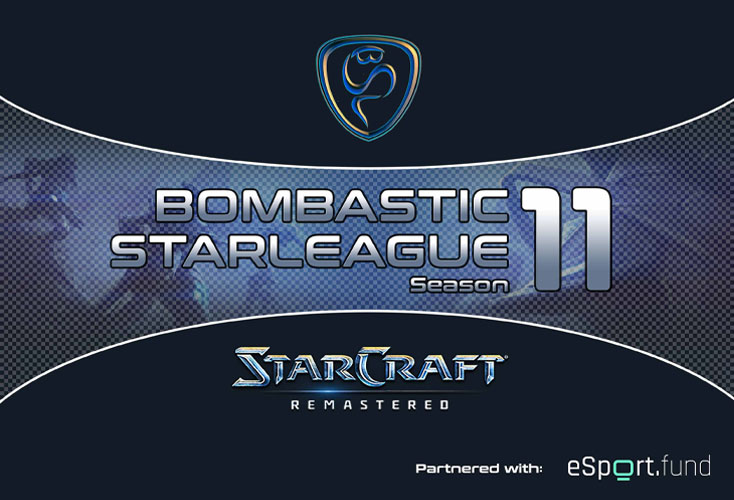 Here we are in the Round of 8, back to a more standard single elimination bracket affair from the Round Robin of the last season, no more safety nets for the remaining competitors, its winner takes all.

Make sure to read the preview of the whole of the round from our very own Ty2, Liquid`Drone and TaardadAiel.





Table of contents
At this point, TerrOr's veteran background needs little introduction and he proved he's one of the most dangerous Terran players in the foreign scene after topping his Ro16 group that featured Dandy, kogeT and DragOn. He advanced on the back of his adaptive, nuanced style of TvT and a show of impressive mental fortitude against Dandy in a 55-minute game; now has to face Protoss up-and-comer BoA. TerrOr's had trouble against him before, but this season the two already met in the Ro24 and TerrOr came out on top.
In contrast, BoA's ascendance to the top of the foreign scene is fairly recent. His first BSL Proleague showing was last season and it was against TerrOr that he first gained prominence, defeating him twice (1-0 and 2-1) in the Ro32. He subsequently demonstrated his PvT prowess as he overcame kogeT and Dandy in the round-robin stage, but Dandy ultimately got his revenge in the elimination bracket with a resounding 3-0 win. BoA ultimately finished sixth - a fairly impressive result for a first-time appearance. This season he qualified for the elimination stage again after a second-place finish in his group and a comfortable 2-0 win against spx in the decider match, showing he's still really dangerous in the PvT matchup.
Rather than just the result from the game, TerrOr and BoA's match in the Ro24 is very important as it neatly showcases the styles that define both players the most, hinting at what could be expected.
BoA is an all-round aggressive player in the matchup, but his trademark play is a very hard-hitting 10:30 push that involves multiple shuttles and a sizable ground army. Most often, even if this push does not break the Terran and win the game outright, it severely reduces the tank count, delays or even kills a third command center and postpones the Terran push while the Protoss comfortably expands behind with a nice advantage for the macro slugfest. Even if the Terran knows this is coming, it's still really dangerous and a little micro or tactical slip might cost him the game.
TerrOr, on the other side, doesn't really have a trademark play other than his inclination (and remarkable ability) to slip vultures and occasionally tanks in all phases of the game in Protoss bases to kill probes. Rather, he's an adaptive player that studies his opponents and prefers to go with player-specific builds and strategies plus the odd mind game that would allow him to get away with a greedy opener. He patiently assumed a defensive posture against BoA and weathered the storm with some clever tactical adjustments. This was the case against OyA in their BBT match, too, where TerrOr would repeatedly go for unpunished early third bases, correctly anticipating passive macro-based plays by his opponent.
In a five-game series, this kind of approach makes TerrOr very dangerous. Sure, BoA likes to mix it up - he's shown zealot proxies, reaver proxies and 4th pylon DT proxies in his games and TerrOr would do well to consider the possibility of such shenaniganry, but if BoA's attempts at exerting pressure are thwarted, he should feel considerably more safe. The Protoss player appears somewhat trigger-happy when taking engagements even after such attempts have failed; this, combined with the fact that the backbone of his PvT (at least so far) is open for study, puts him at a disadvantage against a player like TerrOr.
That being said, there is a lot of uncertainty concerning both players' preparation for the match. First off, BoA - by virtue of ranking higher in the ladder stage of the qualification - has the right to choose whether to veto and pick maps first. I expect him to do so - allowing TerrOr, with all his careful preparation and analysis, more control over the course of the series would seem imprudent. There will be a lot of mind games at play even before the actual games start. Moreover, scouting may prove to be a weak spot in BoA's jump-for-the-jugular approach to the game. He would do well to gather information not only in strategic terms, but in tactical too, lest he take engagements in suboptimal conditions.
Despite BoA's fearsome PvT reputation, I still consider TerrOr to be the favourite in this series. A lot will depend on how mind games play out, but TerrOr's recent results, general adaptiveness and considerable experience give him an advantage and I expect him to advance to the Ro4.
Final prediction :
TerrOr 3-1
BoA!
Unexpectedly, Avi-Love has progressed to the Ro8 with no less than a convincingly solid Ro16 performance, beating Michael and Oya 2-1 and 2-0 respectively. This is his second time reaching the quarterfinals since BSL8, the farthest he's ever progressed in a BSL. There couldn't be a more fitting challenge than Koget, who once reached great heights as the runner-up of BSL4 and a top 8 finisher in many more tourneys.
Koget vs Avi-Love is a matchup that can go either way and will promise explosive results given their contrasting playstyles - Avi-Love's affinity for chaos and straight-hitting abusive plays, and Koget's methodical and unfailingly consistent play that combines superb timings, macro, great scouting, and a deep understanding of both races because he used to play Zerg.
Avi-Love did great performing under pressure, showing a wide range of games from unrelenting macro games and micro-intense games won by a knife's edge. However, he still has yet to play ZvT which is a completely different ball game. His micro, positioning, scouting, and adaptability to whatever Koget throws at him will be tested. With ZvTs volatility and the defensive nature of Zerg, Avi-Love may struggle. Especially against a player like Koget, one-dimensional plays and sneaky, greedy plays will not go easily unpunished unless careful mind games are used. I find Koget will be seasoned enough of a player to not lose outright in the first few minutes of the game to a speedling bust or a lurker or muta all-in.
Avi-Love also has shown a tendency to blunder against Terran, and in a matchup where even the slighest mistake can send you spiralling, consistency above all will be the deciding factor of who wins this Bo5. Also, Avi-Love's style that playfully ignores the standard of making defilers in favor of more quicker ultras will be incredibly risky against Koget. Terrans like Koget have a frightening ability to seek out the tiniest of weaknesses to cling onto to pull themselves out of an early grave that they had one foot in. The pendulum swing of Terran's cost effectiveness versus pure ultraling without the cover of dark swarm is one that can swing very hard in Terran's favor.
Overall, I see the format and matchup favoring Koget who has the depth of understanding and the cleaner mechanics and timings that will leave Avi-love struggling to get out of the Ro8.
Final Prediction:
kogeT 3-1
Avi-Love
Bonyth has won three championships in a row now, an unprecedented BSL feat – but the gods don't seem particularly keen on giving him an easy route to the fourth. First, he had a very tough ro16 group, and he only narrowly escaped from it, opening with a loss against Trutacz before beating Hawk 2-1 in the elimination match.
And now, he's up against Dewalt.
Since halfway through 2019, two players have dominated the non-korean scene. Those two players are Bonyth and Dewalt. For a good while, it also seemed like Bonyth had Dewalt's number. Comparing the two, Dewalt has seemed a bit more complete, looking less vulnerable in pvz, having stronger mechanics and multitask than Bonyth. However, Bonyth's micro – particularly with smaller unit groups, be it goon/reaver, single zealots, or carriers, has been on a higher level. Considering how controlling small unit groups and reavers happens to be a fairly essential aspect of pvp, it's a large part of the reason why Bonyth – overall – has had more success.
They both basically never lose PvT series (this is true even acknowledging that Dandy has beat Bonyth twice recently). Neither loses PvP series against other protoss players. And even their PvZ losses are few and far in-between. But – comparing their head to head stats (I'm not just looking at BSL now, but the rankgim rank, which lists most of their encounters during the SC:R era), we're looking at Bonyth leading with a 34-18 score.
That said, I feel like Dewalt has been improving more than Bonyth has as of late. While Bonyth did win BSL10, beating Dewalt 4-2 in the finals, Dewalt beat Bonyth 2-0 at an earlier point of the same tournament. Bonyth 'only got third' in RCG2020 (the fact that this was a fairly major surprise is a testament to how dominant he had been), a tournament Dewalt won. However, Bonyth won 3-1 in the Jeez weekly grand final, a bit less than a month ago.
Honestly, I think right at this very moment, Dewalt looks a bit stronger than Bonyth, overall. Put Bonyth against Dandy right now, and it looks like a really even match. Put Dewalt against Dandy and I'm expecting Dewalt to win 80% of their games. Bonyth showed relative weakness in PvZ during the group stage. But PvP is a different matchup, and one that really plays to Bonyth's strengths.
As mentioned earlier, Dewalt has better macro, and better multitask. Bonyth has better dragoon and reaver micro. But I also feel like Dewalt is, quite frankly, a bit hungrier than Bonyth is, and I think that's gonna decide this match.
I think this one goes down the wire, and that we see a 3-2 result. I also think 2021 is going to be Dewalt's year – in much the same way 2020 (and most of 19) belonged to Bonyth. That is also my final prediction – 3-2 victory for Dewalt – and I might add to it, I think that's the closest Dewalt is gonna get to getting eliminated this BSL.
Final prediction:
Dewalt 3 - 2
Bonyth
It's really rare that one can say two-times BSL champion trutaCz topped his Ro16 group against the odds, but when pitted against reigning champion Bonyth (that this was his third title in a row is also worth mentioning, I guess), it would be true. But still he did - and this alone should make him intimidating for any Protoss opponent.
But does it really?
In the currently Protoss-dominated foreign scene, OyA quickly rose through the ranks and is up there with the best of them. Last season he finished fourth and replicated this result in the RCG2020. Even though he struggled a bit in his Ro16 group after a 1-2 loss to Avi-Love, I certainly feel he's hungry and I doubt he is intimidated one bit by his decorated Polish adversary.
The two met recently in the BBT and in a back-and-forth series, topped with a really exciting decider game, OyA came out on top 3-2. Both players' styles make for interesting clashes as they approach the matchup pretty aggressively which, combined with their really solid fundamentals, makes for unpredictable and entertaining series.
OyA's PvZ is pretty unique. He certainly follows the current trend of gate expand plus early zealot pressure, followed by a big midgime timing, but he seems almost disdainful of staples like corsairs and observers. He'd go without a stargate or with a really late robotics facility, or both, and then proceed to plow through the Zerg army with brute force and great storm use. OyA's very solid mechanically and can certainly count on his macro to hit the Zerg with the mother of all pushes or come with a funny yet sharp timing attack to compensate for lack of specific tech. He'll put Pylons around to screw with the build timings and expansion pattern, then abuse the positional and economic disadvantage forced on the Zerg. He'll often go for dragoons unusually early, a single one to push back a peeking overlord or a pack of them to exploit an early advantage and exert pressure. This pressure is the defining feature of OyA's play - and part of the reason why he feels so eager and intense.
This is very well complemented by trutaCz' reliance on his superior micro that allows him to gain maximum value with his units. No Protoss should feel safe just because he forced trutaCz to make a bunch of zerglings by early zealot pressure; no Protoss should feel safe just because they fiddled with his build and forced him into an early lair and mutalisks. He can find a way to abuse every tiny nook and cranny in the enemy defense and turn a disadvantageous situation on its head. And if left alone, he's one of the most aggressive hydra print Zergs in the foreign scene and will hit like a hammer, denying expansion opportunities or even killing the Protoss outright. In short, he's no less capable at exerting pressure than OyA is - and he's no stranger to dealing with pressure after countless games against his compatriot Bonyth.
For me, this would be a really close run thing. Both players have very, very solid fundamentals and their styles complement in a way that makes for dynamic, volatile and (for us the viewers at least) exciting games. Honestly, I can't wait for the match. Predicting it is another matter, but I feel OyA's eagerness will put him on top.
Final prediction:
OyA 3-2
trutaCz!
---