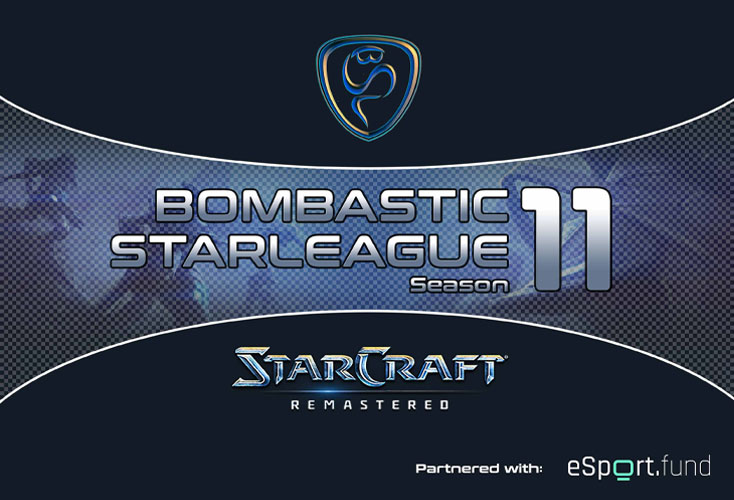 Welcome to the Ro16 of BSL11, the absolute cream of the crop in the foreign BW especially with probably the most hardest groups in the tournament coming right from Group A with the biggest champs of the league going up against each other, Group B features who all feature distinct advantages and disadvantages among each of their opponents.

Read up on the previews of the two groups by our very own Liquid`Drone and Ty2.





Table of contents

The RO16 of BSL11 could not start off in a more exciting manner. We're looking at a battle between the two players who have won the past 5 editions of the tournament. BSL6 was won by Trutacz defeating Bonyth in the finals, BSL7 was won by Trutacz with Bonyth getting third, while BSL8, 9 and 10 were all won by Bonyth – BSL9 seeing him defeat Trutacz in the finals – in a fairly dominant manner.
Add to it BSL5 had Bonyth get second and Trutacz third, and that Trutacz won both BSL1 and 2, and it's clear – these two are, without question, the two titans of the Bombastic StarLeague: They share seven out of ten BSL championships between themselves.
Now – it is also undisputable that they've had somewhat different trajectories. Bonyth being the dominant player outside korea for most of 2020, and Trutacz having had some longer periods of inactivity, comparing them based on overall BSL trophies does not paint a fair picture of current expectations. The previous edition, BSL10, saw Bonyth win it all, while Trutacz had his worst performance since BSL3 – where he didn't actually play. However, their history also shows that Trutacz, in peak form, is one of the very best foreign players.
Going by the RO24, he is not in peak form. He looked vulnerable against two players that are not quite at Bonyth's level. Losing a game against Tech after getting cannon rushed is one thing – that sort of thing can happen to most players. However, he then followed it up by almost getting knocked out by Sneazel in the game after. That game was one of the most exciting games of the entire RO24 – Sneazel snatched a massive mid-game advantage, Trutacz was on the ropes, but through re-discovering his inner Super Gosu (BSLTM), he edged out a win, after almost ten minutes of fantastic control and decision making.
Honestly – while Trutacz only barely won that game, it was, to me, one of the most impressive performances of the RO24, and the way he picked off stray templars, backstabbed expansions, masterfully dodged storms and perfectly positioned his armies – all while doing a fantastic job macroing – was the stuff of champions. At the same time, despite showing off just how good Trutacz can be, it also wasn't particularly convincing. And as much credit as I am giving to Trutacz for his performance in that game, I am also extremely confident that if Bonyth had taken over the protoss reins at the 10 minute mark, Bonyth would virtually never lose.
Consequently, I am expecting a Bonyth win. We've certianly seen bigger upsets than what a Trutacz win would constitute, but based on what I've seen, zerg vs protoss is Trutacz' weaker matchup, while Bonyth's protoss vs zerg no longer stands out as his weak spot.
Now, while the other matchup cannot compare in terms of BSL history, it's still really juicy, and I'd argue, the outcome is less predictable.
Hawk
vs
MADiNHO
Madinho is a BSL veteran by now, having played in the proleague in BSL8, 9, 10 and 11. While the viking terran has been a really good player for a long time, it's only the past two years we've seen him really enter the tournament circuit. Prior to that, he was more known as one of the very top 2v2 players and an affectionado of Brood War Daquiris (Bacardi seeming like his drink of choice). Having somewhat recently become a dad, I was worried he would leave the scene, but perhaps Dadinho is taking a page from Bonyth's book and instead deciding to approach the game somewhat more seriously. In that case, I can see him reach higher levels than before, because he is most certainly a smart, creative, knowledgeable player – and with strong mechanics to boot.
Hawk on the other hand, has been a bigger figure in the North American scene, rarely venturing into intercontinental tournaments. However, when he has chosen to participate in the bigger tournaments – BSL8 and the Corrupted cup in Russia back in 2019, he has done very well for himself. Granted, in the corrupted cup in 2019 he ended up losing during the first group stage, in third place. But knowing that his four player group featured both Bonyth and Dewalt – and that he actually beat Bonyth in the first game (in a tournament where Bonyth's overall record on the road to the championship was 15-2), I'm not gonna hold that against him. In BSL8, the only season he's participated in the tournament, he reached the top 8, before losing 0-3 against eventual finalist Gorynich.
Being a former Starcraft II player, Hawk has a methodological approach to the game backed by very strong mechanics. Very few players outside Korea – if any at all – do a better job spending their larva than Hawk does. When I have watched him in the past, he has struggled a bit with unit positioning, big engagements and occasionally getting burned while droning up, but if he hits his macro stride, he is a truly fearsome player. He's really good at churning out a big number of drones, his timings are very well figured out, and he has pretty strong mutalisk micro – at least in the zerg vs terran matchup. At the same time, he might be a bit on the predictable side, and he is not a finesse player.
Comparing their individual records from earlier BSL seasons, Hawk seems stronger in Zerg vs Terran than Madinho does in Terran vs Zerg. Looking at individual games, Hawk is sporting a 7-2 record in the matchup, against Madinho's 5-6. That said, Madinho's losses are against Avi-Love and Gorynich, while Hawk's games are against Ultra, Goku and Casper. I am not knocking the latter group – but I will argue that Madinho's opponents have been better. Either way, the sample size isn't big enough to really draw conclusions based on.
Trying to figure out how the games will look, I expect the series to go the distance, with one of them winning 2-1. I also expect Hawk to open mutalisks every game, while Madinho is going to mix it up. Madinho has the advantage of somehow always managing to get vultures inside his opponent's base – but he also tends to play a somewhat passive, and usually mech-based Terran vs Zerg. This might just be playing into Hawk's hands, as this is the perfect scenario for him to hit his macro stride. But at the same time, Madinho is as unpredictable as Hawk is predictable, and I can easily see the games turn weird – which Madinho should be more comfortable with.
I'm going to predict Madinho advancing, but I'll happily admit that this might be my Norwegian bias shining through. Either way, it's a really exciting matchup – I expect this series to give us three good games.
Assuming the initial games go according to these predictions, we will end up with a Bonyth vs Madinho winner's game, and a Trutacz vs Hawk loser's game. Seeing how these are hypothetical matchups, I'm not going to analyze them equally in depth – but I will make my prediction.
Firstly, if it comes to be, Bonyth will be happy to face Madinho instead of Hawk. Bonyth's Protoss vs Terran looks a bit more vulnerable than it did a few months ago – RCG2020 actually saw him lose a bo5 against Dandy. However, that's also, to my knowledge, the only time Bonyth has lost a bo3 or more in a tournament against a non-korean terran player in something like.. Two years? Bonyth's Protoss vs Terran is consistently amazing, and while Madinho is certainly a strong player, he has a really hard time against top protoss players. There are two players in this tournament I think he's almost drawing dead against – Bonyth and Dewalt.
On the other hand, Hawk's zerg is just the type of player Bonyth could have a hard time against. Bonyth is one of the two best players in the tournament, but if there is one thing I think he's somewhat likely to struggle against, it's a zerg player with really strong macro who favors going hydra/muta. While I regard Trutacz as a better player than Hawk, I actually think Hawk has a better shot against Bonyth than he does.
However, if it goes as I predict, Hawk doesn't get to face Bonyth. Rather, he matches up against Trutacz in the loser's match. And in this case, I don't see things end well for him. To be fair to him, Hawk qualified to the BSL through the qualifier tournament – where he beat Trutacz 2-0. But I think this was not Trutacz playing his best. Historically, Trutacz' zerg vs zerg is really quite fantastic, and Hawk's strongest side – his macro, has no room to shine in this matchup.
This would lead to a final game between Trutacz and Madinho, and in that case, I would also expect Trutacz to emerge victorious.
Final prediction:
Bonyth
2-0 vs
trutaCz
MADiNHO
2-1 vs
Hawk
Bonyth
2-0 vs
MADiNHO
trutaCz
2-0 vs
Hawk
trutaCz
2-1 vs
MADiNHO
Bonyth and
trutaCz to advance!

Oya is a fearsome opponent with all-around good mechanics and a penchant for heavy multitasking 1 Gate Expand plays. Given that the rest of the group are Zerg players, his preparation is made easy which gives him high chances of advancing to the Ro8.
Of the three Zergs, Avi-Love feels the most vulnerable to Oya because his play can drop off when put under pressure. He works best when he can have the freedom to be as aggressive and greedy as he wants, which is at odds against 1 Gate FE. Even If he can get over that early game hump, the rest of the match will still be difficult for Avi because of Oya's fierce mechanics.
Gorynich and Michael on the other hand are the best equipped to battle Oya because their mechanics and multitasking are one leg up on Avi-Love. Gorynich is renowned for his impeccable late game and Michael has daring, unorthodox tactics, and decent control and macro wrapped up in one.
As for how the Zergs fare against each other, there are no dominant ZvZ players that hog the limelight. Gorynich is the most vulnerable due to being the least flexible and technical because he heavily relies on 12 pool and 12 hatch. Michael, who has only recently gotten in shape, has shown in past play his technical prowess and sufficient micro. Avi-Love's ZvZ in the Ro24 eked out close wins, so Avi-Love may be the one to exploit his opponent's anxiety and perform well under pressure.
Oya vs Gorynich
The longer the game, the more Gorynich feels favored, so the focal points of the match will be on Oya's early and midgame attacks. The match feels incredibly close because Gorynich has previously blundered greatly in midgame army control. Add the careful balancing act of not overdroning or overlinging against 1 gate aggression, and we have a tense, neck-to-neck game.
Michael vs Avi-Love
There's a lot of uncertainty as to Michael's ZvZ play. If his game is on point though, he will be favored against Avi-Love. He is less likely to make the same muta micro blunders as Avi-love's previous opponents in the Ro24. However, Michael's rustiness could be exploited by a creative play from Avi-Love. Overall, there will be less room for Avi-Love to mess up against such a formidable opponent in a head-to-head ZvZ.
Predictions:

Gorynich >
OyA
Michael
>
Avi-Love

Gorynich >
Michael
OyA
>
Avi-Love
Michael
>
OyA

Gorynich and
Michael to advance!
---