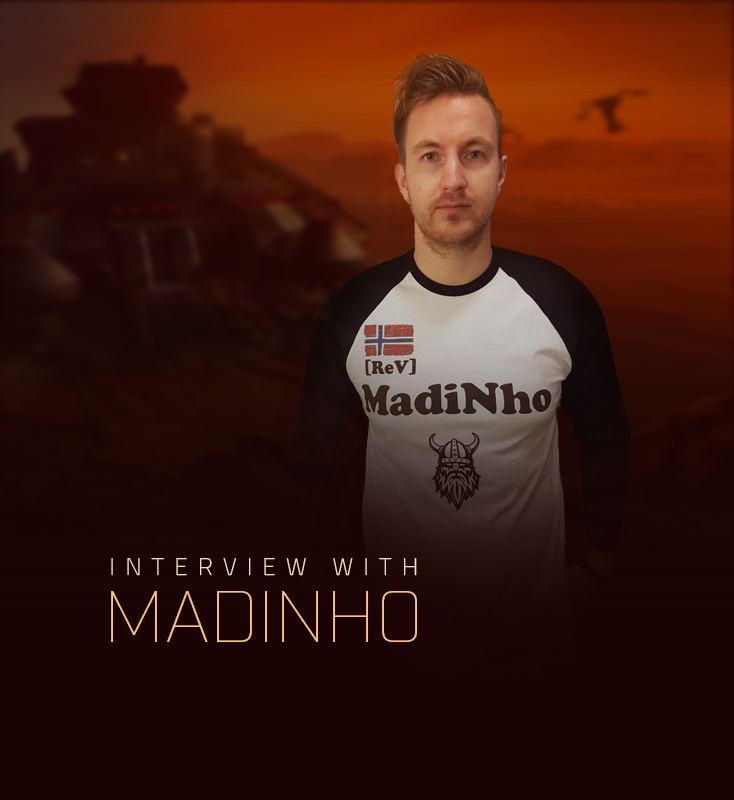 With the Viking helmet on his head and Bacardi at his side, Geir-Helge «MadiNho» Løvold might look ready for one of his usual evenings spent gaming. However, on this particular evening he's striding toward the BSL9 playoffs at 300 actions per minute. The BSL—short for Bombastic Starleague—is one of the two most prestigious individual tournaments outside of South Korea and a place where anyone playing StarCraft: Remastered can cement themselves as a top foreign player.
Recreation of his laddering
He doesn't fear whether he can qualify. He knows he's good for it, as long as he doesn't repeat his losing streak prior to BSL8 where he lost 200 points just before the deadline. It worked out all right in the end and he was still able to qualify, but this time he wasn't taking any chances.
Get as many points as possible, get as good a group as possible. That's the objective.
After several games and a final MMR at 2400 points, he stops playing a week prior to the deadline. Everything is set now for a good group. He's given himself as good a start as he can hope for.
---
It's been a long journey for the Viking Conqueror to get to where he is today. Growing up in the rural Norwegian town of Skodje, he was introduced to StarCraft in 1998 when his brother started playing the game. MadiNho was 9 years old at the time and spent countless hours watching his older brother play. Playing with the «local heroes», as he calls them—which is to say, his brother and his local clanmates of [MuS]—gave him his first experience with the game that would become central to his life over the next two decades.
A very young MadiNho playing StarCraft
From the very beginning, it was 2v2 that drew his interest. Playing with CypressHill, his older brother, he enjoyed the sense of helping one another throughout the game, unlike in 1v1 where it's all on you. As with most warriors, it wasn't until he had come of age that he truly set out to conquer the world and started to take the game more seriously. In those days, iCCup and Fish were the places to be if you wanted to find the best practice, and at one point MadiNho reached B- on iCCup and felt quite good about having gotten so far. But B- isn't exactly what you'd call top level.
The real turning point for him was when he was introduced to Scan and Nizzy, two well known top players in the scene. MadiNho didn't fear losing and didn't dodge games from stronger opponents. The attitude that a conqueror who doesn't see the wisdom in losing to one's betters will always remain a lesser man opened doors for the Viking. «He was willing to learn and had sharp game styles rather than laid back turtling», Scan recalls, and with their help, MadiNho rose to far higher levels by reaching A+ and Olympic rank consistently.
Because of his drive to improve and play high quality games, he always tried to play with the best possible allies, but that led to some problems. Many accused him of being an ally picker who only played with people who would win him games, but what they didn't seem aware of was that his allies asked for him as often as he asked for them. When talking about picking allies he could trust, MadiNho simply says, «An important role in 2v2 is to not die the first five minutes.» Marwin, trutacz, jiraya, Scan, KenZy, Tokyoa were some of his frequent allies, many of which are still active today.
"Viking Fantasy. Great mechanics, great tactics, great unwillingness to give up"
-Crvt, clan mate of MadiNho
Friendships were formed then which are still intact to this day, and the group still tends to set up matches against one another rather than create games against random opponents. «To be a bit harsh, the top level community for 2v2 players is really small these days. It's better to set up games amongst ourselves rather than create public games. The newer generation of players seems to be more bitter, bad manner, and sometimes seem jealous of those who are better than themselves. It's no point joining a game for us only to get kicked out because the game creators don't want to mess up their stats», MadiNho points out. He misses a lot of his old friends who have "put the mouse on the shelf" in the absence of a 2v2 ladder in Remastered. Instead he makes due with a small and somewhat stale 2v2 community. But he does remark that voodoo and ourplay are turning into a strong 2v2 team.
With the 2v2 community going stale, MadiNho was itching for new fields to pillage and plunder, and since Remastered didn't have the 2v2 ladder that was promised, even years after its release, the 1v1 ladder was the next realm to conquer. It wasn't entirely new to MadiNho, though. During his hayday on iCCup, he played a lot of 1v1 when none of his allies were online and often reached A- rank in 1v1, but he had no idea about timings and exact builds—and still doesn't even to this day. The Viking Terran doesn't sit down and fastidiously research build orders and replays of pros while spamming games in single player mode until the builds are perfect. That is not the way of a berserker. As the StarCraft legend Eriador remembers: «During the post-SC2 iCCup era, my own activity is inconsistent at best, but I was around enough to know that I no longer qualified as top dog of Norway. And not just that—[MadiNho] was beating me at my own game playing unorthodox Brood War and using all races.»
His unorthodox play has stuck with him. Since MadiNho is used to early aggression and map control from 2v2, his play style is generally very aggressive and harass based. Even if he does use many macro builds as well, his aggression and willingness to use funky units is what truly defines his play. In particular, his usage of nukes and his dropship aggression—or, as it was popularized during the STPL casts, his "Longboats"—are what has drawn the public eye to his play.
MadiNho arriving with his longboat
STPL, short for Shinhan Tank Proleague, is a global clan league organized by Qikz and his crew in which MadiNho participates for Clan Revolution. MadiNho is a mainstay in their top line up, and one of the primary reasons [ReV] was able to reach the playoffs of STPL Season 2 in addition to reaching Division A in the Brood War Clan League (BWCL) organized by iCCup.Face and his crew. As Qikz sums it up: «MadiNho is one of ReV's strongest. He earned the nickname the Viking Terran from his incredible use of dropship harassment throughout the course of entire games, toppling even ByuL from SouL in an insane TvT on Athena 2. Definitely one to watch out for in the current season of STPL.»
MadiNho giving BuLL's Wilian the final blow in an STPL clan war between [ReV] and BuLL
He also often helps his clanmates regardless of their skill level. When new recruits come along who barely top 1300 MMR, MadiNho still insists they ask for games and advice. He'll help clanmates prepare for matches or face them as an opponent to test themselves against, and at one point, he even set aside four hours to play against his clanmate in an 18-0 stomp. During this, there were never any complaints nor condescension, only fun and helpfulness—even when all he had to do was mass ghosts to win a TvT.
Choo-choo, goes the steamroller
«I notice that while his online personality occasionally is abrasive, he's actually very kind hearted, a genuinely nice guy—and one who, despite having a competitive mindset, has also never forgotten the ultimate purpose behind playing this wonderful game: to have fun», Eriador says after getting to know MadiNho through being on the Norwegian national team together.
One example in particular of his abrasiveness does resurface from time to time. «There's a lot of frustration that comes out», MadiNho commented when asked about a certain incident when he faced Models in a ladder match, «I've mentioned there are a lot of bms in the community, but that also includes me». After having struggled particularly against Protoss one day, he faced Models who, during a back-and-forth exchange, ended up saying, «Maybe rely on ally in 2v2 more.» This sparked the final straw for MadiNho, resulting in him throwing a racial slur at Models before promptly leaving the game.
«Of course I regret the choice of words», MadiNho states. «I'm mostly angry with myself and my own mistakes. It's something I've tried to improve upon, to always say gl hf and gg. And if there isn't a gg, I would at least rather rage quit than the alternative.»
A warrior's temper isn't always so easy to rein in, and it's such strong emotions that drive players like MadiNho to higher levels to empower himself, his clanmates, and the national team being led by Eriador. «He's also playing some stellar Brood War, and ends up carrying team Norway pretty hard, and we end up tied for third place, a fantastic performance for a country with such a small scene. If I recall correctly, we won every single 2v2 game where he participated, and he also had a very solid 9-4 record against top competition in 1v1», the leader of Norway's finest concludes.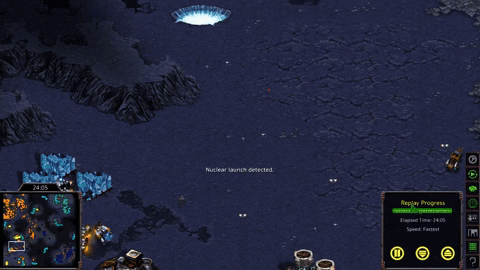 From a 2v2 in a friendly Nation War against Czech Republic
But a man must stand for himself sometimes in order to truly show what he's made of. Supporting one's clanmates and countrymen is one thing, but going full out in an individual league is something else. In the foreign community—which is to say anyone outside of South Korea—there are two individual leagues which truly shine through as premiere tournaments: the BSL and the Russian Cyber Cup AKA the Corrupted Cup.
The BSL consists of three divisions: Choboleague for anyone wanting to participate, Gosuleague for people of a certain rank, and then there's Proleague at the very top. MadiNho qualified for Gosuleague in BSL7 and got top 8, and with his continued improvement, he was able to qualify for the Proleague in BSL8, where he was knocked out in the Ro24 after a hard fought battle. And now once again, he's qualified for Proleague in BSL9.
The other tournament is the Russian Cuber Cup, which in 2019 was renamed the Corrupted Cup 2019. MadiNho won the second tournament in the European Qualifiers while going through players like Arcneon, Eriador, and CadenZie before finally taking down Bakuryu in the Grand Finals. However, it wasn't enough to simply win the qualifier. For a fee, players can challenge the winner, and if more than one player wanted to challenge the winner, a bidding war ensued. One spot could only be challenged twice, though.
Bakuryu faced MadiNho first, wanting to get revenge for his finals, but MadiNho beat him 4-1. In the second challenge, this one from Cryoc, MadiNho won 4-0 and secured his spot for the offline finals in Moscow.
«Corrupted Cup was definitely one of the highlights of my life», MadiNho stated. Organized by Rus_Brain and his crew, with a huge money prize (relative to the BW community), the Corrupted Cup is the other of the two most prestigious tournaments for foreigners. TerrOr beat him in the opening matches of the group, and after MadiNho beat Tokyoa in the losers match and TerrOr lost to spx in the winners match, TerrOr beat MadiNho again and ended his run in the tournament. However, a small tournament organized by Silver for the losers concluded with MadiNho's victory.
MadiNho playing during his stay in Moscow
Fortunately, the tournament wasn't the only attraction worth traveling all the way to Moscow for. With good ale and good friends, the Viking was able to fully enjoy himself with other like-minded individuals
A room full of Brood War players
MadiNho taking Bonyth to bed
Still slightly drunk AgGe and MadiNho getting hustled for 60$
His performance in BSL9 has overshadowed anything he's done previously, though. He was devastated in BSL8 after dropping out in only the Ro24, but this time he was able to pull through and show his mettle. In the Season 9 Ro24, he was grouped with his then-clanmate Avi (who he lost to in BSL8), his eternal nemesis TerrOr, and Cryoc (whom he had a good record against). MadiNho advanced after winning his opening game against Cryoc but lost to TerrOr in the winners match. Luckily, he was able to snatch his spot in the Ro16 in a rematch against Cryoc again and move on in the tournament.
«I said jokingly that Ro16 should be easier than Ro24, since I really didn't like my group at all. Little did I know then that I'd be put in the same group as the two best Terrans (except for kogeT, whom I'd say shares a place up there with TerrOr). I'd played Cross some beforehand on ladder and friendlies, and thought it could go both ways against him. I knew Dandy was a little rusty, so I was hoping it would go my way», MadiNho recalls.
In the Ro16, his first match was against Dandy on Monte Cristo. «I had a little plan for that map, even if it was like the second time I played on it.» With a gasless expand into wraith play, MadiNho was able to set himself up and contain Dandy and take control from there. However, in the second match on Sylphid, Dandy was the one getting an early lead, which he kept until the macro machine rolled over the Viking. For the last game, MadiNho chose La Mancha. «When I lost against TerrOr on La Mancha, I thought I had a fair shot. So if I had a fair shot against TerrOr there, I should definitely have it against Dandy.» He was able to set up a solid contain, deny any dropship play from Dandy, and from there secure the win. Next up was TerrOr. «I really didn't have any faith then. I thought 'Oh well, I can beat Cross and I can beat Dandy'», MadiNho says.
In Game 1 on White Out, he had a hunch there would be mass vultures, and even though he had faster factories, TerrOr was able to outmacro and outmanouver MadiNho anyway. In Game 2, MadiNho was expecting an early expansion from TerrOr, but then he saw three marines and knew something was up. He was able to kill them off with a vulture but didn't scout the two factories. The rush hit hard and things were looking dire for MadiNho. His expansion was denied, and TerrOr started one of his own. But with some good repairs and a strong defense, MadiNho was able to sneak out some vultures to slow TerrOr's advantage. With continued vulture magic and longboat play, MadiNho was able to turn it all around in a nailbiter of a game and secure the win.
MadiNho repairing for his dear life
Then came game three on Escalade. «I had a little plan for wraith play, but no idea how much damage it would do», MadiNho states. But as it turns out, it was the exact build he needed to go for this game. MadiNho saw TerrOr's 5-factory vulture play coming and set up a wall in front of his natural to deny his opponent's vulture army. Meanwhile, his wraiths decimated the mineral lines of TerrOr and brought the SCV count all the way down to 16 to MadiNho's 50. Looking back, MadiNho was pleased with the game, saying, «Maybe one of the better TvTs I've played, everything flowed and went my way I felt.» After having taken down his nemesis, he was really happy and relieved to be able to move on to the Ro8. «Now I feel anything can happen», he muses.
While he's started to find personal success in the game, his accomplishments extend into his personal life too. Earlier this year MadiNho announced that he is to be a father, after which he started to frequently use the nickname dAdiNho, a nickname that caused mirthful comments amongst his peers. However, it's not the first time his nickname has attracted attention.
One thing that has often been discussed in Twitch chat during his matches in individual leagues and clan leagues is how one should pronounce his nickname. Many have even wondered whether or not MadiNho is Brazilian. MadiNho himself answers like a poet speaking about his poems: «I've never thought about anyone pronouncing it the wrong way. People can pronounce it however they want.» He continues to explain that at first his nickname was simply MaD, but his clan tags made the nickname more complete (MaD[LotW], MaD[AoV]). When he wanted an account without the clan tags he simply added something that felt and looked right. Pronunciation was never really a factor, so whenever a caster announces the name differently from what "guy in chat" thinks, there's really nothing to complain about.
MadiNho is however likely to put a great deal more thought into the name of his child, which is due this summer. It's a great joy for him and his girlfriend, but it might also lessen his presence in the community. Eriador sums it up by saying, «While I understand that he is bound to soon join the ranks of Brood War parents, which might understandably make his activity take a hit, I hope he sticks around a bit, as his presence makes the entire community more joyful to be part of, both as a player and a spectator.»
Eriador is not alone in appreciating MadiNho's place in the community. ZZZero, the head admin and mastermind behind BSL, states:
«I like him very much. From the BSL point of view, he always comes to his matches on time. When there is a situation in which you need to adapt to the date of another player or wait, he never makes problems out of that. Not everyone can be a good manner when money is at stake. I value it very much in the players.
From a personal point of view, I had the pleasure to meet him in Moscow—great guy. I have the feeling that he pretends to be a little troll on the internet, but in real life he is very cordial and a good mannered person.»
But being a great guy isn't enough to achieve greatness. MadiNho's Ro8 match against g0rynich encompasses more or less everything that defines him as a player, and like so many conquerors before him, the Russian winter would prove to be his downfall.
The Russian Winter is coming
In Game 1, MadiNho started with mech and Eminem quotes. g0rynich gradually got more and more control of the game by continuously sheering tanks from MadiNho's army through some beautiful Queen play. Twitch chat called the game well before MadiNho had begun to think of surrender, though, and through constant harassment with his vultures it almost started to look like he could crawl back into the game. Almost. But g0rynich is no easy prey and methodically secured his win.
In Game 2, MadiNho defied his instincts and went for a greedy 14 CC, which would led to a very short game against g0rynich's 9 pool.
The third game truly showcased MadiNho's harassment and mental fortitude, though. Despite being just one game from losing the entire series, he fought even harder rather than starting to tilt. And even though g0rynich had impeccable reaction time to MadiNho's drops, the mere amount of drops all over the place surmounted the Russian's defenses and gave the Viking a lead he was able to keep all the way to victory.
The fourth game showed some of the flaws in MadiNho's timings. He had a generally good idea: marines are slower than vultures and therefore take longer to get to the Zerg's base, so sending out some marines early would correspond perfectly with the vulture timing to punish the 2 hatch muta build. Only the timing was off. The marines came waltzing by themselves and were caught by zerglings searching the area, and the vulture was trapped and killed shortly after. Despite that setback, he was able to recover and win the game due to his trademark vulture harassment and a large group of attacking hydralisks running to their death in a minefield.
The last game displayed his unorthodox choice of build orders with a one base play which went very wrong. MadiNho was predicting a different build from g0rynich, but he miscalculated, and even though it looked like it'd be a complete stomp, the Viking dug in and fought till the last. He did lose in the end and was eliminated from the tournament, but his tenacity shone through.
In the post-game interview, we got to see some of the flair in his personality. When asked about how he was able to sneak his vultures past g0rynich's defenses, he stated that, if you ask players like Julia or Eonzerg, the answer is maphack.
Nevertheless, a conqueror is never satisfied until he has conquered. MadiNho is in no way deterred from the defeat, but rather spurred on to greater challenges. Just minutes after losing to g0rynich, he optimistically stated, «Oh well, BSL10 then!»
MadiNho intends to wear Russian Fur after BSL10
---