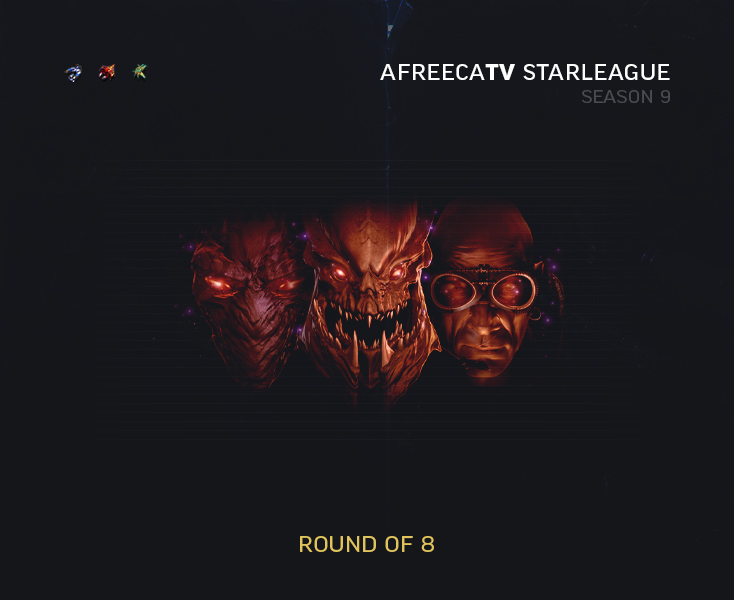 This may be the best season of ASL so far. We've had upsets, newcomers upsetting the status quo, some incredible series (especially in the Ro8 so far), and of course, unforgettable games on Hitchhiker and Inner Coven.
At a time when
KSL is cancelled
and the future seems uncertain due to the global pandemic, ASL has reminded us that Brood War is still alive and kicking. We've always worried about the "death" of StarCraft, from the dark ages of the post-Kespa era to the not-so-distant "What happens when all the old progamers retire?" past. This season has reminded us that we're still growing. The games are better than they have been in years, and Brood War fans are in for many years of top level play to come.
Table of contents

Commander-in-Chief of No Weak Points
It's the age of Stork, guys.
Not even gonna try to veil my bias, just gonna lay it out in the open. If anyone has read my articles or
followed
my
Twitter
, they know that I'm a huge Stork fanboy. As always, I'm rooting for him here, but he's up against his most fearsome challenge yet in the ASL.
Light is a monster right now. At the time of writing, he's tied for second place on Sponbbang with Bisu, Action, and Soulkey (they've been trading spots for the last few days) behind Flash, and his record in March broke an overall win rate of 65%. In the past week, he's traded blows with Bisu and Snow but still come out with a 60% win rate in PvT.
Light's short stint in Protoss seems to have fixed most of the macro play that plagued him before. As a more passive TvP player (ironic considering his insane aggro TvZ), Light tends to rely on small tells and intuition for scouting information, and playing Protoss appears to have made him more aware of what the race is capable of at any point in time. The result is insanely greedy play, very similar to Flash. He cuts every corner possible while trying to deduce what threats might come his way and defends them with the absolute minimum. The dreaded +2/+1 near-max push is Light's bread and butter, and if he's allowed to play his greedy style the way he wants, he executes it beautifully every time.
But there is one huge fault to Light's play. Unlike Flash, Light is predictably greedy. If you know your opponent isn't going to move out until 12:00, it becomes much easier to play the greed game yourself while throwing off your opponent's macro with perceived threats.
In the games that I've watched Light lose, it's huge 3-base busts with insanely early arbiters or carriers. For the most part, his Protoss opponents are exploiting his defensiveness by taking a third base off like three dragoons and teching straight up to Stargate tech without upgrades or templar. The occasional bulldog bust or reaver tech can also throw Light off and make him play far more defensively than he needs to.

An incredible series between Stork and Light from last year
Luckily, Stork is very good at playing the greedy game himself. And even better, he's more comfortable with carriers than late game arbiter styles. Stork
played a series of games
yesterday against Sorry and Flash. The games against Sorry looked more like practice games where Stork was pushing the limits of what he could do, including a dragoon contain where he somehow sniped Sorry's first 3 tanks by diving past the bunker multiple times. He also played around with a variety of 3-base bust builds which included the use of reavers or double shuttles with zealots. If the pushes didn't work out, he tapped out instantly. He ended the series 3-4, but the games he won were mostly macro games in which he did a fantastic job of stonewalling Sorry's army while simultaneously denying bases and securing his own.
His games against Flash were a little more serious. The games were intense, but Stork's carrier play proved to be too much for Flash to handle, and Stork took the series 2-1. And if Stork can beat Flash 2-1, there's a good chance he can beat Light too.
If you watch Stork's PvT from a few months ago, it looks pretty much...exactly the same. I mean, even the buildings are all in the same place. One of the things I love so much about Stork is the fact that he doesn't spend all his time trying to innovate; he just optimizes forever. So even though his gameplay looks remarkably similar to how it did six months ago, there are a lot of subtle improvements, but perhaps the most striking optimization is his ability to engage against Terran armies. Long (fawning) story short, I have not seen Stork engage a Terran army in the middle of the map badly this week. He's crushed it every single time.
Light is still working on the optimization, but I would really like to see him throw in more aggressive builds like 2fact or 1-1-1. His ultra passive TvP playstyle is very exploitable, and tossing in some more aggressive builds will check Stork's greed and allow him to play the macro style he's more comfortable with in other games.
The more unorthodox maps in the series (Horizon Lunar Colony, Inner Coven, and Polypoid) favor Protoss and Stork's preferred carrier style, but Light is fortunate to have the more "standard" maps (Match Point and Neo Sylphid) in the first three matches. If he can finagle out a win in the first map, he'll have a much higher chance of taking the series in what will appear like dominating fashion.
All in all, I'd say that the playing field is fairly even with the edge going slightly to Stork. I have to acknowledge Light's mechanical prowess and his current hot streak, but Stork is the perfect enemy. PvT has always been Stork's best matchup, and all of his strengths are all of Light's weaknesses. It's all going to come down to the first map and who can pick up the momentum, but I expect a close series.
Stork
>
Light
on

Horizon Lunar Colony
Stork
<
Light
on

Match Point
Stork
>
Light
on

Neo Sylphid
Stork
>
Light
on

Inner Coven
Stork >
Light on

Polypoid
Stork advances to the Ro4 3-1!

Generation War
In his first season after returning from the military, Bisu has already made it to the Ro8 and is rapidly regaining form, eager to polish his already formidable mechanics to complement his immense experience. And he'll need every last ounce of both because in the other corner awaits up-and-coming (ex-)amateur star Soma, who is yet to lose an offline game against Protoss.
Legendary status aside, Bisu does look in pretty good condition, although it's questionable if he's close to his pre-military chops. His return was rough. He plunged right in the midst of the "9734" Zerg build hype that left Protoss players without an answer for a while and turned into a punching bag for Zero in particular. But eventually he hit his stride and was back on the winning track. He even had to take a break in January after several months of merciless grinding. As far as results go, he sits at a decent 59.6% in PvZ in 2020 sponmatches, which is actually quite high considering the recent surge in Zerg power (For reference, Best is at 50%; Mini, 51.2%; Snow, 53.7%; Stork,38.5%). The only player Bisu has a losing record against is Zero…and Zero is insane right now.
Stylistically, things look familiar. Bisu's signature relentless, multitasking-heavy expand-like-mad-behind-aggression approach is still destroying the opposition more often than not. He will look for every nook and cranny in a Zerg's armour (chitinous plating?) and abuse them to wreak havoc in their carefully constructed economy while powering up himself. Macro-based games with a hydralisk bust thrown in every now and then seem popular with top Zergs lately. Bisu has fine-tuned his damaging builds accordingly. Defending against aggression is another matter, though. A significant portion of his most recent sponmatch losses are due to early damage caused by lings. There are chinks in his armour, too, and this opponent will definitely look for them.
Soma, while in the shadow of ZerO's incredible recent form, has been on fire himself. So far he has not lost a single game against Protoss in his premier tournament matches, including brutal 3-0 thrashings of Snow and Best in the KSL4. Considering that ZvP is his arguably least favorite matchup, this is scary by itself. Moreover, these two matches were part of a 10-game win streak in that tournament. His online results look less intimidating: a 54.8% win rate against Protoss in 2020 and a 6-10 score against Bisu. Evidently though, online results do not paint the whole picture.
He is mostly known for his smoking hot mutalisk micro and aggressive playstyle (drawing comparisons to Jaedong to the extent of him being called Fake JD on occasion), but what he showed against Best and Snow was some next-level mindgaming instead. He likes to throw off the opposition with weird builds and force inappropriate reactions while building his economy and tech up to strike at a precise timing. This is not to say that Soma is defenseless in a more standard game. His fundamentals are still very strong, and his map movement is particularly impressive.
Most recently, he took down Best from a disadvantageous position by smart tactical movement which repeatedly denied a third base and ultimately starved his opponent. But the real danger lies with his really polished, carefully crafted builds. He suspiciously went under the radar for around a week after the Ro8 draw and while he just might have needed a break, I'm more inclined to think he was indulging in evil Zerg scheming.
Map-wise, analysis is somewhat tough. All relevant map statistics are skewed towards Zerg to some degree, with the most balanced being Match Point. One could argue there is bias because of the strong Zerg performances lately, but with the new maps it's somewhat hard to tell. Hitchhiker is a significant outlier because of its peculiar geography, and Sylphid has been a bit Zerg favored for a while now. A common theme among those maps is the harder third gas base for Protoss, which pushes them into gate-heavy 2-base play; but if there's one player I'd bet on to take bases while exerting pressure, that's Bisu.
Ultimately, this match would more likely than not come down to a battle of wits. Both players possess immense tactical prowess and tend to set up solid mid-game positions to win, albeit with somewhat different approaches. Bisu is not very likely to fall victim to the deathball syndrome that got Best in his match versus Soma. He relies too much on that hectic, multitasking-intensive style to create and abuse openings in different spots in a very short timeframe. Soma, on the other hand, has been pretty successful at outmaneuvering his opponents with clever movement and can turn a game on its head.
However, I cannot help but recall how Bisu got eliminated by Shine back in ASL3. He was consistently denied scouting, threw away corsairs, or just refused to scout and was ultimately defeated by the Bag of Builds. He would do well not to fall victim to that sort of hubris again. Soma has already shown his own build arsenal is no less impressive. He's especially dangerous in a best-of setting because he tends to carefully prepare a mix of tailored builds, standard openers, and plain all-ins. Scouting will be key.
Bisu might be the favorite on paper with better stats in the matchup, not to mention being a PvZ legend, but Soma is an extremely dangerous foe. This could easily go either way. I'll go with my heart and predict a hard-fought win for Bisu.
Bisu
>
Soma
on

Polypoid
Bisu
<
Soma
on

Match Point
Bisu
<
Soma
on

Escalade
Bisu
>
Soma
on

Hitchhiker
Bisu
>
Soma
on

Sylphid
Bisu advances to the Ro4 3-2!
---