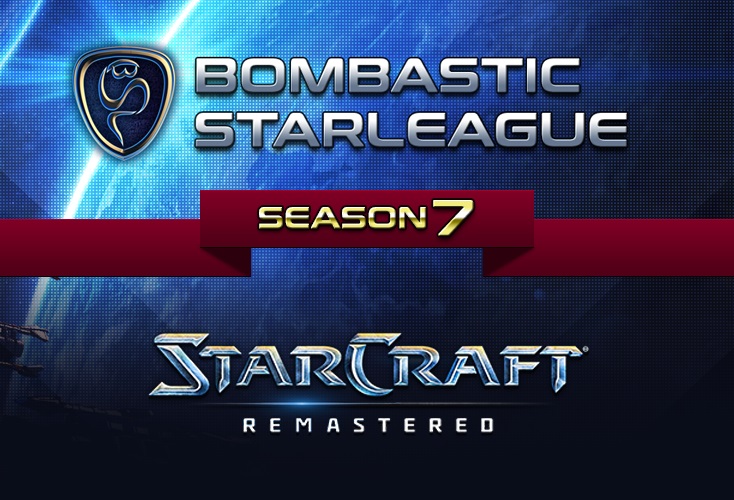 The seventh installment of the Bombastic StarLeague is well underway and we're taking the opportunity to bring you up to speed with what went down in the Ro24 and give you a general idea of what to expect in the Ro16. Fasten your seltbelts—this ride has only just begun!
Ro24 Recap
+ Show Spoiler [ Full Results] +
The cutthroat Bo1 format has already proven too tall a hurdle for a number of top contenders in the scene. BSL's own caster Nyoken, bombed out of the tournament on day one—if you happened to watch the cast with yours truly standing in...I really am sorry. While I can't with clear conscience recommend the clown fiesta of Group B, I certainly consider Group C to have made up for it, with Eriador taking us into "speshul taktiks" territory on more than one occasion. Group D, again, wasn't exactly what I'd expect, but if I had to pick a game to recommend then I suppose watching Casper vs Avi-Love on Power Bond can't hurt.
The final day certainly didn't disappoint, however. Ty2 treated us to a 4pool on Sylphid right from the get go and knicked VinGzil down to the losers' match in just under five minutes. The American went on to completely outclass babo in the winners' ZvZ on Power Bond to take first place in Group E. While Lady Luck seemed to favor my fellow countryman VinGzil in his PvP against LaAbuela, she didn't seem so keen in the final match of the group, and babo ended up reigning supreme. Group F turned out to be a well balanced mixture of macro games and 2 base rushes with a dash of race-picking thrown in by Jaeyun—a must-watch VoD, if you ask me.
Group A Preview
Full Steam Ahead
The Ro16 commences this Saturday with four seeds from BSL6 joining the fray. We've already sailed past upset-conducive territory, thankfully. From here on out, the tournament favors Bo3s all around. Group A features DragOn, one of the aforementioned BSL6 seeds, alongside g0rynich, Ty2, and spx, all of whom finished in first place in their respective Ro24 groups. Given the stature of all players involved, I'm still on the fence as far as potential favorites go.
While DragOn—a semi-finalist of the previous installment in the BSL series—might seem like the obvious pick here, all the other competitors have already played this season and are packing serious momentum as a result. Despite g0rynich still being considered one of the best Zergs outside of Korea, I stand by my sentiment that he has fallen off in terms of skill. I am open to the idea of being proven wrong. Nonetheless, as far as the Zergs in Group A go, I'm actually leaning towards Ty2, who's fresh off the back of a championship run at DreamHack Montreal and has a clear-cut history of improvement over the past couple of years. While spx undoubtedly places within the higher echelons of foreign Terran players, I feel his performance might be affected by the map picks moreso than in the case of the remaining contenders in Group A.
Predictions:
DragOn 2-1 g0rynich
Ty2 2-1 spx
Ty2 2-0 DragOn
g0rynich 1-2 spx
DragOn 2-1 spx
Ty2 and DragOn to advance to the Ro8!
Group B Preview
Best in Class
The best foreign Protoss, the best foreign Zerg, and two Terrans walk into a bar. No, it's not another cheesy joke, but group B of the Ro16! Dewalt is a beast, eOnzErG is a beast, TerrOr is a beast, and Ultra got through the Ro24 beating 10 Carriers when he initially had 4 Goliaths on the battlefield. The direction I take the narrative in doesn't matter - somebody is always bound to be upset. The notion of even suggesting that one of these players might be weaker than the rest is sure to cause uproar. But, alas, in StarCraft—unlike in Dancing with the Stars or one of those other shows where acting careers go to die—you either win or lose, and there's no friendly juror to award you points just because you're having a rotten day.
Predictions:
Dewalt 2-0 TerrOr
eOnzErG 2-0 Ultra
Dewalt 2-1 eOnzErG
TerrOr 2-0 Ultra
eOnzErG 2-0 TerrOr
Dewalt and eOnzErG to advance to the Ro8!
Group C Preview
I'm Calling in Sick That Day
Group C, while having two somewhat clear favorites in Bonyth and Jaeyun, also features two wildcards with Cross and Gosudark. Cross seemingly appeared out of nowhere and to take the foreign scene by storm, but he will be hard pressed to beat the Polish powerhouse—who, by the way, no longer plays for Netwars. It seems he's chosen souL over his Polish StarCraft family (we're not letting you live it down, squire). Jaeyun should likewise prove a tough nut to crack for Gosudark, whose Ro24 showing certainly raised more than one eyebrow. Worth mentioning is the fact Cross and Jaeyun actually met in the previous round, where the Canadian-born Korean took down the American-born Korean in a ZvZ on Sylphid.
Predictions:
Bonyth 2-0 Cross
Jaeyun 2-1 Gosudark
Bonyth 2-0 Jaeyun
Cross 2-0 Gosudark
Cross 2-1 Jaeyun
Bonyth and Cross to advance to the Ro8!
Group D Preview
Knives are Dangerous
As a kid I went through a martial arts phase. I tried plenty of various kung fu styles thinking I could be the next Donnie Yen. I moved on to Japanese swordsmanship and later swinging nunchaku about as I delved into Okinawan kobudo. The place I went to also taught classes in tantojutsu, a variety of traditional Japanese knife fighting. I never found it appealing in any manner, wondering how anyone could ever pick a knife over a pair of cool looking sai (sai, a three-pronged truncheon sometimes mistakenly believed to be a variation on a tool used to create furrows in the ground) or the deadly kama (kama, a traditional farming sickle, considered one of the hardest to learn due to the inherent danger in practicing with such a weapon). Anyway, the analogy I'm trying to draw here is that I can't understand how anyone would ever pick Zerg just for fear of having to play ZvZ. And we're getting plenty of it in Group D.
I'd say TrutaCz is as clear a favorite, whereas the second place finisher is slightly trickier to predict. CastrO got through the Ro24 beating Eriador's Protoss in the opening match, losing to eOnzErG in the winners', and then once again taking down Eriador's Protoss in the rubber match. babo took down two Protosses in Group E in the Ro24 while also falling to Ty2's Zerg in the winners' game. When it comes to Dienmax, the sole Protoss in group D, his advantage lies in only having to prepare for a single matchup. I'd say a lot rests on whether babo and Dienmax end up facing off against each other. The way I see it, Dienmax has a leg up on CastrO, who feels like a stronger pick for ZvZ over babo. Meanwhile, babo should come out on top in a potential game against Dienmax.
Predictions:
SCENARIO 1
TrutaCz 2-0 babo
Dienmax 2-1 CastrO
TrutaCz 2-0 Dienmax
CastrO 2-1 babo
Dienmax 2-1 CastrO
TrutaCz and Dienmax to advance to the Ro8!
SCENARIO 2
TrutaCz 2-0 babo
Dienmax 2-1 CastrO
TrutaCz 2-0 Dienmax
babo 2-1 CastrO
babo 2-1 Dienmax
TrutaCz and babo to advance to the Ro8!
---