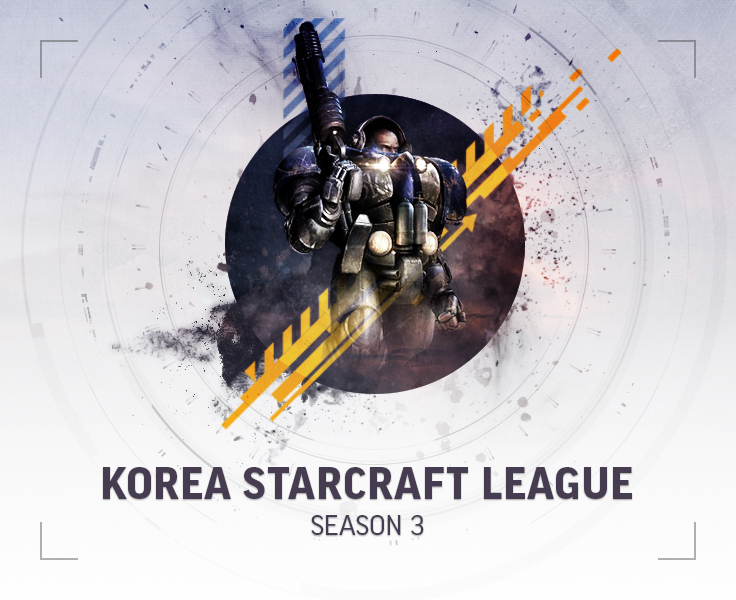 Week 2 of the KSL ended fairly swiftly with all matches ending in a onesided 3-0 affair and with about 75% fewer upsets. You can catch all the Highlights by Frudgey.

We once again we head back into the fold continuing the events of the first week of the KSL Season 3, with the winners and losers matches of Group A previewed by Ziggy and Group B previewed by TaardadAiel. Lets find Who they think will advance to the Ro8 and who will be the first ones to be eliminated from the KSL.



All Aboard the Upset Town Express
The third season of the Korea StarCraft League is proving to be anything but predictable. And it's hurting our credibility as esports writers, who claim to know a thing or two about the game. Just like the clear favourites, who now find themselves fighting for their tournament life, our reputation is also at stake. (Seriously, though, if we get this round wrong as well people might start asking questions.)
Best vs
Modesty
As I pointed out last time, Modesty doesn't really play sponsored matches. And since we decided to pay more attention to those when gauging a player's current power level, it does make Modesty's case rather tricky to handle tactfully. His victory over Sharp, while surprising and somewhat unexpected, hearkens back to the SoSPA era and his unorthodox style that oft caught Terrans off guard, even when they saw it coming (thanks to BisuDagger for pointing that out - my long term memory is about as reliable as sat-nav in a tunnel). While his ZvT pedigree certainly came into play in the opening match of the group, Modesty doesn't necessarily have the same reputation in ZvP to fall back on.
I then also claimed that ZerO would pretty handily take care of BeSt, but, well, here we are. Turns out my biased belief that the Zerg was ready to take on as big a challenge as one of the Six Dragons in a Best-of-5 was a much needed reality check, both for myself and likely for ZerO as well. Given BeSt's rich heritage and a track record matched only by a handful of players, I reckon I should have had more faith in his ability to top this group. And as much as the trope of underdogs toppling giants is very likely to continue, is it possible for this particular matchup to catch us unawares?
Prediction:
Best 3:1
Modesty
ZerO vs
Sharp
As much as ZerO losing to BeSt feels like a missed opportunity, Sharp's defeat at the hands of Modesty not only came as a surprise, but it also calls into question the Terran's current form. Modesty did exactly what Modesty does. And yet it still worked. I didn't even feel rewatching the broadcast was that necessary to determine what went wrong. Sharp's control was subpar. His tactical manoeuvring got him stuck on the bridges outside his own natural on Circuit Breaker, throwing away scores of Marines for no real gains. Mis-timed Turrets on Overwatch gave Modesty the freedom he needed to pick off units in Sharp's own base which ultimately led to the Terran getting boxed in. The very same thing happened on Cross Game - Sharp simply let himself be bullied into submission.
Since completing his civic duty to the nation of Korea just over three months ago, ZerO has played 277 sponsored ZvT matches, coming out on top in just 45.5% of them. And despite a 10-10 record against Sharp, the Terran yogi still holds the upper hand results-wise - a 61.7% win ratio over 201 sponsored matches against Zerg since February. Nonetheless, just as Modesty's track record (or lack thereof) in sponsored matches put him as the underdog in the opening match of the group, I have a feeling Sharp might be hard pressed to stay aloft in the KSL. Sharp's play, however entertaining in the past, now seems shaky at best.
Having said that, I'm still biased towards Terrans.
Prediction:
Sharp 3:2
ZerO

Feast Or Famine
This season of the KSL started heavy on upsets with many displays that found us wanting, which made for most unlikely arrangements for the second round of matches. Group B is no exception with the more experienced players in Snow and Shine fighting for survival in the losers' match, while the young blood in Ample and Where is to duke it out in the winners' match to determine who advances first.
Protoss versus Zerg has never been Snow's strongest matchup and he seemed to have taken steps to correct this - namely, play an obscene amount of games. Two-thirds of his total sponmatches so far this year have been versus Zerg, which is 400+ games, not considering ladder. His hard work seemed to have paid off - his win percentage in the matchup slowly climbed from 53.5% in January to 58% in April. Then came the opening match of the group against Where, which Snow entered with both experience and numbers on his side. Unfortunately for him, he could not replicate his online results and lost 1-3 to Where's finely tuned hydra busts, being uncharacteristically timid throughout the series and losing his scouting probe in Where's mineral line in game 2. A player of Snow's caliber is not likely to easily lose heart, but despite his amazing work ethic and tremendous ability, he's in something of a bad streak, coming into this match after a recent 0:3 loss to Mini in the CasterMuse StarLeague. Having to face another Zerg is just adding insult to injury for the PvT maestro, but he cannot afford to fail to deliver this time around as he faces elimination.
His opponent, Shine, also did not show us his typical cunning and creative ability against Ample. As the Bag of Builds stayed all but closed, Shine let his Terran opponent play his KSL debut match comfortably by being uncharacteristically quiet, failing his attempt at cheese on Colosseum - and ultimately he lost 1-3. Unlike Snow's, Shine's sponsored matches have been somewhat sparse, although the win percentages are very respectable: 66.7% versus Protoss in 9 games in April and 77.3% in 44 games in 2019 so far. The latter, however, includes a 0-3 record against Snow. Zerg versus Protoss has always been a comfortable matchup for Shine - the nemesis of Protoss legend Bisu, the greatest Protoss versus Zerg player of all time. As is the case with Snow, he is expected to deliver and has so far failed to do so - and now he, too, faces elimination.
It is difficult to say who has advantage over whom in what is to be a bitter fight between the two ASL runner-ups. Snow, with his vast amount of games, has given Shine ample study material to devise his trademark devious builds, but even so, the Protoss player is certain to have also prepared in secret - and if his last KSL match was any indication, he should be working on defending hydra busts. The two faced each other in the first season of the KSL with Snow emerging victorious after a vintage Shine display, featuring (among other shenaniganry) a very entertaining if unsuccessful two-hatch slow overlord ferry on Fortress. Scouting will be key even more than usual to detect any such attempts at cunning and treachery. If the games progress to a more macro stage and more standard plays, Snow can be expected to have some advantage. Map advantages are also difficult to ascertain as Shine does not have a big sample size, but Snow is likely to prefer playing Cross Game (83% winrate in April alone) and Eddie (75%) and avoid Overwatch (43.8%) and Circuit Breaker (50%, but Shine is undefeated versus Protoss on that map). Fighting Spirit could also be considered to favor Shine by numbers, as his ZvP score is 11-2 on that map, whereas Snow has barely managed to break even.
My heart and gut, not to mention the enormous number of games he's played, tell me Snow is the more motivated player and will bounce back after his bad streak to progress to the final match.
Snow 3:2
Shine.
The winners' match will see KSL debutant Ample fight to advance over relative veteran Where. Truth be told, the KSL is beginning to look like home turf for Where as he's shown us his best offline displays so far in the last two seasons of the tournament - after he defeated TvZ maestro Light 3-1 in KSL2, he started this season off with a comfortable win over Snow. Where is the kind of player who revels in aggressive builds, favouring two-hatch mutalisk plays, frequently probing with speedlings for a run-by and always looking to harass his opponent. His online numbers are admittedly not too intimidating; he's managed to break even vs Terran in April, but his winrate in the matchup in 2019 is a meager 40.9%. Still, Where is a cunning player and has experience on his side, so he is not to be underestimated even as he is looking to capitalize on the winner's momentum for the first time in his offline career.
For his part, Ample has the distinct benefit of having nothing to lose. Coming into his first KSL as the definite underdog, he comfortably outplayed a bland Shine in their first game, then defended a five-pool sunken rush attempt and, after dropping a game, sealed the series with a well-executed forward eight-rax into bunker rush that belied his relative inexperience offline. Motivation is surely a part of his newfound success as he's played a decent number of games online with generally favorable results: a 57.6% winrate versus Zerg since January in a total of 85 games, although in April he has struggled to keep a positive ratio and ended up with a 47.5% win percentage in the matchup, which comprises the vast majority of his online games - evidently he's been preparing for his opponents this month. Even though experience is not on his side, Ample is sure to bring his A game to the winner's match.
As is common with matches involving players that are less known, the more experienced player is considered the favorite. The first round definitely proved an exception to this rule, though. Numbers would hardly suggest advantage to either one of the belligerents, since both have negative winrates in their respective matchups and yet are in the winners' match; there is much to be learned from their online statistics, though, considering the opposition they have faced and the maps played. A large proportion of Where's losses come from distinctively aggressive Terran players (Sharp 1-6, Mind 1-6, Iris 8-15, Rush 0-2, Piano/Organ 8-10). These players revel in tactical plays in the early and mid game, as Where does, so that might very well be what decides the series. For his part, Ample has played the vast majority of his sponsored games on Fighting Spirit and Circuit Breaker - and has managed to score an impressive 17-4 on either map against admittedly lesser foes. Where would certainly want to avoid those maps or come prepared with a special build for his Terran opponent.
Despite Ample appearing motivated and prepared, KSL does feel like home turf to Where. This advantage combined with the trademark aggressive style that brought Light down last season is likely to secure him the win.
Where 3:1
Ample.
---