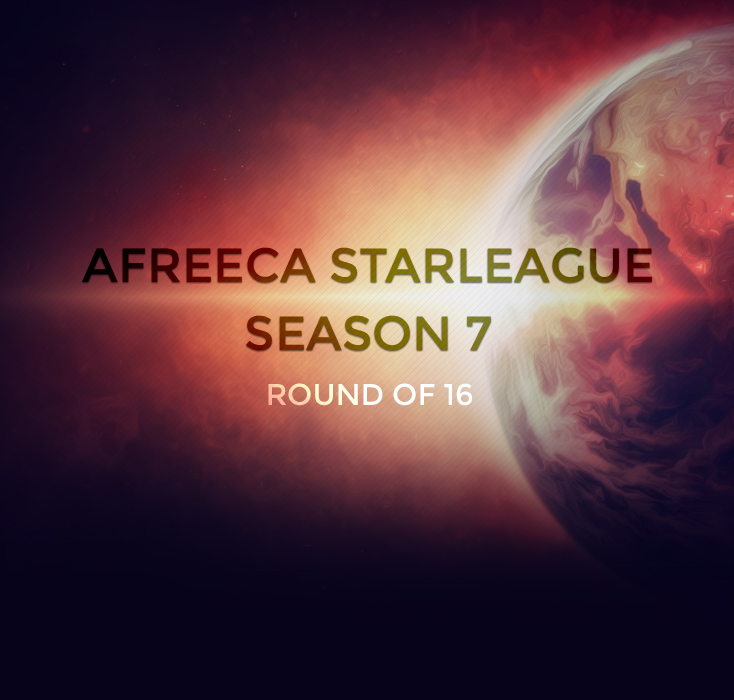 The Ro16 of the ASL continues with Week 2! Last week was a wild and crazy week with some huge upsets as well as some absolutely incredible plays (Snow, we're looking at you). If you missed last week's games, pull up a chair, relax for a bit, and watch some classic Highlight and Banter videos brought to you by
Frudgey
!
While this week's games may not be able to topple last week's, the storylines here are great. Can Mind finally rise to the top or will he be foiled by Sharp's insane TvT? Will Larva repeat his incredible performance from ASL4 or has he burnt out? Is Rain still the best player out there? So many questions, so many stories, and only the games will tell us the answers!
Tune in! Group C is set to start in !
Table of Contents

Three Men in a Group (To Say Nothing of the Zerg)
In Group C, we have a trio of hardened veterans—Sharp, Mind and Best—and
Montmorency
Modesty, who has recently returned to the scene and is the definite underdog.
Sharp vs
Mind on Whiteout
Sharp has become all the rage the past several months, defeating Protoss prodigy Rain both in the semifinals of KSL Season 2 and in the wildcard match for the ASL7. In his first match, he has to face Mind the Scholar Terran. The two played fairly recently on the big stage in the quarterfinals of KSL Season 2 where Sharp unsurprisingly came out on top 3-0 due to TvT being his best matchup and Mind's worst.
Sharp's prospects look the same this time around. His TvT win rate in sponmatches is a very intimidating 67.6% since January, while Mind's own percentage sits at a meager 28.6%. Whiteout is a map that arguably favors Mind's preferred style of tactical plays and aggression in the matchup, but still, Sharp should comfortably take this to advance to the winners match.
Best vs
Modesty on Whiteout
Best vs Modesty, on the other hand, is more difficult to predict. Modesty's sponmatch record against Protoss is literally nonexistent. What little information we have about him are his games in KSL2 and in ASL7 so far where he's faced mostly Terrans and played a single ZvZ against ggaemo. He has a history as a ZvZ sniper back in the KESPA days and was a feared ZvT player in the Sonic era. Notice that neither of these include ZvP.
Modesty has a penchant for specialized, designer builds, and we rightfully expect him to try to pull one again here, especially on Whiteout with its vast potential for terrain abuse. For his part, Best has been improving on his historically mediocre PvZ, which now stands at a fairly respectable 57.1% with a positive win rate against players like defending champion effort (12:7) and Action (4:3). It's not like he faced much opposition this season, though. Between the most botched all-in in ASL history vs ZeLoT and then Sacsri's poor DT defense, Best was able to breeze through the Ro24 without any problems.. What little data we have should still place him as the favorite here, but anything could happen in a Bo1.
Modesty's almost alarming lack of any PvZ activity could very well mean he has a build personally designed to bring Best down. Still, I'll go with recent experience and predict Best to weather the storm and advance to the winner's match.
Winners Match:
Sharp vs
Best on Neo Sylphid
Just several months ago, pretty much everybody would have placed their bets on Best, who is one of the best macro PvT players since forever. His online statistics are evidence for his prowess against Terran with a win rate of 57.1% since January. A closer look reveals that he has more trouble in the matchup than we thought against top players. Best holds an even record against Flash (4-4), Light (2-2), Mong (2-2), and Rush (1-1) on Neo Sylphid and actually has a losing record vs Sharp (1-2). Sharp, on the other hand, has a 68.8% win rate against Protoss on all maps.
However, Neo Sylphid doesn't lend itself to predictions that easily. The TvP win percentage is 49.8% in more than 1300 games so far. This could go either way. Sylphid is conducive to drop play, and we could definitely see the aggressive vulture play that Sharp used to defeat Rain as well as attempts at reaver harass from Best. In a more stable, longer macro game, Best should be the favorite. I believe Sharp still has momentum on his side, though, and will advance undefeated to the Ro8. Sharp > Best.
Losers Match:
Mind vs
Modesty on Neo Sylphid
Mind already easily defeated Modesty in the previous round of the ASL. TvZ has been his strongest matchup throughout his career, and a 72.2% win percentage since January only confirms that. Modesty has had some recent ZvT experience on the big stage, but he won just 4 of 12 total games vs Last (1:3) and Leta (3:2, 0:3) in KSL. History should repeat itself with another victory for Mind.
Final Match:
Best vs
Mind on Block Chain
Having Block Chain as the decider map in the Ro16 did raise a few eyebrows since the map is not quite figured out yet. There is a notable discrepancy between offline and online PvT win percentages on this map, though both estimates are seriously skewed. Offline PvT ratio is an astounding 71% (with a fairly small sample size), but sponbbang.com lists the ratio in online sponsored matches as 42.9% in a total of around 1000 games. But we—not to mention the players themselves—will have to make do with what we have.
Neither player has much to boast in terms of statistics. Mind has won 5 of his 14 TvP matches on this map so far with single game victories against opponents like Snow and Mini but losing the only game he played against Best. His Protoss opponent has a slightly better record of 10-12, and a closer look makes things look more reassuring since seven of those losses are against Flash. The map lends itself to shuttle/reaver harass (and drop play in general), as well as both arbiter and carrier plays, so expect Best to unleash any number of untold hardships on Mind and take this home.
Predictions:
Sharp > Mind // Whiteout
Best > Modesty // Whiteout
Sharp > Best // Neo Sylphid
Mind > Modesty // Neo Sylphid
Best > Mind // Block Chain
Sharp and
Best advance to the Ro8!

Superstars and Footstars
The last group of the Ro16 features a handful of players with trademark styles molded by iconic moments in Brood War history. We have:
The former ASL Champion Rain

"Foot-Star Gamer" Larva

"Puts Pylons in your base while you're looking" Mini, and finally

"Guy I least expected to make Ro16" Sacsri
Mini vs
Larva on Whiteout
Mini finished his ASL6 run in the Top 8 and ended up earning a seed to the Ro16 this season in a Wildcard match against Action. His PvZ has looked good, and his online results seem to compound it too. With a 60% win rate overall in the matchup in this month alone including a winning record vs effort, Mini looks super strong going into this match.
Larva has been looking pretty good too, though. Online, he has a similar overall win rate of 59% and his sponbbang head-to-head from January to now against Mini has him in the lead with a score of 11-8. It's not that big of a gap, and by all accounts, the match is very even for both players by the numbers.
However, when it comes to preparing for a map—especially a map like Whiteout where Zergs can excel—Larva is definitely in the advantage here. He's always been one of the better players when it comes to really playing a map to his advantage, and that's a strength I fully expect him to exploit.
Rain vs
Sacsri on Whiteout
Rain has his PvZ on lock, and against Sacsri, whose ZvP is 50% against far lower caliber Protoss players than Rain, there's very little to say here. Nine times out of ten, Rain takes this, so mostly everyone will be surprised if Sacsri does manage to win this one out.
Winners Match:
Rain vs
Larva on Neo Sylphid
While they haven't played each other online this month (for obvious reasons), when looking at their January head-to-head, they are tied at 4-4 and the map looks really good for the matchup so far. In the end, I'm going to have to give this to Rain, but expect a really good game from both players.
Losers Match:
Sacsri vs
Mini on Neo Sylphid
Sacsri is really the weakest link in this group. I don't see Sacsri faring all that well against Mini either. Mini should be able to easily sweep up the game and head into the final game to face Larva.
Final Match:
Larva vs
Mini on Block Chain
Unlike the opening game, I'd give the map advantage to Mini. He's been getting some good results so far on Block Chain compared to Larva, so this will be a harder fight for our Zerg. But...I'm going with my gut and betting on Larva anyway.
Predictions:
Larva > Mini // Whiteout
Rain > Sacsri // Whiteout
Rain > Larva // Neo Sylphid
Mini > Sacsri // Neo Sylphid
Larva > Mini // Block Chain
Rain and
Larva advance to the Ro8!
---