With Shuttle recently departing for the military, the Protoss race has lost a strong player, one who displayed fantastic skills, and immense growth over the years. Through years and years of streaming on Afreeca, Shuttle gained many nicknames, and there were many ways to describe him:
Hard-worker
Charismatic
Family man
Champion
Elsa Toss
Mole Toss
Star Dragon, and of course
Monstrous Progeny of Capitalism
These are, but a few of the descriptions and names that such a player has become attributed with over the years. Considering his behaviour on stream, you get the impression that he's a joker. Someone who has a great sense of humour, and who is more than likely to pull a funny prank that will have us all laughing with tears, lest the language barrier disappeared, and his full personality came to light.
However, beyond all the labels, Shuttle was just a really passionate BW player. He was
one
of us!
A guy who just loved competing, and loved being in the spotlight with all his heart. During BW's dark days, Shuttle returned earlier than other ex-pros to the game we love, and was one of the first to truly inspire us to keep fighting for Aiur during the SSL days. He may not have had the same accomplishments as other top players at the time, with his best placement being a Ro16 finish in SSL8, but you knew that this guy was serious and that he'll eventually have his time in the spotlight. This was further emphasized by the fact that even during those days, he was still placing well overall in online tournaments, taking several gold, several silver and a single bronze:

"My secret is just industriousness. Crazy hard work. I literally eat, shit, sleep, and stream. Before we got married, my girlfriend would tell me that I must be obsessed with money to stream so much."
A player who was once the captain of STX SouL, liked PvP, and hated PvZ with a passion, Shuttle slowly reformed himself over the years, streaming for many hours on end, and gradually improved his skills until he was considered one of the best. A monstrous Protoss in 2016 who was not afraid to use the race to its maximum potential, and who became known for his PvT prowess by then, Shuttle's newfound skills helped him push through major barriers, as he defeated EffOrt, free, Jaehoon, Last and Sharp on his way to becoming the first ASL champion. Certainly an unforgettable moment for a Protoss player who worked hard for years, and finally had his efforts rewarded: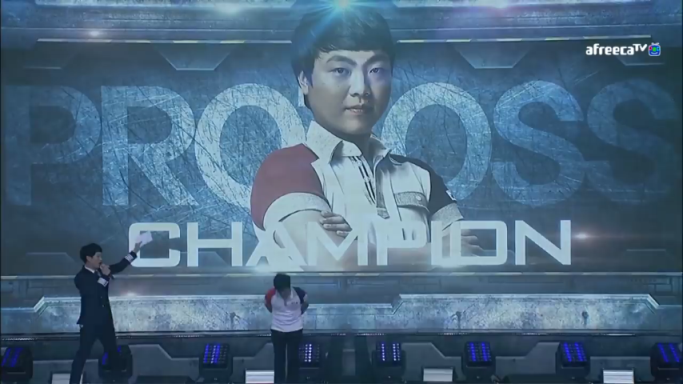 "I think EyeWater [has] improved significantly compared to [his] progamer days." - Flash
Still, Shuttle's form was one of inconsistency. While he finally managed to win a championship, he faltered in the next ASL, crashing out in last place in his Ro16 group. He struggled in ASL3 getting eliminated in the Ro24 while ASL4 was slightly better with a Ro16 finish. ASL5 was finally the tournament that helped him gain his footing, and it was a tournament that depicted Shuttle perfectly in a way. His ability to perform above expectations when he's motivated, and he must do so. Facing an all Zerg group consisting of some of the best ZvPers in the game, Larva, EffOrt and Jaedong, Shuttle prepared diligently and took first place defeating both EffOrt and Larva with stellar games that were a reminder of what he's truly capable of when everything lines up.
Even though he was eliminated in the quarterfinals by the ASL5 champion, Rain, this set him up for his highest exit since his ASL1 days in the upcoming ASL, ASL6. There, he defeated ErOs_ByuL, MisO, Soulkey, Snow, and Action quite convincingly before he eventually succumbed 0-3 to Flash in the semifinals. He fought Last in the third place match, but lost 0-3 there to take
fourth place
. It may not have been another ASL championship, but Shuttle showed that he could tangle with some of the best.
A look at his TLPD results shows that his winrates converge towards 50%, with his PvP being several percentile higher than the rest. Ironically, though he hates PvZ, he's had his PvZ tested many times by great Zerg players, and he's grown to become one of the best PvZers in the current scene. A force to be reckoned with and someone that should not be underestimated, here's a small selection of games that he has played over the years, in no particular order, to give you guys a grasp of his true abilities:
6

Afreeca Starleague Season 1 Ro16

Shuttle vs

EffOrt on Fighting Spirit



5


Afreeca Starleague Season 1 Finals

Shuttle vs

Sharp on Circuit Breaker



4


Afreeca Starleague Season 5 Ro16

Shuttle vs

EffOrt on Neo Transistor



3


Afreeca Starleague Season 4 Ro16

Shuttle vs

sSak on Crossing Field



2


Afreeca Starleague Season 5 Ro16

Shuttle vs

Larva on Third World



1


Afreeca Starleague Season 6 Ro16

Shuttle vs

Snow on Circuit Breaker



A Protoss player that heeded the fans' call. Shuttle, you will be dearly missed!
Writer:
Bigfan
Graphics:
v1
Thanks:
2Pacalypse- for css support
Photo Credits:
AfreecaTV, Blizzard