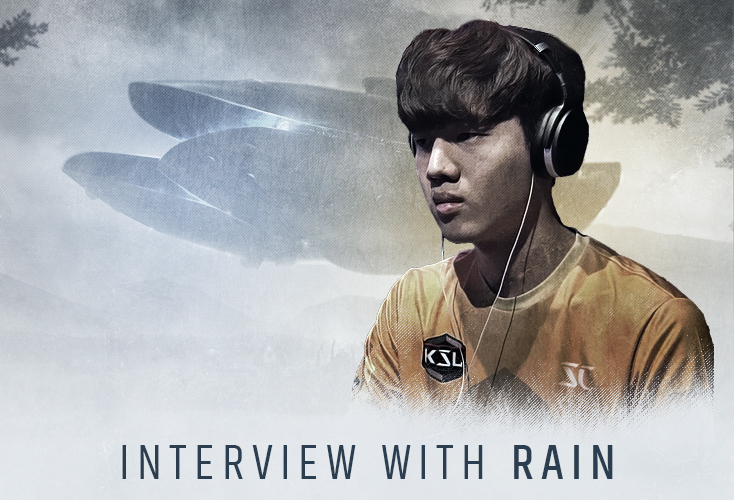 Thanks to Afreeca's help, TeamLiquid was eventually able to land a live interview with Rain, the winner of ASL5, and the best Protoss after Bisu's departure. This interview was conducted during the Ro16 of KSL and has been edited for clarity. Enjoy!
Q: Congratulations on winning the Afreeca StarCraft League, which is widely considered to be the most prestigious Brood War tournament at the moment. You defeated the strongest players of the current era to do so. How did you feel?
A: When I started playing Brood War again, I did not think that I could rise to the top of the heap. I don't know how it happened but winning a Brood War trophy to go with my StarCraft 2 trophies really felt good.
Q: Indeed, not many people have won major titles in both games. Who were the most challenging opponents you faced on the way to that ASL trophy?
A: Um... All of my opponents were difficult, but my final opponent (Snow) was the most difficult one.
Q: You faced hero, feared by all as a "calamity upon the Protoss race", in the semi-finals. What were the things that helped you overcome a Zerg player who had dominated even Bisu in the past?
A: To be honest, the map pool really favored Protoss so I thought that I would be okay if I prepared well. My big picture was to mess with his well-laid plans with early-game tactics so that everything would be off-script. This happened to work really well, especially because I managed to be unpredictable and surprise him. I did something different in each game.
Q: You are considered the best Protoss in the game at the moment. Do you think that you have any room for improvement?
A: StarCraft is a game that seems to generate new builds and new concepts for game management every day. If I can keep practicing to keep up with these developments, I can keep getting better.
Q: You seem to be in great form recently. Any particular reason?
A: I tend to play better when I am enjoying the game. I have been in a great mood since winning the ASL and this seems to have affected my play.
Q: While you were on the SKT T1 with Bisu, many people say that you are actually closer to an evolved version of Stork. Which player's style is closer to your own?
A: I get this question a lot. Um... I think it is half-half. I play like Bisu in PvZ and like Stork in PvT.
Q: What do you think is unique about your playstyle compared to other Protoss players?
A: I do not like to rule out any build or strategy on the part of my opponent. It is relatively common for us Protoss to gain an economic advantage by leaving ourselves vulnerable to at least one option available to our opponents. Sometimes that is a small gamble. Sometimes it is a big gamble. I tend to avoid taking any such gambles even if it frequently means that I fall behind a bit in the early part of the game.
Q: You mentioned that the ASL maps favored Protoss. How much can imbalances in map design be overcome by a player's ability to adapt quickly?
A: It really varies from person to person. However, I think that map balance is the bigger factor when all players are given sufficient time to prepare as was the case this time.
Q: Have you looked at the new maps for the upcoming ASL? Which maps look fun to you?
A: Haha. I haven't really looked at them yet.
Q: Have you been able to transfer what you learned from playing StarCraft 2 to Brood War?
A: My APM got faster. I used to have APM in the mid-200s back in the KeSPA Brood War era. Since I came back to Brood War, I have been able to reach the low-300s regularly. I think that is something I acquired through StarCraft 2.
Q: That is quite interesting. Why do you think that is?
A: It is not as if StarCraft 2 requires you to do more things in the game. It is a bit mysterious to me as well.
Q: Every player in the KSL picked you as the player to beat. Does that sort of expectation weigh heavily upon your shoulders?
A: I think that's because I won the last ASL and Flash is absent from the KSL. It doesn't bother me though. More accurately, I don't think about it.
Q: Who is the biggest obstacle on your way to becoming the first KSL champion?
A: I suspect that Soulkey would be a difficult opponent. The games are fun and exciting whenever we clash against each other.
Q: You defeated Movie 3-0 in the KSL. The games seemed much closer than the final score indicated. Most pro gamers say that Movie plays almost exclusively with his logical abilities rather than physical ones. What about you?
A: Um... I am not sure. I do know that people with good micro control in small scale engagements annoy me a lot.
Q: Does anyone come to mind?
A: Snow's shuttle-reaver control comes to mind. Now, I don't think that sort of great micro has a big impact on the course of the game, but it still annoys me quite a bit.
Q: The KSL uses a BO5 format starting in the dual tournament stage of the RO16. Do you prefer the ASL format?
A: Each format has its pros and cons.
Q: In the past month, you have frequently used multiple speed-upgraded shuttles to dominate PvT even against Flash. Have you solved Flash?
A: I have been doing that against all Terrans, not just Flash. It is the hot trend of the day.
Q: Could you explain why the speed-shuttle meta works well against Terran these days?
A: The dominant paradigm in PvT so far has been "Up Terran". On maps like Fighting Spirit and Circuit Breaker, Terran sets up a defensive line and expands safely with a minimum number of factories and completes mech upgrades quickly. Multiple speed shuttles are really the only way to break that defensive line. What Protoss wants to do is keep up zealot drops to exchange units with the Terran player to exploit the low factory count and go into the late game with an advantage.
Q: On the Terran side, Flash seems to quickly come up with a solution for the Terran race every time Protoss innovates like this. Can the Protoss race ever be expected to enter a golden age while he remains active?
A: Look at the last ASL. The maps matter. I think that we can account for the halo effect that Flash has on other Terrans by adjusting the map pool.
Q: Do you think that StarCraft is perfectly balanced as many people claim? Is there room for improvement?
A: At this point, even the bugs are a part of the game. Maybe some patches would have made sense in the past, but we are now in an era where Brood War's game balance is adjusted using maps.
Q: Maps seem to be very important in your view. We need more map makers!
A: Yes. I think so.
Q: Who do you think is thriving now, but who would not have thrived as well in the KeSPA era?
A: Oh geez... I really don't pay much attention to what other people are doing. Hehe. I don't know.
Q: What is your favourite hobby?
A: I really have no hobbies. In my spare time, I get together with my friends or watch other streams on AfreecaTV.
Q: Geez, you gamers are all the same.
A: Yeah, that's right. Hehe.
Q: What are 3 things you would bring to a desert island (no boat allowed)?
A: Why such hard questions? I have never thought about this. Come on... Water... A pet... Not sure about the third... I think I would be bored without a pet to keep me company.
Q: We will give you a pass on that. There were talks about how exercise was mandatory during your days on SKT T1. Between yourself and the other Protoss, who do you believe has the best body?
A: Best. Definitely Best.
Q: You have a lot of fans, both from BW and SCII on TeamLiquid. While you are known as "No Fun Rain" on AfreecaTV, these guys seem to think that you are hilarious. Do you have any final words to pass on to those fans?
A: I would like to thank them for their support, especially those who have kept following me despite my switch back to Brood War. I hope to keep showing them good games in the future. Please come watch my stream. I usually stream on AfreecaTV from noon to midnight KST.
Questions by:
TL Staff
Translated by:
lemmata
Editors:
BigFan
Graphics:
v1
Photo Credits:
Blizzard