The Ro16 is over and with it, the hearts of my fans have been shattered. The results of group C were not unexpected with Bisu and Mind advancing in first and second place respectively after some dominating games, however, the results of group D were rather disappointing for fans of Jaedong and Stork. Both players tried their hardest to beat Soulkey and Rain, alas, they barely missed in some cases. Close games between strong competitors are the bread and butter of competitive BW so at least we got those for consolation. Read the recaps by KwarK below for more details.

Afterwards, the groups were drawn for the quarterfinals. Group A which is a battle between Larva and Rain has been previewed by Bigfan and is set to start in while Group B, a ZvZ between Soulkey and hero, previewed by Ty2 will start 2 days after. Take a quick look at the previews and let's get hyped for more BW!
Domination
Game 1: Bisu vs Mind on Crossing Field
Bisu (P) spawned in red at 10 while Mind (T) took orange at 4. And before I get into any of that I just want to remind everyone that this game is actually a rematch of the Gom TV MSL finals from November 2007, almost exactly 10 years ago. So that's pretty neat. Mind edged Bisu out of his back to back trophies following his dethroning of sAviOr in the previous series. But anyway, back to today's games.
Both players opted to delay their first production building until after dropping a fast expansion at their rear natural. Bisu sent out a scout probe that was timed to reveal Mind's main, and therefore any funny business, the second before he dropped the nexus and committed to the FE. Whereas Mind just FE'd, confident that he could hold off anything funny with 60 hp scvs alone (which is true, scvs are strong as hell).
Bisu spite gas stole Mind before Mind even dropped his rax, prompting Mind to simply take the refinery at his natural, a marginal delay in his timings due to the slower first factory but zero economic damage so any push will be no less strong. Bisu also showed off some very fancy probe micro, impressing the hell out of Artosis but not killing any scvs.
Bisu transitioned into two base robo while getting dragoon range, completely standard for this map, while Mind, who scouted Bisu's robo, started a 3rd CC in his main. This was more or less as expected, Bisu couldn't safely take a quick 3rd without seeing Mind's factory count. He was therefore forced to delay his 3rd while Mind, having seen Bisu's build but not having revealed his own, was able to use the difference in scouting to take a faster third.
With the factory delayed Bisu pressured Mind's front with a zealot and a dragoon but the scv on the ramp made the zealot AI bug and the marines held it off. Meanwhile Mind followed a single factory with a fast armory, fast +1, fast academy, and ebay following. As greedy as greedy can be, bare minimum of units, at 6 minutes just 4 marines, a vulture, and a tank, for three bases.
Bisu, seeing how few units Mind pushed out with and that Mind didn't push beyond his front natural, started his third but he was behind on expansions. Meanwhile his shuttle and reaver accomplished nothing, Mind's turret timing hitting perfectly, a testament to how skillfully greedy his build is. Bisu countered by rushing to two stargate carriers.
The reaver established a loose contain but Mind scanned the stargates and pushed out with a very early 7 tank + marine and vult push, catching Bisu with just four dragoons, and his reaver with a zealot in the shuttle. An almost unwinnable fight for Bisu.
Bisu microed his little Protoss heart out, directing every single scarab shot to a clump of tanks, and four tanks went down with four shots. Mind's dropship and vultures followed up the push but the rallied dragoons were able to force the unsieged tanks back. As vultures threatened a runby Bisu's army returned to his natural, allowing the last two tanks to escape and giving the first skirmish decisively to Bisu.
However, they were still on three bases apiece with Mind expanding earlier, starting his upgrades earlier, and pushing out earlier. While Bisu's first victory gave him map control and the supply advantage, strategically Mind was where he wanted to be, equal bases and rushing towards 3-2.
Mind dropped another five factories and attempted a vulture drop. A scan in Bisu's main before dropping revealed a group of dragoons waiting for the dropship while the scan at his back natural showed a cannon. Mind's dropship immediately turned back around and unloaded the vultures. Meanwhile Bisu pushed out to take his 7 fourth base and establish some carrier threat at Mind's rear nat.
Bisu did the cute carrier + zealot shuttle play we've seen a lot on this map but Mind wasn't having it, knowing where the carriers were and that without them Bisu couldn't contain him he rushed his army across the map to the high ground outside Bisu's front natural.
Bisu had stayed on just two stargates, slowly building a carrier count while spending most of his three base income on ground units, and with zealot legs ready was able to discourage Mind from trying to attack.
Mind retreated back to his newly starting fourth base and Bisu's army, uniting the dragoons and carriers, harried him all the way home.
However, Mind's army was too large for Bisu to take on without either storm or stasis. Carriers can effectively harass Terran but in open terrain against tanks and goliaths they fare poorly, even with dragoon and zealot support.
Mind hit 170 supply and 2-1 and pushed out, his army crawling down the narrow spine of the map with cliffs on either side.
With Bisu just twenty supply ahead Mind had a clear tactical advantage, Bisu could not throw his army against Mind's without adding support units. And while Bisu's carriers could threaten to harass Mind's rear natural they could only do so at the cost of letting themselves get separated from his main army, risking a total rout for his main army if Mind pushed. Mind would trade one of his four mining bases for a one sided victory over Bisu's ground army 11 games out of 10.
Bisu evenly engaged Mind's army as Mind sought to emerge from the spine of the map near the 6 expansion Bisu was hoping to take, getting a very nice storm on goliaths but suffering withering tank fire on his dragoons in exchange.
Mind's deep formation drew Bisu's army in and the tanks annihilated all that remained of Bisu's dragoons and zealots, bogging them down on goliaths. However Bisu's carriers were able to clean up the remaining goliaths, leaving the tanks at their mercy.
The even army trade turned into a rout as Mind's tanks fled for the safety of his base. Bisu's ground army was slaughtered by tanks as it engaged goliaths but with the goliaths destroyed he was able to exact a terrible price on Mind's tanks, killing five for no cost. Mind was back in his base, the two stargate carriers had a critical mass, and Bisu's fifth base at 6 was up.
Bisu's gateway units rallied across the map to join his carriers which, with no critical mass of goliaths to oppose them, were picking off goliaths as they emerged from the factories. The supply difference grew through attrition and Bisu's army broke Mind.
GG
Mind's strategy was great, taking an economic advantage while denying scouting and setting himself up for the winning push. By the time Bisu scouted it he was forced into a later counterexpansion and his own rush to lategame tech, two stargate carriers. Mind immediately scouted it and hit out with a killing stroke. I loved every part of that. However Bisu's execution with the reaver was unbelievably, manually targeting each scarab while microing dragoons and dodging tank return fire. Mind did everything right and still got punished. His early tank losses limited his ability to engage in the start of the midgame but eventually Mind got the 2-1 army he needed and pushed, exactly as he should have. And once again Bisu threw him back with fantastic control, storming the goliaths down while his carriers went to work. Mind looked great, Bisu looked unstoppable.
Game 2: Shuttle vs ssak on Crossing Field
Shuttle (P) spawned in purple at 4 while ssak (T) took brown at 10. Both players went for their gateway/barracks respectively before taking their expansion. Shuttle's scout probe threatened to block sSak from taking his rear expansion but ssak just dropped the command center at his front natural.
Shuttle stole sSak's gas but, as in our first game, sSak simply took the gas at his natural and left his timings largely unaffected. Shuttle's first two zealots, produced from his gateway after the nexus delayed his gas and core, started a zealot party in sSak's base. Using the long route along the bottom of the map one zealot ran behind sSak's natural mineral line and into his main, pulling three marines in chase, while another sneakily followed and harassed the natural scvs. With sSak's barracks floating and his delayed factory not yet making vultures the two micro battles were surprisingly effective, getting two marines and three scvs in trade.
Behind the micro games Shuttle took a quick third off of just one gateway, his dragoons denying sSak's scv scout and setting up a loose contain with range sniping the bunker. sSak pushed them back with a sieged tank and took his own back natural while adding an academy and armory, a solid defensive three base push posture. Slight advantage Shuttle, whose third was taken significantly earlier, but nothing critical in a macro game.
Shuttle's two gateways pumped dragoons while his robo finished a reaver, giving him a small army with which to push out. Behind him a probe went to his fourth at 11 and a stargate was laid in his main. ssak, sensing the reaver drop coming, patroled three of his four tanks from his main to his new rear nat but Shuttle had an entirely different idea and attacked the natural head on.
Two scarabs and four dragoons took the bunker down before scvs could get on top of it to repair and the shuttle was free to deliver its payload of zealots on top of the tank. Three tanks reinforced the natural as the front tank was picked off but sloppy dragoon control left them attacking the barracks and Shuttle wasn't able to do any further damage. When the dust settled two zealots and a dragoon were traded for a bunker, four marines, and a tank. Still, a cute little attack and, like the zealot party before it, very disruptive to sSak's ordered 2-1 push plan.
In contrast with Bisu's two gateway -> two stargate -> all the gateways opener Shuttle opted for four gateways, before adding his fleet beacon and second stargate. He also picked up shuttle speed, suggesting that he planned to use the carriers in more of a support role for a heavier ground army. This put him in an excellent position to resist a timing push, or to get very disruptive with ground support for carrier harassment.
Deciding not to wait for carriers to start playing around Shuttle threw two speed shuttles, carrying a reaver, a dragoon, and four zealots into sSak's main and the army waiting there.
Four goliaths immediately picked off the shuttles, stranding the reaver without the ability to pick up and reload, while Shuttle's probe inexplicably still hadn't dropped his fourth. A third stargate followed the drop, reversing his earlier ground heavy strategy and opting to build a critical mass of carriers faster with an exposed timing window.
The first two carriers pulled missile turret fire at sSak's rear natural while a shuttle carrying two zealots and another reaver flew in, forcing the scvs to run and killing six of them.
sSak's army moved up to clean the drop up but the reaver scraped together fourteen kills before it was cleaned up.
Shuttle finally added his fourth nexus and the supply difference showed what he had used the intervening time for, Shuttle maxing out in under 13 minutes with pure dragoons, speedlots, and carriers. His army was extremely lacking in the kind of late game support he'd need to win a scrappy brawl on the terrain but the impact of his chaotic playstyle could be seen in sSak's supply, which was 60 behind on equal bases.
sSak's army looked a little bit lost and confused when compared to Shuttle's
For now sSak would have to accept a one base deficit while waiting for the army cap to even out their positions and upgrades to push him ahead.
Shuttle harassed the rear natural with his carriers, fighting against a three deep wall of turrets, while ssak advanced his army down the narrow spine of the map, knowing Shuttle's army lacked carrier support. Shuttle attempted to blunt his push but quickly realized that dragoons and zealots cannot beat massed tanks and zealots in difficult terrain.
The early max of Shuttle actually worked against him as he was unable to integrate the higher tech units into his army.
sSak's army made it to the top of the cliff, hoping to cut off the carriers, which were finishing off the last of his turrets, from Shuttle's ground army. As he emerged from the spine of the map Shuttle's carriers turned back from sSak's main and joined the ground army Shuttle threw into the tanks.
Shuttle traded well, taking heavy losses from the first tank volley but pushing ssak back and killing a good number of tanks, then backing before his ground army got bogged down and destroyed in ssak's deep formation of goliaths and tanks. When the dust settled Shuttle was down 60 supply and ssak down 30, an okay trade when you're a base ahead and fighting an entrenched Terran army without storm or stasis.
sSak's army was able to push up to 12, aborting the Protoss expansion attempt and shielding his main and rear natural from carrier harassment. However the quicker Protoss remax, accompanied by a larger bank, left his army exposed as it retreated from the north of the map. Shuttle caught sSak unsieged and sSak appeared to completely misjudge the situation, leaving his tanks unsieged and trying to simply fight it out. The carriers picked off a few tanks and the massed goliaths found themselves fighting dragoons, carriers, and high templar without a deep tank formation behind them to kill the Protoss ground force.
Without tanks to mow down the dragoons ssak's goliaths were annihilated. ssak looked at the supply deficit, the massed carriers near his main, his lost tank core, and his missing critical mass of goliaths, and GG'd out.
GG
Shuttle showed a very distinctive disruptive style this game, focusing more on throwing ssak off his game than on scoring tactical victories. It worked, ssak never seemed to have a grasp on how to deal with the things ssak threw at him, from the early zealots to the drops accompanying carriers. On paper ssak had the tools he needed, three bases, upgrades, a solid economy. However he was never quite able to put it all together into the killing push he needed. ssak is a better player than Shuttle made him appear so I'll give Shuttle style points rather than taking them away from ssak.
Game 3: Bisu vs Shuttle on Gold Rush
Shuttle (P) spawned at 12 in white while Bisu (P) spawned at 9 in red. Both players mirrored closely, opening gateway, gas, scout, but Bisu opted for a quick zealot while Shuttle went for the faster core. Both players scouted clockwise down the edge of the map, Bisu in the right direction. Bisu had the faster scout advantage but a slight build order disadvantage, his slower core delaying his dragoon range and reducing his dragoon count parity, while his single zealot was unable to do anything more than block the ramp against a probe that was sneaking in through the back door.
Three minutes in they had equal supplies and economies but Bisu's two zealots were less useful than Shuttle's zealot dragoon, failing to chase out Shuttle's scout probe and slowing the range. In a rare micro misstep Shuttle allowed Bisu to connect on his scout probe and kill it with a nice melee stutterstep.
It's worth noting here that Shuttle's gateway core zealot dragoon range opener is very much not safe against an unscouted opponent, and may indicate that he doesn't feel that he has an edge against Bisu. Either that or supreme confidence in Bisu's standard openers, to the point that he doesn't need to scout.
Bisu's scout probe watched Shuttle kill the back assimilators, inviting him to send a dragoon to Shuttle's front and see the moment he dropped a nexus. The game developed into the most normal of PvP situations, Shuttle taking an expansion to put economic pressure on Bisu to either accept a disadvantage through a later counterexpansion or go allin. Expecting some kind of pressure in response but not knowing what flavor it would come in Shuttle added another two gateways, the "whatever comes having extra dragoons probably won't hurt" approach. Bisu decided that two gate reaver was the allin of choice for this spot.
In the coming exchange Shuttle would have more units and a stronger economy, but Bisu would have the critical reaver. It would come down to timing and positioning. But critically Shuttle had no idea what Bisu had, having no scouting information since the first probe died to a zealot. He was 110% dead to dts, 110% dead to some kind of speedlot dragoon allin, behind against an expansion that didn't cut so hard, but had actually forced the build Bisu had chosen to use, two gate reaver, allin. Not knowing that, Shuttle pushed out onto the map, needing some kind of intelligence and wanting to punish a two gate nexus.
Bisu finished his reaver but delayed his push for another round of units and a second reaver, rather than rush in. When he pushed out at 7 minute they were on equal supply counts, but Shuttle would very happily trade dragoons with his superior gateway count. Bisu needed any battle to snowball into a rout from which Shuttle could not recover.
Shuttle divided his dragoons into two groups, correctly identifying that Bisu would need the sheltered fire of a reaver behind dragoons to get the win he needed.
Bisu's twin reavers were able to deliver instant kills to clumps of dragoons, and Bisu manually directed them to the spots where they would do the most damage. Forced to move his dragoons in to try and pick off the shuttle shepherding the reavers Shuttle's dragoons were slaughtered.
GG
Bisu made this look easy. He scouted what Shuttle was doing, made some reavers, and then killed him. If I didn't know better I would say PvP was a rock paper scissors matchup and Bisu simply build order countered. But I do know better, it wasn't just about the scouting, it was about knowing what Shuttle didn't know, it was about the unit positioning, it was about manually sending a double scarab into a key trio of dragoons, and it was all performed with flawless macro and multitasking.
Game 4: Mind vs sSak on Gold Rush
Mind (T) spawned at 9 in red while ssak (T) spawned at 5 in blue. sSak went for a standard rax refinery opener while Mind went CC first at his natural. Both players scouted clockwise, with sSak first scouting Mind. However sSak's extremely standard opener included just one marine with the rax lifting and flying forwards for scouting and so although he was able to see Mind's defenseless base he had no opportunity to punish Mind for it. His first marine crossed the map but was immediately deflected by Mind's first marine which had a second training to join it.
sSak threw down his natural CC but Mind's expansion was finished before sSak's was started. sSak's factory was finished before Mind's started but with the travel time and the defender's advantage Mind's position looked stronger. sSak's quick vulture would dominate Mind's marines but Mind dropped a bunker at his natural and with two marines inside was confident he could resist a vulture play.
Both players added a second factory but sSak had the advantage of his floating scouting rax, whereas Mind was in the blind. However Mind ran a scv past sSak's vulture in plain sight and scouted everything sSak had going on. Both Mind and sSak added a starport and an armory but Mind's timings were much earlier, his stronger economy delivering dividends.
A backdoor vulture play from ssak was denied by Mind destroying the assimilator and Mind loaded up two dropships for the first real play of the game. ssak, in a next level play, had mines places on the high ground behind his natural for exactly this kind of drop. Mind, in the nextest of next level plays, scanned the dropsite before dropping and saw the mines.
sSak made an abortive attempt to defeat Mind's drop before it got established, losing 8 scvs for his trouble, but after rallying his army and loading a dropship of his own, was able to clean it up using his significantly larger army.
Mind's scvs got themselves a pair of kills, one killing the scv sSak was using to take his close gas third in the middle of the map while another killed a marine sSak had made at a barracks blocking the 11 expansion site. However sSak's third base was still started considerably earlier than Mind's, and his army was out on the map.
sSak's army pushed up to the edge of Mind's natural with dropship support, and then discovered that Mind was doing a three dropship drop at his natural again and turned back around.
This was a bad position for sSak, caught with his army away and taking scv losses, losing his refinery, and forced to engage into a prepared position of Mind.
The battle went badly, while sSak was able to brute force the high ground back with three dropships and massed tanks he lost two dropships with units inside and emerged from the exchange twenty supply behind.
Mind promptly refilled his dropships and dropped sSak's newly built third, while his own third safely took root at 11.
With sSak's dropship count behind, both from the slower starport and the earlier losses, sSak couldn't contest the drops even if he wanted to. Mind checked for additional expansions and then safely evacced his army back into the dropships. A base and thirty supply ahead he was happy to let it play out.
Mind took the centre of the map, delayed sSak's third again, and then scanned sSak's turrets and refused to suicide his dropships into them. As sSak's dropships attempted to pick off two exposed tanks at Mind's front Mind's dropships counterdropped them, destroying everything sSak had.
GG
Mind smashed ssak utterly. The build order advantage was in Mind's favour but it wasn't a decisive advantage, it was a series of tactical mishaps by ssak that cost him the game. His army was never where it needed to be, always letting Mind seize the initiative and force ssak into a bad engagement. Three times ssak's army pushed out onto the map, only to return before even seeing Mind's natural to deal with a drop back home. ssak seemed to rely on Mind making an unforced error, such as dropping onto ssak's prepared minefield, and Mind was too good for that. Total beatdown.
Game 5: Mind vs Shuttle on Fighting Spirit
Shuttle (P) spawned at 11 in P while Mind (T) spawned at 5 in white. Both opened standard gateway/rax assimilator/refinery, no fast expansion shenanigans. Mind opted to scout much earlier than Shuttle, but got confused by Shuttle's missing scout probe and scouted 7 and then across to 1. Mind deflected Shuttle's scout probe, which was at a late timing and was just checking for spawn position, while Shuttle caught Mind's between a dragoon blocking the ramp and at his natural. Mind went for a standard defensive factory CC machine shop with tank and mines, the one size fits all opening, while Shuttle took his natural the moment Mind's scv died.
The openings put Shuttle very slightly ahead, Mind's lack of intel preventing him from doing a variety of aggro openings due to not knowing what Shuttle might have. Shuttle's fast dragoon range (no zealot fastest possible core) put him in a great position to play micro wars against Mind's tank and marine force and Shuttle was able to pick off three marines and a mine against Mind's first four marine, tank, and vulture group. For a moment it looked like Shuttle might do some real damage as he attempted the two dragoon mine trigger and destroy trick but he messed it up and took a mine to the face. His near flawless micro victory over Mind was over, and Shuttle retreated his red hp dragoons.
Mind followed his quick expansion with two quick additional factories, skipping academy, armory, even additional mines, an early pressure build. However Shuttle wasn't cutting for a fast third, despite cross spawns, instead pumping three gate dragoons and adding a robo for obs. Both players massing armies blindly, Mind trying to catch Shuttle off guard if he teched too quickly towards arbiters or took an early third, and Shuttle trying to surprise Mind by doing neither.
Mind's three fact rush hit, pure tanks pumped from the machine shop factory while the other two reinforced a stream of vultures to soak dragoon hits and lay mines.
Shuttle's army was split in two as he cleared the mine at 12 and blocked the threat of vultures from that angle and Mind, with absolute no clue Shuttle even had a second army, pushed in for the kill.
Without dscan, and having never gotten so much as an scv inside Shuttle's base, Mind could conceivably think this some kind of low army carrier/arb/3 base rush, exactly the kind of build he was hoping to execute with his 3 fact rush. Instead he found himself flanked by an entire second army.
Mind was able to extricate three of his siege tanks, albeit two on low hp, through great vulture play, but his timing push achieved nothing else. He was forced to send an scv to 6 to accept the consolation of a counterexpansion, taken significantly later than Shuttle's.
With Shuttle's third base down and Mind forced into a defensive posture Shuttle threw down two stargates and a fleet beacon. Shuttle scouted Mind's third at 6 which, in typical Terran fashion, was depot walled and had a single sieged tank defending it, and attempted to harass. Mind, sensing that Shuttle wasn't massing on the map, moved the rest of his army out and flanked Shuttle's six dragoons in a fantastic power play.
Six dragoons were killed for just two vultures and Mind was returned to map control. Mind immediately capitalized, either smelling the carriers or having scanned them, and pushed straight up to 12, sieging on the low ground while Shuttle's dragoons and zealotbombs were helpless to intervene. Shuttle played for time, delaying with dragoons at 12 while his army blocked off Mind's reinforcement route, killing two tanks. However Mind's five tanks with his main push were able to destroy the 12 base.
Shuttle was left a base behind with just two carriers which were able to force Mind to retreat his push but did not kill anything. Mind was happy to retreat his entire early tank force without loss, Shuttle retaking 12 was entirely acceptable and within Mind's 150 supply goliath tank push game plan.
On just two gas and pumping carriers Shuttle was a long way from any of the late game tech units needed to break the back of a late game Terran army. Whereas Mind was rushing for the late game, his armory and upgrades delayed in favour of making a lot of factories with which to push. His colossal army walked up the middle of the map, catching a carrier off guard and establishing itself at the newly retaken 12.
Mind's goliaths simply targeted the interceptors of the remaining three carriers while the tanks started attacking the 12 expansion. As Shuttle split his ground army and carriers apart, hoping to catch part of Mind's army and destroy it, Mind accepted battles with both and defeated both halves with his own split army.
Mind sieged his army outside of Shuttle's natural, and started to edge his way in while his reinforcements rallied.
Shuttle, who never established a third gas, nor built a forge for ground upgrades, nor a templar archives for storm, was asked to defeat this Terran ball.
He couldn't.GG
That dragoon suicide at 6 was so avoidable, Shuttle even saw the push with an observer. There's no coming back from that, not against a player as aggressive as Mind. Mind's distinctive push heavy style is definitely great to watch though. The best part is that he hasn't been using early push builds, he's been using standard 2-1 170 supply push openers as a tool to force Protoss to try to play for their own late game. Then, as Protoss overextend to get the tools they'd need to beat a normal Terran, Mind reads the situation perfectly and decides that although he's completely unprepared for his intended strategy, they're even more unprepared to stop him. Mind is abusing the hell out of the current meta basically, either the Protoss handicaps themselves in the late game or they try to get their late game tools, only to be pushed at exactly the wrong time. I think the key to beating Mind in TvP at the moment might just be being Bisu.
TBLS, Rain and Soulkey
Game 1: SoulKey vs Rain on Crossing Field
SoulKey (Z) spawned in green at 10 while Rain (P) took red at 4. SoulKey went for a 12 hat at his front natural rather than overpool, an understandable decision given the inevitable macro game they would play. Meanwhile Rain surprised me with no probe scout nexus before gate, an instaloss to a good number of Zerg builds, a bad disadvantage vs overpool, but a slight advantage vs 12 hat. I really don't know what to say about that other than for the potential loss to be outweighed by the mining of a single probe Rain must have been certain SoulKey was going 12 hat. To put it in context, 8p,13n,14g before scout is a more ambitious fast expansion build than you would attempt cross positions in PvT, it's the build you would do on an island map.
By 03:30 Rain had a single zealot, no cannons, but over 20 probes and a core before forge. SoulKey, for his part, followed his 12 hat with an 11 pool, a much more rounded build, and spammed drones, dropping a third hat at his rear natural on 13. Despite only making two zerglings his economy still lagged behind Rain's economic cheese. With his scout probe chased out of SoulKey's main Rain attacked with a zealot, first attempting to scout the main and then retreating behind the mineral lines, eventually dying with just a single ling kill. The second zealot did better, scouting SoulKey's main, but a corsair was already out which made the entire affair a little pointless. SoulKey lost no drones and made just eight zerglings to control the zealots, outmicroing Rain completely while a quick hydra den deflected the corsair threat to overlords.
SoulKey integrated the bare minimum of units into the macro heavy three hat lair, five hat hydra opener. Just eight lings for the first zealot zealots, just two hydralisks for the first corsairs, late spire, no sunkens, so many drones. Rain added a handful of gateways, started +1 air and ground, and went for zealot speed but there was no real threat to the five hat hydra. As Rain pushed out with speedlots and corsairs, looking to take his front natural behind the pressure, SoulKey simply backstabbed with a handful of speedlings, secure that his hydralisks could defeat the speedlots, despite not having sunkens. He wasn't wrong and Rain was forced to retreat, leaving a zealot dead on the field with no damage done and no expansion taken.
With high templar coming and cannons warping in at his front natural Rain tried to fight a delaying action with his speedlots against the five hat hydra. A sizable corsair fleet kept poking at the overlords, but always found them protected, while the hydra production dwarfed Rain's response from fewer gateways. It would come down to whether SoulKey would be able to attack Rain's front natural before cannons and high templar negated SoulKey's superior production capacity. Rain's speedlots skirmished back and forth but eventually found themselves in a fight they didn't want to take, running forwards onto the hydralisks only to find more than they were expecting.
Rain cancelled his natural cannons, retreated his newly built high templar up his ramp, and abandoned the attempt for a third base.
None of this would have been possible without SoulKey's crucial ling backstabs to delay the probe and pylon establishing cannons, nor the perfect negation of the corsairs which Rain was depending upon to supply block SoulKey and split his hydra forces. SoulKey seized the window where he had superior production capacity and built himself the late cannons he needed, rewarded with a hydra contain at the foot of Rain's ramp.
Rain went up to six gateways but SoulKey already had what he needed and started to switch back to drones while adding a fourth base at 7. A late Protoss third gas is almost a death sentence in this spot, by the time Rain would be able to get out on the map again he would be confronted with lurkers.
Rain attempted to break out with speedlots and high templar but a bold team of four hydralisks assassinated the first high templar before it could cast storm.
A shuttle loaded with dts also attempted to fly out across the fight, presumably intended to combine with the only asset Rain had, his +1 corsair fleet, and wreak havoc across SoulKey's main and rear nat. The same hydralisk squad took that down too, a sloppy unforced error that left Rain without even a possibility of a comeback..
The observer showed us that SoulKey had misplaced his drones on his rear natural gas and they weren't mining, a pretty huge issue in ZvP when gas units are your only way of beating storm, but hydra team six were able to snipe two more high templar with minimal losses. By this point Rain had all his gateways up and running with high templar tech while SoulKey was transitioning to a more defensive posture, allowing Rain to contest the map and only skirmishing with his hydralisks. The first big engage happened.
Rain's only surviving high templar cast two good storms and pushed the hydralisks back but with no high templar to storm the eggs the lurkers hatched and Rain got nothing for his trouble.
The hydras and lurkers set up a loose contain in front of Rain's third, not trying to deny it, simply trying to trade efficiently and exercise map control. Rain responded by attacking the front to distract SoulKey from the dt drop corsair play he was making.
Unfortunately after killing the first shuttle SoulKey had placed two scourge on the likely path and Rain's second shuttle got absolutely nothing done, the corsair fleet patrolling a main filled with drones but completely lacking in overlords. His frontal attack went well at first but as his attention went to the dying shuttle his speedlots overcommitted onto lurkers and also died.
With Rain's third base established SoulKey accepted that the unit production advantage would briefly swing Rain's way, until Rain's main and nat mined out at least. Rather than let his contain get overrun he simply unburrowed and went back home, content on four base, four gas, seven hats. Rain's army retook map control and Rain promptly started his 4th at 10 while attempting dt drop #3.
The third dt drop did better than the previous two, by which I mean a dt was successfully dropped.
However he was not able to kill any drones and found his shuttle promptly scourged. Rain then considered a frontal attack into SoulKey's fourth before seeing the volume of lurker spines and thinking better of it.
SoulKey's hydralisk, lurker, and scourge combination kept Rain unable to attack but the quick fourth base from Rain removed a key part of the time pressure he was under. Although his main and nat were low on resources he was no longer at so much risk of not being able to at least split the map. Speedlings did some nice high templar sniping but both players adopted a defensive posture, waiting for the other to make a mistake. And despite 15 minutes of chained disasters Rain's incredible macro allowed him to turn it into an even game.
Rain's fourth drop attempt ran into scourge while SoulKey added dark swarm to his lurkers, creating a moving wall of imba that Rain couldn't attack without reavers, which he didn't have, or storms, of which he had too few. SoulKey denied the 6 expansion site with lings while his main force occupied the cliffs near the 12 expansion, scourge picking off the observers every time Rain tried to push. Rain did his best to grind the lurkers down but at points it was just sad.
0/2
Rain's only possible option at this point was to establish his own counter expansion at 6 and try his luck with reaver defence and a split map. But SoulKey painted his army with plague and denied him access to 6, while simultaneously holding his own newly taken expansion at 12. Rain decided it was time to try another drop but (spoiler warning), it wasn't.
The speedshuttle ran around for a little after this before seeking out the remaining scourge on the map and diving into them, possibly trying to give Rain some kind of hint.
Rain decided he would attempt to break 12 again and attacked
Then thought better of it 30 supply, all his zealots, and a plague on his dragoons later
With Soulkey's lurker formations under swarm controlling so much of the map Rain decided to go for drop attempt number 6, scoring the first drone kill of his drop attempts. But by this point SoulKey had also taken and fortified the 6 expansion with maxed out lurkers.
Rain tried to kill the lurkers with zealots again but plagued zealots only have 61hp, making them about as durable as marines against upgraded lurkers. Realizing his mistake Rain added reavers, and then tried to kill lurkers with zealots again. Fortunately SoulKey took pity on him and just ended the game.
GG
This game was a masterpiece of making a great player look bad. Rain's macro was breathtaking, the only thing really keeping him in the game, while he was constantly trying to set up opportunities for a comeback. And SoulKey's counterplays were so smooth they were almost dismissive. From the first two zealots to the corsairs SoulKey made defeating Rain look like child's play. Just "Oh, you're doing that? Okay, I'll block it and make you look like a fool for trying". There were a few spots when Rain's phenomenal macro kicked in and I thought the battle might not be one sided, but then SoulKey swarmed over his lurkers and plagued Rain's army. Although it was a long macro game it was also one of the more brutal smackdowns I've ever seen a player at this level dish out to another.
Game 2: Jaedong vs Stork on Crossing Field
Jaedong (Z) spawned in white at 10 while Stork (P) spawned at red at 4. Stork opened with proxy 9 9 gates in the middle of the map while Jaedong went 12 hat at the rear natural followed by 12 pool. That's about as good as Stork could have hoped for, Jaedong taking the front natural would have been a gift but in either case it's the situation he wanted. Meanwhile Jaedong's overlord missed the gateways and he opted not to drone scout. Stork sent his first zealot immediately, a decision I'm not sure I actually agree with because it tipped his hand when he'd potentially get more from allowing Jaedong to spend more larva on drones while saving up for his second wave of three zealots.
Jaedong's saved larva popped six lings at once, with more coming from his rear natural, and Stork found himself in a tough surround.
Killing just a single drone and getting shamefully outmicroed Stork retreated to the ramp, which he failed to hold.
Lings on the map changed Stork from having a single point of defence, the ramp, to four, the ramp, his gateways, his main, and his planned natural expansion. Instead of being allowed to safely recover his economy behind his zealot block, before eventually conceding the ramp to hydralisks and returning to his own, two base apiece, he was forced to continue to produce zealots.
The game turned strange as Stork, who had 40 supply to Jaedong's 17, refused to respond to the lings on the map and instead threatened to just allin with his zealots. A dance off ensued, in which Stork threatened to commit every time Jaedong threatened to attack with his lings, only for Jaedong's lings to return, with Stork going back to the ramp. However, despite having a two to one miner advantage, exposed gateways, and no forge or units in his base, Stork decided it was time to attack Jaedong's rear natural, which wasn't even mining. He did this without leaving zealots blocking the main ramp, so Jaedong promptly allined with his own zerglings.
Stork traded Jaedong's rear natural hatchery for his proxy pylon and a number of probes but found his zealots split, some going back to wall his main ramp, the main group in Jaedong's main, and three caught freshly produced and surrounded by lings. Jaedong's one hatch speedling mass was able to surround and destroy Stork's entire zealot force as Jaedong took his front natural.
A weird position resulted, Jaedong making pure drones and retaking his rear natural in recovery gaming while Stork, who had no gateways and just a zealot wall on his ramp, rushed out a corsair and powered in response. Eight minutes in though Jaedong's position looked the stronger, Stork had 25 probes to Jaedong's 20 drones, two bases to three. The quick stargate was scouted and Jaedong's hydralisk den was early enough to not let the corsair do damage.
Jaedong teched to lair and added a spire while continuing to make nothing but drones after his overlord guarding hydralisk while Stork rushed his archives before going back for +1 air and more corsairs for dt map control. Jaedong went to five hat with an evo for walling and spawned two scourge into the face of a corsair, picking up a free kill, while Stork's dt caught just a single ling before being spotted.
Stork went up to five gate speedlots with high templar, asserting map control against Jaedong while angling for his third, but Jaedong refused to give him the battle he wanted, instead hatching lurkers in the corner near Stork's base, running speedlings past Stork's army, and offering Stork's army nothing but a sim city wallin with sunkens and lurkers behind it. Every part of that was exactly the play to make, Stork needed to get cannons down at his natural with his map control in order to safely take his third, make his way to observers and a 10 gate army, all while delaying Jaedong's fourth. Instead he was completely denied his third and his ramp was attacked by speedlings and lurkers, a single cannon and two zealots too few to secure it.
Stork made an incredibly clutch hold, blocking the speedlings, storming them, immediately morphing high templars into an archon, and rushing his army back. A potential disaster was averted and, although Stork's third expansion was delayed by two minutes while Jaedong was able to start his fourth, quick observers cleaned the lurkers up. Stork repeated his move from a minute before, pushing out with speedlots and corsairs, while Jaedong repeated his, countering with six hydralisks and a lurker at Stork's natural. Stork found a great connection onto Jaedong's lurkers, getting the best of all possible zealot only engagements, although he'd have liked to have had some gas units if it had been possible.
Jaedong's six hydralisks went 3 for 3 on Stork's only high templar, in addition to delaying cannons.
While Stork's pure zealot army was doing better than he could have reasonably expected against hydras and lurkers, it was at the point in a PvZ where the speedlots are simply delaying for cannons and high templars to establish themselves and secure the new expansion. Jaedong's counterattack ensured that there were no cannons and no high templars for the speedlots to fall back to when fighting lurkers became impossible.
The speedlots started to break against the hydralisks and the only prepared defensive position for them to fall back to was Stork's ramp, not his 3rd as he had planned. Jaedong was on four base four gas while Stork was down to his main and rear nat, contained by lurkers on his ramp. Stork's supply was equal, never a good position for a Protoss, and there was nothing that Stork could really do. He tried to break out once, and then left.
GG
Stork messed up the start, in my opinion, both by immediately showing a proxy 99 and by surrendering the ramp. Jaedong had nothing at his rear natural worth killing beyond a hatchery that he lacked the economy to really use. To compound Jaedong's issue, speedlings only trade well against zealots in that ratio (<3 lings per zealot) when the lings are given room to play, forcing the zealots to split up, defend multiple areas and work in convoys. The ramp was everything, and he threw it away. Twice.

After that I firmly believe Jaedong was ahead, but Stork could have recovered. It was the backstab delaying play on Stork's 3rd, just as SoulKey did to Rain, that really solidified the game for Jaedong. For years the meta has been Protoss seizing map control with speedlots, securing a fortified third by the time Zerg is able to push back out. Jaedong just broke that meta by abusing Stork's own aggression, delaying his fortification of the third with a special ops group of units that could never work had Stork not been bluffing with speedlots. Twice. And that's pretty cool.
Game 3: SoulKey vs Jaedong on Gold Rush
SoulKey (Z) spawned in white at 5 while Jaedong (Z) spawned at red at 12. Both overlords immediately went in the right direction which helps to negate some of the build order luck in ZvZ. Their builds diverged as Jaedong opted for 12 pool 11 gas while SoulKey took 12 hat expand 11 pool, a build order advantage for him. Jaedong then decided to 12 hat at the gas expansion near the upper left part of the middle of the map, his 3rd natural (excluding the islands) after the one below his ramp and the mineral only.
The moment Jaedong's pool finished he started his lair, deciding against ling production, despite the fact that both players were still completely blind. Jaedong's overlord finally made it to SoulKey's natural and saw his lings there, prompting Jaedong to start pumping his own, while SoulKey's overlord scouted Jaedong's main. It's possible that SoulKey may not have known there was a second hat before the lair finished, as Jaedong could have theoretically smashed his own economy for a faster lair tech, but when lair completed there was no way SoulKey couldn't look at the drone count and the timing and know there was a second hatchery somewhere.
SoulKey sent out four lings to grind away at the eggs at 10, assuming the second hatchery was at the 11 expansion, before checking the correct location with his overlord. SoulKey's faster second hatchery gave him more available larva and while Jaedong's faster lair gave him a faster spire, it wasn't yet done. Furthermore the defender's advantage from the ramp and the travel time was completely negated by Jaedong's exposed second hatchery.
Jaedong linged his little heart out and, due to SoulKey producing three drones to mine at his natural, got the required numbers to chase SoulKey back.
However SoulKey revealed that the ling pressure had actually been a feint, splitting his lings into two groups, one of which drew Jaedong to commit at SoulKey's natural where a sunken was waiting, while the other counterattacked Jaedong's main, forcing all Jaedong's larva to be expended just before the spire completed.
Jaedong threw his mass lings against SoulKey's natural, trading about as well as he could have hoped for but killing just a two drones in strategic damage (the sunken dying but having served its purpose), while losing a drone of his own in exchange.
When the dust settled SoulKey was ahead by six supply, having the better of the ling trade at his natural and the benefit of the faster second hatchery and additional minerals from those drones. Jaedong had no lings to speak of, using his new larva for mutalisks, but SoulKey split his own lings to threaten both Jaedong's mineral line and his expansion, demanding the mutalisks abandon one to save the other. Jaedong tried a neat little backstab with his last two speedlings and got a drone kill for his trouble but the economic deficit was beginning to show.
Knowing that his only advantage, a higher mutalisk count, was short lived against SoulKey's stronger economy Jaedong decided he needed to attack. He knew that SoulKey would immediately punish him for doing so by backstabbing his mineral line with speedlings, but he also knew that leaving mutalisks to defend couldn't win him the game, only delay his loss. His only win condition was by forcing a mutalisk fight above SoulKey's mineral line, establishing a snowballing mutalisk numbers advantage. If he could kill three mutas with five, and lose just one of his own doing so, then the fact that he had no drones wouldn't matter, he could kill each new muta as it spawned, or outmicro the scourge AI forever. Then, once all of SoulKey's drones were dead, he could send mutas back to save his own buildings.
Jaedong won the mutalisk fight with dominating micro but SoulKey's lings were killing his base more quickly than he had expected. In a rare strategic error he hesitated in his own plan, despite having four mutalisks alive to SoulKey's one, and no drones to SoulKey's seven. His only win condition was following his plan through to where it led him, trying to kill all of SoulKey's drones before his own base was destroyed. Instead, he backed.
After cleaning up SoulKey's zerglings it was time to attempt to win by pure muta micro, four mutalisks against one mutalisk and whatever SoulKey had made since then. SoulKey had made eight scourge, which Jaedong may have been able to outmicro without loss, but also a spore colony, because he's no fool. What Jaedong planned to do to kill a spore colony was never revealed though because this immediately happened.
GG.
SoulKey played better. Unlike his victory over Rain Jaedong made him work for it, absolutely outclassing SoulKey with his mutalisk micro. But SoulKey's units were in the right places at the right times, he made Jaedong produce lings when he needed drones, then offered Jaedong a choice between an economic disadvantage or fighting into a sunken. Then SoulKey dishonoured that choice with a backstab, giving Jaedong an economic disadvantage either way. Jaedong could conceivably have won had he committed to his strategy, that was some great mutalisk micro, but his hesitation allowed SoulKey's spore colony to close out the game.
Game 4: Stork vs Rain on Gold Rush
Stork (P) spawned in brown at 12 while Rain (P) took red at 5. They both opened with a perfect mirror, 8 pylon 10 gate 11 gas 13 core 14 zealot, but Rain chose to scout earlier, possibly showing respect earned by Stork's repeated proxy 99 gate builds. Both players scouted clockwise around the edge of the map, Stork finding Rain at the first spot he scouted while Rain found Stork at the second.
They continued to mirror, following their core with a dragoon, range, and killing the anticlockwise geysers. But then Rain threw down a quick robo while Stork saved his minerals for an expansion. Unfortunately he was immediately punished for that decision when the dragoon sent to block a scout probe he correctly guessed was coming bugged out, and let the scout probe by.
Few things are more infuriating than that for a Protoss player, and in Stork's case he did everything right, catching the incoming probe and intercepting it off early. His star sense was rewarded by a probe in his base asking the big questions like "how come you haven't got a robo or a second gate?" and "what do you plan to do with all those minerals you're banking?"
Stork scouted Rain back but they were locked into their chosen builds, Stork one gate expansion while Rain went one gate reaver. Rain was forced to choose between accepting an economic disadvantage and going allin, while Stork was desperate to know if he needed to cut his own economy to block an allin, putting him behind Rain if Rain counterexpanded, or play safe.
Stork decided to send forwards two skirmishing dragoons to take a look at Rain's natural, hoping to see dragoon counts, even if they couldn't check for a nexus. They took some potshots at a zealot and then a half second of inattention cost Stork a dragoon as Rain moved his dragoons forwards and then stutterstepped perfectly to get three volleys before Stork's dragoon was back out of range.
Rain took a defensive middle ground option, following his robo with a support bay for reaver and keeping his gateway producing constantly while taking a delayed expansion himself. On the face of it the nexus is too late to get an economic advantage while also not the three gateways he needed for an allin, too little of A, too much of B. However Stork was playing blind, all he knew was that his fast expansion was scouted immediately, that Rain had a robo, and that he was a dragoon down. If Rain counted on Stork cutting his own economy to maximize unit production then Rain's response is actually optimal, using the threat to make Stork do the economic damage to himself while risking nothing.
Stork did exactly that, following his expansion with four gates and cutting probes and tech to hold off an attack that just wasn't coming, while Rain's observer flew in to confirm. A minute later they found their positions reversed, Rain with the greater probe count, expansion, and tech investment while Stork had the mass units ready to allin. Stork sent in a probe before pushing and discovered a shuttleless reaver joining Rain's dragoons at his natural. Despite having four gate dragoon to Rain's one gate he wisely decided not to risk it. Incidentally Rain positioned his reaver halfway up the ramp, taking advantage of limited vision and the dragoon miss chance, a neat little way to amplify it's value.
Stork transitioned into a macro game to match Rain's and got his own observers out. Rain added a shuttle to carry his first two reavers around while Stork spread his larger army into strategic concaves on the map and added his own reavers. And at 8:30 their supply counts were still identical, matching each other completely. Both went to six gates and both headed towards zealot legs and archives, Rain getting there first, but neither chanced to take their third first.
At 12 minutes their supplies were still identical, as were their army compositions and gateway counts. Rain tried to do some cute dt play with an observer scouting for Stork's observers but beyond that, nothing but PvP two base macro wars as they stared each other down. Both added a third at their mineral only at the same time, and both faced adjusted their positioning as their armies split the map. Their only difference was Stork's preference for archons vs Rain's preference for high templar.
Stork made the first move, pushing towards Rain's mineral only with a broad sweeping maxed army. Rain retreated his army and painted Stork's army with storms as he gave ground.
And then, as Stork's army began to lose cohesion and his broad formation began to form into a column, Rain's army turned and held. Rain's army actually had the worse of the positioning, his faster zealots having retreated further and formed a clump behind his dragoons. However both were maxed out, it was going to be a bloodbath.
Rain landed a storm directly on top of Storm's reavers while Stork's archons met Rain's zealots head on and slaughtered them. Stork's dragoon front was broader but Rain's reavers got excellent scarab connections on Stork's zealots and wiped out a control group in a second. They traded destruction in the same perfect symmetry they had displayed all game long and with 100 psi of Protoss dead on each side they were each left with a control group of dragoons, another of speedlots reinforcing, and two reavers with a shuttle.
Then this happened.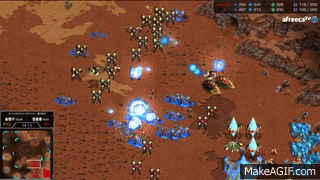 Both players spammed zealots to replenish their armies but Stork was unable to defend his mineral only against zealots and two reavers with just zealots. Rain capitalized upon the death of the mineral only by forcing another bad engagement for Stork, killing zealots without taking significant losses in return. As each of their mains mined out Rain was confident in his position, checking the semi island at 3 for a hidden expansion and securing his one base lead. Unfortunately for Rain Stork's hidden expansion was at the 9 main, not 3, and with a gas there it actually put Stork ahead, if he could hold it.
Rain followed up with a storm drop, killing a handful of probes but, not knowing about the 9 base, failing to catch the rest.
The two mining base vs one timing window let Rain take a decent macro lead from his mineral only but his fifty supply lead was mostly zealots which fare very poorly against reavers, archons, storms, and so forth. It would come down to whether Rain would take his own fourth with gas or scout the map to see if Stork had a hidden expansion, his only lose condition.
Rain promptly sent an observer on a tour of all the bases on the map and found Stork's hidden expansion. Knowing that if he sent his entire army to destroy it he would open himself up to a scrappy base trade situation Rain just sent two zealots which, by themselves, took out Stork's lifeline. Rain took a fourth of his own and as Stork desperately moved out onto the map Rain enveloped him. Stork's positioning was better, but it didn't matter.
GG
Both fantastic players, both played a fantastic game. Rain's macro is unbelievable but Stork matched him every step of the way which is very impressive. The game came down to one key fight, which in turn came down to a few key storms and the shuttle snipe with the reavers in it. Up to that point the fight was a meat grinder with both sides pouring reinforcements in and slaughtering each other. The moment Stork's reavers died in that shuttle he was a base down and fighting reavers with speedlots. Nothing else to say, great showing by both.
Game 5: Rain vs Jaedong on Fighting Spirit
Rain (P) spawned in teal at 7 while Jaedong (Z) spawned in brown at 5. Both players used the most recent builds in the meta. Rain opening 10 gate at natural, the 7 natural being one of the two on Fighting Spirit that offer a two (2 is the other) zealot gap wall, while Jaedong opted for an overpool into 11 expand. Jaedong sent his overlord anticlockwise which is the "wrong" direction and messes with Protoss scouting for overlord tricks while Rain scouted across before finding Jaedong on his second attempt.
Jaedong scouted the standard zealot "rush" opener but only made two lings with his first three larva, knowing that the build isn't intended to kill him, it's intended to force him to waste larva on lings while Rain's nexus pumped probes. He added a standard third hatchery at the 3 high ground, and an extractor in his main. Then he waited until Rain's first zealot reached him to pump another six zerglings, bringing his total to eight. The first zealot killed just two zerglings (and brought another two within a single probe hit of death) but the second and third did better, significantly delaying Jaedong's drone production and getting seven zerglings and a drone.
Jaedong's attempt to block it with as few lings as possible, rather than inflicting the wound himself by overproducing zerglings, gave Rain surprisingly cost effective trades, a significant deficit given Rain's superior economy. As Jaedong wasted zerglings and barely defeated the zealots Rain was allowed to take a quick nexus before cannon and pump probes constantly. By five minutes into the game Rain had 30 probes to Jaedong's 18ish. To make matters worse Rain showed off his micro by checking the hp on Jaedong's lings and sniping the injured ones so that a zealot caught out in the open by eight lings was able to kill three before dying.
Recognizing the deficit Jaedong decided to allin, selecting three hatch hydra break hitting right before the corsair scout timing as his weapon of choice and using speedlings to deny scouting. Rain added a citadel for fast zealot speed and started his +1, but stayed on just one gateway pumping zealots, no match for three hat production.
Rain's corsair was incredibly quick and Jaedong missed his timing, his hydralisks lacking upgrades and numbers when they were revealed, prompting Rain to drop another trio of cannons but otherwise relax. Jaedong immediately aborted his allin, knowing that the best he could hope for was sniping the gateway and forcing cannons, and switched to recovery drone spamming. This was immediately scouted by Rain's corsair.
Jaedong was able to snipe a gateway and the forge but back home he was in recovery mode, placing sim city buildings and trying to shelter his overlords with hydralisks as he had no spire. Rain dropped three more gates in his main and teched to storm while his corsairs scouted and forced hydralisks to guard overlords in each of Jaedong's bases. Having scouted no spire Rain added two more gates and a quick robo, content to brawl Jaedong in the midgame with storm against hydralisks.
Jaedong's soft contain overstayed its welcome as the first ht reached 75 energy
but Rain's dt followup left him with no storms in the bank for Jaedong's five hatch hydra.
Jaedong tried to shove into Rain's base and end it while Rain, seemingly confident that his new ht would make it to 75 energy, loaded his dts into a shuttle and headed for Jaedong's main where a corsair was sweeping for slowverlords. Without cannons speedlots defend poorly against microed hydras and high templar are easily picked off but Rain was apparently confident that he no longer needed the cannons and that his gateways could handle it from here.
Rain's confidence was justified as three high templar reached 75 energy at once, giving him time to replace his lost cannons while his gateways spammed zealots.
He then used all three of his storms on small groups of hydra which were actively being microed, rather than wait for a larger group to commit, and found himself attempting a morph an archon in the middle of the hydralisks while his last high templar wandered through the battle without a care in the world. With his cannons still warping in Rain was forced to pull probes to fight hydralisks.
Meanwhile in Jaedong's base dt were immediately scouted but still killed a good number of drones, and forced Jaedong to divert his reinforcements home. Although Jaedong was still on three bases the economic advantage lay with Rain, Jaedong wasn't even saturated at one drone per patch. As Jaedong tried to test the cannons for a third time Rain simply ran over his army with speedlots, moving past and surrounding hydralisks as they retreated across the map.
Against any other micro Jaedong would have been fine, able to pull back behind his sim city and block the choke points with drones, but Rain repeatedly got his zealots on top of the hydralisks and achieved far more kills than ought to have logically been possible. As the zealots reached Jaedong's natural there was a moment of "where did all the hydra go?" and Rain threw his zealots through the gaps in the wall.
GG
Rain's zealot micro throughout was perfection, punishing Jaedong early and establishing an economic lead. Jaedong didn't seem to know what to do from there, his allin was poorly timed, unable to attack before the corsair scout timing, and his economic transition out of the allin left him with nothing but hydra and ling tech against a Protoss with a stronger economy, corsairs, storm, and a lot of gateways. There were a few tense moments but, while Jaedong may have looked like he had a standard five hat ZvP army, there was nothing solid behind the illusion. His drone count was low, he couldn't afford lurker tech, a spire, overlord speed, sunkens, or any kind of contest against the corsairs. Rain simply had to endure, Jaedong had just one bullet in his magazine and it missed.
Bout between ex-SKT T1 Teammates
Larva
and
Rain
were teammates on SKT T1 during the KeSPA era, however, while Rain played in proleague and was on the A-team, Larva was busy washing dishes since he was on the B-team. Things have changed quite a bit since then. When the professional BW scene ended, Larva has continued playing and practicing on a daily basis slowly raising his skill level with each day. He's formed his own loyal fans and had one of the best ZvPs during the Sonic era, matched only by
hero
and
Killer
. Meanwhile, Rain was having his own success playing Starcraft II before he eventually retired from that game and came back to BW with ASL.
Since ASL started, Larva has not had much success, making it past the qualifiers in each ASL but failing to go much further. Rain had a bit more success in ASL2 making it to the Ro16 after beating EffOrt in the winners' match in a thriller on Circuit Breaker but that's as far as he has went. This ASL, Larva has not played a single ZvP while Rain lost his first match to Soulkey on
Crossing Field
but beat
Jaedong
on
Fighting Spirit
to advance. One notable thing from Rain's games is his macro. In his game against Soulkey, he maxed out and kept up his macro throughout the game. He makes good decisions and with practice and preparation, he's one of the best PvZers in the current scene, second only to Bisu.
However, Larva is no slouch either. He has a winning record against
Bisu
in the last 3 months and has been practicing hardcore on stream playing against
Flash
,
Last
and Bisu. His mechanics are top notch and while his ZvZ may need to be a bit more tested (yes, he played well against Shine and EffOrt), his ZvP is one of the best in the scene at the moment. In the past, Larva would choke on stage and was considered a punching bag. Since then, he's worked hard and seems to be a bit more confident in his skills. Furthermore, Larva has a beef to pick with Rain for eliminating Jaedong who he admires. From the perspective of many, Larva is a top 5 zerg, potentially top 3 with only EffOrt and Soulkey as his competition.
Larva's current ZvP winrate sits at 58% while Rain sits at 37.5%. Keep in mind that this includes both online and offline tournaments and in Larva's case, also includes his victories since the SSL days. Basically, the last couple of months are the best indication of who many advance. Several of the maps that will be played on are considered zerg favoured which should give Larva a slight edge. Considering that both players are solid macro players that excel with preparation, this will be a close series.
Larva
to win 3-2 to advance to the semifinals!
Another ZvZ!
The competition only gets thinner entering the Ro8. The tale of boy genius
Soulkey
vs.
hero
, the modest gentleman, soon unfolds. On the surface, Soulkey is the favorite to defeat hero. He's had an unstoppable aura, rising in ELO to number 3 since August as the highest ranking zerg, topping
EffOrt
,
Larva
,
Shine
,
Jaedong
, and most certainly Hero. Soulkey has proven himself with a dominating macro game against Rain and outpaced Jaedong in the game of wits.
As for Hero? By a sliver of luck he defeated Shine, mind gamed Effort, and he showed unremarkable mutalisk vs. scourge micro against Effort earlier. In a Bo5, the odds grow even steeper for hero. There are only so many times hero can win off of mind games before having to play on an even field. There, only micro, decision making, and tactics will decide the better player.
What's more, the spotlight always leans ever so slightly to the way of Soulkey. He's simply too perfect for the storyline as the second best player alongside Larva to have a chance to usurp Flash's dominance. Hero on the other hand has lost multiple games to
Flash
without taking a single game in sponsored matches. His ZvP is also desiring more, lacking the crisp decision making of Soulkey. For hero, as the odds are stacked against him, Sunday night will be his chance to overcome Soulkey.
Hero's chances, while less than Soulkey's, are not grim. Looking at their head-to-head record, Hero leads 9-8 over the past five months. However, the statistics should be lightly considered due to being online games. In regards to perfomance in the booth, Soulkey overtakes by a mile. As for hero, whether he can show true game sense and composure is up in the air. Overall ZvZ records are respectable of both being slightly over 50%. Also, for a matchup that is hard to consistently win in, the matchup could be Soulkey's kryptonite with the exception of playing Flash.
Predictions:
Head
Soulkey
3-1
hero
Heart
hero
3-0
Soulkey
---