The last two groups of the Ro8 played out this past weekend. With their conclusion, the semifinal matches have been decided. Unlike the first half of the Ro8 games, the matches in the second half had "more" sloppy plays on display. Soulkey emerged victorious in his series against BeSt in a deciding game 5 on Circuit Breaker while Flash dominated Last 3-0, winning the deciding game on Andromeda.

This sets up a Flash vs Soulkey match in the second semifinals, a chance for Flash to grab revenge for his ATB finals loss to Soulkey. The other semifinal series which has all the markings of an old OSL rivalry features Bisu and Shine. A chance for Bisu to get revenge against Shine for all those OSL exits during the KeSPA era. After all, this is the season for revenge!

The games are set to start in . In the meantime, read our BeSt vs Soulkey and Flash vs Last recap by c3rberus and EsportsJohn respectively while BLinD-RawR and FlaShFTW previewed Bisu vs Shine and Flash vs Soulkey respectively. Let's get hyped!!!!!
Table of Contents
Soulkey vs BeSt Recap: c3rberUs
Game 1: Circuit Breaker
These two have little history to build on prior to this match. During the KeSPA era, they had a grand total of one game between them. It makes me curious as to how they prepared and how the games will actually go down during the real thing.
So the game started and well, let's just say SoulkKy wasted no time getting me acquainted with the good ol' fashioned surprise hydra bust in your face strategy. BeSt opened with a standard gateway-first. SoulKey opened with a pool-first build. BeSt was quite successful early with only a pairing of a zealot and probe forcing almost a control group of zerglings. But as the game unfolded, we saw that those zerglings served a higher purpose.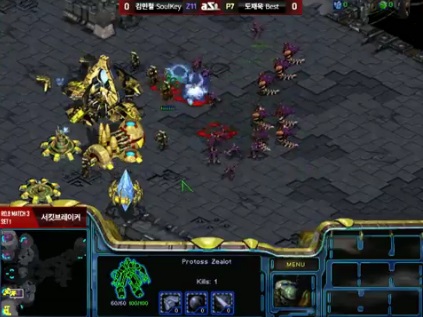 I've seen enough to know where this is going...
Hydras and zerglings quickly massed outside the protoss sim-city and chipped away at the zealots before finally tearing the cannons down. It was a quick win for SoulKey, which added mental pressure on BeSt as they head to the Playground.
Game 2: Outsider
With the more favorable map ending up on the loss column, BeSt faces an impending 2-0 hole in what is described as SoulKey's playground. BeSt began with a 2-gateway opening while Soulkey started with a 2-base setup and then transitioned to a 3-base after it was clear that there wasn't going to be any aggression after the first invading zealot.
SoulKey opted for hydras and sized up the force that was protecting his building natural. The mass of cannon and dragoon fire prevented him from doing much damage hence the decision to take a fourth base over at the other unoccupied main base spot. Since by that time, BeSt had two bases and pulling three. SoulKey added lurkers and upgraded drop, and began the slow and painful procedure to take BeSt's bones out from his body one by one... Or so I thought.
BeSt was well-prepared for it. He added observers and rid his natural and second base of harassing lurkers and then after that, started to move out. The formidable-looking force that moved out of BeSt's natural was not the typical protoss composition in PvZ. No, he didn't want to play the standard zealot-HT-dragoon-archon game. Maybe Outsider got to his head. Instead he went for power dragoons with reavers and headed steadily towards SoulKey's exposed third base.
SoulKey tried to erode the massive push. But no matter how much he threw he couldn't stop the tsunami of dragoons and a single reaver as they stomped all over the lurker line defending his open third. He was quite successful at sniping observers, which bought him some time but the weight was so heavy that he lost much of the support the lurkers needed to hold the line. When his third fell, he had exhausted all his forces which gave BeSt a nice path to sacking the nearby natural prompting a quick GG. The score stands at 1-1.
Professor BeSt: Goons and Reavers > Pure Lurkers
Game 3: Camelot
And now for the new map. With BeSt tying the series in what I'd consider an upset, it feels like anything can happen now. SoulKey did 4-hatch before lair which naturally meant he only had a choice of hydras and speedlings for pressure. BeSt started the game as he did the in the first two games; single zealot aggression.
BeSt was constantly moving his zealots around his entrance probably to keep SoulKey on his heels. And Soulkey was ever watchful. When the zealots moved out too far, several lings seized the opportunity and almost made BeSt pay. But due to his great reaction time he only lost the two cannons which wasn't much compared to the chaos those speedlings could have done.
When BeSt added HTs to his mix, he continued the pattern of continuous movement. The larger force and the threat of storms meant he was able to venture out farther than when he had only slowlots. Watching the game again, this probably scared SoulKey into over-producing hydras as a quick stopgap. This played into BeSt's strategy as the observer revealed a total of eight gateways. When a pack of dragoons joined the army, BeSt sent them out as quickly as possible in order to catch the zerg defenses unprepared.
SoulKey would have benefitted a lot from a muta switch given that BeSt cut corsair production for his attack. But with imperfect information prevented better judgement and that was a major factor that doomed SoulKey in the next sequence.
What a timing!
Game 4: Andromeda
Now at the fourth game, BeSt's 3-1 victory over ex-ZvP god Hero last season loomed large. However this game woudl not be the final game where BeSt disposes of another zerg player. Instead, this was the story of the Three Blind Zealots. Now I know what you're thinking; "hold on, this is StarCraft, not some nursery rhyme, give me my recap." Well, let me at least tell the story. Once there were three zealots standing atop a ramp. When zerglings came and asked to come in, the zealots refused to budge. But when the zerglings knocked and started to dance around, the zealots got annoyed and rushed down the ramp. But in their haste, they left a little opening and the zerglings rush in.
Three blind zealots
The zerglings weren't really devastating but they were a real handful. BeSt had to pull zealots that would have otherwise been used to block the ramp; which led to even more lings coming in. On the other hand, SoulKey was really getting into it this game. With BeSt getting three bases in quick succession, SoulKey had a lot of room to breath and get his plan out there. He was able to easily parry a small patrol from BeSt, added lurkers and a third gas expansion. From there, he harassed the exposed mineral only from below the cliff area. He then quickly realized that the natural expo (that was the third base) was really vulnerable and can be broken down even with a relatively small force of hydras and lurkers. After a few careful steps and micromanagement, SoulKey was able to force a fifth game.
Slow but steady. Also note how the zealots eat so many spines
Game 5: Circuit Breaker
In what was the most important game of their season so far, one player messed up. As if the previous game was a foreshadowing, BeSt once again failed to properly defend his chokepoint. In the previous game, it was more mismicromamangement but in this game, it was poor planning and timing. But unlike the last game, the zerglings were nowhere near as effective.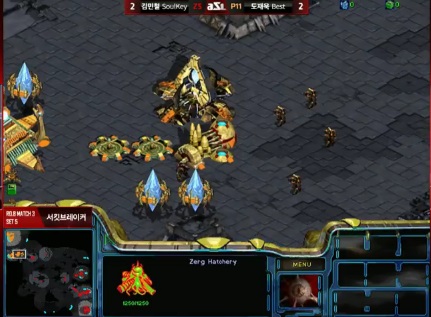 It's not the most textbook FFE wall but at least it works, right?
SoulKey started massing hydras in the midgame after a late lair and almost threatened BeSt with a late hydra bust. Luckily, storm was available at the right time. Now it was beginning to look like the game on Camelot except here BeSt decided to get an earlier expansion. SoulKey also changed his scheme. He noticed the lack of corsair presence in the map and added mutas. The mutas started hunting for HTs right away and although they managed to find a few HTs plus a stray shuttle, there was just a little too many HTs in the way. Before the unupgraded dragoons even got shots off, storms utterly sqaushed the first wave of hydras sent to tear down BeSt's mineral only expo.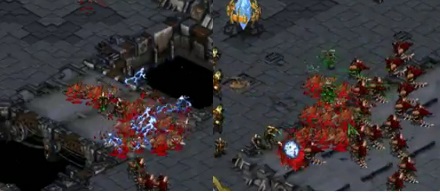 Warning! Graphic images of cooked hydras
After such a blow, SoulKey took a minute to regroup and used used his mutas to probe the mineral lines, raid them and kill as many probes. Then when he thought he had enough hydras, SoulKey once again stormed the mineral only. The mutas were effective but BeSt was still able to get off two storms. But that didn't matter much. His dragoons were still unupgraded and most of them are running around like headless chickens at the back leaving a few to exchange fire with masses of hydras left after the storms died down. An unfair sight yes, but StarCraft isn't played in a vacuum. SoulKey outplayed BeSt really good and he prevailed.
SoulKey!!!
Soulkey
moved on to the semifinals!
Flash vs Last Recap: EsportsJohn
If there were any doubts about Flash's ability to take back to back ASL titles, they were brushed aside after Flash completely dominated Last. Despite being touted as the best TvTer in the world, Last looked like a B teamer next to Flash. The AlphaGo terran has continued to acquire knowledge and significantly improve over the last year, but what are mere mortals to a god?
Game 1 - Camelot
The first game was the only relatively close game in the series, but it showcased how Flash planned to take advantage of Last's one TvT weakness: drop harass. Both players opened up fairly passively with Flash going for a gasless fast expand vs Last's early factory opening. Flash followed up with a fast starport and a wraith to push back Last's scouting barracks and initial tank/vulture push.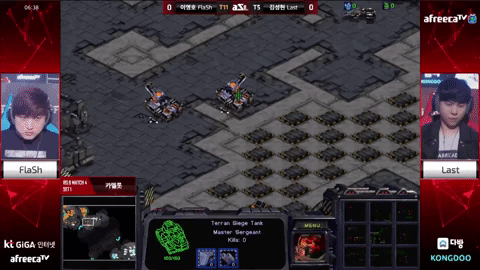 Flash brilliantly target-fires the goliath so his wraith can clean up the push
From here, instead of transitioning into more factories, Flash instead began pooling dropships to prepare for heavy drop play. The first drop went into Last's main completely unscouted and landed right on top of the only defending tank while Last's units were out on the map. Luckily, Last was able to clean it up without too much trouble, but Flash continued to use small drops in the main and natural to split Last's forces and open up a pathway through the middle of the map.
Last kept his cool and stabilized several times while repeatedly killing off Flash's third base, but Flash didn't lay off the drop pressure and even added in a few cloaked wraiths to his air fleet.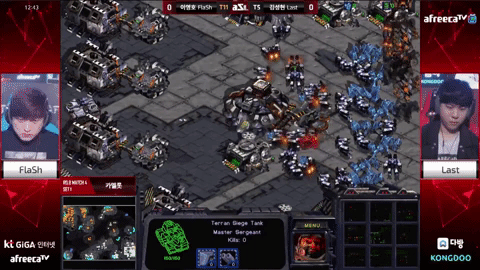 Finally, a huge drop into Last's main behind the mineral line sealed the deal. While Last was desperately trying to root out the entrenched tanks in his main, Flash also dropped at the third and killed off most of Last's SCVs.
Game 2 - Outsider
Considering Last's weakness to drop play and harassment, it's no surprise he struggled on Outsider too. Despite a clever behind-the-mineral-line expansion from Last, Flash ripped him apart with more wraiths and dropships.
Unsurprisingly, 2-port wraith was the opener of choice for Flash, and it was easy for him to overpower Last's expansion into single starport opening. Although Last stabilized with missile turrets, his hidden starport away from his bases worked against him. Once Flash discovered it, he was able to camp it and shut down Last's wraith production.
The FML moment when Flash finds your one weakness
It didn't get any easier from there. Flash followed up with small drops supported by the wraiths to cause chaos on Last's island expansion. In a last ditch effort, Last transitioned into 3-port wraith to overpower Flash's dwindling fleet, but the damage had already been done. Flash walked across the map with a perfect mix of goliaths, tanks, and a valkyrie to clean up Last's puny ground army.
Game 3 - Andromeda
As the series went on, it became more and more one-sided, and the last game was by far the most dominant for Flash. It was more or less a blind build order win, but it showed just how prepared Flash was for his opponent.
Flash went for a 2-fact opening with a standard gas timing, but instead of going for a beefy early game push to grab map control, he again opted to abuse Last's drop defense with a double upgraded vulture drop with a proxy starport.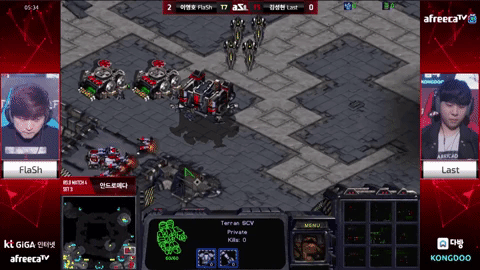 Rekt, Shrekt, Mecht
The timing hit with devastating results as the first four vultures ran right past Last's first siege tank and immediately mined up his single production facility. Forced to defend with only SCVs against vultures, Last had no choice but to tap out 0-3.
Flash
moved on to the semifinals!
Bisu vs Shine Preview: BLinD-RawR
True Destiny
As many long time followers will know,
Bisu
's performance history in the OSL during the KeSPA era is one of the biggest jokes from fans. This is due in large part to him dropping out of the qualifiers and first rounds. Equally, a large part of it is due to facing off against
Shine
(who had used a very tasteful playstyle by the way), earning Shine the ire of Bisu fans all over. Now, however, for the first time ever, they face off in the highest form of competition, a Bo5 series, in the ASL Ro4!
Shine and Bisu first faced off on TV during the EVER09 Ro36 with Shine beating him 2-1 and eventually going to the Ro4 where he was beaten by
Movie
. They did not meet again in an individual tournament for a little over a year during which time they traded games in Proleague. Then, in 2010 Bacchus OSL, Shine beat Bisu 2-0 in the Ro36 and later on in the PDPOP MSL Ro32, Bisu beat Shine in their group. The total score between the two players in individual tournaments is 5-2 in Shine's favour. Shine is 2-0 in Bo3 series, showing that Shine has had better performances against Bisu in a series setting compared to a Bo1, which could be of importance going into this series, especially since he's brought out his whacked out bag of builds. These builds have continued to bamboozle not just
Mong
, but a few other players in the KCM Legends match series. There, he went on a 3 game winning streak in last week's edition.
History of Shine vs Bisu in a nutshell
Despite the way Bisu's Ro4 played out where he had a sloppy showing against sSak (not including his amazing Game 3 performance, please check out Bisu's FPVOD for that), his mentality seems to have returned to that of a champion where he is actually able to pull off victories despite some terrible odds and frustrating sets. In prior seasons, he either took games off his opponents very easily or just dropped out without much resistance. Now Bisu seems to want those victories and against Shine, he's going to want them more.
A central theme in this series is going to be Shine's Bag of builds and Bisu's ability to adapt to it. While it's true that a player who dictates the pace of the game/series is more likely to win, it's not impossible for a player like Bisu who has shown time and again in this very season of ASL that his multitasking is still top notch. It's going to be up to him to put a great emphasis on scouting and especially keeping his first scouting probe alive in Shine's base as much as possible. After all, Shine could just drop the bag for a more traditional 3-hatch hydra and Bisu needs as much info as possible to determine how much defenses he needs to rely on. Even if the bag pulls out something weird, Bisu's series against sSak has shown that his ability to adapt to his opponent's playstyle is pretty good. Shine might look to gain the air advantage as much as possible this series. Initially, he'll look to keep Bisu's corsair count to a minimum and look to build a mutalisk count in the mid game to keep Bisu's army in check and snipe HTs while running in with his hydras.
This series might change the face of the matchup (maybe that DA revolution will finally come, Bisu could have a bag of builds of his own too, you know?). This series might change the face of this rivalry. Both players deserve to win and both players in their right will give a great finals regardless of Flash/Soulkey as their opponent.
This series will go to game 5 and I do want to see a Flash vs Bisu finals more than a Flash vs Shine finals, so I'll say Bisu advances 3-2!
Flash vs Soulkey Preview: FlaShFTW
A Season of Revenge
Is there anything to really say here? After a near perfect series from FlaSh where he dismantled his leading rival, Last, in a dominating 3-0 finish, he sets his eyes on his next victim. Soulkey on the other hand, had a shaky road to the semifinals, as he barely held on, 3-2, against a pretty lackluster BeSt. Can SoulKey pull off an ATB Finals repeat? Or is there nothing that can stop FlaSh from rolling to the finals?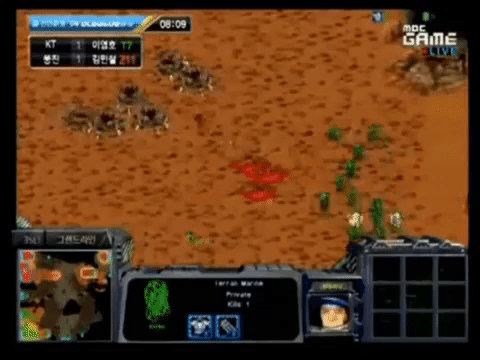 Remember this game?
SoulKey hasn't had the easiest road to the semifinals, losing to Mong in the Ro24 (albeit on Camelot) before managing to cruise out of his Ro16 group against Bisu (because the idiot went triple nexus on Andromeda) and EffOrt. That's when things hit a road bump and SoulKey managed to play like complete garbage and still make it to the semis because BeSt forgot how to properly block a ramp with zealots. Sloppy play does not bode well for the underdog heading into this match.
SoulKey's face when he knows he's screwed
That being said, we should not pretend that SoulKey is defenseless. True, he is a significant underdog but he does have some skills that demonstrated against FlaSh in the ATB Finals. His mutalisk micro is fairly solid and his mid-game ling-muta control is able to stop most Terrans in the middle of the map. He's shown a proficiency for defending his 3rd base as well and his late game control is quite good. He's able to deny most drops with good scourge control and his ability to spread the Terran thin is also great, with small drops and ling run-bys everywhere. Not only that, but FlaSh should still be wary of the SoulKey late-game mutalisks that are so incredibly annoying. Still, SoulKey does have some weaknesses where he is susceptible to mid-game vultures and stronger timing attacks.
FlaSh is just unstoppable right now. He hasn't dropped a single game yet and already has pushed past his biggest threat in Last. He went 2-0 in the Ro16 against 2 Zergs as well and his TvZ is just impeccable. After his shocking loss to SoulKey in the ATB Finals, FlaSh has been relentless in his pursuit to correct his mistakes and perfect his game. In the months of March and April, he is at a combined 123-48 or 72%, including a head-to-head record of 20-6. He wasn't messing around when he wanted to get revenge after his loss to SoulKey.
Don't think I haven't forgotten about you, SoulKey
His games against Shine and HyuN in the Ro16 demonstrated that FlaSh is capable of dealing with non-standard builds with relative ease, dismantling HyuN's double slow-OV drop to the islands on Andromeda while Shine went for a 2 base lurker drop play on Camelot. FlaSh has also seen Shine's bag of builds being used against Mong in the Ro8 and no doubt he's carefully studying the timings and what he needs to look out for on each map to ensure SoulKey can't catch him off guard.
Furthermore, watching his games on stream, he has shown a proficiency on maps like Andromeda, Camelot, and Circuit Breakers. So long as FlaSh prepares the same as he did against Last, he should be in no danger of losing this series. His +1 5rax build has been polished up (sneaking in an extra barracks after academy), his mech transition hitting even harder, and he's even learned that the mech switch isn't always the answer, especially on maps like Andromeda and Outsider. He's playing the maps better, not being overly predictable, and still continuing to prove himself to be the strongest player through pure mechanics.
Overall, FlaSh is by and large the clear favorite. I don't think anyone in their right mind would be betting against FlaSh after watching his incredible performance against Last as well as SoulKey's inconsistent play up until the semis. Preparation is key here especially with wonky maps like Outsider, Andromeda, and to some extent, Camelot. SoulKey still knows how to play ZvT and has some skills that can easily beat the lower tier Terran, but against FlaSh, he is going to really need Shine's level of bag of builds to pull something off. FlaSh is hungry and he wants revenge, and his death stare in games is making SoulKey tremble in his seat.
Flash
3-0
Soulkey
Flash
to advance to the finals!
---