One by one they fell. The biggest threats to defeat Bisu all fell. The only one we have left is hero, maybe the greatest adversary. Unfortunately, he now stands against his greatest threat, a Terran. The chances are pretty convincing, Bisu is looking to take this tournament. But there is still a vague glimmer of hope in the distance. Read more about it in the
preview
.
The last two weeks featured some great games, and some big upsets. Read about it in great detail as KristofferAG
recaps
the round of 16. And as always with Sonic we are on a tight schedule. The first two match-ups of the quarterfinals and the elimination bracket starts in just
!
Table of Contents

Round of 16 Recap
Reavers and Cheese

Round of 8 Preview
Nailbiters and the Washout


Liquipedia
Round of 16 Recap
By KristofferAG
Sonic wasted no time in getting the round of 16 started, and the first upset of the round would come in group A, consisting of Sea, Movie, Modesty and hero. Movie would have to make it through Sea's TvP and potentially hero's ZvP, but was still the favorite to make it out with Sea.
Sea crushed through Movie in the first game, in spite of taking unnecessary amounts of damage from a proxy reaver drop. Movie tried to do something similar in game two, but the instant scout from Sea made him change his mind. Sea's lack of a comsat let Movie put on a lot of pressure with arbiters and DTs, and with Sea trying to macro up and Movie defending pushes, the Protoss found himself in a very nice position as Sea started his push. Instead of taking it head on, Movie first countered, and then crushed Sea's siege tank army to tie up the series. Movie would close out the third game quickly with an elevator into Sea's main, who was not expecting multiple dragoons and a reaver (proxied, I might add) to suddenly appear in his main.
The first two games were fairly standard ZvZ. Modesty took the first match with superior control, but lost the second when failing to deal with hero's zergling attacks, in spite of air (and micro) superiority. The third game was far longer, with not much happening. There were some zergling attacks from hero, which not only sniped a drone or two, but allowed him to take out any overlords on the map as Modesty defended his base. hero managed to get a third base up that went unscouted for a very long time, and when the final air battle happened, Modesty had nowhere near enough to stop his opponent.
If you're only watching one game from this group, check out the winners' match. Movie started off by holding off a double hydra den all-in from hero. He then followed up with some reaver drops that netted a good handful of workers before mutas took care of it. Movie attempted multiple run-byes and attacks, but hero consistently fended them all off, till a huge push with HTs came, crushing through the third of hero. It looked grim for the Zerg, but as Movie overstayed his welcome, the Protoss army got wiped, and a smart switch back to mutalisks allowed hero some breathing room to macro up. The next push from Movie was stopped, and the counterattack netted hero the victory.
No one expected Modesty to beat Sea, and he didn't. He relied on his mutalisk micro to deal damage and carry him into hydralisk/lurker, and skipped zerglings for the most part. Sea defended against the mutalisks, and followed up by pushing with a marine/medic combo to take out the Zerg third. When a single valkyrie came out it was game over for Modesty.
One of many huge reaver hits in group A.
So the final match became a rematch between Movie and Sea. It would be the only match without a proxy opening from the Protoss, instead it was a two gate opening that put Sea on the edge. A second tank popped in time to save the Terran for a while, but a following reaver drop made it past the meek defenses of Sea to kill some workers. Sea was definitely not on top of his game as the reactions to reaver drops were extremely delayed. Next, Sea would clump up his tanks, allowing maximum damage from reavers. GG quickly got called, as Movie took out the #1 player on the power ranking.
Group B for Bisu! As we went into the round of 16, The Revolutionist was undefeated in the SSL, cruising through his round of 32 group with zero losses. His opponents would be Kwanro, Mind and sSak. Though Kwanro and Mind shouldn't be able to deal with Bisu, sSak could stand his ground if he plays like he did a couple of months ago.
Bisu introduces himself to Mind.
Bisu opened with a proxy two gate inside Mind's base in the first game. Of course, when a proxy like that goes unscouted, it will deal damage, and it did. Throw in some reaver drops for good measure, and you have a quick win for Bisu. The second game on Neo Electric Circuit was extremely slow paced in comparison, as neither player made any moves for the first thirteen minutes. Bisu got to be offensive twice, once with a terrible recall that lost him most of his dragoons, and once with a better recall that did some damage, but still not enough to save him. Eventually Mind just rolled through Bisu's bases and closed out the game. In the deciding game, Mind had a lot of nice little pick-offs in the earlier stages of the game, but Bisu soon started doing recalls, and doing them well. He secured his half of the map, and took good engagements, completely crushing anything Mind defended with, and made it to the winners' match.
Knowing how good sSak used to be a mere months ago, it was kind of sad to see him play against Kwanro. His fast science vessel in the first game died instantly due to terrible turret coverage, and then entered a fairly slow death animation as mutas and zerglings nibbled away at the meager Terran defenses. Game two almost ended quickly as sSak had a really slow block on his ramp to the early, scouted, zerglings coming from Kwanro. sSak came back with a marine drop in the natural while busting the third of Kwanro, just before the lurkers finished morphing, and tied it up. Then, Kwanro did a two hatch lurker bust, which completely destroyed the unprepared defenses of sSak.
Back to Bisu, who would go up against Kwanro to decide the first place finisher in the group. There's not much to say about the game, Bisu simply played a lot better, with his corsairs going fairly uncontested, and his follow-up DT doing more damage than it should. Kwanro's control wasn't very good either, losing scourge to cannons, clumping his morphing lurkers, not microing his hydralisks against storm. Bisu made it out in first place.
sSak and Mind engaged in a slow, positional TvT, where sSak had a good contain on Mind for the first ten minutes of the game. Mind would constantly try and push up the ramp, but lose most of his tanks. Mind eventually got a tiny air superiority with a valkyrie and some wraiths, letting him snipe a couple tanks before goliaths once again cemented sSak's position. Though Mind eventually broke the contain, sSak kept map control, taking minimal damage from Mind's vulture attacks. Then, a huge wraith fleet arrived from sSak, and Mind lost almost his entire army. It didn't take long till the gg was called, and Mind packed his bags.
The final match was a 30 minute spectacle with both players trying to earn ground wherever they could. Neither player was really allowed to expand much, as sSak would punish Kwanro's expansions, while Kwanro would try to defend on multiple fronts at a time. The action was all over the map for a long while, as sSak stressed Kwanro's multitasking to the max. sSak went for the mech switch as Kwanro got his first ultralisks out, but with such a late switch, sSak had a hard time getting up adequate defenses. Basically, Kwanro got to expand, and sSak didn't. It took a while, but Kwanro eventually closed it out.
Group C was a long one with the average length being something around seventeen to eighteen minutes. Well, in a group with both HiyA and Mong, it's only to be expected, I suppose. In addition we got both ZerO, who's been kinda on fire in the proleague, and Tyson, serving as the underdogs in the group.
HiyA opened up against ZerO, playing bio and vessels the entire game. The first game was a long back and forth struggle, with HiyA attacking and ZerO defending. The mobility let HiyA deny bases left and right while ZerO would be busy defending. Ultralisks finally came out, giving ZerO fans something to hope for, but a good couple of them magically vanished off the screen, and without them, ZerO didn't have much of a chance. In the second game, ZerO botched multiple zergling attacks as he tried to get lurkers out, while HiyA decided to just smash through the two sunkens on the Zerg natural.
HiyA showing off how to play on Mist.
Tyson's strengths are pretty well-known. He's got very good builds, and great macro. His decision-making and control is, however, not as good as you'd expect from someone with his match record. If you can disrupt his build order, mess up his macro, and get him out of that comfort zone, you've got him right where you want him. Mong knew it, and took advantage of it with some extreme harass play on Mist. Dropping tanks behind the mineral lines while running vultures into the natural, he was able to grab multiple worker kills left and right. Tyson was still very much in the game till he recalled onto mines with a large portion of his army. GG!
Mong tried to do the same thing in the second game, but it's not as easy to do on Neo Electric Circuit. Soon, Tyson had a substantial lead in bases, and soon enough the carrier fleet was ready. Mong sent his entire army to the new expansions of Tyson, taking out two before the carriers killed his ground army. With a bunch of turrets to buy time, Mong started building goliaths, while sending small task-forces to take out bases if he could. And then, ghosts. Oh boy did that get me excited. Good lockdowns could save this game for Mong, but it got scouted instantly, and Tyson sent out DTs to kill them. While some lockdowns did land, it wasn't enough to keep Mong in the game. After two long games, Tyson wanted a quick win, and attempted a single gateway proxy on New Sniper Ridge. Mong had a hard time defending, but did end up surviving the attack. Mong was defending for the rest of the game, trying to do some vulture harass, but not gaining as much as he did in the earlier games. Tyson eventually pushed with an arbiter, and destroyed Mong's defensive line.
Tyson repeated his proxy against HiyA in the winners' match, but it didn't go as well as it did against Mong. HiyA responded with being on the attacking party, dealing some damage with every push, though Tyson managed to hold on by walling his natural with pylons. Reaver drops did some damage, but HiyA was mostly left alone to create a huge mech army that Tyson had no way to deal with.
ZerO's two hatch muta opening handled the bio play from Mong very well, and ZerO was able to do some nice plays with burrowed lurkers. Mong was still capable of defending any harass, and eventually had a push with some tanks and vessels ready, but was unable to hit before defilers were available to deflect the Terran army. Mong turned it all around as he dropped into the bottom right base of ZerO, killing the nydus before ZerO could respond, and taking out not only the base, but also the defiler mound and queen's nest. As if that wasn't enough, Mong also dropped every single mineral line, killing off workers in every base. Ultralisks were made, but from this point on, Mong slowly but steadily rolled over what ZerO had left with his never-ending stream of marine/medic.
Now, Mong had a chance to regain his honor, in the rematch against Tyson. The Protoss went for a two base arbiter opening, but with Mong being Mong, Tyson got delayed heavily while the Terran expanded and macroed up a fairly large mech army. Tyson would throw wave after wave into the sieged up positions of Mong, unsuccessfully, and Mong did his slow rolling push. Tyson tried to expand to hidden locations across the map, but to little success as he lacked base defenses. Mong ignored them and just crushed into the natural, giving himself the win, and pushing Tyson out of the round of 16.
Every single group thus far had huge selling points, and D was no exception. JangBi's first appearance in the SSL, the rising star PianO, and the SOSPA veteran Larva as well as Mini would duke it out, and hopes were high for the last OSL champion.
The day kicked off with JangBi vs. Larva. Sure, JangBi's not at the level he used to be, and he's not been streaming, and possibly playing, as much as he did when he announced his return to Brood War. JangBi opened sair into DT, but Larva was completely prepared, with the sairs barely getting any overlords and being unable to prepare for the incoming DTs. Larva put on constant pressure with zerglings and sniped a DT drop, and even managed to kill off all but one of the corsairs as JangBi stopped paying attention to them. JangBi had no expansion, and the two last pushes he had in him were stopped by Larva. Game two looked like it would be a fast one as zerglings from Larva broke the front and were able to get into the natural of JangBi. The Protoss barely survived, and the game went on for almost 25 minutes. He clawed his way back in with multiple drops and with money DTs rampaging with no overlords being alive. The zerglings kept piling into the natural and new third of JangBi to do some damage, but JangBi defended and gained a substantial lead that he kept to the end of the game, when he tied it up.
JangBi went for an odd four gate opening off one base in the third game, with a super late expansion along with his corsairs. Larva responded with a two base hydralisk attack that instantly crushed JangBi's lackluster defenses.
In the second match, Mini opened with a gas steal on PianO, something Mini would be beating himself up over later, as PianO decided to just two rax and pull workers to destroy the Protoss. Mini kinda held the initial push, but then he shot his own nexus and died. With the help of more marines, of course. In the second game, PianO went for decent drop play that did some damage on all three worker lines, but the carrier rush from Mini forced PianO to go home. With the early reveal of the carriers, PianO had plenty of time to macro up a decent goliath army. The Terran looked like he was in a fairly good position, until he lost most of his army in a push on the Protoss base. With the carrier count left unchecked, the following attack from Mini was able to end the game in the Protoss' favor.
I don't know what PianO was thinking, but he went for a cross-map bunker rush on New Sniper Ridge. Sure, a handful probes went down, and a single dragoon had the same fate, but PianO lost a bunch of SCVs, mining time, a bunker, and some of his army. PianO was behind, and Mini was allowed to expand to a third. PianO wanted to do some harass, but he really couldn't spare any units considering his lack of vision of Mini's base. The Terran eventually moved out at the same time as Mini, forcing the Protoss forces back, and forcing a premature reveal of the carriers. It looked like PianO was in the lead, and then, suddenly, a huge wave of zealots bum-rushed the unsieged army of PianO. Mini hadn't made any more carriers, and had an army that easily crushed what PianO had prepared.
The winners' match was a pretty amazing display of skill from both players. Whenever Mini tried to move out, Larva was ready with zerglings to backstab. The main damage Mini was able to do was while defending with high templars and reavers, or while dropping the bases of Larva. Neither player was really able to expand past the initial expansions due to the pressure applied by the opponent. Eventually, it became apparent that Larva had taken so much damage from the harass that Mini could just march through the Zerg bases with very little resistance.
I think you all recognize this.
I would love to say that the losers' match was an exciting match, but it was pretty one-sided after PianO defended the initial aggression from JangBi. Being on equal bases basically put the Terran ahead, and there was little JangBi could do when PianO cemented his position outside one of JangBi's bases. And then? JangBi somehow crushed the entire Terran army, with perfect storms against unsieged tanks. Still, JangBi had almost no mining left, while PianO had... a lot of bases. JangBi barely held on for a long time, but in the end, it just wasn't enough. JangBi was out of the SSL.
All right, final match, Larva vs. PianO. So, this game went from undecided to decided in about five seconds. Not a whole lot happened for the first seven or so minutes, but then Larva surrounded more than half of PianO's army, and bum-rushed the natural with his zergling/muta army. Though PianO kinda held the main for a little while, the lurkers closed the deal, and Larva moved on to the quarterfinals!
Round of 8 Preview
By Epoxide
When the quarterfinals roster was in I was hoping for hero to get drawn against either Movie or Mini, to face Bisu later in the tournament. As it stands hero has a very huge chance of getting knocked out, and then there won't be any real threat left for Bisu. Hero has had this amazing ability as of late to just really screw with himself. He has a very convincing early game, and it transitions fairly well to the mid-game. But somehow he can not close out a game convincingly and clearly. Furthermore, hero's ZvT has always been his weakest match-up, and it's not been consistent the last two months either. In 2014 hero has lost to Mind and sSak in the FIX Race Wars, and in proleague where he also managed to win against PianO on Mist. However, in individual leagues he has managed to 2-0 HiyA in the Zeus Starleague.
Mong is in the best shape he has been since late 2012. Semi-finals in LoveTV Starleague, still in the round of 16 of 41 Starleague, and now in the quarterfinals of SSL9. Furthermore, he recently got a three-kill against Hwaseung, beating both Killer and beast. Mong is 6-4 in TvZ so far this year, which seven of those games are against Killer, where he is up 4-3. The rest include 1-1 against ZerO and 1-0 against beast. Even though Killer has been falling off lately he is probably the most scary person to play against in TvZ. Having a winning record against that is really good.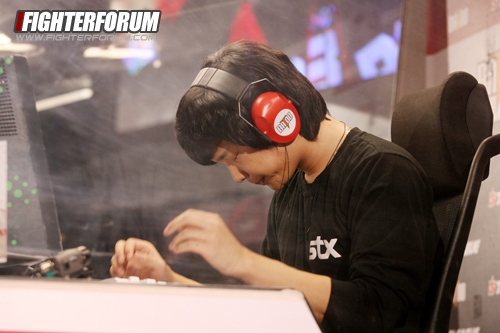 hero's hopes dies out, as does the dream of Bisu being defeated.
hero and Mong are 13-9 in against each other in SOSPA games. Most of which took place after Mong's form started to decline. They have played two best of fives. The first one was won by Mong 3-2 in October of 2012. The second one went 3-1 in hero's favour in late November of the same year. In October last year they played two best of threes in SRT17, Mong won both of them 2-1. It's fair to say that these two are quite equally matched, though hero is definitely the hotter player at the moment, but Mong is riding on a very big wave of wins in TvZ against high profile players. This is going to be a nail-biter.
hero
2-3
Mong
These are another close pair of players. HiyA cruised through the tournament pretty easily so far. He hasn't been very close to elimination
yet
. In the round of 32 he defeated Sky's cheese handily, and in the round of 16 he dismantled Tyson with ease. He hasn't had the same success against Protoss in other individual leagues though. In both the LoveTV Starleague and 41 Starleague he got knocked out in the first group stage with losses against Mini and Shuttle. In the Zeus Starleague he also faced defeat against Jaehoon. He also lost to JangBi and Lazy in the KotH Proleague and FIX Race Wars. All of which I consider worse players than Movie in PvT. Ironically one of HiyA's few wins against Protoss this year, and his only in teamleagues, came to just Movie.
Movie has also had a pretty good time so far. He won the all Protoss round of 32 group without losing a single set. He then proceeded to cheese Sea three games in a row in the round of 16, where he managed to win 2-1. He ended up facing Sea in the final match, where he once again won. Movie got knocked out early in the LoveTV Starleague with one loss against Sea, though he didn't participate in the other two leagues. Movie has lost both games in PvT in teamleagues this year. One to Sea, and the other as already mentioned to HiyA.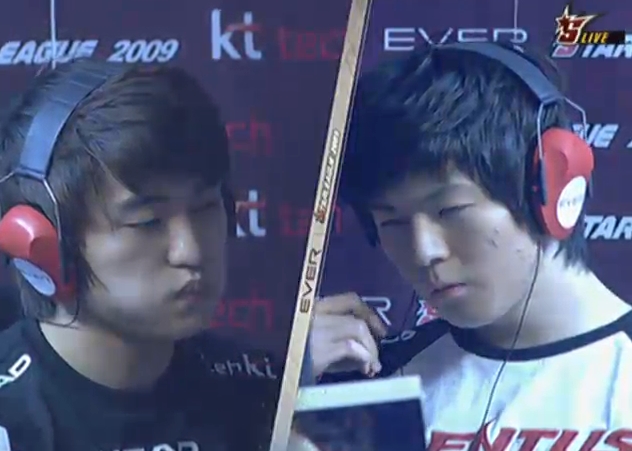 The sole reason why Movie ever got good at PvT.
Their head to head score shows a very telling tale. Movie is 9-5 against HiyA. Movie has won both of the best-of-series they've played. The first series in SRT12 went 3-2 in early 2013, the best of seven finals in a super match in April last year went in a crushing 4-0 victory for Movie. I have always considered Movie a PvT powerhouse, boasting a 63% win rate, making it his best match-up. He also has the second highest PvT ELO peak behind Killer. HiyA is good at making conventional PvT'ers lose with his aggressive play. This series will all come down to on who's terms we play. Another series that will be incredibly close, which makes this day perfect to watch.
HiyA
2-3
Movie
Way to throw your girlfriend under the bus Sonic. I didn't see Larva advancing from his round of 32 group with the shape he had shown before. He proceeded to crush his group and advance. In the round of 16 he advanced once again, although this time with a loss to Mini. He has managed to win against Shuttle and Jaehoon in 2014, but there is nothing convincing showing that he has the slightest chance against Bisu. So I say again, way to throw your girlfriend under the bus Sonic. It was going so well for Larva!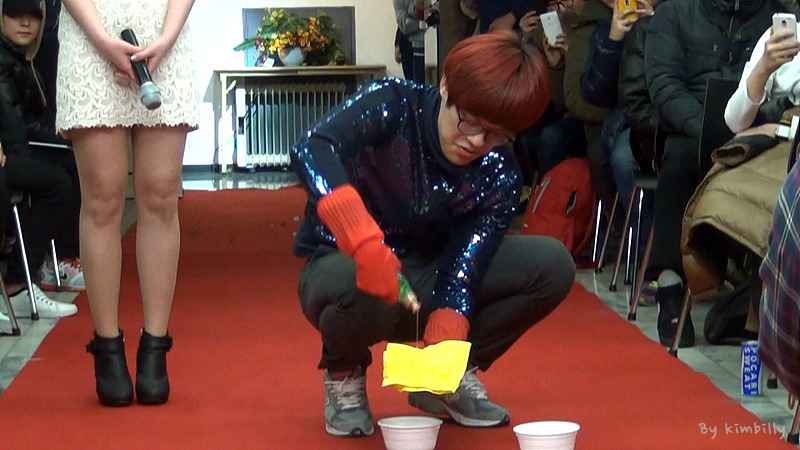 A true team player.
I'm going to be very short here. We all know Bisu is the best player at the moment. There is no point to make a list of only wins (he lost to hero, again). Unless Larva brings some plastic mugs with Bisu's name on it or something we are going to see a complete
wash
. If I wrote that Larva had a chance I would just be giving you false hopes.
Bisu
3-0
Larva
Well these are two players I certainly didn't think would meet each other in the quarterfinals. I had both Mini and Kwanro to lose in the round of 32... and in the round of 16. Both times they showed me wrong by going 2-0 and 2-1 respectively. But this time I win, one of them have to get knocked out now.
I have never been a Mini fan, neither am I now after his games. I don't see why he deserves to win games, let alone advance. But somehow he does. His PvZ record is also really average. He is 5-5 in SOSPA games so far, 3-2 against Larva and one win against HERO[WHITE] and Kwanro respectively. He has losses to players like beast, Cola, and Modesty. Who are all average or below in ZvP. Nothing impressive. In LoveTV and 41 Starleague he has two more losses to ZerO and hero.
Initially Kwanro didn't show his style that made him so famous, more recently he has at least pooled first. An appropriate quote:
On February 21 2014 15:58 L_Master wrote:
Seriously though, Kwanro is fucking baller.

Players KNOW what is coming and can't stop it.
Kwanro hasn't had the most impressive record in ZvP either. He is 4-2 in SOSPA games so far, with his only two losses to Mini and Bisu. So far he has beaten Shuttle, Tyson (LoveTV Starleague), Britney, SalDaGa, and Brave. These two players are generally pretty insane and don't play entirely by the book. This match will have everything. It will be refreshing after the first match-up of the day. Kwanro is our last hope to defeat Bisu.
Mini
2-3
Kwanro
---
WRITERS:
KristofferAG, Epoxide
GRAPHICS:
Hyde
PHOTOS:
dailyesports
,
SonicTV
,
kimbilly