I already put it up in my compilation thread but no one noticed it so I will repost.

Source: http://esports.dailygame.co.kr/news/read.php?id=64601

8/4
JangBi: I will go down in history, SC2 is a brand new start.


Q:How does it feel as the last BW OSL champion
A:There hasn't been a protoss who successfully defended his title yet, getting to be this glorious main character myself is just too worth remembering / being proud over. Getting to become a legend in history is really so great, but I won against
Fantasy both times to get the championship, I feel really sorry for him.

Q: Did you prepare Carriers for the first match? If not, was it an improvisation based on an advantage?
A: It was a cross positions opening, it wasn't an improvisation, I also had strategies for close position, but I didn't have a chance to show it. I also used planned strategies for the rest of the matches.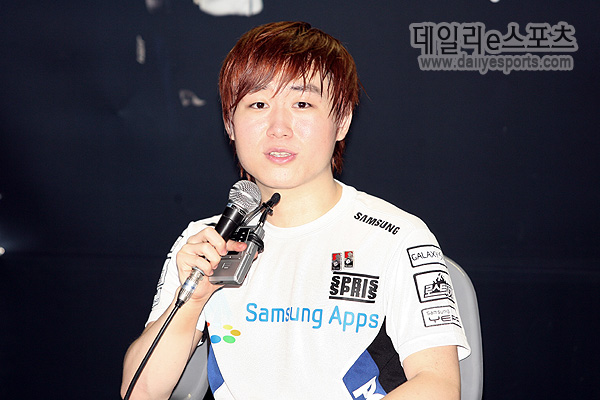 Q: How did you practice?
A: January helped / thought for me alot, since the BW/SC2 format there were alot of difficulties, but there will only be SC2 OSL's from now on, so there isn't much to worry about.

Q: What was the deciding factor of winning this championship?
A: Had it been before, I would have alot of burden, but now to me having an mixed format was a good thing. I had less baggage than last season, I played how I wanted when I wanted.

Q: It was also apparent last season that you are completely relaxed on the big stage, how do you manage that? Also what are your plans for the future?
A: I started my career alot earlier than
Fantasy, and I also got on the finals stage faster, so having an relaxed mentality is natural. I think it's because I have more experience. This time I also want to prove that the last championship wasn't won by luck.
OSL is switching to SC2 now, even though I can't right now, but I wish to work and catch up quickly to GSL players in ability.

Q: Last match you were holding your fist at the camera before the opponent GG-ed
A: When (my) Dragoon and dt was in the opponent's main I felt the audience's cheering. I had the feeling of winning, and the camera panned to me too, so I gave a pose (laugh)~

Q: As the first protoss 2 time consecutive champion, will you win next season too?
A: If we kept playing BW I have confidence, but if we switch to SC2 I have ambition but not enough confidence is a fact, in the future I will try to over come my weaknesses.

Q: How do you feel about the last BW OSL?
A: I also was asked this before, BW gave me a dream, it gave me a meaning to exist, its end is very regretful to me. But switching to SC2 is a new beginning, so I also have a new beginning.

Q: Say something to the fans.
A: I won these results in the OSL because of these fans, because of everyone's support I got this championship, I really (want) thank everyone.