I usually leave these for others to translate, because they do it so much better and faster than I do... but it still wasn't up, and I wanted to get it out for you guys before the KT vs. STX match, since they talk about it a little. Also, I know people wanted an ACE vs. Khan interview, but it seems like DES didn't actually do one. Sorry :c

STX Bogus and Last, "The maps are hard for Terran"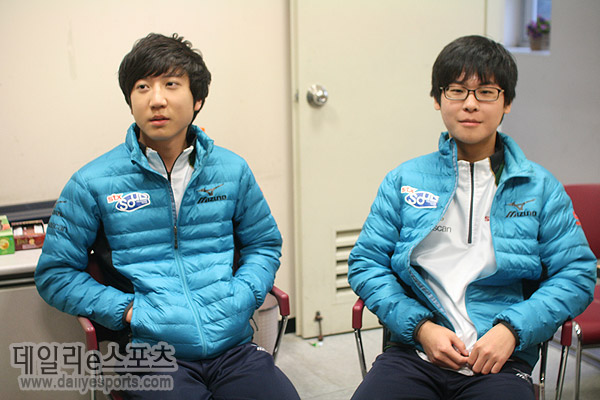 This season, Terrans haven't been doing very well. Despite the fact that Terrans were the most played race last season, there haven't been very many this season, and only a few of the ones played managed to win. The reason for this is that for Terrans, the maps this season have too many hills to climb.

In the midst of this, STX has fielded a very shocking lineup full of Terrans. They faced SK Telecom's strong Protoss line. Despite such a strange lineup, the players became "sin-try" (not really sure what this means ><) through their victory.
Bogus, who was on a 3-game losing streak, and
Last, who scored a win on his birthday, said, "The maps that Terrans can reasonably play on have become rather limited," with deep sighs.

Q: Bogus, you got your first win of the season today, and Last, you won on your birthday, so you must feel great.

Bogus = It's already been 5 weeks since the season started, and I now have a win. But even if it's like this, I'm still happy to have a win.

Last = It seems I got quite lucky today. First of all, I faced such strong opposition and still won, so I'm very happy (laugh). I didn't think I'd win, so it felt like receiving a birthday present.

Q: Why didn't you think you could win?

Last = I was pretty spaced out before the game. I mean, my opponent was the mighty
Fantasy. I was worried whether it'd be possible for me to win.

Q: You were on a 3-game losing streak, so you must have been troubled.

Bogus = Truthfully, my 3 losses made me lose confidence in myself. Furthermore, I felt that I had no luck at all when it came to opponents. But then I just emptied my mind and went into the game thinking, "Whatever happens, happens," and came out victorious.

Q: Between the two of you, who plays better?

Last = Bogus does. A long time ago, I'd be able to beat him, but nowadays he plays better than me. Watching him play last season has really motivated me. And now I have 2 wins under my belt (laugh).

Q: When you were losing, your team was on a losing streak too. It must have been hard.

Bogus = I feel like if only I had won, my team's results would have been decent. But mentally, it wasn't a big shock. To be honest, even if I was called the ace, it didn't feel like it to me, so that burden wasn't there. From now on, I'll win a lot, so the losses won't be a big deal anymore. *

Q: You do seem to be the Team's ace though.

Bogus =
Calm-hyung plays well, so I think it's tough to call me the definite ace. As of now, do I not have a lot of losses? In the future, I'll show better form, so that people can impressively call me the ace.*

Q: Your next match is against KT.

Last = I have confidence against other races too. I especially want to show off my TvP, so I'd like to play once against KT's
Stats. I have confidence against Terran too, so I think I could even take on
Flash.

Bogus = I think I could handle
Flash, as long as it's on a map I'm confident on. Although to be honest, this season, such maps aren't very common (laugh).

Q: It feels like Terrans are having a hard time this season.

Last = The maps aren't good for Terran. On Outlier and Chain Reaction, Terrans pretty much can't move out of their bases. There are very few maps where Terrans can actually mobilize.

Q: If you could get rid of a map for the next round, what would it be?

Last = Outlier? (laugh)

Bogus = Chain Reaction (laugh).

Q: Do you have any goals this season?

Bogus = We've already played 5 games out of the total 21... so I'm hoping to get at least 10 more wins.

Q: Any last words?

Last = It's Christmas and my birthday, and I'm so happy that I won and my team won. I hope all the fans have a wonderful Christmas.

Bogus = Ever since I became a progamer, I haven't been able to care for my family much. This Christmas, I hope my family has a great time.

---

The * questions were the ones I was unsure about, so if someone could check them for me, I'd appreciate it! ^^

Source:
http://esports.dailygame.co.kr/news/read.php?id=54072