mods, you can delete this if one of the official translators is going to post the translation.

KT's
HoeJJa "As Long as I Don't Get Nervous…"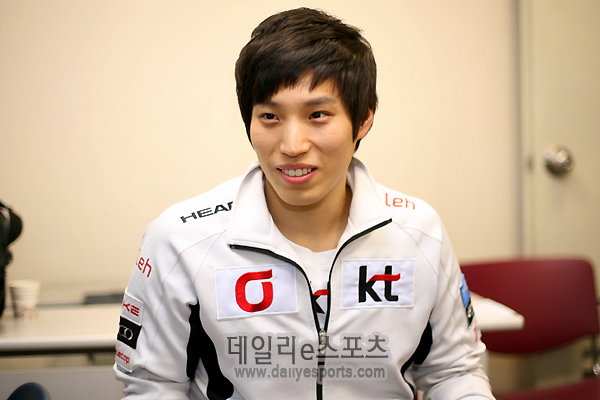 If Hoejja had lost, KT would have returned to their teamhouse with a 1-3 defeat to CJ. They would have had to endure more taunts of being a one-man team, and Coach Lee would have been stuck on 99 wins once more. It is commonly held that you cannot overcome a supply deficit of 10 in ZvZ, but Hoejja was able to overcome the disadvantage with his remarkable concentration and rescue his team from the danger of losing. In the last match, he became the scapegoat after throwing away his advantage to
By.Sun. However, by giving a meaningful win to KT and Coach Lee, he became "God" [T/N: A play on Hoejja's Korean name, Koh God (Gang) Min] again.

Q: You finally lived up to your nickname of "God" after a while.
A: I really wanted the win. I am relieved. It was a very tense match for me, but I imagine it would have been even more so for the players on the bench. Next match, I will try my best to win decisively, easily and without nerves.

Q: You were up against
Hydra.
A: It was like what
Flash said. Even if your opponent is good at a particular matchup, you will always have a chance as long as you don't get nervous.

Q: Has your ZvZ improved?
It has improved ever since
Crazy-Hydra came to our team. I have learned a lot about ZvZ through him, and I am now at a level where I am able to play ZvZ without getting nervous. Even then, I did get a little nervous during the match. In fact, I think I would have been able to have an even fight against Hydra's zerglings in the middle of the map, but I was nervous (T/N: and therefore retreated).

Q: What allowed you to make the comeback?
A: I had actually come across a similar situation once during practice. I decided to just go for it as much as I could, and it worked out successfully. Psychological factors played a big part. The thought that the team would lose if I lost did not allow me to give up.

Q: You became the scapegoat after several games where you lost to comebacks.
A: In the match against by.sun in Busan, I threw away my advantage. I felt extremely sorry to the coaches and the players. I got rid of the burden slightly by winning today, and I am relieved that we broke our losing streak.

Q: Any last comments.
A: Our Zerg line is underperforming. We are doing very well in practice and are adjusting well, but our televised performances have been lacking. We will do our best to show better performances in the future. In addition, Coach Lee and his wife held a midnight snack party for us, as if he was telling us to get him off his 99-win curse. If he holds parties for us before every important match, we will do our best to get the win.

Source: Daily Esports

---

KT's
Stats "
Perfective, I Love You!"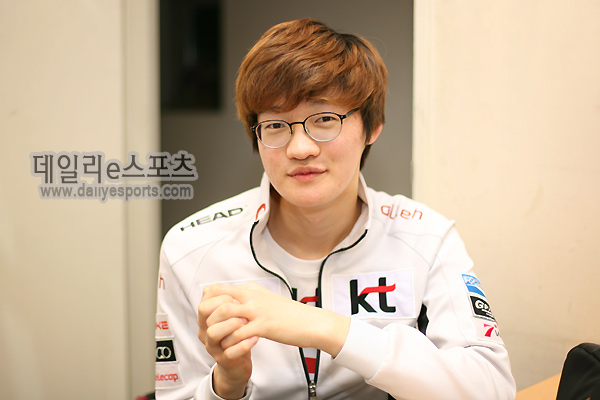 KT Rolster's Stats played an important role in defeating CJ Entus. Many were predicting that he would lose to CJ's ace
EffOrt, but he came to this interview after boldly securing the win. His comment at the end regarding Perfective made the entire media room laugh. When asked if this was his coming out, he replied that people would just have to wait to know what it means, as it was something that was a stepping stone to something else in the future. We are anxiously awaiting the next interview with Stats to see what he is going to say about Perfective.

Q: You beat Effort.
A: I was happy that I won, but I am doubly happy that the team won.

Q: Were you expecting Effort to come out?
A: I was not expecting to meet any player in particular. When the entries for the fourth match were announced, I did expect to see Effort in the final match, and I started thinking about my PvZ.

Q: How does it feel to be sent out in the fifth set?
A: The ace match was usually
Flash's burden, so I never really thought about it much. However, with the format change this season, I think there will be more situations where I will be sent out in the last set. The thought that if I lose, the team loses weighs more heavily on me than usual. I found myself shaking when the game started. I had to focus a lot on maintaining my mental state.

Q: What was the point that allowed you to win?
A: I was thinking that Effort could drop even before the drop came, and this allowed me to pull my forces back in time to deal with the drop. I was also expecting the lurker drops that followed.

Q: Your PvZ is very good. Are there any secrets to it?
A: I lose a lot in practice. I have better results in televised matches. I have even made some comeback wins. Actually, I have had a lot of luck, and also the KT Zergs have made my life very difficult in practice. They beat Protosses using a variety of methods, and they play in a way that makes you give up on practice altogether. That is why I am able to deal with the Zergs that I meet in official matches.

Q: Your record so far is 3-1. What are your goals for this season?
A: My goal is to win as many of my games as possible. Playing my match today, I felt the importance of "momentum" today. Before the match, I didn't think that momentum was an important factor, but as we started losing the team atmosphere became strange. We got the comeback win today, so in the future I will try my best to win and not give up the momentum to the other team.

Q: Any last comments?
A: I want to say one thing to Perfective. Perfective, I love you!

Q: This is quite shocking. Is this your coming out?
A: I can't tell you yet. You'll find out soon enough (laughs). It is not a coming out, but it's something I have in mind to surprise the fans in the future.

Source: Daily Esports

---

KT's
Flash "I Will Not Get Stuck on 199"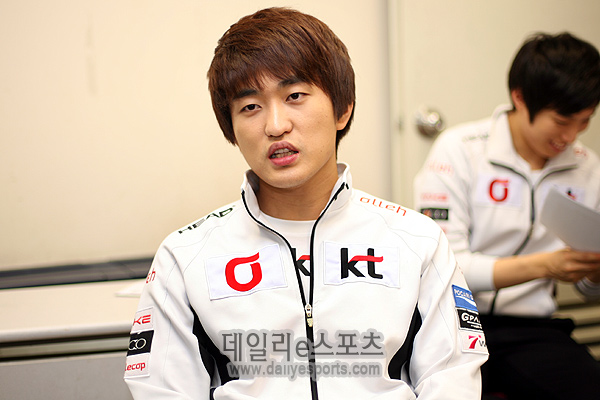 KT Rolster's Flash has come closer to a monumental achievement after winning all three of his matches this season and attaining 199 Proleague wins. Although Team 8's
Jaedong was the first to reach 200 PL wins last season, Flash is preparing to be the youngest player to reach 200 wins.

Flash said that although Coach Lee has tried 5 times to get off 99 wins, he will not suffer the same way, and that he will not be a "man of 9s" by winning at Woongjin and recording his 200th win.

Q: How do you feel after the win.
A: It has been a while since my last interview. I did not think it would be this hard to get the first win for the team. Because we also had the experience last season of being last before winning the championship, I believe as long as we get into the playoffs we can become champions again.

Q: Your individual play has been very good recently.
A: I go to rehab sessions three times a week, and the rest of my time I devote to practice. Instead of trying to maintain my condition, I am trying to improve my overall health by exercising hard. Although I do feel a little bit of pain during practice, it is much better than it was in the past.

Q: Flash is winning, but the team had been losing. How do you feel about that?
A: I was having a hard time watching my teammates lose. Even if I do well, it is for nothing if the team loses, I have been consoling my teammates and encouraging them to do better. I do not want the team spirit to go down through a losing streak, so I said, "let's show people the power of the reigning two time champions." I believe that our losses simply came down to bad luck.

Q: You met the league leaders CJ during your losing streak.
A: The difference in ability between the eight teams this season is of a hair's width. We devoted ourselves totally to winning with the thought that we were up against the best team. I think we wanted the win more than CJ.

Q: Your play was perfect.
A: I still think there were some disappointing moments. I could have not received any harass from
Horang2 at all, but I lost more SCVs than I expected. I knew there was a shuttle in his base, but I did not know that it was coming until it came into my base. I need to improve in this aspect.

Q: How do you feel when you kill probes with vultures?
A: It's fun. Horang2 was late in reacting to my harass at 7 o'clock. I knew I had the win at that moment. The probes I got later on because I predicted their movement, and I was able to secure the win after that.

Q: Who are the players that helped you?
A: Because I have to prepare for all matchups now, lots of players have become my practice partners. In particular,
Anyppi and
BarrackS have helped me a lot.

Q: Coach Lee got his 100th win.
A: I am extremely happy. It made me realise that it is very difficult to get off numbers with 9 in them (T/N: 아홉수 really doesn't have an elegant English equivalent, it refers to numbers with multiple 9s at the end such as 99, 199, 299 etc). I have also reached 199 wins after today. I am also on a number with multiple 9s, but I hope that I will able to get off it quicker than he did by winning in the next match against Woongjin. I hope that I can continue on to 300 wins, and Coach Lee 200 wins, without stopping.

Q: Any last comments:
A: Last night, Coach Lee's wife came over with sandwiches, chicken and inari sushi (fried tofu sushi, yubu sushi) that she had made herself, begging us to get Coach Lee off 99 wins. We had a good time, and it contributed to our win. If she does a similar thing next time, we will make sure to win.

Source: Daily Esports

edit: fixed up some weird grammar that i had missed. also forgot to TLPD-ise by.sun