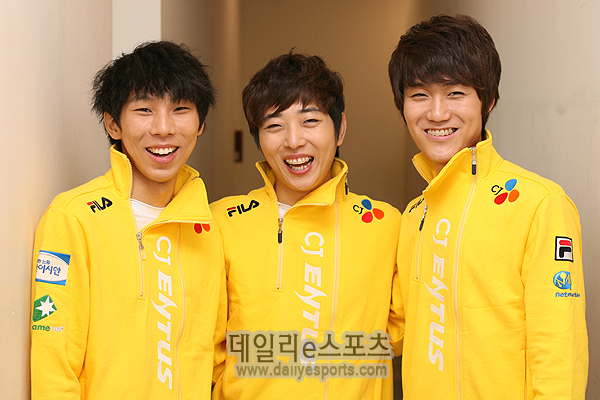 It's difficult for a professional who declared retirement to win in his first match upon return. He must put in two to three times as much effort as others to make up for the time lost. Adjusting to playing in a broadcasted environment is another aspect that makes it more difficult.

However, when that player is
EffOrt, it's a different story. I'm talking about THE Effort that reverse sweeped KT Rolster's Flash in an individual league final. Living up to his fans' expectations, Effort's made a magnificent revival to Proleague with his first victory in 496 days.

Q Your thoughts on winning the first match of the season.
A
Hydra=During off-season, all I wanted to do was to play, but when it was actually time to play, I felt nervous. Nevertheless, I enjoyed playing after taking a long break (laughs). I want individual leagues to start up again, too, so I will have more games to play.

Leta=It's refreshing to give an interview with players of such high caliber. Originally, I never expected to give an interview with Effort, but now that I am, it feels as if I'm playing for a different team (laughs).
Effort=This game was both my return match and the season opener, and it feels so good to have gotten it over with (laughs). It doesn't hurt that I won, too (laughs). I want to have a fun season with all the players.

Q Did you expect to play so soon after your return.
A Effort=Coach Cho put alot of faith in me. To return the favor, I played very hard and I did everything I could to improve during the off-season. I played in the stead of other players' who developed while I was gone, so there was alot of pressure on me to perform, but now that I have won, I feel a surge of confidence.
Hydra=Even though he took a break he caught up right away. I guess true skill doesn't go away. During practice... I can't bring myself to say it (laughs).
Effort=I lose more often than not (laughs).
Leta=Effort is so good (laughs). I can't beat him (laughs).
Effort=I'll buy you dinner for that.
Leta=He must still be adjusting to playing on live broadcast, so he must be really good to overcome that and win his first game upon return (laughs).

Q Who is CJ's ace.
A Hydra=Instead of thinking that I am CJ's ace, and besides, I don't think you become the ace by just wishing you were. I concentrate on the game that's been given to me, so I haven't given any particular thought to going after the 'ace' title.
Effort=As Hydra said, even when I played well in the past, I realized you are only ace when the other players perceive you to be one. Right now I am just concentrating on putting in my all.
Leta=We all practice and prepare together so everybody is an ace.

Q Your hair.
A Effort=I wanted to go in with a bang so I changed my hair. I wanted to bring a little more attention (laughs).

Q Any last words.
A Hydra=I am a little upset that the sheer quantity of games were reduced by so much. From now on, I will treat each game as if it were my last. My goal is to win the game at hand. This season will be a short one, and I hope to bring good results with my teammates. If I can play in 21 games, I think I can win about 17 (laughs).
Effort=I am so happy to play after about a year-long break. I am thankful that my fans and a lot of others welcomed me back. Please keep cheering for me.
Leta=Our team always prepares the season with the thought of winning it all. Since we put in so much during the off-season, we will try our best to return the favor to our fans by winning.

Source: Daily E-sports

+ Show Spoiler [CJ vs ACE spoiler] +
Horang2 "The web strategy was to revive e-sports"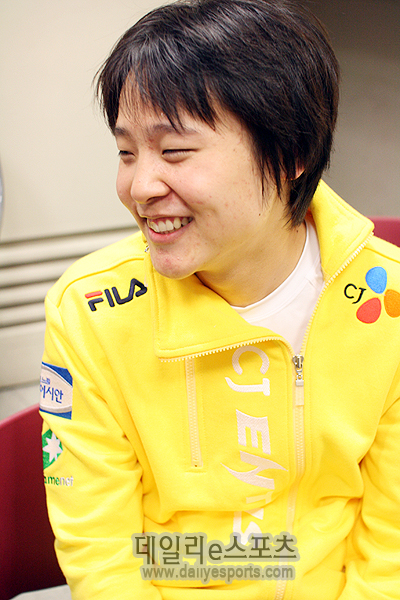 If I told you that a toss made a sair during a PvT, you might assume that it was made for an in-game ceremony. However, you can expect something different when Horang2 does it. He used d-web to beat out
PianO
and bring home his first win. Thinking out of the box led to good performance.
However, even though he won the game, Horang2 didn't seem too happy. He seemed regretful that he didn't play nearly as well as he could have.
Q You don't look too happy for somebody who just won.
A I don't feel that great (laughs). However it does feel good to know that I contributed to maintaining a good atmosphere within our team.
Q You made a sair in PvT and use d-webs. Not a very popular strategy, I must say.
A I used the web-goon strategy before. I think it was during the Elite School League (laughs). Carriers were popular among toss players on that map, so I thought a web-goon strategy would work well against it. I used it to revive e-sports but it almost cost me the game (laughs).
Q You barely won.
A I sent waves of units in the mid-game but at some point, the momentum shifted to my opponent and I almost died. But then he must have been flustered to see a build he had never seen in practice. I don't think I won through skill.
Q So modest.
A I am just being honest. When I won against
Bisu
I played a really good game (laughs). But today, not so much.
Q You were the first among CJ toss players to win.
A What can I say but that I'm good (laughs). I'm just kidding. Even though I prepare for every set, I'm not fielded often because my teammates are so good. But it's a fact that I am 1 win above
Movie
and
Snow
. I will do my best to lead the CJ toss line.
Q You are playing with Effort on the same team. Thoughts?
A It's not awkward at all and it's so much fun. There were alot of things to learn too. But mostly, he is just a cool hyung. When he is sitting on the bench, you just feel like you can trust him. Then again, I guess I kind of give off that feeling too (laughs). Kidding! I'm still kind of shaky but
Movie
has been giving off that feeling of confidence lately (laughs). I don't even know what I'm saying now.
Q Your uniform fits you well.
A In my opinion, the uniforms were made for leta and movie. I guess I fit well into any uniform. I was actually worried when I heard that our uniforms were going to be yellow, but it looks really good, so I want to thank Fila.
Q You are playing Samsung Khan in your hometown.
A I'm not sure if I will be fielded (laughs). I've never been to Bexco in Pusan, so I am excited.
Q You performed a ceremony.
A Today's ceremony was Wondergirl's Tell Me (laughs). I wanted to a show give the fans a fresh surprise so I prepared it, and I hope they enjoyed it (laughs).
Q Any last words.
A I thank all my teammates who helped me practice. It must have been hard for them because I used a weird strategy, but they didn't complain in the least bit, and I was really thankful. Also, my friend
Britney
is going to the army. I hope he stays healthy and returns in good shape. Britney fighting!
Tell me:
Source:
Daily E-sports
CJ's Coach Kim "Effort has his weaknesses"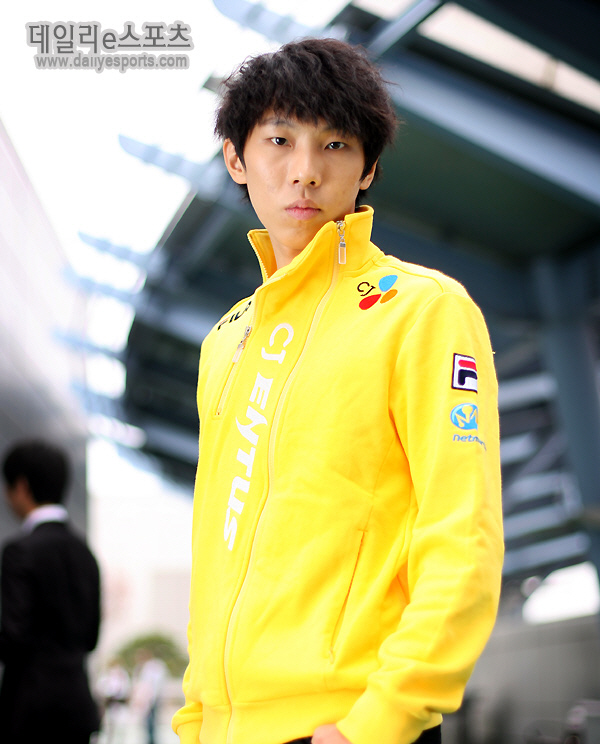 Still lacking 2% compared to his prime

CJ Entus promptly went on a 2-win streak with the start of the season. In the midst of the two 3:0 sweeps, Effort was at the center pulling the weight.

Effort played in the third set of CJ's match against STX, and showed superb decision making, improving on what was deemed his weakness, and beat
hyvaa. + Show Spoiler [CJ vs Ace spoiler] +

During CJ's match against ACE, he utilized queens, lings, ultras and defilers to give
Iris

the 'Zerg all-inclusive wonder gift-basket' and crush him in the process.



CJ's Coach Kim Dong-Woo complimented Effort for contributing to the team's win-streak. Even after a 6-month break, Effort caught up to the current players promptly and even went on a winning-streak. After his sudden retirement to academia after the 09-10 season, Effort announced his return in March and received his progamer license in October to participate in the SKPlanet Starcraft Proleague season 1. After just 6 months of practicing following his announcement to return, he has been going on a win-streak while going up against other teams' aces, so it is only natural that Coach Kim is proud of him.

But Coach Kim also said that there were still some areas he could improve upon. He says that he wasn't able to show flawless management during live broadcast like he does during practice. Coach Kim stated that "During his games against hyvaa and Iris, he made some noticeable mistakes" and added that "No matter how small, there is something lacking compared to when he was at his prime and he must improve upon those weaknesses to become a player that represents all of e-sports."

Next week during round 1 week 2, CJ Entus will play Samsung Khan at the Pusan Bexco on the 8th .

Source: Daily E-sports