[Contest] Map Design Contest! - Page 24
Darn, I just learned about this now. How terrible.
Husky
United States3362 Posts
On February 08 2010 03:14 Chef wrote:

It takes literally half an hour, and you've known about this in advance for about a month lol. Yes, you are being lazy, no need to be smarmy too. Your ability to browse TL is proof enough you're not that fantastically busy.



I don't know why you think me making the next thread a little later than after when the conteset ends as being 'lazy'. Like, why does it even matter?

And I dont know if you were too lazy to read the OP... but it specifically says



JUDGING: Final decisions on which 3 maps win this contest will be decided by me for originality, enjoyment, practicality, balance, and whatever else I think makes it a great map. A poll will be held to influence my decision but not to make it for me.



-_-;;
KinosJourney2
Sweden1811 Posts
Hey, im the author of the map Velocity.

I currently have no access to internet at home so i can't update my map velocity. I found alot of "mistakes" i made and i can't correct them at the moment. As soon as i get my internet back i will fix the problems (mostly some un-minable minerals and the temples in-base won't show up when you play the map since they are outside of the maps borders)
CursOr
United States6331 Posts
Velocity is one of my favorites, depending on how voting is set up, it will probably get mine regardless.
Lovely stuff and quite a few cool maps - though now that the list is finalized I'm suffering from information overload! :D

Looking forward to be watching and playing some games on the final selection - this is a very inspiring initiative, just the kind of stuff the community needs.
T.n.T
United States20 Posts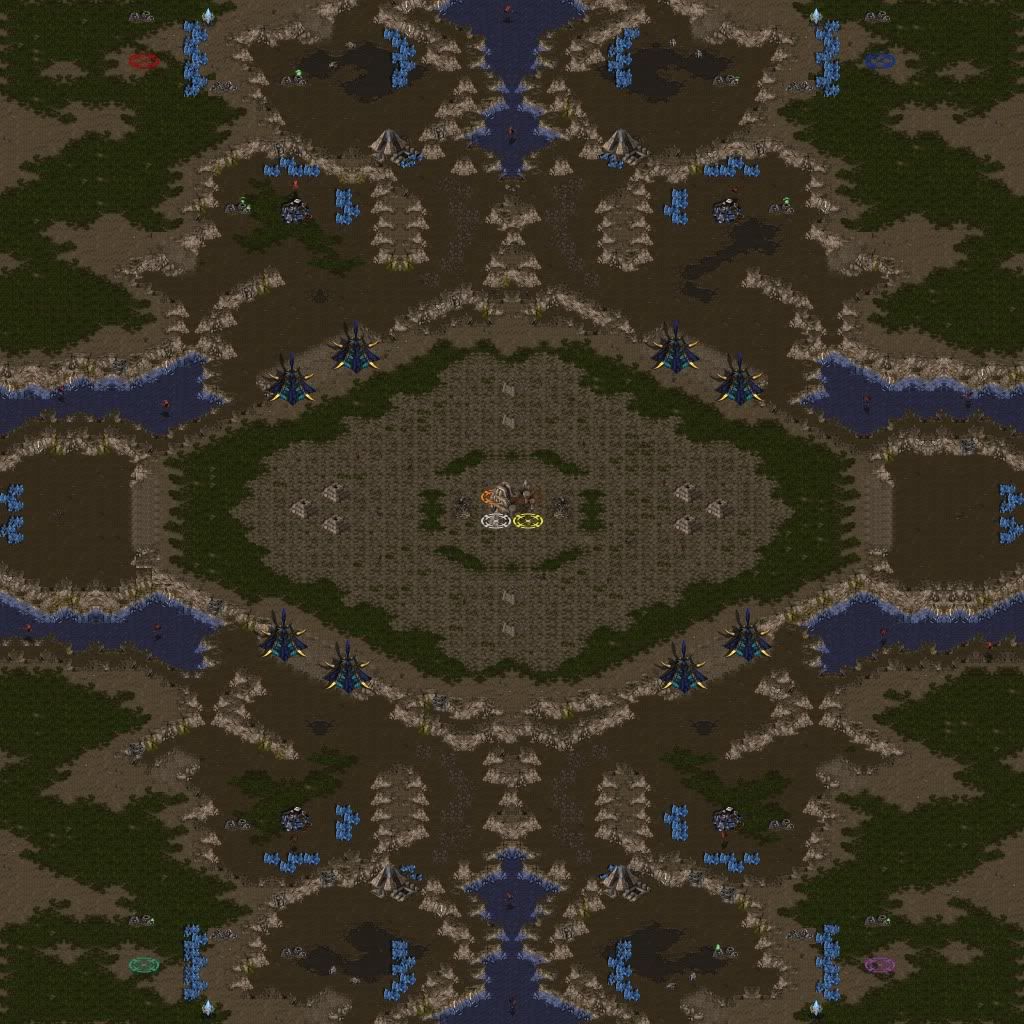 my revised one
i hope it worked

Pholon
Netherlands6142 Posts
Only played 2 maps so far, and just TvZ at that.

Abahus Kydan

14 CC can pretty much not be stopped - I'd even do it vP. Main is way too big though (the rally from rax/facts to choke is way too distant), as is the distance nat - choke. My opponent had to build a creep colony in order to expand creep so he could build sunkens at the right place. IMO redo this map making it less wide (96 x 128?). He also tried to expand but couldn't find a good spot - which, looking at the map afterwards sounds true enough. Also when I shift-tabbed the neutral buildings became red and I became some fucked up brown/black colour.

Huskyland
Spawning top right I couldn't build a scanner at my natural. Got raped by Lurkers. This pissed me off.