Best-of-five clean sweeps are the most humiliating forms of one player totally dominating his opponent, especially since the recipient of the shut-out is usually a player good enough to reach the latter stages of the tournament.

Completing the clean sweep career grand slam, is what I personally will define as one player having a clean 3-0 best-of-five victory versus members of each of the three available races over the course of his career.

On the other end of the spectrum, there would also be the clean sweep career grand slam recipient, where a player suffers a comprehensive best-of-five 0-3 defeat against members of each of the three available races over the course of his career.

Both ends of the spectrum were relatively rare occurrences in the entire history of professional Brood War, since such thorough display of one-sided supremacy (in either direction) happening in all three available match-ups for a particular player were not going to be commonplace.

I will exclude players who switched races for multiple best-of-series, such as ChRh from the equation, because there is no honour in completely dismantling a player unless his heart and soul belongs to his race of choice.

I will list the players by whoever achieved the career grand slams (both good and the bad) first:

1. BoxeR: Completes the clean sweep career grand slam on 27th September 2002




3:0 victory versus JinNam (Z) in the finals of Hanbit OGN StarLeague
3:0 victory versus Grrrr... (P) in OGN Patch 1.07 Special Match
3:0 victory versus ElkY (T) in the semi-finals of SKY 2002 OGN StarLeague

BoxeR became the first ever player to complete the clean sweep career grand slam on 27th September 2002, and retired more than ten years later without suffering the indignity of suffering 0:3 sweeps in all three match-ups, ironically, thanks to his terran-versus-protoss abilities.

While BoxeR lost a lot of best-of-five series to numerous protoss legends such as IntoTheRain, GARIMTO, Reach, and Anytime, BoxeR always found a way to make the series somewhat competitive with his ingenuity and fighting spirit.

2. NaDa: Completes the clean sweep career grand slam on 5th October 2002




3:0 victory versus JinNam (Z) in Lord of the Best Race Tournament
3:0 victory versus Sync (T) in the finals of 4th iTV Ranking League
3:0 victory versus Reach (P) in the finals of 3rd KPGA Tournament

NaDa completed his clean sweep career grand slam shortly after BoxeR, and although he suffered many humiliating defeats over the course of his long career, his mirror match-up abilities remained the saving grace for NaDa.

The only terran players NaDa lost to in a best-of-five setting were BoxeR, iloveoov, and Mind, and NaDa was able to keep face by preventing any shut-out defeats when playing his famed mirror match-up.

3. Bisu: Completes the clean sweep career grand slam on 6th November 2008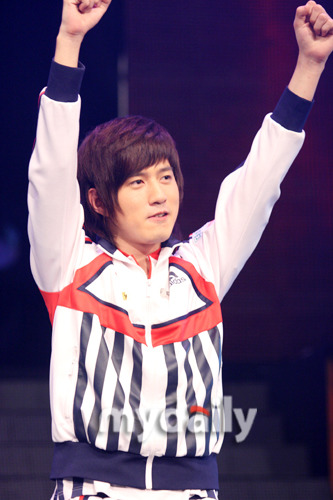 3:0 versus Nal_rA (P) in the semi-finals of GomTV MSL S1
3:0 versus sAviOr (Z) in the finals of GomTV MSL S1
3:0 versus firebathero in the quarter-finals of Clubday MSL

Bisu became the first protoss to complete the clean sweep career grand slam, and was able to prevent global embarrassment in all three match-ups thanks to his famed protoss-versus-zerg abilities.

In fact, the only best-of-five defeat Bisu suffered at the hands of a zerg player during his professional career was in early 2009, when he narrowly lost a showmatch versus Jaedong.

4. JangBi: Completes the clean sweep career grand slam on 1st February 2009




3:0 versus UpMaGiC (T) in the quarter-finals of GomTV MSL S4
3:0 versus YellOw[ArnC] (Z) in the finals of Clubday MSL
3:0 versus free in the semi-finals of GomTV Classic S2

JangBi was a player who was known for firing all cylinders when he felt was in the groove. He was the second KeSPA draftee to complete the clean sweep career grand slam, and is the only player on this list alongside FanTaSy to have never lost a best-of-five series zero-to-three.

Of course, since being on the receiving end of the embarrassment is partly a function of having enough opportunities and longevity, JangBi was under less scrutiny than a lot of the other players on this list due to his extremely fluctuating nature of career, ranging from looking like one of the absolute best players in the world when reaching the latter stages of the brackets, or bombing out way early before even reaching the best-of-five stages.

With that being said, JangBi played fifteen best-of-five series without being swept even once. That's a record nobody in the history of professional Brood War can boast. JangBi may have been inconsistent and downright terrible at times, but when he was good enough to reach the latter stages of the tournaments he entered, he simply refused to get embarrassed completely.

5. Jaedong: Completes the clean sweep career grand slam on 27th March 2009




3:0 versus UpMaGiC (T) in the semi-finals of EVER 2007 OGN StarLeague
3:0 versus Much (P) in the semi-finals of Arena MSL
3:0 herO (Z) in the semi-finals of Batoo OGN StarLeague

Jaedong became the first and only zerg player to complete the clean sweep career grand slam in 2009.

Jaedong suffered numerous humiliating defeats at the hands of terran players (fOrGG and Flash come to mind), but never suffered clean shut-out defeats at the hands of a protoss or zerg player.

6. Iris: Completes the clean sweep career grand slam on 26th July 2009




3:0 versus Casy (T) in the 3rd/4th place decider of Shinhan OGN StarLeague S3
3:0 versus Stork (P) in the semi-finals of Daum OGN StarLeague
3:0 versus EffOrt (Z) in the semi-finals of GomTV Classic S3

Iris is unique on this list, because he is the only player that I know of, that completed a clean sweep career grand slam without ever having won a major championship.

Known for his aggressive play and never-die attitude, Iris only suffered one best-of-five series without having won a single map, and that was against Stork in the semi-finals of GomTV Invitational.

7. Flash: Completes the clean sweep career grand slam on 12th August 2010




3:0 versus Stork (P) in the finals of Bacchus 2008 OGN StarLeague
3:0 versus July (Z) in the semi-finals of GomTV Classic S3
3:0 versus fOrGG (T) in the quarter-finals of Big File MSL

Flash became the KeSPA draftee terran to complete the clean sweep career grand slam during his peak year of 2010.

Flash managed to complete his clean sweep career grand slam in the best fashion, putting fOrGG in his place, and wiping out the memory of his semi-finals defeat during Arena MSL.

8. Stork: Completes the clean sweep career grand slam on 21st January 2011




3:0 versus 910 (T) in the quarter-finals of GomTV MSL S2
3:0 versus Bisu (P) in the semi-finals of EVER 2007 OGN StarLeague
3:0 versus Modesty (Z) in the semi-finals of Bacchus 2010 OGN StarLeague

Stork became the third protoss player to complete the clean sweep career grand slam, after having the fortune of playing Modesty (the zerg-versus-zerg match-up specialist) in a best-of-five series. Modesty was never known for his strong protoss-killing abilities despite being a zerg player, and lost comprehensively to Stork.

9. Stork: Becomes a clean sweep career grand slam recipient on 27th January 2011




0:3 versus Iris (T) in the semi-finals of Daum OGN StarLeague
0:3 versus JangBi (P) in the semi-finals of Lost Saga MSL
0:3 versus ZerO (Z) in the quarter-finals of PDPop MSL

Stork is the only protoss player on the list to sit at the both ends of the spectrum, having been the recipient of the clean sweep career grand slam.

Stork was known for his tendency to lose without giving much of a fight from time to time, and he became the first ever player to lose 0:3 in three different match-ups over the course of his career.

10. FanTaSy: Completes the clean sweep career grand slam on 17th July 2012




3:0 versus Bisu (P) in the semi-finals of Batoo OGN StarLeague
3:0 versus Calm (Z) in the quarter-finals of Big File MSL
3:0 versus Flash (T) in the semi-finals of Tving OGN StarLeague

FanTaSy became fifth and last ever terran legend to complete the clean sweep career grand slam after defeating his long term rival Flash in the semi-finals of Tving OGN StarLeague by a score of three to zero.

FanTaSy was known more for his meticulous planning and intelligent play, and is the only player on this list other than JangBi to have never lost a best-of-five series by a score of zero-to-three.

Of course, due to FanTaSy's being exposed to less number of best-of-five matches compared to some of the other players on this list, his perfect record didn't really face the test of time. Due to professional Brood War coming to a untimely end, there really is no telling whether FanTaSy would have retired without ever facing the embarrassment of comprehensively to the opponent in a best-of-five series.

11. Flash: Becomes a clean sweep career grand slam recipient on 17th July 2012




0:3 versus Stork (P) in the 3rd/4th place decider of Daum OGN StarLeague
0:3 versus Jaedong (Z) in the finals of GomTV Classic S1
0:3 versus FanTaSy (T) in the semi-finals of Tving OGN StarLeague

Flash finishes up the list by being the only terran player in history to have suffered shut-out defeats in all three match-ups.

After suffering comprehensive defeats at the hands of players who reached their peaks earlier than Flash did, such as Stork and Jaedong, Flash had time on his side, and returned the favour to those who once made a fool out of him.

However, when FanTaSy, somebody who made his debut alongside Flash, started to gain momentum, Flash was helpless in his attempt to stop FanTaSy from usurping him as the best terran player by the end of professional Brood War, and helped him complete his clean sweep career grand slam, and at the same time completed his own unique record.