As of March 23rd, 2012. I've been engaged to Anna Strayer. I've waited to make this post until our Engagement photos were done so everyone can see the happy couple. =)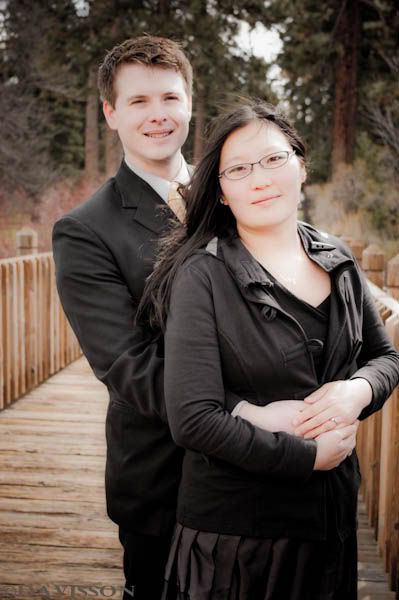 We met December 19th, 2011. It's kind of an odd story.

After moving back to Bend, Oregon in January '11 after a year away and discovering most of my friends had either moved away or gotten married themselves. I didn't have anyone in my hometown to hangout with. So I just got lost in my work at Home Depot. In December the loneliness was finally getting to me. I had tried going to book clubs, doing sports, even a game night at the local library. But I wasn't finding a group that I felt I could fit in at. I mean. I'm a nerd. I'm only comfortable online with my online friends, or in a group of similar minded nerds. (Starcraft 4 life!)

I had been in a few unhealthy relationships since I've been home and I decided I would not, under any circumstances, try to get a girlfriend. I just wanted someone, ANYONE, to talk to.

So I did the unthinkable. I turned to the internet to help me find a friend. I made an account on craigslist, and went to the looking for friends list, and made a post at around 9pm. It went along these lines.

"Lonely. Looking to make a friend. Not looking for any relationships other then just being friends. That's what I really need." And then I posted a picture of myself, hoping that would soothe any fears that I wasn't a craigslist killer. (In hindsight, I guess I could have used ANY picture if I was a killer)

About an hour after I posted, I got a response.

"Hi, I have to applaud you for actually posting a picture. I've been kind of looking for some new people to hang with. I have friends and great roommates, but I miss having a different connection with someone. Anyway, my curiosity got the best of me, and although I'm sure a lot if people say this... I really don't normally do this.
I'm Anna by the way, what's your name?"

For those that are wondering about her, she is South Korean but was adopted to the States at 11 months when her mother put her up for adoption. Her named was changed from Jun Soon Lee Duck to Anna Soon Lee Strayer. She's 28. (I'm 27!)

We spent the next hour emailing back and forth. She was sick with the flu and had been home the past week watching movies and drinking green tea. I asked if she had watched all of the movies she had. "Sadly, yes. I'm on the last one right now that everyone in the house owns, and I don't feel like going to Hollywood Video to get more. =("

I offered to bring some of my movies over but she wasn't sure at first, so I settled to take her out to lunch the next day so she could be sure I wasn't some psycho. She said it was OK for me to come over because she had roommates home with guns. So if anything went wrong, I'd be taken care of.

A quick shower and a short drive later, I was at her house. Carrying a variety of movies that might suit her tastes. Lonvesome Dove. Hot Rod. Aliens. Pandorum. The Holiday. Snakes on a Plane. Black Dynamite.

After I got to her home, we decided to watch The Holiday since it was a Christmas'ish type movie. I laid on the edge of her bed, while she got under the covers. We both laughed at the movie and she enjoyed it. She had never seen it before. We spent the next few days just watching movies and getting to know each other better. At the time, I never thought of her as a potential girlfriend at all. I put her in the friend zone.

Around this time, I had finally finished remodeling the house my parents bought me. The agreement is that I am renting to own. and in charge of all remodeling and grounds keeping.
I'd say in about 10 years I'll have the house paid off and then my parents will give me all the titles, etc. Very generous of them. So I needed two roommates. One was easy enough, my just turned 19 year old nephew wanted to move out of my sister's house, so he moved in.

I had a hard time finding any decent people to move into my home. (You wouldn't believe some creepers out there, yeesh.) So I turned to Craigslist once again and found Billy! He moved up from California in order to experience Mt. Bachelor's snow. He's a pretty cool hippy guy.

Christmas eve, Billy, Anna, and myself were all pretty lonely and not quite sure how to spend the holiday evening. So we decided to go downtown and see what was happening. We arrived to find it almost deserted and almost all the bars closed. We went to one, and found only two bartenders, a DJ and ourselves. We danced the night away, just the three of us on this HUGE dance floor. It was awesome. We were waited on hand and foot too by the bouncers/bartenders. Heck, they even danced too. It was lots of fun. =)

I took Anna home and she was flirting with me, I tried to keep it cool, but I couldn't resist flirting back alittle. I probably could have stayed the night, but she was drunk. So I just gave her a hug and went home. I attributed the way she was acting to the alcohol.

Christmas Day I came over around 5pm after visiting family all day. We just put in a movie and then I kissed her. Not sure why I did. We just looked at each other and it just happened. From then on, we were inseparable.

We went on lots of dates, heck. We even dressed up for a few just for the fun of it.
This is on Valentine's Day.


(Also, I have owned that tie since '04 and she had just gotten that dress. Crazy how much they match!)

I had NEVER felt this way about a woman before. NEVER. I've dated lots of girls/women but this was the first time I could actually FEEL love. She makes me happy. The rest is history and we're engaged. =)

Engagement Photos

The date is set for September 8th, 2012 at Tumalo State Park. Probably around 1pm'ish or so. I'd like to invite all of you to the open reception that afternoon. I'm sure no one from TL.net will be able to make it, but none the less. I've been apart of this community since '07 (Lurked since '06!) and I wanted my so called 2nd family to be invited.

Cheers!