Warning: This is my second blog! I may or may not know what I'm doing. I've seen a few WoW blogs lately and they've been bothering me. I hope to shed some positive light on something that most people treat as a scapegoat. Irresponsible people who play WoW and irresponsible people who don't play it are both irresponsible. With that in mind, I hope more people can embrace fun games for what they are.


"There is nothing more cool than being proud of the things that you love." -Sean Plott





A lot of young adults these days grew up on video games, including me. Some of my earliest memories are playing Banjo Kazooie or Star Fox on the N64. I always remember them as highlights of my childhood because I always enjoyed them more than any sport we played in gym class. My parents limited my game time as parents generally do, but it still didn't change my interests. I ended up doing a lot of reading when not gaming instead of being sociable like my brother.This sounds like I would be on the track to becoming a parents nightmare, but my family was always supportive of my introverted nature. They bought me Blizzard games and R. A. Salvatore novels, I got good grades and ate my vegetables. My only "flaw" was my lack of friends. Sure I had school buddies, but nothing that really lasted after each school year ended. In middle school I dabbled in theater classes and paintball but neither entertained me the same way that Morrowind and Diablo 2 did.

When I turned 14, my parents bought me my own computer and eased up on my gaming restrictions. It was around that time when I did meet a fellow gamer. A neighbor from down the street who was a few years older than me, but friendly nonetheless. We played Star Wars Galaxies together until a certain patch ruined the game and we decided to try out that WoW game we were always hearing so much about. Nothing too exciting happened right away so I'm going to skip to the first big event.

I was a level 70 mage with a naggy girlfriend and I didn't really know where she came from. It was my first relationship and it wasn't going so well, but I didn't really understand that at the time. You have to learn the hard way I guess. WoW had become my social outlet and she didn't like it. It's hard for ignorant people to understand internet cultural and she had no intention of learning about it. I ended up breaking up with her after about a year once I finally realized that my guildmates were better friends than she was. Playing WoW didn't prevent freshman drama but it certainly freed me from it.

Fast forward to the end of TBC. My parents were still supportive of my gaming since I was very open with them about it. They paid the subscription fee as long as I did all of my homework before spending my nights raiding. I even transferred servers to join a guild whose raid times were early enough for me to get enough sleep for school.

I had finished my second character, a priest, and was starting to raid heavily. It was during Sunwell one night when an important event happened. I was sitting in the corpse of Brutallus(post-nerf) while loot was being distributed and I saw an alt named Couch log on. I checked the guild note and my mind was blown. It belonged to a player named Nightstand whom I talked too often. It never occurred to me that his character was named after a piece of furniture, I simply thought it was a cool combination of words. After asking him about it, I (Mancath) received the advice, "Fantasy names are too hard to pronounce, just play it safe and go with an inanimate object." It wasn't a terrible idea so when WotLK rolled around I somewhat jokingly made a death knight with his logic in mind.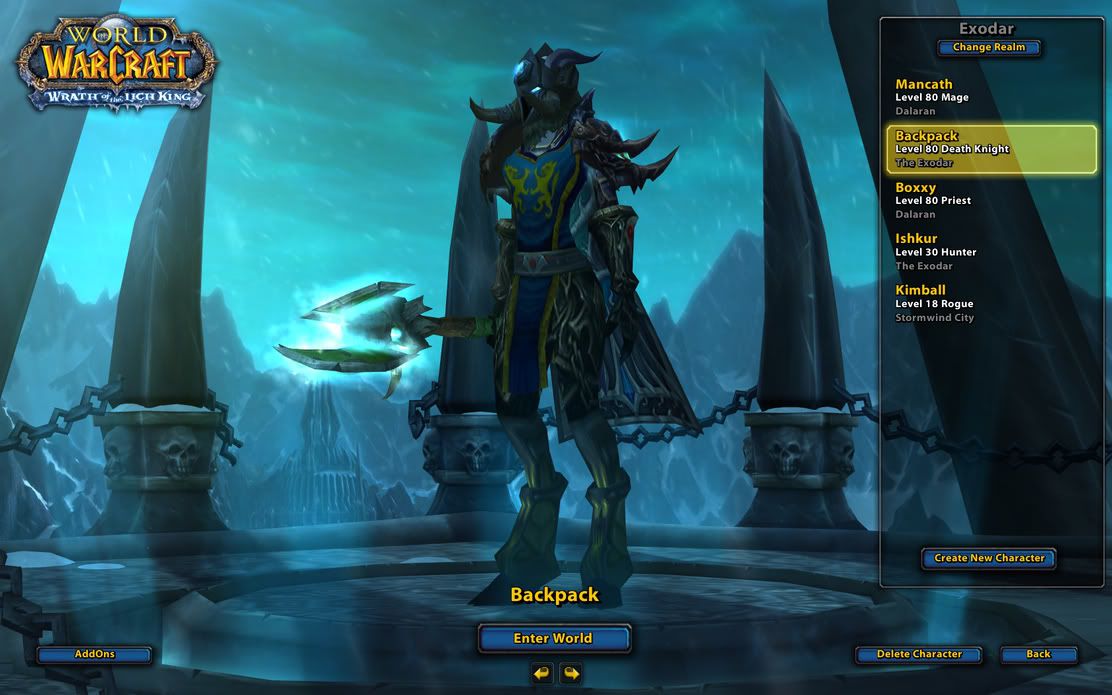 The Original

I wasn't expecting to switch mains but I quickly fell in love with tanking and said goodbye to my guild who didn't have a place for another tank in their roster. I lounged around in a social guild for awhile while leveling and gearing up and made a lot of friends who I'm still in touch with on facebook. I was longing for raiding though so I joined/helped start what would grow to be the #1 10-man guild on the server. After completely destroying Ulduar, I was nearing the end of my WoW days. I didn't like the direction that Blizzard was taking with TOC, ICC and the upcoming Cataclysm expansion so I said goodbye and left on a good note.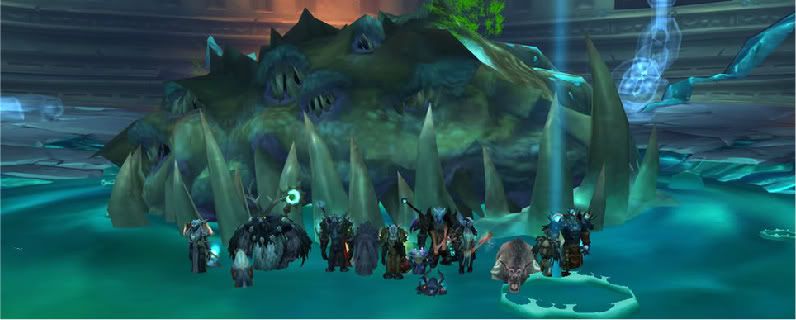 My last night in WoW.

My experience in WoW wasn't really spectacular or abnormal but it was still an influential part of my life. My "Backpack" persona quickly exploded and it became more than a Draenei death knight, it became my name. Even though I no longer play WoW, I still retain many of my friends who i've met online. Am i upset that I didn't meet 80% of my friends in real life? Nope.

I am proud of my years of playing WoW and I am proud of my love for games. I am currently studying computer animation and hope to pursue a career in game development.

Important points.
1. I grew up on video games and turned out alright.
2. WoW taught me to be proud of what I love and to embrace it without embarrassment.
3. I handled my hobby responsibly and graduated high-school early while also maintaining a raid schedule.
4. The only time i've been overweight is when I was a 2 week old baby. I am currently 5' 10" 145lbs. I spend 5+ hours a day on the computer.
5. People make friends through their jobs and their hobbies. My hobby is computer gaming and my friends were met in computer games.
6. My current girlfriend of almost 2 years is supportive of my hobby and enjoys watching SC2 with me and playing Minecraft.
7. I am no longer playing WoW but I eagerly await The Old Republic. MMO's are fun.
8. I firmly believe that "gaming addiction" does not exist and the horror stories you here are caused by lack of responsibility and willpower.
9. I respect negative opinions of the game, but I believe it is used as an excuse more often than not.
10. There is nothing wrong with having an online social life. You can still be a perfectly functional human being.


Everything in moderation,

-Backpack


Bonus
+ Show Spoiler +

While reminiscing on the old days, I remembered The Dark Elf Trilogy which really got me into fantasy novels. R.A. Salvatore's introduction to the life of Drizzt Do'Urden is a remarkable story. The character Drizzt has always been popular Forgotten Realms DND campaign setting, but the books are much easier to get into if you aren't a DND enthusiast.

If you're into fantasy novels I recommend both this and the Icewind Dale Trilogy. (Along with all of Salvatore's other books as well!)



Bonus #2
+ Show Spoiler +

If you're into WoW machinima, you should check out this song/video featuring my all time favorite raid.




(Thanks to Torte De Lini and Riku who inspired me to start blogging)