Week 6 Recap
ONSYDE reclaim first place
The Mystery Gaming comeback starts now?
Weekly MVP
SHIN carries Mystery to victory
Week 7 Preview
Key Matches:
Team Liquid vs Shopify Rebellion
Mystery Gaming vs BASILISK
Bracket and standings on
Liquipedia
World Team League - 2023 Winter Season
by: Nakajin
Shopify's time at the top of the standings was brief, as they handed back first place to ONSYDE Gaming after losing a close match to PSISTORM.
The other major development of Week 6 was Mystery Gaming taking a 4-3 win over Team Liquid, finally looking like the playoff contender team we expected at the start of the season. The road ahead for Mystery will be difficult, but with five rounds left to play, they might fight their way into the race for the seventh and final playoff spot.
Week 7 will mark a change in the power dynamic of the league, with Cure joining an already powerful Team Liquid squad. While ONSYDE are on pace to take first place in the regular season, Liquid have a chance at cracking the top three with this key reinforcement.
Week 6 Recap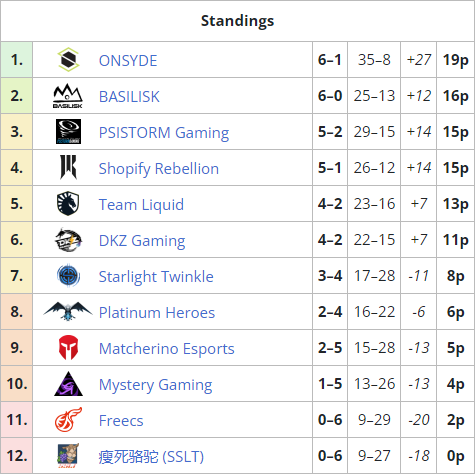 Top 7 teams qualify for the playoffs.
Bottom 2 teams must requalify.
Points are awarded as follows:

3 points for a victory in a series that does not require an ace match

2 points for a victory in a series that requires an ace-match

1 point for a loss in a series that requires an ace-match

0 points for a loss in a series that does not require an ace match
Matcherino Esports 1 - 5 BASILISK
Watch VOD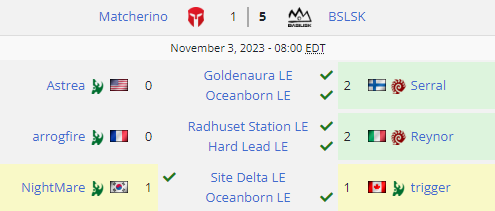 The series started with Astrea giving what was an unfortunately predictable performance, losing to Serral despite playing some competitive games. After Astrea's longer macro games against Serral, Reynor changed the pace with a much faster dismantling of Arrogfire (featuring a very entertaining Mutalisk opening on Radhuset). Trigger continued his solid season by taking a 1-1 tie against NightMare. It wasn't a match that had any bearing on the outcome, but it was still another positive mark for Trigger during this breakout WTL run.
Platinum Heroes 4 - 3 Kwangdong Freecs
Watch VOD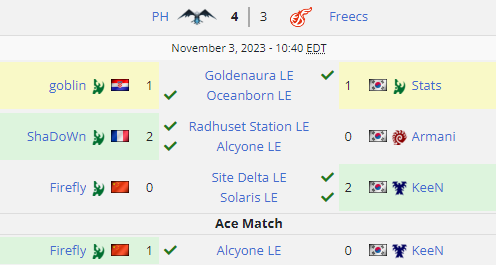 The Platinum Heroes achieved back-to-back wins over SSLT and the Freecs, drawing a line in the sand between them and the bottom 2 teams in the league. As for the Freecs, they'll need a drastic turnaround to avoid relegation.
It started with ShaDoWn sweeping Armani in a rough series for the seldom seen Korean Zerg. Game two was especially discouraging as Armani's early/mid-macro floundered, allowing ShaDoWn to take an advantageous position despite an ineffective opener. Armani seemed more at ease in the late game, taking a couple of nice fights, but he never was close to finding a winning move or challenging the Protoss Carrier fleet.
Stats was able to put the Freecs on the board in a macro game against Goblin, but was held to a tie in game two as he fell to an aggressive proxy-Gate all-in.
KeeN almost saved the day for the Freecs, becoming the first player to 2-0 Firefly this season. He showed a nimble sequence of offensive movements in game one, and then took game two on the back of stout defense.
Platinum Heroes remained confident in their big off-season signing, sending Firefly back out as the ace. As for the Freecs, they decided to give KeeN a chance to finish the comeback. The Heroes' faith in Firefly was rewarded, as Firefly was able to shut down Keen's two base 1-1 timing on Alcyone then counter with a game-winning Zealot-Stalker attack.
Team Liquid 3 - 4 Mystery Gaming
Watch VOD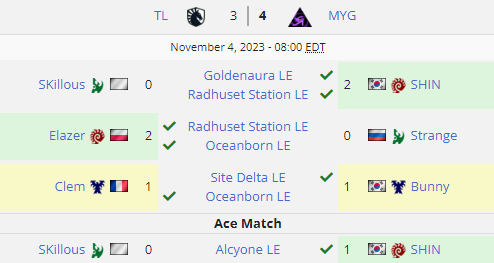 MYG kept themselves barely hanging in the playoff race with an ace match win against Team Liquid.
In our first game, SHIN destabilized SKillous early on with his first couple of lings, allowing him to macro up without much disruption in the early/mid-game. He skipped Roach Warren and went straight up into both Spire and Hydralisk Den. SKillous misread the game and played very defensively against presumed Mutalisks, and was woefully unprepared when SHIN revealed his Lurkers. SKillous chose Radhuset for game two, taking advantage of the pocket expansion to play a more passive macro opener. While this worked out initially, SKillous ended up staying on Colossus-Archon for too long without adding other tech. He just didn't have the tools to handle SHIN's Lurker-Viper defense and had to concede the 0-2 defeat.
Strange tried a couple of Immortal-Sentry pushes against Elazer, but the seasoned Zerg defended handily both times to tie the score at 2-2.
Clem gambled with a very quick third CC in game one against Bunny, but paid the price against an unstoppable 3-Raven Tank push. Clem went in the complete opposite direction in game two, going for a 2-Rax Reaper opening. He succeeded at killing a bunch of SCV's and pinning Bunny back, establishing a way stronger economy. Bunny actually played quite well from behind, but the economic deficit was too much to overcome in the end.
Clem was unavailable for ace duty due to a scheduling conflict, leading to TeamLiquid sending SKillous out as ace. Mystery had both SHIN and Bunny as viable ace options, and they opted to ride with SHIN on Alcyone. I wonder if TL were trying to snipe Bunny, since SKillous didn't have anything special planned for the rematch. He challenged SHIN to a straight-up macro duel, but ended up losing in fairly one-sided fashion thanks to a couple of devastating runbys from SHIN.
ONSYDE Gaming 5 - 1 瘦死骆驼 (SSLT/Starving Camels)
Watch VOD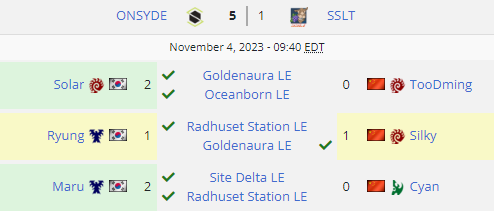 As expected, the duel between first and last place teams ended with ONSYDE winning handily.
Not much needs to be said about Maru blasting Cyan or Solar outmicroing TooDming with lings and Roaches like he was 2014 soO. However, we should acknowledge Silky managing to win his first map of the season against Ryung. Even though Ryung has fallen back to earth after being absolutely incredible last season, it was still a face-saving result for SSLT that kept them above the Freecs in map score differential.
Starlight Twinkle 1 - 5 Dragon KaiZi Gaming
Watch VOD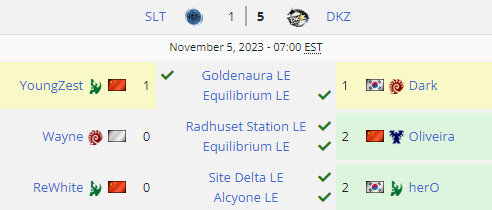 DKZ were given a scare at the start, as YoungZest looked a hell of a lot like OldZest by beating Dark with a mass Gateway style. The second game was close as well, and Dark had to dig deep to avoid the 0-2.
Unfortunately for SLT, they weren't able to repeat their miracle performance against BASILISK from Week 5 (where they forced an ace match). Dark's teammates played up to their reputations, winning the next four maps in a row for the 5-1 victory.
Just as a note to all the Zergs on the ladder, I should mention that Wayne tried to go for a proxy-Hatchery Ravager all-in on Radhuset with his Hatchery placed at the backdoor mineral wall. This didn't work out at all against Oliveira's decision to scout and make a Tank, so maybe you guys should stop trying it.
Shopify Rebellion 3 - 4 PSISTORM Gaming
Watch VOD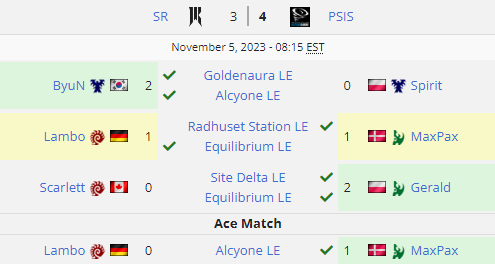 Shopify relinquished the first place spot after just a week, following a narrow 3-4 loss to PSISTORM.
Things started off poorly for PSISTORM, as Spirit couldn't overcome a tough match-up against ByuN. Micro Jackson was one small step ahead of Spirit at every point of their series, beating him in back-to-back Marine-Tank TvT's.
Perhaps relishing the challenge of taking on Europe's #1 Protoss, Lambo cooked up a nice build to try and snipe MaxPax. In the first game on Radhuset, his Swarm Host-Nydus strategy combined with an offensive gold base took MaxPax by surprise. Lambo almost put himself in winning position, but a couple of clutch Nexus saves (thanks to Battery Overcharge) allowed MaxPax to weather the Locust barrage and win with a Skytoss fleet. Amusingly enough, changing to standard play allowed Lambo to win game two, defeating MaxPax with Ling-Bane-Muta on Equilibrium.
Scarlett only needed a single map to seal the deal for Shopify, but Gerald swooped in to save the day with a heroic 2-0. The PSISTORM Protoss took two wonderful come-from-behind victories, but he definitely got a lot of help from Scarlett committing two huge throws in a row.
Shopify made the peculiar choice of picking Lambo over ByuN as their ace, but it seemed somewhat justified following his solid showing against MaxPax in their initial match. With Alcyone as battleground, Lambo opted to take the gold base quickly with his third Hatchery. MaxPax tried to punish Lambo with Glaive Adepts, but Lambo held off shady attackers with Roaches and Zerglings. However, the addition of DT's made the defensive multitasking a lot harder for Lambo, and MaxPax found the damage he needed to pull ahead in economy. MaxPax then transitioned into a Chargelot-Archon all-in off of three bases to finish the game.
Weekly MVP: MYG.SHIN
SHIN gets his first weekly MVP nod of the year, thanks to being the only player to take three map wins on the week. SKillous gave him a stiff challenge, but SHIN just had all the answers in one of his best performances since IEM Katowice. It was heartwarming to see SHIN pop off after his wins—he's been in a slump since Katowice, so it must have felt good to put in such a convincing performance and lead his team to victory.
A big shoutout must also be given to Gerald, who displayed impressive fighting spirit to take two comeback victories over Scarlett in what seemed like hopeless games. Gerald has always been a bit of an enigma in the WTL, where you never really know what kind of performance you'll get. This was a reminder that the 'high roll' version of Gerald is a very dangerous player indeed.
Weekly MVP's:
Week 6: MYG.SHIN

Week 5: Liquid`Clem

Week 4: SLT.Wayne

Week 3: BASILISK.Reynor

Week 2: SR.Harstem

Week 1: BASILISK.Serral
Preview: Regular Season Week 7
Wednesday, Nov 08 12:00pm GMT (GMT+00:00) Matches
TL.net was unable to provide a preview for this matchday as scheduling issues caused it to be played a day earlier than usual..
ONSYDE Gaming vs Starlight Twinkle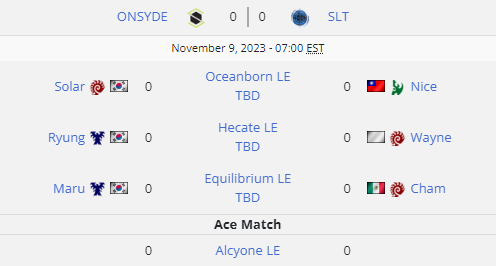 Matcherino Esports vs PSISTORM Gaming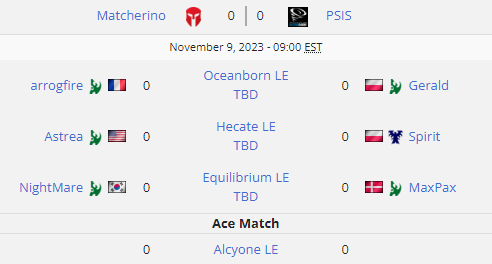 Saturday, Nov 11 12:00pm GMT (GMT+00:00) Matches
瘦死骆驼 (Starving Camels) vs Kwangdong Freecs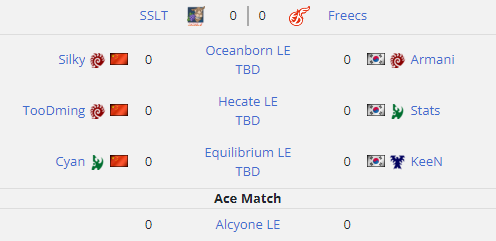 After six long weeks, either the Starving Camels or the Kwangdong Freecs will finally experience the sweet relief of victory.
Silky versus Armani could really go either way. On one hand, Silky is looking very rough at the moment, bombing out of EPT Asia without winning a single map in the group stage. On the other hand, Armani is clearly not 100% focused on StarCraft, and has won a grand total of 4 matches in 2023. His victims? Universe, Khala, and Splash (one of those is a player I made up; bet you can't tell who). I'll predict this match to be a 1-1 split, but any result is possible.
Our second match is a bit more straightforward. TooDming is a perfect opponent for Stats at the moment, with the Shield of Aiur looking fairly decent in ZvP these last few months. If he actually reads the scouting report about TooDming's predictable all-ins, then he should get the 2-0.
If everything goes as predicted, KeeN and Cyan will face off with a chance to close things out. KeeN is having a rather good season (at least compared to the rest of the Freecs), and raised his win-rate over 50% with a 2-1 over Firefly last week. Meanwhile, Cyan has exactly a 50% win-rate, which makes him the most successful player on SSLT. I predict this to be a 1-1, which ultimately means another defeat for the Camels.
Prediction: SSLT 4
-2 Kwangdong Freecs
Platinum Heroes vs Dragon KaiZi Gaming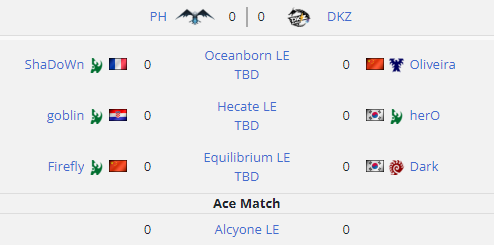 DKZ are sitting in a very disappointing 6th place position, following the old KaiZi/DPG trend of coasting through the regular season. Still, they are quite favored against Platinum Heroes, who are lingering just outside the playoff cutline.
Neither Goblin nor ShaDoWn did particularly well in EPT Europe, and despite Oliveira's struggles as of late, he and herO should be able to sweep the European Protosses and end the series early.
If the Heroes do steal a map, then Dark vs Firefly could get pretty interesting. The best Protoss in China has been amazing this season, and has taken 1-1 draws off of both Solar and Serral already. He has a realistic chance of repeating that feat against Dark, especially with Dark giving up a shocking 1-1 tie to YoungZest last week. Still, a 1-1 probably won't be enough to get the Heroes any points unless Goblin and ShaDoWn also pop off.
Prediction:
Platinum Heroes 0 -
6 Dragon KaiZi Gaming
Sunday, Nov 12 12:00pm GMT (GMT+00:00) Matches
Mystery Gaming vs BASILISK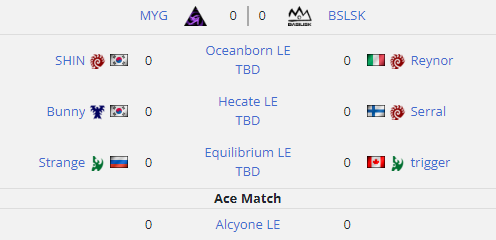 Mystery Gaming salvaged their season last week by outlasting TL in the ace match, but there's still barely any margin for error if they want to cinch 7th place. A straight up win against BASILISK is unlikely, but forcing an ace match and getting even a single point could really help their cause.
Things would look better for Mystery if SHIN and Bunny could swap places. As things stand, Serral will have little problem destroying Bunny unless he truly has inherited the 50-50 curse from Reynor. Still, SHIN vs Reynor is a pretty decent draw, and even a 2-0 is possible for MYG if SHIN makes a couple of correct gambles.
Strange vs Trigger is potentially a big opportunity for MYG. A couple of months back, Strange getting a 2-0 against Trigger would have felt pretty realistic, but the Canadian Protoss really stepped up this season. On the other hand, Strange isn't as bad as his 0-10 record suggests, and given the unpredictability of PvP, I think this one is headed to a 1-1.
Prediction:
Mystery Gaming 1 -
5 Basilisk
Team Liquid vs Shopify Rebellion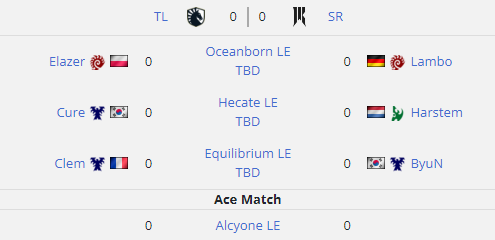 Cure will make his debut for Team Liquid in our match of the week as the boys in blue take on the Shopify Rebellion.
Elazer and Lambo will continue their long-standing competition for the title of third-best zerg in Europe. The latest duel went the way of Elazer, inching out a 3-2 victory in the winner bracket of the EPT European regional. The two Zergs have been very evenly matched for years now, so a 1-1 seems like the safe prediction/
Cure has a chance to make a strong impact in his debut, getting to play his best match-up of TvP against Harstem. While Cure comes in as the clear favorite, it's worth noting that Harstem scored a huge 2-0 upset against him during the 2022 Summer season of WTL. That victory helped Shopify score a 4-3 upset over DPG, and Shopify will definitely be hoping for a similar performance in the rematch.
Finally, frequent ESL Open Americas foes Clem and ByuN will take each other on. Despite their foibles in offline play, both players are excellent at TvT in online settings. Their career
head-to-head score
between the two players is almost dead even, so this one seems like it's headed to a draw.
Prediction: Team Liquid 4
- 2 Shopify Rebellion
---
Credits and acknowledgements

Writer: Nakajin
Editor: Wax
Stats: Aligulac.com & Liquipedia
Images: SCBoy