World Team League - 2023 Winter Season
by: Nakajin
As the season reaches its halfway point, we have a surprising new team at the top of the standings: The Shopify Rebellion. However, Tobi's squad will need to hang on for dear life to keep that spot, as the second half of the season will be considerably harder—starting with a match against PSISTORM Gaming in Week 6.
The other highlight match of the week should be Team Liquid versus Mystery Gaming. The season has been nothing short of catastrophic for Mystery, who we initially projected as a playoff team. However, they still have time to turn things around if they can take down a Cure-less Liquid.
Week 5 Recap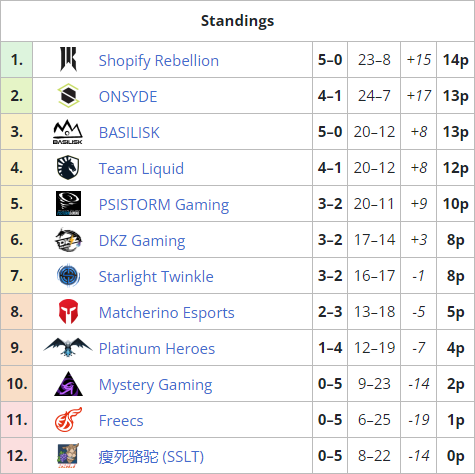 Top 7 teams qualify for the playoffs.
Bottom 2 teams must requalify.
Points are awarded as follows:

3 points for a victory in a series that does not require an ace match

2 points for a victory in a series that requires an ace-match

1 point for a loss in a series that requires an ace-match

0 points for a loss in a series that does not require an ace match
Shopify Rebellion 5 - 1 Kwangdong Freecs
Watch VOD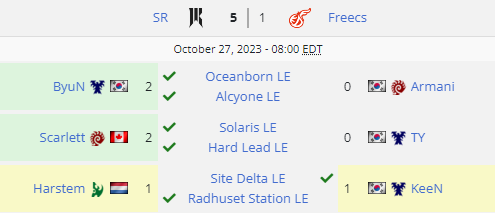 There weren't many surprises to be had in our first match of the week. ByuN was pushed into the ultra-late game against Armani, but the Freecs Zerg has never been a true master of that phase of the game and ultimately gave up the expected 0-2 loss.
Scarlett piled on the pain, locking in three points for Shopify with a 2-0 against TY. At least the series provided some fringe entertainment value as TY tried to force a Cyclone-mech game—spoiler: it kinda sucked.
Still, KeeN proved himself to be a surprisingly reliable option for the Freecs by taking a map off of Harstem, sparing them the sweep. He almost took a 2-0, but ended up being just a few Marines short of victory against Carriers.
Team Liquid 4 - 3 PSISTORM Gaming
Watch VOD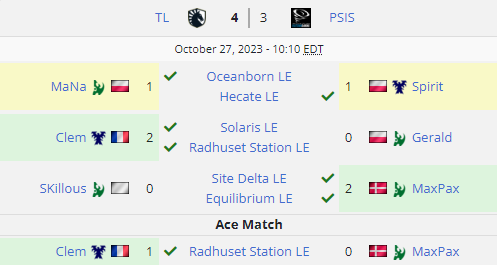 TL and PSISTORM delivered a thrilling chapter in one of the WTL's underrated rivalries. MaNa started by getting a crucial point against Spirit, with his storm opener causing headaches for the Terran in game one. It took every inch of Spirit's concentration to escape with a 1-1 split in game two.
Mana wasn't the only Protoss with a plan, as Gerald tried to surprise Clem with a Skytoss build on Radhuset Station. However, he couldn't faze the Liquid ace, and ultimately gave up the 0-2 defeat. Similarly, SKillous tried to surprise opposing ace MaxPax with an offensive gold base, but ended up losing 0-2 as well.
An ace match between Clem and MaxPax was needed to decide the series once and for all. After toiling through a difficult macro game, MaxPax nearly managed to steal the win when he pushed Clem all the way back to his main base ramp. However, he couldn't achieve the final breakthrough, and had to concede his team's defeat to Liquid.
Matcherino Esports 6 - 0 Mystery Gaming
Watch VOD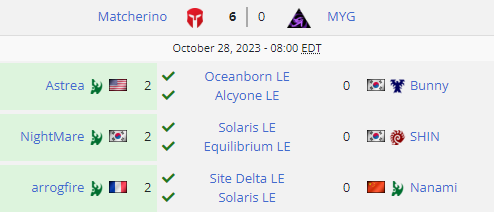 Everything has gone wrong for Mystery Gaming this season, and this match was the culmination of their poor play. Yet, this match also has the dubious honor of being the closest 0-6 of the season, with many of the matches being pretty close.
Nanami was one forcefield away from holding against an Arrogfire all-in, while Astrea barely scraped out a DT win against Bunny while having no economy. Also, NightMare had to pull off quite a tightrope act with Prism-Colossus micro to beat SHIN 2-0.
Nevertheless,
almost
winning doesn't matter in the WTL, and Mystery Gaming are now in a crisis after losing 0-6.
Starlight Twinkle 3 - 4 BASILISK
Watch VOD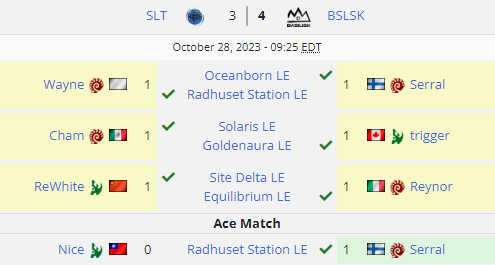 What was projected to be a routine victory for BASILISK turned into one of the most tense matches of the season.
Liquibet destroyer Wayne struck once more, stealing a 1-1 tie against Serral thanks to a Nydus all-in on Radhuset Station (Serral took the other game with a sharp Ling-Bane attack). Trigger seemed to hold the fort for BASILISK by playing Cham to a 1-1 tie, but then 50-50 man Reynor arrived to make matters complicated.
Indeed, it was the 2022 College Star League Spring champion ReWhite who brought the 50-50 man out of hibernation, turning the Gamers8 champion into a macro chump and beating him in a straight-up game. The cowardly Reynor made the 100% rational decision and smashed ReWhite in a rematch on Equilibrium—how about showing some panache and getting revenge with your offrace?
A Wayne-Serral rematch seemed to be obvious for game seven, but SLT threw BASILISK a curveball by sending out Nice (who wasn't even in the initial line-up). It seemed like a weird choice to offer a sacrifice to Serral's mighty ZvP, but Nice had one hell of a build in his back pocket. He went for a—listen to this—three-base Stargate into Void Ray into Oracle into Tempest into a Mothership rush then a switch into double Forges, Templar Archive, and 8 Gateway build. Nice couldn't quite find the winning move, but it was a hell of a try. SLT won yet another point, while BASILISK had to settle for merely two.
Platinum Heroes 4 - 2 瘦死骆驼 (SSLT/Starving Camels)
Watch VOD (Chinese)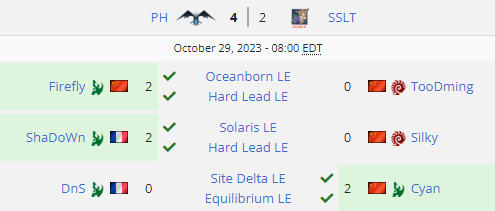 The match started with Firefly making short work of his ex-teammates TooDming in two one-sided games. It made me wonder if FireFly's SSLT divorce was not totally amicable. He closed game two in peculiar fashion, launching a mass hallucinated-Probes attack. Maybe it was just some fun between former teammates, but perhaps there's more than meets the eye.
The day continued with more Oracles zapping Drones—this time it was ShaDoWn tormenting Silky. The Starving Camel lived up to his team's name by sticking on 50 Drones to go for a big Ling-Hydra attack. ShaDoWn didn't have any Robo bay units to defend, but Stasis Wards and calm control allowed him to defend. Silky went for a desperate Lurker play to try and turn things around, but ShaDoWn defended to seal his victory.
Silky got off to a much better start in game two after defending ShaDoWn's Glaive Adept opening fairly well. However, he still couldn't keep up with the Heroes' Protoss in a macro game, and got stuck on Roach-Hydra for much longer than he would have liked. ShaDoWn dragged things out with some overcomplicated kill-move attempts where an A-move would have sufficed, but ultimately he got his well-earned win.
SSLT did get some consolation points thanks to Cyan. He surprised DnS with a Blink-Stalker all-in in game one, and then sealed the 2-0 on Equilibrium with Blink-Stalker + DT play.
ONSYDE Gaming 3 - 4 Dragon KaiZi Gaming
Watch VOD (Chinese)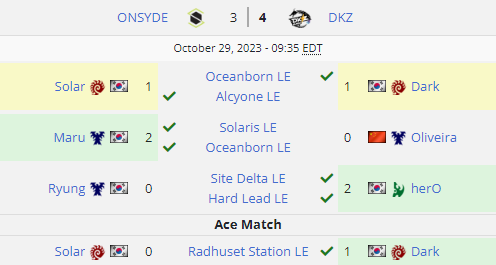 Dark managed to take the first game off Solar with a Roach push to take the lead in a quick game. He then tried a cheeky gold base natural on Alcyone, but Solar had a sharp Ling-Bane response. Solar mined his own backdoor mineral to create a shortcut for his units and hit the gold base before Dark had time to dig in on defense. Thus, the preview of the GSL semifinals ended in a 1-1 draw.
After much hesitation, I dared to peek between my fingers to see Maru and Oliveira playing a rematch of the last IEM World Championship. Maru tortured me by going for the 1-Medivac 1-Tank build that led him to ruin at Katowice, but this time everything went right and he took game one easily. Afterward, Maru took another straightforward victory in game two by using mech. See? I never doubted him.
herO vs Ryung gave us a great first game with the two players cheesing into each other. Ryung went for a Cyclone-Marauder rush, while herO went for 3-Gate + Prism. herO got some lucky positioning in the first major fight, and snowballed the advantage from that skirmish into a victory. Game two had none of that thrill, as herO won handily to force an ace match.
Solar and Dark were chosen for the ace match—a somewhat amusing choice considering their impending GSL clash. In any case, Dark was the victor on that particular day, leveraging his fantastic Lurker-Viper micro into a late-game ZvZ win.
Weekly MVP: Liquid`Clem
Clem once again proved that his days of struggling in WTL are long gone. He went 3-0 against PSISTORM, beating Gerald 2-0 in his initial series before taking out EU rival MaxPax in the ace match. With his TvP and TvZ both looking extremely deadly, Clem may stay on ace duty even after new signee Cure becomes eligible to play.
Weekly MVP's:
Week 5: Liquid`Clem

Week 4: SLT.Wayne

Week 3: BASILISK.Reynor

Week 2: SR.Harstem

Week 1: BASILISK.Serral
Match of the week: SLT.Nice vs. BASILISK.Serral – Ace Match
Nice channeled the spirit of Has when he appeared out of nowhere to challenge Serral in the ace match. I don't know if his appearance was planned all along or if it was decided at the moment, but he sure gave us a jolt with a true sniper build. Serral may never have been in
real
danger of losing, but at least Nice made him pause and wonder what the hell was going on.
Watch VOD
Preview: Regular Season Week 6
Friday, Nov 03 12:00pm GMT (GMT+00:00) Matches
Matcherino Esports vs BASILISK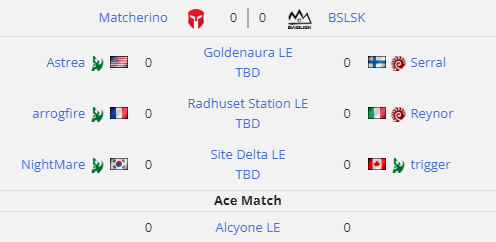 BASILISK and Matcherino had sharply contrasting performances last week. BASILISK nearly fumbled a surefire win against SLT, while Matcherino smoked Mystery Gaming 6-0 in what was supposed to be a tight match.
Sadly, all the momentum in the world can't carry Matcherino over the mountain that is BASILISK. There's no ZvZ to vex Serral as in previous weeks, so the EU Zerg duo have a good chance at getting the job done themselves. Still, if Astrea pulls off a FireFly-esque miracle in PvZ or 50/50-man Reynor returns, then NightMare vs Trigger could be the turning point. The two are quietly having standout seasons, and it will be interesting to see if one of them gets to be the hero of the day.
Prediction:
Matcherino Esports 2 -
4 BASILISK
Platinum Heroes vs Kwangdong Freecs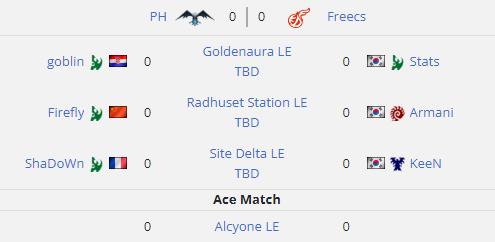 After five weeks, the objective of the Freecs in WTL is no longer challenging for one of the final playoff spots, but simply saving face by avoiding relegation. They will get one of their better chances at earning points against a similarly desperate Platinum Heroes team.
The Freecs have put their best theoretical lineup out for this match, while the Heroes have made the curious decision to rotate DnS out for Goblin. The Croatian Protoss will start us off with a PvP against Stats, who has been fairly competent so far (even tying MaxPax a few weeks ago). However, he hasn't been good enough to score a 2-0 yet, so I expect this will be another 1-1.
With Firefly assumed to be the favorite against a largely inactive Armani, the Freecs will need KeeN to bail them out. The ex-MVP Terran got a 1-1 against Harstem last week, which suggests his form is better than his lack of tournament results indicates. Can he build on that performance and get the 2-0 versus another EU Protoss in ShaDoWn? Probably not—I'll predict the tie and a 4-2 victory for the Heroes.
If things do go to an ace, it should probably be PvP on Alcyone between Stats and Firefy. A PvP BO1 is close to a toss-up, but I'd give Firefly the edge due to his superior WTL resume.
Prediction: Platinum Heroes
4 -
2 Kwangdong Freecs
Saturday, Nov 04 12:00pm GMT (GMT+00:00) Matches
Team Liquid vs Mystery Gaming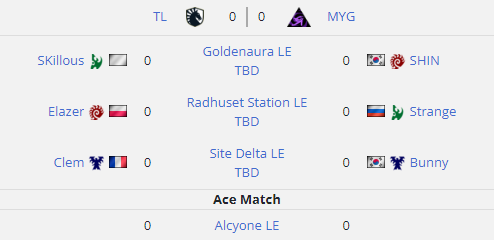 Things have gone incredibly poorly for Mystery Gaming halfway through the season. Sure, their schedule started off rough, and Strange never managed to convert his good performances into wins. But fundamentally, the responsibility falls on SHIN (aka RagnaroK) and Bunny, who have fallen woefully short of expectations.
The numbers are dismal, but going by the eye test, I still think they're better than a 0-5 team. The magic number of points to reach the playoffs has been 15-18 points in previous WTL seasons, so they
really
need this win against Liquid if they want to make a run to the playoffs.
SHIN will have to get over his ZvP problem in the first match, as he lost 0-2 to both herO and NightMare this season. SKillous isn't as unpredictable as those two, which is a welcome proposition for someone like SHIN who would rather be the aggressor against a standard player. SKillous should be favored if he can drag the match into the late game, but he'll have to be careful not make any misreads against potential early/mid-game attacks.
Mystery shouldn't hope for too much help from Strange, who continues to draw difficult opponents. He hasn't played poorly this season, but he hasn't played well enough for me to think he can beat Elazer in his current, solid form.
Clem should have a chance to close out the series against Bunny. The TL ace is playing some of his best StarCraft at the moment, but he's yet to face his Kryptonite this season: Korean Terrans. Despite beating Maru at Gamers8, the
overall numbers
show TvT is still a big liability for Clem. Bunny will need to take full advantage of that weakness for MYG to win the match, but I think a 1-1 is more likely than a 2-0.
It would be much more interesting for the league if Mystery could take three points and start an improbable playoff run, but I just don't see it happening. Their season may be over after Saturday.
Prediction: Team Liquid 4
- 2 Mystery Gaming
ONSYDE Gaming vs 瘦死骆驼 (Starving Camels)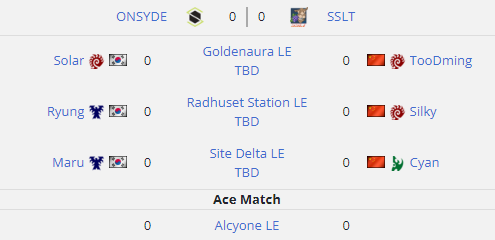 Last season, the Camels stood at 5th place with eleven points after five weeks of play. Sadly, their fortunes have taken a drastic turn for the worse, and they now lie at the bottom of the table with zero points.
Things won't get any better in week six, as ONSYDE will look to take out their frustration from last week's loss on the dreary dromedaries. I frankly can't see the Camels winning a map—maybe if Silky can replicate his macro-god performance against ByuN from last season, or if Cyan pulls off an all-in against Maru? However, those scenarios seem exceedingly unlikely, so this should be ONSYDE's second sweep of the season.
Prediction: ONSYDE Gaming 6
- 0 SSLT / 瘦死骆驼
Sunday, Nov 05 12:00pm GMT (GMT+00:00) Matches
Starlight Twinkle vs Dragon KaiZi Gaming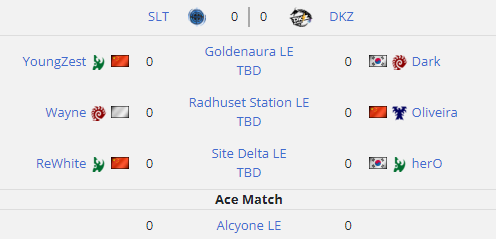 SLT have made the curious decision to leave both Cham and Nice out of the starting line-up. While some might see this as waiving the white flag, you have to wonder if this is some galaxy-brain plot after SLT stole a point from BASILISK with a line-up that included ReWhite. Perhaps they are the ultimate talent scouts in the SC2 scene, and both ReWhite and YoungZest are bonjwas in waiting.
Ehhh, probably not. Despite last week's startling result, I can't predict lightning to strike twice. DKZ is heavily favored to get the three points here, with Wayne maybe complicating things ith his strong ZvT.
Prediction:
Starlight Twinkle 0 -
6 Dragon KaiZi Gaming
Shopify Rebellion vs PSISTORM Gaming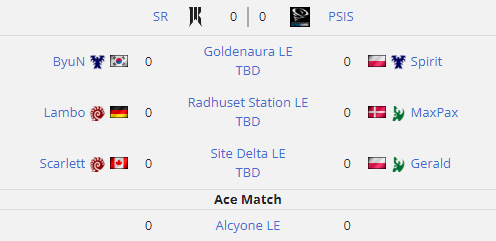 The Rebellion are just one point off of a perfect start, but things will get much harder for them in the back half of the season. PSISTORM should be a challenging opponent at the halfway mark, coming off of a narrow loss against TL last week.
ByuN should be quite happy to have drawn a TvT against Spirit. He has a dominant head-to-head record against the PSISTORM Terran, whose TvT remains a weakness despite considerable improvement in the other two match-ups.
MaxPax, now the owner of the longest undefeated streak against Protoss (39 matches and counting), won't get to show his world-best PvP this time around. Instead, we get a familiar ESL Weekly match as he faces Lambo. MaxPax has the edge in head-to-head matches, and is also on a season MVP pace so far with a 9-2 record. On the other hand, Lambo is only 3-3 so far, and I see him adding two losses to that record.
Astrea might have become the new ESL Americas king after Neeb's retirement, but queen Scarlett still reigns in the WTL. With a 6-2 record, she's the best NA player in the league and a big part of SR's success this season. However, she did happen to give up two 1-1 ties to Protoss players Cyan and NightMare, and PSISTORM's Gerald certainly has a chance at getting the same result for himself. I'll give Scarlett the 2-0 for the sake of the prediction, but only by a very narrow margin.
Prediction: Shopify Rebellion 4
- 2 PSISTORM Gaming
---
Credits and acknowledgements

Writer: Nakajin
Editor: Wax
Stats: Aligulac.com & Liquipedia
Images: SCBoy