by Steadfast

Familiar faces topped the three server cups in week #167, with

Dark winning his second straight in Korea,

Clem triumphing in Europe, while

MaxPax came out on top in the Americas.


---
Korean Cup (partial bracket shown)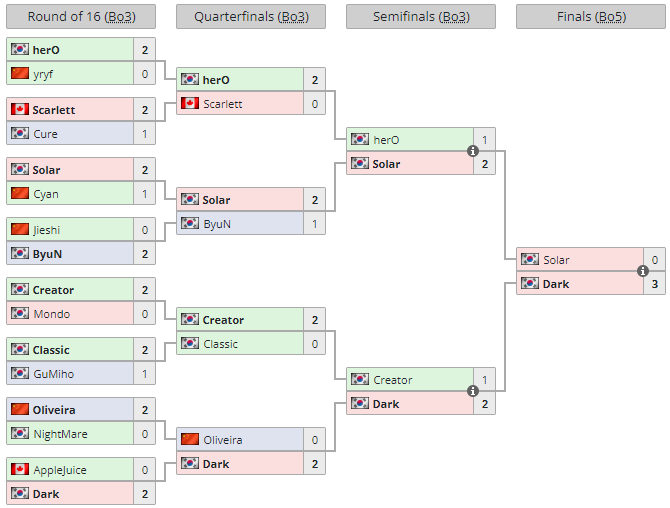 The Korean cup once again featured a star-studded line-up of highly skilled players: Classic, Creator, herO, NightMare, ByuN, Cure, GuMiho, Oliveira, Dark, Scarlett, and Solar all competed. Scarlett and Cure met in the RO16 and fought a gritty, back-and-forth series that featured a great comeback from Scarlett in game 1 where she seemed well and truly dead, but managed to claw back and win a long 27-minute game on Royal Blood (watch VOD). The Queen of Blades eventually won 2-1 against Cure, but was promptly ripped apart by herO's Glaive Adept play the following round.

The set up herO vs. Solar in the semifinals with a ticket to the grand finals on the line. Solar's Oracle defense proved to be extremely tight, which helped him to an upset 2-1 victory. herO's truly disastrous defense in game three contributed as well—he had many chances to re-wall his natural on Ancient Cistern, but his habit of walling suboptimally lost him a very winnable game against Solar's Line-Bane busts. Overall, it capped a solid run to the finals from Solar, who defeated Cyan, ByuN, and herO by 2-1 scores.

On the other side of the bracket, Dark took down the reigning world champion Oliveira in quick fashion and won yet another grueling basetrade vs. Creator to take a 2-1 victory, echoing the tragic loss the NV Protoss suffered at IEM Katowice. That led to something we see very infrequently in these ESL Open Cups: a ZvZ finals.

Game 1 of the finals (Watch VOD) was a strong representative of what ZvZ has become in recent history: tons of aggression, highly volatile, and hard to predict who will win. Dark started off with a dedicated ling flood that was deflected quite well by Solar and put the defensive Zerg player ahead by several Drones. Dark followed up with a delayed ling-bane attack that managed to score a huge Baneling hit on both Solar's lings and find 12 Drone kills at the same time which tipped the momentum back in Dark's favor. From there, both players went into Roaches and the game seemed to equalize. Solar went for 8 Mutalisks while Dark played Hydralisks in response and began a Lurker transition. Both players jockeyed for position and Solar tried to find an opening while Dark teched up. Unfortunately for Solar, Dark was also going for tunneling claws Roaches and used them to slowly pick Solar apart. Eventually, Solar had no choice but to force an attack into defensive Lurkers. While the Vipers he built helped a little, Dark's position was too strong and Solar tapped out.

Once Dark won that scrappy, close affair on Gresvan, it felt like the rest of the series fell into his lap. Game two saw Dark go for ling-bane aggression off of 32 Drones, following it up with a big Roach-Ling-Bane all-in off of a low Drone count. Solar misread the play and Overdroned, leading to a quick loss against the all-in. Game 3 featured a similarly frenetic early game with Solar and Dark battling it out with ling-bane, with Dark once more on the aggressive path. Solar was able to defend and get Roaches out, while Dark Droned up behind this and built his own defensive Roaches. Solar found himself in a position where he could have sniped down Dark's Roach Warren and possibly won the game with a counterattack, but he was unable to make the decisive move necessary to break through. After an impressive defense from Dark, he took the series 3-0.



*****


European Cup (partial bracket shown)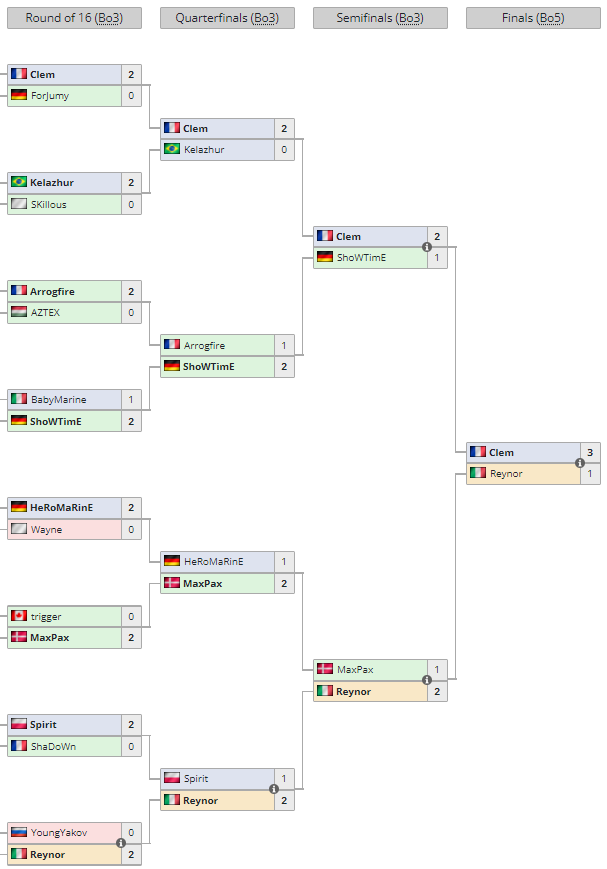 The EU Cup featured many of the usual suspects: MaxPax, ShoWTimE, SKillous, Clem, HeroMarine, Spirit, Elazer, and Wayne (formerly known as Rattata, formerly known as Vanya(. However, it also featured something that has been a real treat for fans over the last 3 weeks: Reynor playing as random and getting increasingly impressive results.

The bracket played out mostly as expected where Reynor wasn't rolling a 3-sided dice. BabyMarine had a surprisingly strong week, beating Krystianer who is currently in good form and taking a game off of ShoWTimE in a RO16 loss. Clem meanwhile breezed to the semi-finals where he took a closely contested 2-1 victory over ShoWTimE to reach the finals. On the other side of the bracket, MaxPax won a close 2-1 victory over HeroMarine in the RO8, adding another layer to their ever-evolving rivalry.

Meanwhile, Reynor's whole run was an absolute rollercoaster ride. He rolled all 3 races vs. MindelVK, losing the PvP, but winning the TvP and ZvP in the RO32. He then defeated YoungYakov 2-0 in the RO16 with Protoss and Terran. In the RO8 he faced off against Spirit and lost game 1 with his Protoss, but lucked out and randomed Zerg twice and managed to overpower the Polish Terran to take the series 2-1. The semifinals against MaxPax, which was a rematch of the previous week's finals, saw MaxPax win game 1 in a PvP and go up massively in game 2 against Reynor's randomized Zerg. However, Reynor was able to go for a massive attack with over 60 Banelings and split like MKP in his prime to dodge purification novas and take the game (it helped that MaxPax didn't add in Archons to bolster his composition). Then in game 3, Reynor played an excellent TvP to overwhelm the Danish Protoss on Altitude, showing us that while there are still some holes in his off-races, he can go toe-to-toe with just about anyone.

The finals (watch VOD) between Clem and Reynor was anything but the usual. Unlike the hotly contested TvZs we see between two of the fastest players in the business, we saw some very unconventional play. Game 1 started off with Clem playing battle mech against Reynor who had spawned in as his native Zerg. Things looked to be going quite well for Clem who established some nice tempo and kept rallying units at his opponent. Despite these good trades, Reynor was able to stabilize and decided to go for something drastic. He cut upgrades after 1-1 and went for a massive Hydra-ling-bane attack that found some solid worker damage and broke Clem's momentum. It was clear from the get-go that Clem had no intention of letting the game slow down as he continued to make purely aggressive Cyclones and Hellions instead of transitioning into Siege Tanks. This would prove to be his undoing as Reynor managed to once again mass up a ludicrous number of Banelings and smash through for a game 1 victory.

Games 2 and 3 were somewhat similar thematically as Reynor spawned in as Protoss twice. Reynor honestly looked very good with his PvT, but Clem just looked a little too sharp for the Italian's off-race, at least for now. Game 4 found Reynor spawning in with Zerg once again and he elected to play a somewhat weird Roach style. While Reynor never really took damage, he seemed to just be behind from his build and Clem killed him with a 3-base 8-rax Tank push. It was a bit of an underwhelming end to an extremely entertaining and impressive run, but all congratulations to Clem who played great as always. Of course the big star here is Reynor though, who achieved a top 4 result two weeks ago, got to the finals last week, and this week managed to take a game (albeit with his Zerg). It's clear that the Italian is looking to achieve something never before done, and at this rate, it seems like it may be just a matter of time.



*****


American Cup (partial bracket shown)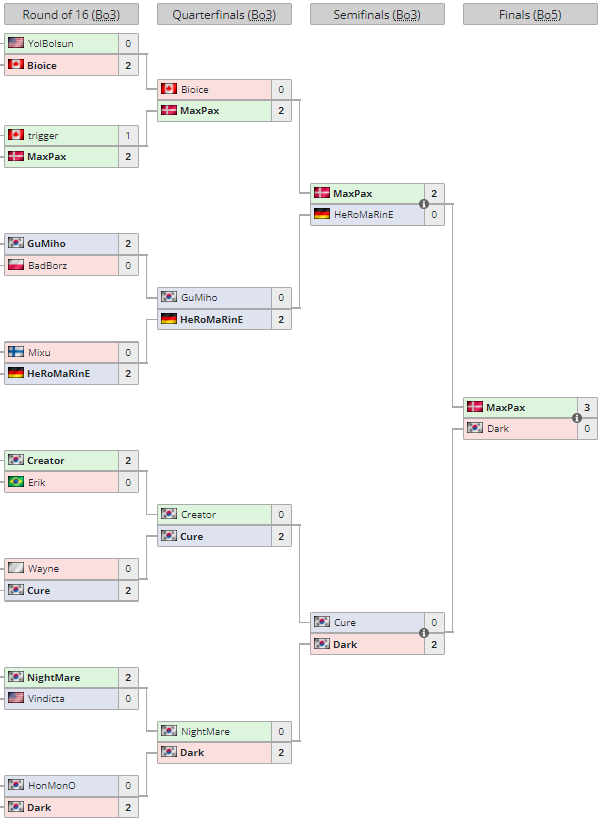 The NA cup once again featured some top Europeans, a smattering of Korean players, and the hapless North Americans caught in the middle. Creator, NightMare, trigger, MaxPax, Cure, GuMiho, HeroMarine, Vindicta, and Dark were among the most notable participants. herO checked in, but didn't not show up for his match, so the seeding led to Bioice getting a RO8 berth. However he was taken down by MaxPax and couldn't finish inside the money. Prior to that, trigger was able to take a game off of the Danish superstar, showing once again, a great deal of potential from the young Canadian. Meanwhile, HeroMarine took down GuMiho in rather convincing fashion in the RO8 to rematch MaxPax in the semi-finals. This time, MaxPax eliminated the German Terran very quickly with a DT drop in game 1 and 4-gate blink in game 2 and prevented Big Gabe from making the series competitive. On the bottom side of the bracket, the Koreans decimated their NA and EU opponents to make the top 8. Cure defeated Creator 2-0 and Dark took down NightMare 2-0, then defeated his former teammate Cure 2-0 as well to waltz into the grand finals.

The finals (watch VOD) between Dark and MaxPax was one that I was thoroughly looking forward to, but unfortunately didn't really live up the hype. Dark went for a 2-base Roach-ling-queen all-in that MaxPax scouted and swatted away effortlessly with Void Rays to take game 1. Game 2 began with MaxPax opening up with a DT drop that was well-defended, but MaxPax stayed even through harassment with his follow-up Archons. MaxPax then showed us why, despite the fact that he's never appeared in an offline tournament, people continue to talk about him as one of the best players in the world. His constant Blink Stalker aggression paired with perfect macro and strong micro kept Dark on the back foot. MaxPax added Disruptors into his composition before Dark had the proper counters, forcing another GG from the Zerg. Game 3 on Dragon Scales was the closest map in the series, but despite the supplies favoring Dark at many stages, even significantly at times, he stayed on Lair tech and was never able to kill MaxPax. Meanwhile the Protoss continued to add double upgrades and kept teching up. This was easily the most entertaining game of the cup, so it's worth checking out, but it still felt as though MaxPax was always in control. After a relatively long 19-minute back-and-forth, MaxPax took down game 3 and secured the win and thus his 41st ESL Open Cup victory, only 3 behind Zest.