World Team League - 2022 Winter Season
by: Wax
A four way race for the regular season title was decided in the final week, as Dragon Phoenix Gaming earned the three points needed to secure back-to-back regular season pennants. It was quite possibly the closest title race in league history, with three teams—DPG, PSISTORM, and ONSYDE—finishing tied at 27 points a piece. It was only due to DPG's superior map score differential of +32 that they were able to win the first place tiebreaker.
The final week also saw Team GP overtake Team Liquid for the seventh and final playoff spot. While Team GP came through with a win against Good Game Gaming, Liquid couldn't eke out a victory against a ruthless PSISTORM squad.
With the regular season concluded, the gauntlet-style playoffs will be held during
February 3-5.
Week 11 Results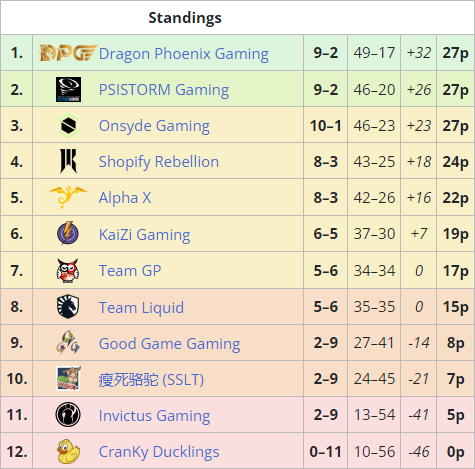 Top 7 teams qualify for the playoffs, bottom 2 teams must requalify.
Points are awarded as follows:

3 points for a victory in a series that does not require an ace match

2 points for a victory in a series that requires an ace-match

1 point for a loss in a series that requires an ace-match

0 points for a loss in a series that does not require an ace match
Invictus Gaming 4 - 3 SSLT
Watch VOD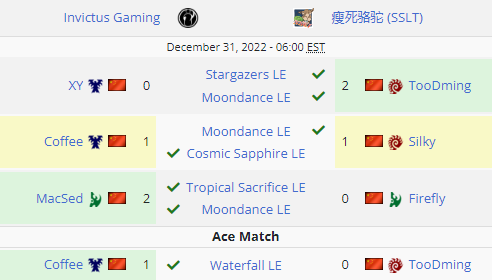 Invictus Gaming were already locked into a bottom two finish before the match started, guaranteeing they'd have to requalify in the next season of WTL (should it occur). Still, they managed to salvage some pride in their last match, taking down rivals SSLT in a narrow 4-3 victory.
The series started with
SSLT.TooDming
taking a 2-0 over
iG.XY
. Game one on Stargazers was a fairly straight-forward macro win for TooDming, as he controlled the mid-game with Muta-Ling-Bane before finishing the job with Hive tech units. The oft-cheesy TooDming played another macro-focused strategy in game two, and successfully smashed his opponent in around ten minutes with swarms of Ling-Bane.
Similar to TooDming,
SSLT.Silky
went against his usual WTL playstyle and tried a more macro-oriented approach against
iG.Coffee
on Moondance. This paid off for Silky, as he pinned his opponent into a corner of the map in the mid-game before forcing the GG with Brood Lords. With his team down 0-3, Coffee went with the unusual choice of Cosmic Sapphire as the next map. His plan was to go mech off of a fast-BC opener, but as it turned out, his initial BC + Hellbat harassment was enough to win him the game outright.
Following Coffee's last-ditch save,
iG.MacSed
gave a clutch performance of his own with a 2-0 over enemy ace
SSLT.FireFly
. Game one on Tropical Sacrifice was a mid-game contest between big Gateway unit armies, with MacSed prevailing on the back of his superior economy. Game two ended much more quickly, with MacSed's Oracle-into-DT catching FireFly without any detection and forcing a fast GG.
With the ace match being played on Waterfall, iG opted to send out one of their Terrans in
iG.Coffee
. As for SSLT, they made the peculiar choice of going with
SSLT.TooDming
instead of FireFly—perhaps they felt like giving the veteran Zerg a chance since they were already clear of the relegation zone. In any case, Coffee took the initiative, gaining an early lead with his 2-Rax Reaper opener. Despite a couple of hiccups along the way, Coffee eventually snowballed his lead into a 17-minute victory.
Team GP 4 - 2 Good Game Gaming
Watch VOD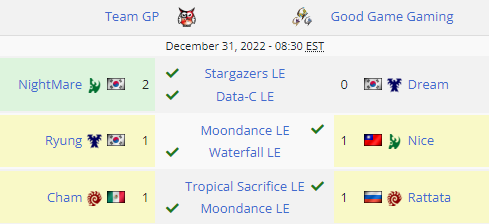 With Team GP and Team Liquid in direct contention for the final playoff spot in week 11, the Gon Pack stepped up to plate first in their match against GGG. With just a single point separating the two teams, Team GP needed a full 3-point victory to maximize their chances of advancing.
The series began with
GP.NightMare
taking a 2-0 over
GGG.Dream
. Game one on Stargazers saw Dream attempt a greedy 3-CC build, but he was forced to GG out after NightMare's 2-base Glaive-Adepts gave him a rude awakening. NightMare got his second win with a different kind of early gambit, as his combination of Blink-Stalkers and Zealots earned him a sub-seven minute win on Data-C.
The next two series ended in 1-1 draws, which meant NightMare's initial victory was the difference maker.
GP.Ryung
and
GGG.Nice
started out with a passive build-up on Moondance, which led to an abrupt end at around the 9:30 mark when Nice's Zealot-Archon-Colossus force wiped the floor with Ryung's bio army. The next game on Waterfall also featured a relatively peaceful build-up, with Nice going for Templar instead of Colossus. Again, the game concluded after one big fight, except this time Ryung came out the victor.
The final series saw
GP.Cham
and
GGG.Rattata
start off on Tropical Sacrifice, where both players went for pool-first builds. Rattata's decision to take a later gas and play a more greedy follow-up paid off, as he held off Cham's Zerglings and strolled to victory on the back of his superior economy. Still, Cham was able to get the series clinching win on Moondance by surprising Rattata with a two-base Roach all-in.
CranKy Ducklings 0 - 6 Shopify Rebellion
Watch VOD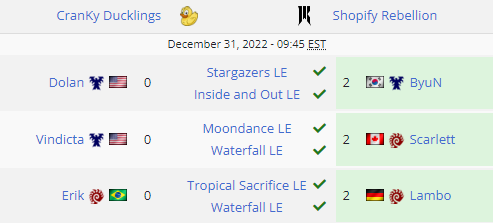 Unfortunately for the CranKy Ducklings, they concluded their debut WTL season without a series victory, losing their final match 0-6 to Shopify Rebellion.
CranKy.Dolan
tried to get cheeky against
SR.ByuN
on Stargazers by going for a hidden double-starport Battlecruiser build, but he took too much damage against ByuN's early-game harassment. ByuN had no problem getting Vikings out in time to stop the BC's, giving him an easy 1-0 lead. Dolan tried a more standard approach on Inside and Out, but lost to ByuN's pre-stim Marine-Tank pushes.
SR.Scarlett
got her first win against
CranKy.Vindicta
on Moondance, using swarms of Hydra-Ling-Bane to overwhelm Terran infantry. Game two on Tropical Sacrifice didn't go much better for Vindicta, who ended up surrendering to Ultra-Ling-Bane after around sixteen minutes of play.
The final series saw
SR.Lambo
take another 2-0 over the debuting
CranKy.Erik
. Lambo triumphed in the Roach-Ravager wars in game one, and then took game two by snowballing off of a lead he took in early Zergling skirmishes.
Alpha X 1 - 5 Onsyde Gaming
Watch VOD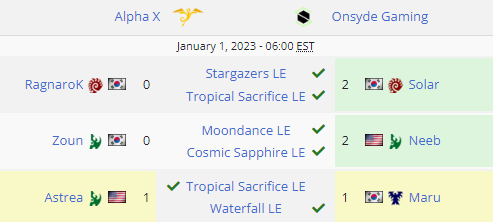 Things kicked off with a fantastically entertaining game between
αX.RagnaroK
and
OG.Solar
on Stargazers. This 30-minute game included too many twists and turns to list in this short recap—it will suffice to say that it featured plenty of action, multiple lead changes, and total uncertainty about who would win until the final few minutes. Ultimately, Solar clawed out a victory due to his incrementally superior management of late-game ZvZ armies. Game two on Tropical Sacrifice was far less dramatic, as Solar thwarted a Ling-Bane timing from RagnaroK before winning with Roaches.
OG.Neeb
then proceeded to nail down the full three points with a 2-0 of his own against
αX.Zoun
. He got his first win on Moondance, using a one-base Stalker-Immortal all-in to overpower Zoun's 2-Gate expansion attempt. Game two saw Neeb get the job done in the mid-game, winning a handful of key ground battles in a 12-minute match on Cosmic Sapphire.
The final match between
αX.Astrea
and
OG.Maru
started on Tropical Sacrifice, where the American Terran prevailed after defending well against Maru's Mine drops into 2-base all-in. Maru got a point back on Waterfall, where his 2-base all-in hit the mark.
PSISTORM 4 - 2 Team Liquid
Watch VOD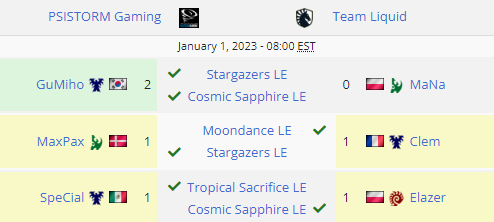 Suffering a 2-4 loss to PSISTORM Gaming, Team Liquid failed to clinch a playoff spot and let Team GP through in their place.
PSISTORM.GuMiho
was the hero for both PSISTORM and Team GP, taking a 2-0 over
Liquid`MaNa
that decided the series. Both sides opted to play things relatively straight-up in game one on Stargazers, which resulted in GuMiho getting an eleven-minute win with a bio-tank push. Cosmic Sapphire followed a somewhat similar pattern, with GuMiho taking another eleven-minute victory with his first major bio push.
The ESL Open Cup rivalry between
Liquid`Clem
and
PSISTORM.MaxPax
spilled over into the WTL, and the two closely matched players split the maps 1-1. Clem prevailed first on Moondance by holding off MaxPax's 4-gate Blink-Stalker pressure while dealing damage on the other end of the map with Cloaked Banshees. Game two on Stargazers saw Clem try for a committed 2-base push, but he fell short of victory due to MaxPax's delaying tactics and backdoor attacks.
PSISTORM.SpeCial
then came in to seal the deal against
Liquid`Elazer
on Tropical Sacrifice. SpeCial's multitasking was on point, as he used multi-prong bio attacks to disorient Elazer before finishing him with a big frontal push. SpeCial then went for a peculiar proxy 3-Rax all-in into mech strategy on Cosmic Sapphire, which might have worked out if he had convinced Elazer to leave him alone for a few minutes. However, Elazer refused to let SpeCial set up his defenses and simply rolled him over with Roach-Ravager-Ling.
KaiZi Gaming 1 - 5 Dragon Phoenix Gaming
Watch VOD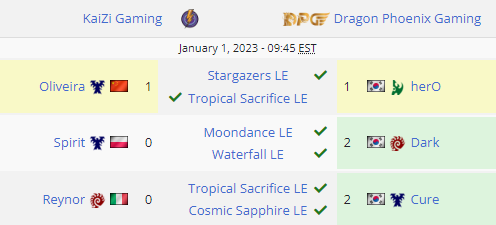 With the five earlier matches finished, the stakes for the finale were made clear: DPG could take first place with a 4-2 or better victory, while KaiZi Gaming could climb from 6th to 5th place with a 6-0 victory.
The series started off with
DPG.herO
taking on
KZ.Oliveira
(aka TIME) on Stargazers. Oliveira looked to pressure herO off the bat with a 3-Barracks Marine-Marauder opener on Stargazers, but herO fended it off and gained an economic advantage. That translated to a comfortable victory for herO, as he battered Oliveira with ground attacks until he was forced to submit. Oliveira stuck to aggressive tactics on Tropical Sacrifice, opening with a 2-base push of Marine-Tank-Cyclone-Banshee. While this didn't succeed at killing herO's 3rd base, it kept the Protoss economy in check and set up a follow-up push a few minutes later. The second attack did the trick, cracking the Protoss defenses to tie the series 1-1.
While herO gave up a point versus Oliveira,
DPG.Dark
held the fort against
KZ.Spirit
with an expected 2-0. Game one on Moondance saw Spirit get away with a fast 3-CC build, as Dark went for a macro build instead of one of his deadly early attacks. Sadly for Spirit, Dark reminded viewers he's just as good in macro games, winning with an unending onslaught of Ling-Bane swarms. Dark changed things up with an early Roach-Ravager attack on Whirlwind, which did a solid amount of damage and put himself ahead. Instead of playing a macro game from there on out, Dark gathered his forces for a second attack which caught Spirit off guard and forced the GG.
Unfortunately for KaiZi, ace player
KZ.Reynor
couldn't lead a comeback from down 1-3. He took a page out of Dark's book as he went up against
DPG.Cure
on Tropical Sacrifice, hitting early with a Roach-Ravager-Ling force. However, Cure defended well despite opening CC-first, and was even able to inflict Drone damage with a counterattack. Trailing badly in economy, Reynor gathered his forces for another desperate attack but was repelled again. Despite this awful start, Reynor actually managed to stay in the game for quite a long time. Part of that was due to his defensive abilities, and part of it was Cure's extreme patience in consolidating his lead. Ultimately, Reynor's 2/2 Ultra-Ling-Bane couldn't stand up against Cure's 3/3 bio, and he was forced to GG out. Cure then applied the
coup de grace
on Cosmic Sapphire, resolving the game quickly with a proxy 3-Barracks bunker rush.
Weekly MVP Award: OG.Solar
Week 11 saw several players take solid 2-0 series wins that helped their teams to victory, but two players from ONSYDE stood out for me in particular. Solar's victory over RagnaroK and Neeb's win against Zoun gave ONSYDE a quick 4-0 win over Alpha X, earning them the full three points without needing a meaningful contribution from ace player Maru.
I decided to give the nod to Solar over Neeb due to the strength of his opponent. Mirror matches a weakness for both RagnaroK and Zoun, but I think his track record in major tournament ZvZ's has been a bit better than Zoun's PvP.
Weekly MVP's:
Week 1: OG.Solar

Week 2: GP.Cham

Week 3: OG.Neeb

Week 4: OG.Maru

Week 5: SR.ByuN

Week 6: DPG.Dark

Week 7: αX.Astrea

Week 8: OG.Maru

Week 9: PSISTORM.GuMiho

Week 10: PSISTORM.Has

Week 11: OG.Solar
Regular Season Awards
We continue a long-standing TL.net tradition by handing out awards to the top performers of the regular season. Since there's been confusion in the past, these are NOT the official WTL awards given by the organizers (and come with prize money as well), which will be announced separately at a later date.
While there is no monetary prize attached to the TL.net awards, it does come with a healthy heaping of my respect—and that's something you can't put a price on.
Best Regular Season Terran: OG.Maru
Best Terran came down to a two-race between
OG.Maru
and
SR.ByuN
.
The two players had very similar records: ByuN finished with a map score of
18W-5L (78.26% win-rate)
, while Maru went
16W-4L (80% win-rate)
.
With the win-rates being so close, I gave ByuN a small advantage for having played three more games. On the other hand, I thought Maru had a moderate but meaningful advantage when I judged the 'quality' of their performances. This was due to a number of small factors adding up. Maru's strongest 2-0 win came against herO, which was more impressive than ByuN's 2-0 against RagnaroK. Maru's had an untarnished record without a single 0-2, whereas ByuN suffered a 0-2 loss to Solar in week one. Both players gave up a number of draws, but I thought Maru's draws (vs MaxPax, Astrea, Kelazhur, and Harstem) came against tougher opponents than ByuN (vs SpeCial, Nice, and Prince).
When I considered all those factors together, I felt that Maru had been a marginally better player than ByuN this season.
Best Regular Season Protoss: αX.Astrea
Best Protoss was the toughest award to give out, with
αX.Astrea
,
PSISTORM.MaxPax
, and
DPG.herO
all having very strong cases to win.
Their overall records were extremely similar, with Astrea going
17W-6L (73.9% win-rate)
, herO putting up a
15W-5L (75% win-rate) statline
, and MaxPax also going
15W-5L
.
As with the Terrans, I gave Astrea a small advantage due to having played three more maps, and being the only one to play and win an ace match (vs Firefly).
It was very hard to decide who had the best quality performance this season. For instance herO had the most impressive single 2-0 win, taking down Liquid's Clem. In contrast, Astrea's best 2-0 was probably against TIME/Oliveira, while MaxPax's best victory came against either Dream or NightMare. On the other hand, MaxPax and Astrea both forced a number of 1-1 draws out of very difficult opponents including Maru, whereas herO lost his match against Maru 0-2. MaxPax had the worst loss in his 0-2 upset against Zoun, but it was partially mitigated by him also having the toughest strength of schedule. With so many complicating factors, I wasn't able to meaningfully differentiate the quality of the three players' performances.
Thus, I decided to go back to the first criteria mentioned: maps played. Astrea, herO, and MaxPax all played similarly well this season, but Astrea provided two more maps of value to his team.
Best Regular Season Zerg AND Regular Season MVP: DPG.Dark
Of the three faction awards, Zerg was the only one that had an obvious winner.
DPG.Dark
recorded an absurd
18W-2L map score
over the course of the season (eight 2-0's and two 1-1's), achieving a mind-blowing 90% map win-rate.
90% win-rates weren't uncommon in the nascent iterations of the SCBOY Team Leagues, but those early tournaments had much more lopsided rosters that allowed the top players to churn out wins (Dark himself went 11-1 in
GTC 2020 Spring
). But now, in a much more competitive WTL, Dark has delivered one of the best regular season performances ever. Only Maru's 17W-3L run in
WTL Winter 2021
and Cure's 16W-1L in
WTL Summer 2021
really compare, and Dark may actually have outdone them both.
There IS one caveat to Dark's season: he had a relatively soft list of opponents, rarely playing championship-caliber players from individual tournaments. Most of his 2-0's came against players he was heavily favored against, making his 2-0 over RagnaroK his underwhelming 'highest quality' win of the season. However, as this season did not feature an 85%+ win-rate player who had a harder path, this criticism is largely moot.
If we follow the official WTL format and don't overlap the MVP and faction awards, then my MVP pick goes to Dark while best Zerg goes to
OG.Solar
. The ONSYDE Zerg's raw record of
16W-7L (69.57% win-rate)
wasn't as impressive as the Protoss and Terran winners, but he had a very top-heavy slate of games where he often faced ace-quality players. By holding the fort with a 2-0 over ByuN and 1-1's against Reynor, Clem, and Cure, Solar often set the table for his teammates to secure a win.
---
Credits and acknowledgements

Writer: Wax
Stats: Aligulac.com & Liquipedia
Images: SCBoy