World Team League - 2022 Winter Season
by: Wax
The WTL regular season will conclude with a New Year's ball, as the final round of games will be played out over
December 31st and January 1st.
The regular season title race will come to an explosive end, as FOUR teams are still in contention for first place: DPG, PSISTORM, ONSYDE, and Alpha X. With the top three teams being tied with 24 points a piece, the regular season title may actually be decided on a map-differential tiebreaker. Thus, these teams don't just need to win their final matches—it's also vital that they win every possible map.
What makes this race all the more entertaining is the fact that none of these teams have an easy match. PSISTORM face a desperate Liquid (more on that below) while DPG take on their eternal rivals KaiZi Gaming. As for Alpha X and ONSYDE Gaming, they're going up against each other in a potential 1st place deathmatch.
The other major race left to be decided is for 7th place and the final playoff spot. Right now, Team Liquid is just barely ahead of Team GP by 15 points to 14, and with +2 in map differential compared to the Gon Pack's -2. While Team Liquid are taking on PSISTORM Gaming in a mutual must-win match, Team GP have a relatively easier draw in GGG (who have little to play for). Could Team GP earn their first ever playoff berth in dramatic fashion?
Week 10 Results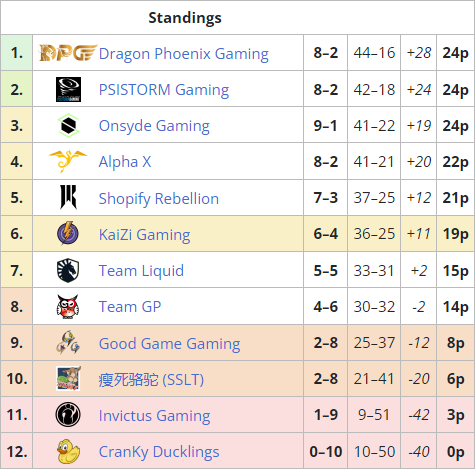 Top 7 teams qualify for the playoffs, bottom 2 teams must requalify.
Points are awarded as follows:

3 points for a victory in a series that does not require an ace match

2 points for a victory in a series that requires an ace-match

1 point for a loss in a series that requires an ace-match

0 points for a loss in a series that does not require an ace match
Dragon Phoenix Gaming 6 - 0 Team GP
Watch VOD (Chinese)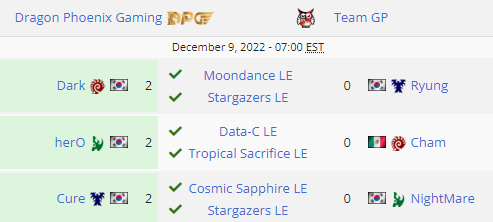 Invictus Gaming 2 - 4 KaiZi Gaming
Watch VOD (Chinese)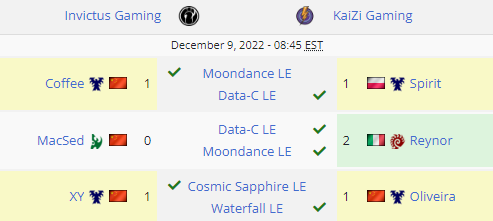 Good Game Gaming 4 - 2 CranKy Ducklings
Watch VOD (Chinese)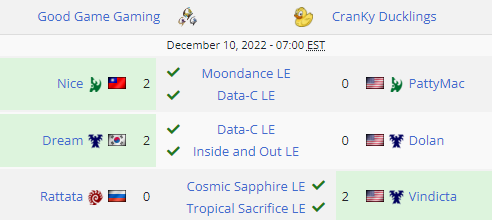 Shopify Rebellion 4 - 2 Alpha X
Watch VOD (Chinese)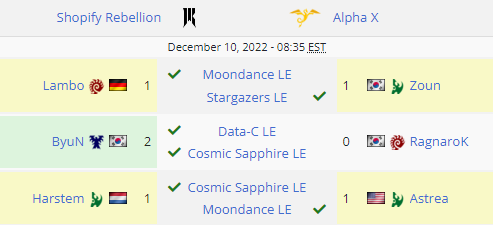 Team Liquid 5 - 1 SSLT
Watch VOD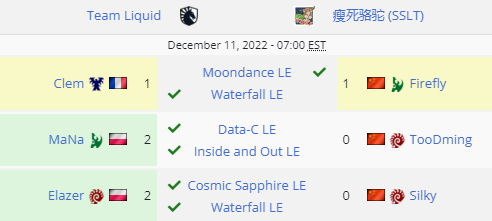 ONSYDE Gaming 2 - 4 PSISTORM Gaming
Watch VOD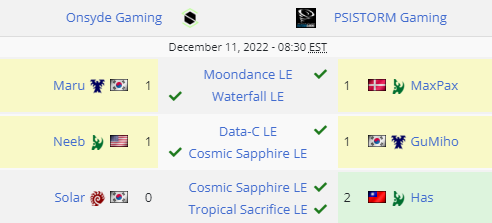 After just two matches, Has is looking like an absolutely brilliant signing for PSISTORM Gaming. Following a warm-up over CranKy.Vindicta in week eight, the Mad Scientist came through with a pivotal, series-deciding 2-0 over OG.Solar in week ten. Of course, he took the win in typical Has fashion—flooding his opponent with mass chargelots despite this being his predictable go-to move since 2018.
Weekly MVP's:
Week 1: OG.Solar

Week 2: GP.Cham

Week 3: OG.Neeb

Week 4: OG.Maru

Week 5: SR.ByuN

Week 6: DPG.Dark

Week 7: αX.Astrea

Week 8: OG.Maru

Week 9: PSISTORM.GuMiho

Week 10: PSISTORM.Has
Week 11 Preview
Saturday, Dec 31 11:00am GMT (GMT+00:00) Matches
Invictus Gaming vs 瘦死骆驼 (SSLT)

XY
< Stargazers >

TooDming

Coffee
< Moondance >

Silky

MacSed
< Tropical Sacrifice >

Firefly
Ace Match:
< Waterfall >
When I looked at the schedule at the start of the season, I thought this would be a great rivalry match to adorn the final week.
The two all-Chinese squads have had fierce qualifier battles in 2022. It started with SSLT winning 4-3 in the WTL Summer qualifiers, thus eliminating iG from the regular season entirely. However, iG got their revenge in this season's qualifier/Code A, taking a pair of 5-4, ace match victories (SSLT still placed high enough to qualify for the regular season).
But if iG seemed just a hair above SSLT at the start of the season, SSLT have improved so much over the last few months that they've nearly 'graduated' from this rivalry. Or, perhaps I should say that it's
SSLT.Firefly
who has improved enough to put his team in that situation. While every other player on these two rosters put up a win-rate that was far below 50%, FireFly alone lit up the scoreboard with a 14-8 record (64% win-rate). That's a better record than Reynor (12-8) AND Clem (14-10).
All that said, I still think this will end up being a close match. Mirrors are the great equalizer in the WTL, and FireFly drawing MacSed in a PvP at least partially nullifies SSLT's advantage. Also, with all the prior duels between these two teams going to ace matches, I'm getting the feeling this one will go down to the wire as well.
Prediction: SSLT 4
- 3 Invictus Gaming
Team GP vs Good Game Gaming

NightMare
< Stargazers >

Dream

Ryung
< Moondance >

Nice

Cham
< Tropical Sacrifice >

Rattata
Ace Match:
< Waterfall >
As mentioned in the intro, this is a pretty favorable draw for Team GP as they look to clinch a playoff berth over Team Liquid. GGG have had a so-so season, and they're already guaranteed to finish in the 9th-10th zone (a win here would lock in 9th). While WTL teams have historically played hard even in low-stakes matches at the end of seasons, you have to figure GGG still won't be quite as motivated as Team GP.
Two of the match-ups have broken rather favorably for Team GP, with Ryung able to play his best match-up of TvP and Cham his own best match-up of ZvZ. The match-up of NightMare vs Dream is rather vexing, however, and not just for the wonderfully contrasting ID's.
We're still in the wait-and-see period following NightMare's brilliant top eight run at DreamHack Atlanta, trying to find out how much of that great performance was 'for real.' On the other hand, WTL stalwart Dream is having a poor season by his standards, where his win-rate is currently below 50% (10-11 record). If there was ever a chance for NightMare to knock off GGG's ace, this appears to be it.
All in all, I really like the match-ups for Team GP. When you throw in the must-win factor, I think they'll take home the three points and wait to see how Liquid fares on Sunday.
Prediction: Team GP 4
- 2 Good Game Gaming.
CranKy Ducklings vs Shopify Rebellion

Dolan
< Stargazers >

ByuN

Vindicta
< Moondance >

Scarlett

Erik
< Tropical Sacrifice >

Lambo
Ace Match:
< Waterfall >
While this is the match with the lowest stakes compared to the other five on the week, there's still something for both squads to play for.
With the point differential between the top five teams being so narrow, Shopify could significantly improve their playoff seeding with a 6-0 win here. In a best-case scenario, they could even finish second place in the regular season, which would translate to a direct semifinal seed in the playoffs. As for the Ducklings, they'll be trying to avoid finishing with a winless record, and potentially even finish one position above last place should iG fall to SSLT.
Alas, things look pretty grim for Ducklings, which has been a recurring theme through the entire season. The individual Ducklings have played good games here and there, but never together in one match. I don't think the Ducklings' final match against a very consistent Shopify Rebellion squad is where things will finally click.
Prediction: Shopify Rebellion 5
- 1 CranKy Ducklings
Sunday, Jan 01 11:00am GMT (GMT+00:00) Matches
Alpha X vs ONSYDE Gaming

RagnaroK
< Stargazers >

Solar

Zoun
< Moondance >

Neeb

Astrea
< Tropical Sacrifice >

Maru
Ace Match:
< Waterfall >
Personally, this is my most anticipated match of the week, as two regular season title contenders collide head-on.
Momentum wise, this match has come at a pretty fortunate time for Alpha X. RagnaroK's post-GSL slump was a concern of mine for the past few weeks, making me wonder how the team would fare against the other elite teams in the WTL. However, the recent HomeStory Cup XXII tournament saw the other two Golden Dragons go supernova, with Astrea finishing in second place while Zoun took fourth.
Honestly, my previous doubts about Alpha X were probably misplaced—Astrea was already having a fantastic WTL Winter season even before HSC, leading all Protoss players with a 16W-5L record. But seeing him play so well in a major individual competition was still reassuring, making me think his hot WTL season was no fluke at all.
Even with Astrea and Zoun flying high, I think ONSYDE Gaming are the favorites in this match. The worst thing I can say about Maru is that he didn't win the championship in his last two events. When that's considered a disappointment for a player, it says a lot about their usual level of play. As for Neeb, he continues to defy expectations and play extremely well despite enrolling in university full-time. I've decided to give him the benefit of the doubt—until he shows an actual dip in form, I'm not going to question his ability to double-class as a progamer/student.
Solar briefly stood out as a potential liability before the full line-ups were revealed. He might have won Super Tournament II, but his recent outings made me think he dodged a bullet by only playing one ZvP during his run (3-1 vs Creator). Take a look at some of his recent ZvP matches: In WTL he gave up 0-2 upsets to both Prince and Has, and at HSC XXII he lost to ShoWTimE and Harstem while tying 1-1 with NightMare and Gerald.
Under those circumstances, I think it's
extremely
fortunate for ONSYDE that Solar hit the 1/3rd chance of drawing RagnaroK instead of the two Alpha X Protosses. In fact, it might end up being the dice-roll that wins them first place in the regular season.
Prediction: ONSYDE Gaming 4
- 3 Alpha X
PSISTORM Gaming vs Team Liquid

GuMiho
< Stargazers >

MaNa

MaxPax
< Moondance >

Clem

SpeCial
< Tropical Sacrifice >

Elazer
Ace Match:
< Waterfall >
This is another fantastic match where both teams are in a must-win scenario, albeit for entirely different reasons. PSISTORM could pull off the coup of the season and take 1st place with a win (and some luck), while Liquid can guarantee their playoff spot if they take three points (regardless of Team GP's result).
Liquid has been disappointing for the last few seasons, with ace player Clem's mediocre performances being the biggest concern. He's been underwhelming this season as well, only putting up a 14-10 record. While that's not
terrible
, you could reasonably expect 2022's two-time European champion to at least have a better record than FireFly. Even though Liquid have played well in the last few rounds, it feels like fool's gold due to their easy schedule.
On the other hand, PSISTORM are a team that keeps delivering pleasant surprises for their fans. MaxPax continued to get incrementally better this season, GuMiho got a LOT better, Gerald survived his summer slump, and SpeCial recovered to an above 50% win-rate. On top of that, PSISTORM even brought Has back to the WTL, which must have won them the favor of the StarCraft gods (the evil ones, at least). Due to basically everyone improving in WTL Winter, PSISTORM now have an unexpected opportunity to earn the #1 seed headed into the playoffs.
With all that said, I feel like this match will be very close. GuMiho has a moderate advantage against MaNa, but not so much that I think a 2-0 is a lock. And, oddly enough, branching out to content creation and team management seems to have helped MaNa play better in the last couple of months—maybe it's one of those cases where less pressure leads to improved results.
The situation is flipped for Elazer vs SpeCial, with the Liquid Zerg having a slight edge. He should win if everything goes right, but a botched bust against SpeCial's mech or a sneaky cheese from SpeCial could lead to a 1-1 draw.
The real swing match will be MaxPax vs Clem. For the longest time, MaxPax was a punching bag for the Liquid ace, but he has now grown to be his equal. These two are constantly trading blows in the ESL Open Cups, and it's hard to say either player has the upper hand. So what if MaxPax happened to 3-0 Clem in the last EU cup? Clem did the same to MaxPax a month ago.
If either Clem or MaxPax can take a 2-0, then their team will probably take the full three points. If the two players tie, then the two teams are likely headed to an ace-match. While we'll probably see MaxPax and Clem meet again in a rubber-match, there's a chance that GuMiho comes out to exploit Clem's TvT vulnerability. Either match would be close to 50/50, but I'll give PSISTORM the nod due to my doubts about Clem's clutch play in the WTL.
Prediction: PSISTORM Gaming 4
- 3 Team Liquid
KaiZi Gaming vs Dragon Phoenix Gaming

Oliveira (TIME)
< Stargazers >

herO

Spirit
< Moondance >

Dark

Reynor
< Tropical Sacrifice >

Cure
Ace Match:
< Waterfall >
Following in SCBOY Teamleague tradition, the regular season concludes with the derby match between KaiZi Gaming and Dragon Phoenix Gaming.
Alas, while last season's match was a thriller that decided first place, the incentives are lopsided this time around. DPG can clinch first place if they take all three points, while they could fall all the way to third place should they suffer an especially bad defeat. On the other hand, it seems very likely that KaiZi Gaming will be locked into sixth place by the time of this match, which would make it purely a matter of pride (there are some unlikely Shopify and Alpha X results that could raise the stakes for KaiZi).
Even so, it's hard not to get hyped about a match where every single pairing features a recent tournament champion.
First up is DreamHack Atlanta champion herO, who faces off against the recently renamed Oliveira (formerly known as TIME). Despite claiming weakness in PvT for half a year now, herO showed in Atlanta that there's still not a better PvT player on earth as he took down both Maru and Bunny to win the championship. Oliveira may be a solid TvP player, but I have to favor the DreamHack champ in this match-up.
The story for the next match-up is pretty similar. Spirit is a very respectable TvZ player, but Dark just might be the best ZvT player in the world. His recent championship was won in the aptly named November's AfreecaTV Champion's cup, where he went through ByuN, Bunny, Clem, and Maru in a ZvT rampage. Again, I have to go with the champ to win here.
The last champion is on KaiZi's side: recent HomeStory Cup XXII winner Reynor. He won that tournament in hugely impressive fashion, winning or tying all of his series and putting up a combined 24-5 map record. Yet, he's the champion I have the most doubts about due to his inexplicable struggles in the WTL. Dark and herO have been tremendous this season, putting up 16-2 and 14-4 records respectively. On the other hand, Reynor has a much more modest record of 12-8. When you add in the WTL prowess of Cure (9-5 on the season), a 2-0 for KaiZi doesn't seem assured at all.
With the overall match-ups favoring DPG as such, I'm predicting they'll take all three points and clinch the regular season title.
Prediction: Dragon Phoenix Gaming 4
- 2 KaiZi Gaming
---
Credits and acknowledgements

Writer: Wax
Stats: Aligulac.com & Liquipedia
Images: SCBoy