World Team League - 2022 Summer Season
by: Wax
Dragon Phoenix Gaming continued their slide down the rankings, falling to third place after suffering their second ace match loss in a row. This week, it was MaxPax and PSISTORM Gaming who delivered the humiliating blow to the defending champions, coming on the tail of a magnificent 3-0 performance from NV.Bunny in Week 6.
DPG weren't the only top team to get upset—Team NV fell 2-4 to Shopify thanks to Scarlett's decisive win against Creator, which allowed the Rebellion to squeeze by both DPG and Team NV and reach the top of the table. Amid the chaos, Alpha X quietly improved to 6-1 with a victory against SSLT, and rose to the #2 spot in the rankings.
At least for the regular season, WTL Summer is turning out to be much more competitive and unpredictable than it looked at first glance. Of course, DPG might just pull off a repeat of last season, where they ambled through the regular season before ripping through the playoffs. However, every loss has to make you a little less confident that they'll be able to flip the switch when they need to.
Week 7 sets up a very exciting slate of Week 8 games. PSISTORM found their mojo against DPG—now they'll try to keep their momentum going against Team NV. Shopify are currently 1st place by a slim margin, but they can't take anything for granted against the playoff-hungry Freecs. KaiZi Gaming vs Alpha X is the highlight match of the week, with the two teams only being separated by a single point in the standings.
Week 7 Results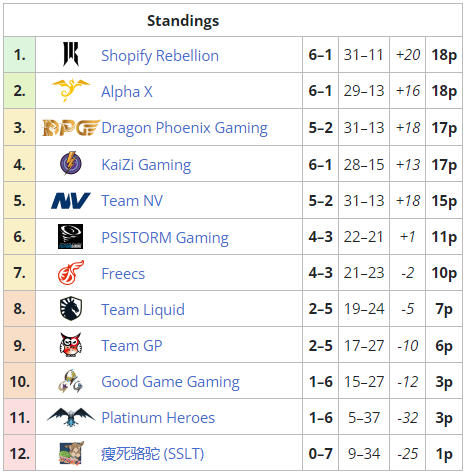 Top 7 teams qualify for the playoffs.
Points are awarded as follows:

3 points for a victory in a series that does not require an ace match

2 points for a victory in a series that requires an ace-match

1 point for a loss in a series that requires an ace-match

0 points for a loss in a series that does not require an ace match
Team GP 3 - 4 Kwangdong Freecs
Watch VOD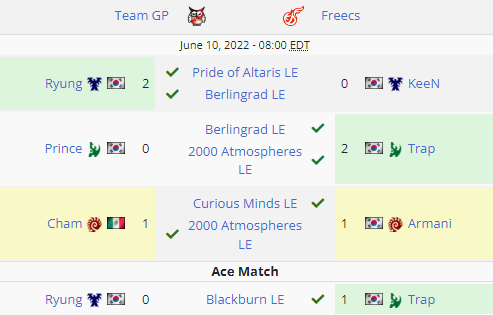 GP.Ryung
and
KDF.KeeN
opened the week's games on Pride of Altaris, which expectedly led to a late-game macro war. Ryung had way better positioning and reaction time in the key Marine-Tank fight of the game, allowing him to take first blood. KeeN tried to even things up with a fast Marine-Raven-Tank push in game two, but Ryung completely smashed him on defense and won with a counterattack.
Fortunately for the Freecs,
KDF.Trap
was there to stop the bleeding. A decisive Blink Stalker timing let the Freecs ace go up 1-0 on
GP.Prince
, while a rock solid defense against Prince's 1-base all-in helped secure him the second map as well.
KDF.Armani
then put his team on match point, busting through
GP.Cham's
defenses and making him pay for trying to tech quickly to Mutalisks. However, Cham re-tied the score in the next game, winning the Ling-Bane knife fight before applying the finishing blow with Roaches.
Both teams kept things simple in the ace match, sending out their best performing players
GP.Ryung
and
KDF.Trap
to fight on Blackburn. Ryung looked to play a passive and safe style, and Trap readily accepted the invitation to play a straight-up macro game.
The key moment in the game came as Ryung tried to establish his third base. Trap was ready with a frontal attack + backdoor warp-in combo, which Ryung couldn't handle as cleanly as he would have hoped. While he survived, Trap had dealt enough economic damage to take a significant lead. The Freecs ace didn't give Ryung any opportunities to fight his way back into the game, and methodically closed the series out.
Good Game Gaming 1 - 5 KaiZi Gaming
Watch VOD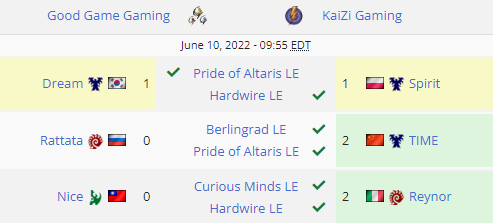 The series started off with
GGG.Dream
and
KZ.Spirit
seeming to settle in for a macro war on Pride of Altaris, but things went awry when Spirit lost a surprisingly large number of SCVs to some basic Raven harass from Dream. Spirit tried to counter by setting up a containment line outside Dream's base, but it wasn't enough to stop the economic snowball effect from the early game. Dream massed a bigger army, busted out, and collected the first GG. Game two on Hardwire went much better for Spirit as he was able to play the macro game he wanted. He outplayed Dream for the most part, controlling the map, dealing economic damage with harassment, and finally finishing the game with a superior army.
Such 'honorable' combat continued as
GGG.Rattata
and
KZ.TIME
clashed on Berlingrad. The battle between Marine-Tank and Hydra-Ling-Bane was going evenly for a while, but as is often the case, a reckless fight off Creep led to the Zerg player's demise. Rattata went with the usual Zerg safety net of Pride of Altaris as the second map, prompting TIME to play mech on the oversize battleground. TIME initially looked like he might be in trouble as he ceded nearly the entire map to Rattata during his turtling phase, but the tide turned rapidly once he went on the offensive. Rattata simply had no answer for the massive Thor-Tank army, which slowly demolished base after base to force the GG.
GGG.Nice
tried to keep his team in the series with 3-base Blink-Stalker all-in against
KZ.Reynor
, but he had to surrender the deciding GG after his attack fizzled out against the Italian Zerg's solid defense. The last map, played just for pride and map score, also went Reynor's way.
SSLT (瘦死骆驼) 1 - 5 Alpha X
Watch VOD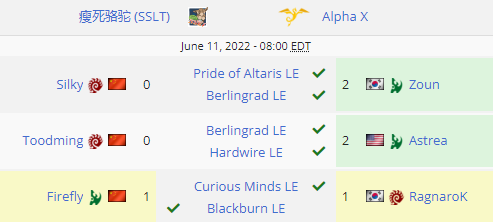 SSLT.Silky
took a very aggressive approach to tackling
αX.Zoun
, constantly battering him with Ling-Bane in game one. However, Zoun was able to absorb the damage and steamroll Silky with a high-tech army in the late game. The second game on Berlingrad followed a similar pattern where Silky was playing aggressive off of a low Drone count, and this time he actually won a number of big fights where Zoun underestimated the Zerg forces. However, economy was the deciding factor in the end, with Zoun was able to bludgeon Silky into submission with his resource advantage.
SSLT.Toodming
kept up his reputation of being one of the more cheesy players in the WTL, as he opened against
αX.Astrea
with a big Ling-Ravager attack to try and kill a warping third base Nexus. However, this attack fell short of its goal, leaving Astrea massively ahead. The American Protoss played out his lead calmly and made it 3-0 for the golden dragons. Things went way better for Astrea when it was his turn to go on the offensive in the next game, as his early Glaive-Adept harassment netted many Drone kills. Again, Astrea calmly consolidated his lead, forcing the GG out of Toodming to give Alpha X the victory with a 4-0.
αX.RagnaroK
then made it 5-0 after he crushed
SSLT.Firefly
on Curious Minds, but the Chinese Protoss managed to avert a sweep by doing a very admirable imitation of herO's mass Zealot-Stalker PvZ style to win on Blackburn.
Platinum Heroes 1 - 5 Team Liquid
Watch VOD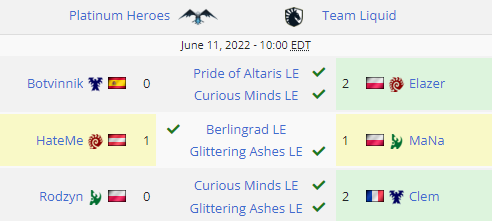 PH.Botvinnik
tried his hand at a macro game to start against
Liquid`Elazer
, but he ended up losing in fairly one-sided fashion against his opponent's solid Ling-Bane play. Thus, the Spanish Terran changed it up in game two with a proxy 3-Barracks all-in, which started quite well as it went totally unscouted. However, a grievous micro mistake prevented Botvinnik from completing a Bunker which was 99% complete, severely hampering his promising cheese. Elazer won after barely holding off a last ditch attack with all of Botvinnik's remaining Marines and SCV's, suggesting that the Heroes had a great chance of winning if only the Bunker had been completed.
PH.HateMe
was able to take his team's only map of the match after swarming over
Liquid`MaNa
with Roach-Ravager-Bane on Berlingrad, but he couldn't pilot the same unit composition to victory on Glittering Ashes.
Liquid`Clem
then took the series-winning fourth map against
PH.Rodzyn
, detecting his opponent's 4-Gate Blink Stalkers and defending accordingly. Rodyzn couldn't get anything done with his Stalkers and was easily overrun when he tried to pivot back into a macro game. Clem continued to take another map for good measure, giving Liquid the 5-1 victory.
Team NV 2 - 4 Shopify Rebellion
Watch VOD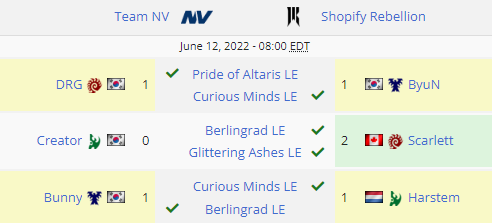 SR.ByuN
was the second player this week who tried to solve TvZ on Pride of Altaris by playing mech, but it didn't go as well for him as it went for TIME.
NV.DongRaeGu's
macro was simply exquisite, and he brute forced down a Thor-Tank composition with Muta-Ling-Bane. ByuN was able to get a point back on Curious Minds, using a 2-Barracks proxy to knock DRG off balance before
really
hurting him with Hellion-Banshee. DRG played extremely well to nearly come back from his early game deficit, but he just couldn't establish the late-game economy needed to keep fighting back.
The next two players up were
SR.Scarlett
and
NV.Creator
, who began with a bloody brawl on Berlingrad. The body count soared as Scarlett's Roach-Ravager-Bane went up against Creator's Stalkers & friends army, with the two players fighting on even footing for most of the bout. However, the momentum gradually shifted in Scarlett's favor as she whittled down the Disruptors, Archons, and Immortal count. Creator was eventually left with mostly Stalkers without much support, and was overpowered by the stronger Zerg force. Creator went for a mass Blink Stalker style in game two, applying heavy pressure to Scarlett in the early-mid game. However, he couldn't make any meaningful headway against Scarlett's sturdy defenses, and found himself severely behind in tech. Scarlett exploited that weakness from Creator, finding the rare scenario where A-moving mass Ultralisks actually leads to a win.
SR.Harstem
then finished the job for Shopify against
NV.Bunny
on Curious Minds. Harstem got off to a great start by successfully fending off his opponent's Mine drop without taking too much damage, and then counter-attacking to inflict SCV damage himself. From there, Harstem turned up the heat and launched several major attacks, which Bunny barely managed to survive. However, the writing was already on the wall, and Bunny was eventually battered into submission. With the series already decided, Bunny decided to throw in a cheeky all-in to try and recover a map, going for the 1-Thor + Marines + SCVs all-in he pulls out from time to time. This surprise strategy worked like a charm, and Bunny was able to salvage one more map for NV.
Dragon Phoenix Gaming 3 - 4 PSISTORM Gaming
Watch VOD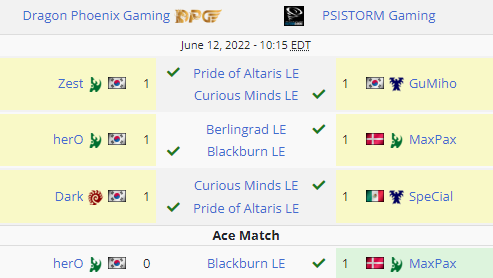 The opening map for
PSISTORM.GuMiho
was a disaster, with his floated Factory cheese getting discovered almost the instant it landed in
DPG.Zest's
main. GuMiho's follow-up Battlecruiser (yes, it was a 1-base Factory float into Battlecruiser build) couldn't inflict enough damage to make it worth the investment, leading Zest to steamroll GuMiho with his superior economy. However, GuMiho was much more successful with his early-game antics in game two. He went for a strategy that resembled the 1/1/1-pushes of yore, attacking early with unupgraded Marines supported by a motley assortment of Starport and Factory units. This was just enough to crack Zest's defense and tie the series 1-1.
The first game between
PSISTORM.MaxPax
and
DPG.herO
ended up being a wild one, as herO opened with a Cannon-rush at MaxPax's ramp. Unfortunately for herO, MaxPax had the perfect response. His scouting Probe immediately started building a new Nexus at an expansion that was close by air to herO's main, as well as a 'proxy' Stargate at the same location (perhaps no longer a proxy since it was built at MaxPax's soon-to-be main base). Back at his original main, MaxPax used a Zealot and Probes to delay the cannons encroaching on his Nexus before simply warping them all away to his new base, which happened to finish right on time to minimize lost mining. Then, Oracles popped out to start harassing herO's Probe line, which actually put MaxPax ahead despite him starting the game by losing his main Nexus. Somehow, MaxPax even managed to expand faster than herO, who was committed to one base play after the unusual start. herO couldn't do any significant damage back to MaxPax before the expansion came online, and thus conceded defeat.
herO got his thunder back on Blackburn, beating MaxPax in the Phoenix wars that are typical on the map. While MaxPax stayed on two Stargates and tried to get the Phoenix range upgrade, herO went up to 3 Stargates to maximize his Phoenix count. This turned out to be a winning strategy for herO, as he was able to overwhelm MaxPax with sheer numbers before the upgrade could really kick in.
We saw the third proxy-Barracks of the week on Curious Minds, as
PSISTORM.SpeCial
started off with a cheese against
DPG.Dark
. Unlike the other Zergs, Dark Drone-scouted the proxy early, but SpeCial was still able to switch into a macro game fairly seamlessly. Roach-Ravager was Dark's army of choice, with Tunneling Claws added to try and cause some disruption as well. However, that tech choice actually ended up backfiring on Dark, as several of his Roaches were detected and easily killed. Thanks to the Roach pickoff, SpeCial was able to comfortably secure key expansions while also building a powerful army with a high proportion of Marauders and Tanks. The game reached the threshold where Roach-Ravager ceased to be effective against a Marauder-heavy army, and even Dark's addition of Infestors didn't help much. SpeCial used his more powerful army to contain Dark and take down key expansions, leaving Dark with no choice but to GG.
SpeCial seemed to have a chance to end the series by himself in game two on Pride of Altaris, as his 2-Stargate Battlecruiser + Marine drop build caught Dark somewhat off guard. However, Dark was able to keep his composure and survive the early scare without taking much economic damage, putting himself in a good position. Corruptors cleaned up Battlecruisers in the sky, and then turned into Brood Lords to force SpeCial to surrender.
PSISTORM went with
MaxPax
as their ace as one would expect, but DPG made the interesting choice to bring out
herO
instead of Dark or Rogue as their ace. The two players returned to Blackburn for the ace match, but this time, they didn't hurl themselves into another Phoenix War. Instead, herO took a fast Gold base and focused on Blink Stalkers, while MaxPax went for a 1-Stargate build while taking his natural expansion. While this situation should typically favor the player with the gold base, some Stalker misplacement from herO allowed MaxPax's harassing Oracle to ravage the Probes at herO's gold.
herO took so much damage that he felt compelled to immediately go all-in with his Blink Stalkers, which dealt a considerable amount of damage in return. However, considering that herO had stopped Probe production to go for the all-in, it wasn't nearly enough damage to even up the match. MaxPax eventually stabilized on defense, and a single DT sent to herO's main was enough to force the final GG.
Weekly MVP Award: KDF.Trap
The MVP race was fierce in Week 7 with three worthy candidates putting their hats into the ring.
KDF.Trap
was the only player who went 3-0 on the week, dragging the Freecs to a 4-3 win over Team GP in the process. However, it was a relatively 'soft' 3-0, earned by going 2-0 against Prince and winning the ace match against Ryung.
In comparison,
SR.Scarlett
only put up a 2-0 score, but it came against a stronger foe in Creator. With both of her teammates going 1-1, Scarlett's decisive victory over the Code S runner-up was what made the difference for the Rebellion.
Finally, there's
PSISTORM.MaxPax
who had the worst scoreline of 2-1, but arguably faced the hardest opponent. All of his games were played against herO, going 1-1 in their initial series and clutching out the ace match. Personally, I think Creator and herO should be rated at about the same level when judging win quality, though I'd understand fans who think Creator is a tad overrated after his surprise Code S finals run.
In the end, I decided to go with Trap as the weekly MVP. While I don't have an exact mathematical formula for how I weigh wins and losses, I think a perfect 3-0 against somewhat weaker opponents should outweigh a 2-0
most
of the time. Hypothetically, I would favor the 2-0 if it came against someone like Serral or Maru, but Creator doesn't quite clear that bar at this time.
Weekly MVP's:
Week 7: KDF.Trap

Week 6: NV.Bunny

Week 5: DPG.Rogue

Week 4: KDF.Armani

Week 3: GP.Ryung

Week 2: KZ.TIME

Week 1: SR.Harstem
Week 8 Preview
Friday, Jun 17 12:00pm GMT (GMT+00:00) Matches
Good Game Gaming vs Platinum Heroes

Dream < Glittering Ashes > FightingFrog
Nice < 2000 Atmospheres > Aqueron
Rattata < Hardwire > HateMe

Ace Match: < Curious Minds >
After four consecutive weeks of losing 0-6, the Heroes ended their streak last week against Liquid as HateMe managed to take a map. As usual, actually winning the match will be extremely difficult for the Heroes, but I think they have a decent chance of adding more map wins for their team.
Prediction: Good Game Gaming 5
- 1 Platinum Heroes
PSISTORM Gaming vs Team NV

MaxPax < Glittering Ashes > Bunny
Gerald < 2000 Atmospheres > DongRaeGu
SpeCial < Hardwire > NightMare

Ace Match: < Curious Minds >
First off, it's baffling that Team NV would leave Creator out of their line-up, especially against a dangerous mid-table team like PSISTORM. I have to assume there was a good out-of-game reason for Creator to take the week off, because I can't think of any competitive reason to do so.
Still, Team NV might be able to pull out a victory, even with such a key player missing. Bunny is scorching hot at the moment, and he gets to play MaxPax in his relatively weak match-up of PvT. Similar to Bunny, DongRaeGu has been playing very well as of late, and seems to have shored up a lot of the holes in his ZvP.
The key match-up could be SpeCial vs NightMare. If SpeCial is at 100%, then I think he's a big favorite to get the 2-0. However, he's been very inconsistent in the teamleague format—he came through with a huge win against Dark last week, but he also gives up ties to 'weaker' players more often than you'd like.
I think this series will go the distance, and end with Bunny winning the ace match over MaxPax.
Prediction: Team NV 4
- 3 PSISTORM Gaming
Saturday, Jun 18 12:00pm GMT (GMT+00:00) Matches
Team GP vs SSLT (瘦死骆驼)

Prince < Glittering Ashes > Firefly
Ryung < 2000 Atmospheres > Silky
Cham < Hardwire > Toodming

Ace Match: < Curious Minds >
With Team GP having given Platinum Heroes their only win of the season, SSLT should be licking their chops at this opportunity to get a win as well.
The first match of Firefly vs Prince might actually be advantage SSLT—how often have we been able to say that this season? Also, while Silky is certainly the underdog against Ryung, it does happen to be the match-up where Ryung struggles the most. Toodming is at a disadvantage against Cham as well, but ZvZ is one of the more upset-prone match-ups in StarCraft.
I'm going to predict Team GP to win, but by no means is it a resounding endorsement.
Prediction: Team GP 4
- 2 SSLT
Kwangdong Freecs vs Shopify Rebellion

KeeN < Glittering Ashes > ByuN
Trap < 2000 Atmospheres > Scarlett
soO < Hardwire > Lambo

Ace Match: < Curious Minds >
After quietly chugging along all season, the Rebellion have finally seized the #1 spot with their 'the whole is greater than the sum of the parts' approach to team building. I feel like they'll be able to keep their roll going in Week 8, in large part due to the Freecs' roster choices.
Believe it or not, but Armani has the Freecs' best win-loss record this season, standing at 10-5 compared to Trap's 6-5. While this doesn't necessarily mean Armani is better than Trap, he's at least proven that he's more reliable than the 0-8 KeeN. Yet, KeeN's still getting the start this week, and that bodes poorly against a strong TvT player like ByuN.
While I see Trap and Lambo having the advantage in the next two matches, the gap isn't so great that I could confidently predict a 2-0 for either player. Thus, I think the initial match will end up being the deciding one.
Prediction: Shopify Rebellion 4
- 2 Kwangdong Freecs
Sunday, Jun 19 12:00pm GMT (GMT+00:00) Matches
Dragon Phoenix Gaming vs Team Liquid

herO < Glittering Ashes > Kelazhur
Zest < 2000 Atmospheres > Clem
Cure < Hardwire > Elazer

Ace Match: < Curious Minds >
When I put the nail in TL's playoff coffin a few weeks ago, it was because I saw their matches against DPG and Team NV looming in the future. Well, TL, let's see if you can cheat death.
In this scenario, drawing herO onto Kelazhur might have been the best case scenario, as it resembles the classic Proleague
nonge
tactic of sacrificing your weakest player to the opponent's ace while focusing on winning the other matches. Also, Kelazhur is a strangely dangerous player to play the nonge role, as he's historically been a good map-taker as the underdog.
Clem vs Zest is the real must-win of the series for TL. Zest isn't the monster he was a few months ago, but anyone facing him has to be afraid that he'll randomly play like the best player in the world for an hour. As for Elazer, it's too much to ask him to go steal the 2-0 against Cure, but he has a reasonable chance of forcing a tie if it comes down to Pride of Altaris.
Ultimately, I'm going to predict TL to stay in the grave, but Clem might make me eat my words.
Prediction: Dragon Phoenix Gaming 4
- 2 Team Liquid
KaiZi Gaming vs Alpha X

Solar < Glittering Ashes > RagnaroK
Spirit < 2000 Atmospheres > Astrea
Reynor < Hardwire > Zoun

Ace Match: < Curious Minds >
KaiZi gaming are unlucky to be in fourth place with a 6-1 record, but they could change that with a decisive victory against Alpha X.
The first match definitely works in KaiZi's favor, with Solar looking like a solid favorite against RagnaroK. The Alpha X Zerg is in the midst of one of the best stretches of his career, but it's largely due to his strong ZvT and ZvP. His ZvZ lags behind in comparison, and even taking a map could be tough for him here.
Astrea vs Spirit is the only match Aligulac.com sees as favoring Alpha X, but it's not by a huge margin. I also think this one is pretty hard to call, and a 1-1 feels like the most likely outcome.
Finally, the Italian powerhouse Reynor seems like an enormous favorite against Zoun, with the only mitigating factor being "Alpha X doing Alpha X things in teamleague." However, that's a mighty significant X-factor indeed (Alpha X-factor?), and it's done wonders for Zoun and Alpha X in the past. Reynor himself has already felt how easy it is to get 1-1'd in WTL, when he was forced into a tie by the allegedly poor ZvZ player DRG.
Given the match-ups, I'll still be predicting KaiZi Gaming to win, but I'll also be hoping that WTL weirdness forces this to an exciting ace match.
Prediction: KaiZi Gaming 4
- 2 Alpha X
---
Credits and acknowledgements

Writer: Wax
Stats: Aligulac.com & Liquipedia
Images: SCBoy