World Team League - 2022 Summer Season
by: Wax
[Unfortunately we can only offer a truncated article this week, without the usual match recaps. Regular coverage will resume next week.]
Week 6 saw Team NV vs Dragon Phoenix Gaming deliver the thriller we had all hoped for, with the clash between title contenders going all the way to the ace match. In an unexpected twist, it was
NV.Bunny
who put in a truly heroic performance to take Team NV over the top. After defeating Dark 2-0 in the initial matches, he defeated Rogue in the ace match to secure victory for his team. DPG seemed to have another WTL title nearly locked up at the start of the season, but things are looking much more interesting now.
The second most interesting result of the week was SSLT's (瘦死骆驼) defiant stand against the Shopify Rebellion. Early on, SSLT seemed doomed to follow in the steps of the previous all-Chinese squad in Invictus Gaming, becoming punching bags for the rest of the league. However, they put up great resistance in two straight matches, forcing an ace-match against the Kwangdong Freecs in week 5 and taking two maps off Shopify in week 6. Can the 'starved camels' quench their thirst with a victory before the season is over?
Circling back to Bunny—he wasn't the only surprise hero of the week. Team Liquid got their expected win over Good Game Gaming, but it wasn't the debuting Elazer or ace player Clem who shined. Nope, it was actually Kelazhur who decided the series, taking a 2-0 over Rattata while his teammates only managed 1-1's. Similarly, soO came up big for the Kwangdong Freecs after some disappointing showings early on in the season, with his 2-0 over MaxPax being the decider in the Freecs' win over PSISTORM Gaming. Perhaps it's not the biggest surprise considering how great soO was in the past, but it felt like an upset for a player who's just two months returned from military service.
Week 6 Results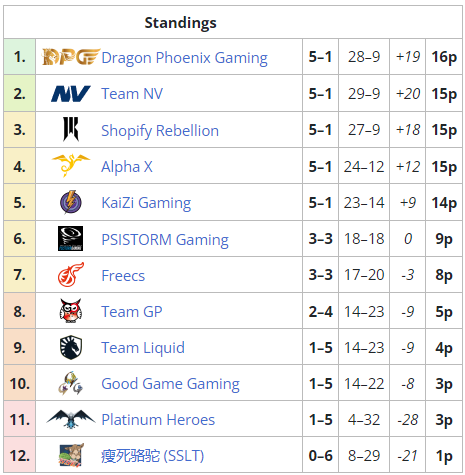 Top 7 teams qualify for the playoffs.
Points are awarded as follows:

3 points for a victory in a series that does not require an ace match

2 points for a victory in a series that requires an ace-match

1 point for a loss in a series that requires an ace-match

0 points for a loss in a series that does not require an ace match
Dragon Phoenix Gaming 3 - 4 Team NV
Watch VOD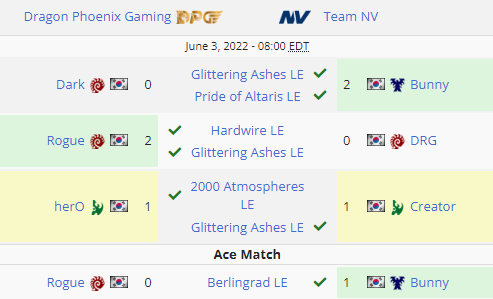 Shopify Rebellion 4 - 2 SSLT (瘦死骆驼)
Watch VOD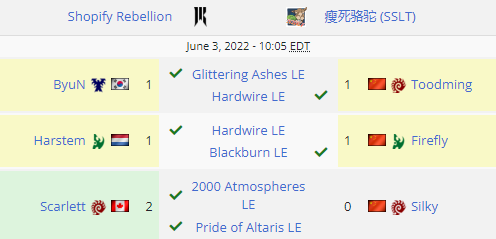 Alpha X 6 - 0 Platinum Heroes
Watch VOD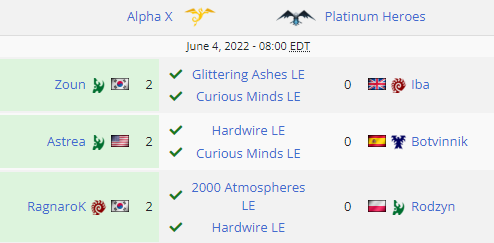 Team Liquid 4 - 2 Good Game Gaming
Watch VOD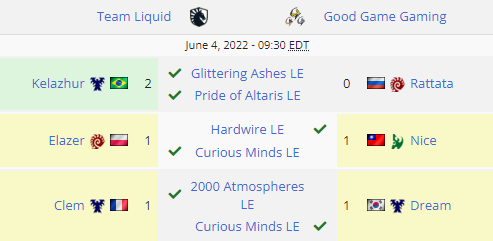 KaiZi Gaming 4 - 2 Team GP
Watch VOD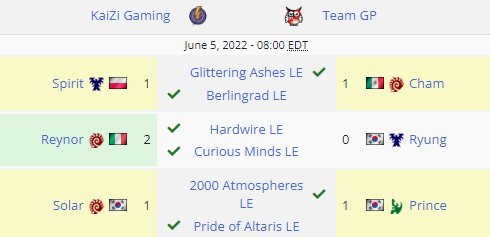 Kwangdong Freecs 4 - 2 PSISTORM Gaming
Watch VOD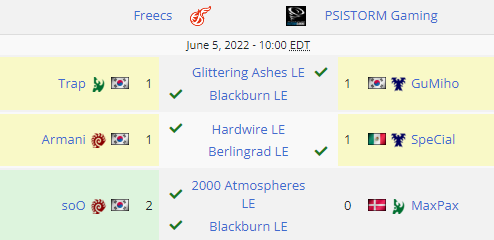 Weekly MVP Award: NV.Bunny
When you 2-0 Dark and 1-0 Rogue, you get the weekly MVP award. I'm assuming no one is going to argue.
Weekly MVP's:
Week 6: NV.Bunny

Week 5: DPG.Rogue

Week 4: KDF.Armani

Week 3: GP.Ryung

Week 2: KZ.TIME

Week 1: SR.Harstem
Week 7 Preview
Friday, Jun 10 12:00pm GMT (GMT+00:00) Matches
Team GP vs Kwangdong Freecs

Ryung < Pride of Altaris > KeeN
Prince < Berlingrad > Trap
Cham < Curious Minds > Armani

Ace Match: < Blackburn >
According to Aligulac, Team GP have drawn a pretty solid hand in terms of the match-ups. Ryung is slightly favored against KeeN, Cham is actually quite strongly favored against Armani (68% chance to win), while Trap vs Prince is the only positive match-up the Freecs have.
This feels like it's headed to an ace match, where we could get a really nice TvP between Trap and Ryung. While I give Trap the small edge there, Ryung has won enough big TvP matches in the last few months that makes this a potentially dangerous match for the Freecs.
Prediction:
Team GP 3 -
4 Kwangdong Freecs
Good Game Gaming vs KaiZi Gaming

Dream < Pride of Altaris > Spirit
Rattata < Berlingrad > TIME
Nice < Curious Minds > Reynor

Ace Match: < Blackburn >
While Dream and TIME have small edges in the first two matches, it feels almost like a foregone conclusion that Reynor is going to crush Nice in the third match. Considering the fact that he should have the advantage against any potential ace opponent as well, I see this going KaiZi's way in the end.
Prediction:
Good Game Gaming 2 -
4 KaiZi Gaming
Saturday, Jun 11 12:00pm GMT (GMT+00:00) Matches
SSLT (瘦死骆驼) vs Alpha X

Silky < Pride of Altaris > Zoun
Toodming < Berlingrad > Astrea
Firefly < Curious Minds > RagnaroK

Ace Match: < Blackburn >
I love the grit SSLT have been showing over the past few weeks, but I can only give them enough credit to steal a map or two here. One thing to note is that it's Pride of Altaris week here in the WTL, and SSLT were one of the few teams to benefit from the random map reveal by drawing a Zerg onto the much-hated map (that's worth 0.5 wins in my calculation).
Prediction:
SSLT 1 -
5 Alpha X
Platinum Heroes vs Team Liquid

Botvinnik < Pride of Altaris > Elazer
HateMe < Berlingrad > MaNa
Rodzyn < Curious Minds > Clem

Ace Match: < Blackburn >
Platinum Heroes have now gone 0-6 in five out of six matches this season, and I don't know that the trend is going to end here. MaNa's been having a pretty rough time this season, however, so that might be where SSLT recover a point.
Also, shame on the Heroes for benching FightingFrog for two straight weeks, depriving me of opportunities to attempt additional awkward amphibian alliterations.
Prediction:
Platinum Heroes 1 -
5 Team Liquid
Sunday, Jun 12 12:00pm GMT (GMT+00:00) Matches
Team NV vs Shopify Rebellion

DongRaeGu < Pride of Altaris > ByuN
Creator < Berlingrad > Scarlett
Bunny < Curious Minds > Harstem

Ace Match: < Blackburn >
Everyone on Team NV seems to be on a roll at the moment. DRG continued his streak of being an absolute upset machine in 2022, eliminating Rogue from Code S. Creator, of course, recently finished second place in the GSL. Finally, Bunny seems to be in tremendous form after recovering from a broken/fractured wrist, defeating Rogue and Dark in last week's match against DPG.
Shopify are going to have to summon all of their team league magic from last season in order to win here.
Prediction: Team NV 4
- 2 Shopify Rebellion
Dragon Phoenix Gaming vs PSISTORM Gaming

Zest < Pride of Altaris > GuMiho
herO < Berlingrad > MaxPax
Dark < Curious Minds > SpeCial

Ace Match: < Blackburn >
If DPG were looking to get an emphatic bounce back win after last week's loss to Team NV, then they might have another thing coming. The inconsistent Zest wasn't particularly convincing in PvT during his latest Code S outing, which might make him vulnerable against a very solid TvP player in GuMiho. herO vs MaxPax is basically 50/50, with the pair of Protosses currently topping the PvP rankings on Aligulac (herO is #1 at the moment). Dark vs SpeCial feels like the only 'safe' win for DPG at the moment, but after what happened to Dark last week, it's hard to feel 100% confident.
I think DPG will rally and win, but it could be a struggle.
Prediction: Dragon Phoenix Gaming 4
- 2 PSISTORM Gaming
---
Credits and acknowledgements

Writer: Wax
Stats: Aligulac.com & Liquipedia
Images: SCBoy