World Team League - 2022 Summer Season
by: Wax
Week 5 featured the tightest competition so far this season, with two matches going all the way to the ace match. Title contenders KaiZi Gaming and Team NV brawled to a near standstill, with Reynor making the difference in a key ace-match victory over Creator. The other full-length bout was quite the surprise, as underdogs SSLT punished Kwangdong Freecs for their hubris of resting Trap. While Firefly wasn't able to pull off a shocking ace match win against Armani, SSLT still did well to get their first point of the season.
We might see even more close contests in Week 6, which is headlined by a monumental clash between DPG and Team NV. Maru's departure has clearly weakened Team NV, but a strong performance here would prove that they're still very much in contention for the championship.
Another thing to keep an eye on is the contest between Kwangdong Freecs, Team GP, and Good Game Gaming for the seventh and final playoff spot. Freecs have a tentative grasp on that post-season ticket for now, but it's far from secure as they go up against PSISTORM Gaming in week 6.
Week 5 Results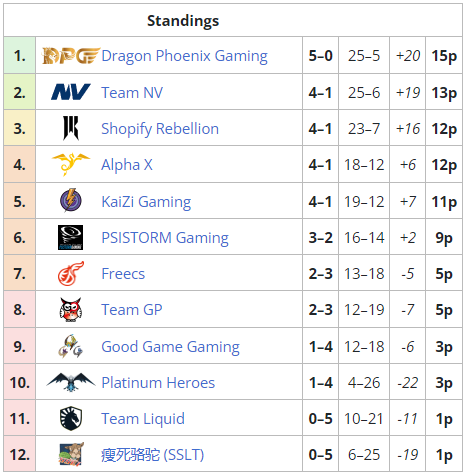 Top 7 teams qualify for the playoffs.
Points are awarded as follows:

3 points for a victory in a series that does not require an ace match

2 points for a victory in a series that requires an ace-match

1 point for a loss in a series that requires an ace-match

0 points for a loss in a series that does not require an ace match
Team Liquid 1 - 5 Shopify Rebellion
Watch VOD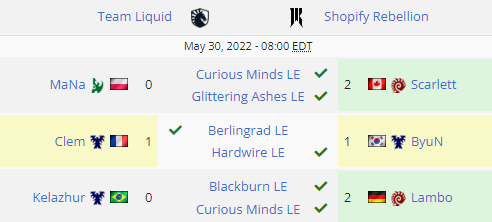 TL's fifth loss of the season effectively removed them from the playoffs race, with avoiding relegation now looking like the more pressing goal.
SR.Scarlett
got the ball rolling with a 2-0 against
Liquid`MaNa
, running over him with mass Hydra-Bane in game one and using a Hydra-Roach composition to clinch victory in game two.
Liquid`Clem
took Liquid's only map of the series in a late-game brawl against
SR.ByuN
, with his superior Siege Tank positioning and maneuvering being the key to victory. However, ByuN proved to be fleeter of foot in game two, with his aggressive early/mid-game tank push earning him the 1-1 draw.
SR.Lambo
then took the series-clinching fourth map against
Liquid`Kelazhur
on Blackburn, playing the standard Ling-Bane ZvT style and smashing Kelazhur's bio army in head-on confrontations. Lambo then took another map for good measure, deflecting Kelazhur's 2-Rax Reapers and countering with a Ling-Bane all-in for a quick victory.
PSISTORM Gaming 6 - 0 Platinum Heroes
Watch VOD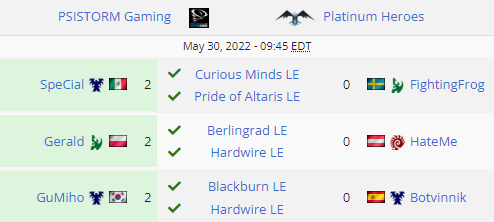 PSISTORM.SpeCial
began the beatdown with a 2-0 over
PH.FightingFrog
in some fairly straight-forward games. The weaponized webfoot tried to play the standard Phoenixes-into-Colossi style both times, but couldn't get over the mid-game hump and collapsed against SpeCial's Bio + Viking attacks.
PSISTORM.Gerald
then made it 4-0 with convincing victory over
PH.HateMe.
Game one saw the Austrian Zerg try to win in a battle of brute force with Roach-Ravager, only to be outgunned by Gerald's superior Disruptors + random stuff composition. Gerald then finished the job in game two with a Dark Templar rush, forcing a quick surrender after HateMe bungled his defense.
The series ended with
PSISTORM.GuMiho
completing the shutout, handing Platinum Heroes their fourth 0-6 loss in five matches.
PH.Botvinnik
scouted out and defended against GuMiho's proxy-Barracks Marauder rush in game one, but couldn't hold against the ensuing Cyclone harassment + Tank push combo. Cyclones were big for GuMiho in game two as well, as he used the Mag-Field Accelerator upgrade to control the map in the mid-game before finishing Botvinnik off with another Tank push.
Kwangdong Freecs 4 - 3 SSLT (瘦死骆驼)
Watch VOD (starts at 1 hour mark) - Part 2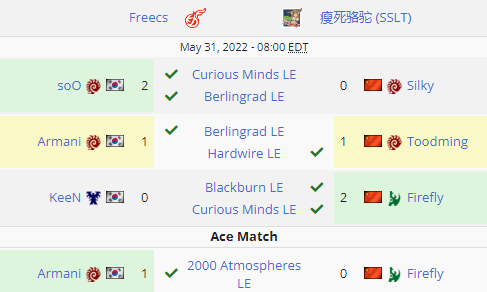 Last week, Team NV rested ace player Creator against Platinum Heroes and still took a 6-0 victory. SSLT refused to suffer a similar insult against the Kwangdong Freecs, making them pay for resting Trap by forcing them all the way to an ace match.
You wouldn't have expected such a heroic stand from SSLT by the way things started off. Fresh off of his two week suspension,
SSLT.Silky
suffered a 0-2 at the hands of
KDF.soO
in the first series. soO overpowered Silky with mass Roach-Ravager in game one, and then took a quick victory in game two with an early Ling-Bane all-in.
KDF.Armani
then made it 3-0 in the following game, getting some enormous early-game Baneling hits on
SSLT.Toodming's
Zerglings and coasting to victory to there. But despite the situation seeming hopeless, Toodming steeled himself and started the comeback for SSLT. The Chinese Zerg ended up outplaying Armani in a Roach-Ravager duel on Hardwire—a rather amusing outcome for a player whose season had been marked by early-game struggles and failed all-ins so far.
SSLT.Firefly
continued the rally on Blackburn, using a double-forge, mass-Gateway unit style to overwhelm
KDF.KeeN.
The approach in game two seemed to be 'why change what works?' Firefly continued to trust in a well-upgraded Zealot-Stalker army, using it to deflect KeeN's two-base all-in and secure the series tying point at 3-3.
With Trap seemingly unavailable for emergency ace duty, it fell on
KDF.Armani
to save the day in the ace match. As for SSLT, it was no surprise that
SSLT.Firefly
was given the task of trying to close things out. The two aces decided to play it safe at first on 2000 Atmospheres, with Firefly opening with light Oracle harassment into ground play, while Armani played the standard reactive, macro Zerg style.
Armani gave things a minor twist once he had a solid economic base, mixing Swarm Hosts into his Roach-Ravager army (a composition we're seeing more often lately). Initially it seemed like this move would backfire on Armani, as his first wave of Locusts achieved almost nothing due to a timely Battery Overcharge from Firefly. However, Firefly couldn't capitalize on his window to counter-attack, partially due to messy unit control and partially due to poor macro that left him unable to convert his considerable bank into units. This reprieve was all Armani needed to get the Swarm Host pain train started, and he was soon able to batter Firefly down with endless waves of Zerg units.
Dragon Phoenix Gaming 5 - 1 Alpha X
Watch VOD (starts at 46 minutes)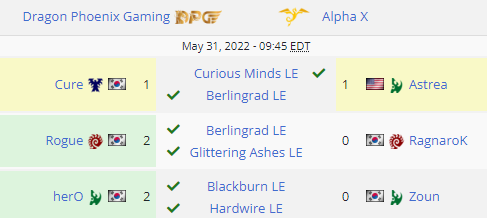 Alpha X have been a thorn in Dragon Phoenix Gaming's side throughout the history of the SCBOY team leagues, but this latest regular season bout saw the super-team take care of business in convincing fashion.
At least the start seemed good for the Golden Dragons, with
αX.Astrea
taking the first map off
DPG.Cure.
The DPG Terran was in control for much the 24-minute game, taking expansions at will and pinning Astrea down into a defensive position. However, the game abruptly swung in Astrea's favor when Cure erred by launching a reckless attack. Astrea left some of his bases wide open due to mispositioning his troops, but this turned into an unintentional bait of sorts as it drew Cure's army deep into Protoss territory. Astrea did lose some bases, but it was well worth it as he was able to destroy a considerable chunk of Cure's army. Astrea played ruthlessly once he had the army lead, keeping up the pressure until Cure was forced to GG.
That game one victory was the highlight of Alpha X's night, as DPG would go on to win five straight maps from there. Cure got his revenge on Astrea on Berlingrad, following a successful early-game drop with a Marine-Tank push to tie the series.
DPG.Rogue
continued to get a quick 2-0 against
αX.RagnaroK
in a series where both players' aggressive tendencies were on display. Game one on Berlingrad saw RagnaroK go for a Nydus-Roach all-in, only to have his Roaches crushed by Rogue's Ling-Ravager. Rogue played Ling-Ravager again in game two, and once again managed to overpower his Roach-based opponent during the window where mass Zerglings are still effective.
DPG.herO
finished the job with another fast 2-0 against
αX.Zoun
. Game one on Blackburn saw herO get away with a fast gold base, which he used to power a Phoenix + Gateway units attack that ended the game in short order. The next game on Hardwire saw both players go for proxy Oracles, but featured herO executing significantly better. Not only did Zoun fail to dodge a crucial Stasis Trap in his Probe line, but he accidentally walled his Stalkers out of his main while trying to respond to Adept harassment from herO. This led to herO getting a ton of damage done with his Oracles while taking almost no damage himself, which in turn led to Zoun giving an early GG without even trying to fight.
KaiZi Gaming 4 - 3 Team NV
Watch VOD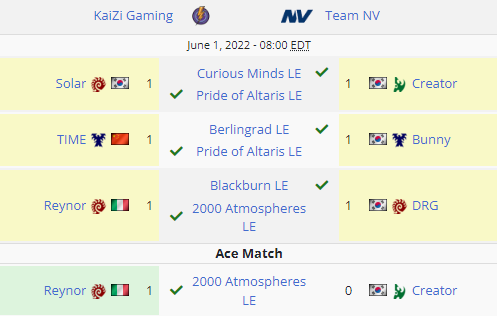 This duel between the two title contender teams went down to the wire, with KaiZi narrowly winning thanks to their newly acquired ace Reynor.
The opening bout saw
NV.Creator
and
KZ.Solar
get into a fierce land war on Curious Minds where plenty of blood (or whatever the Protoss equivalent of blood is) was spilt on both sides. Unfortunately for Solar, he found himself stuck on Roach-Ravager-Bane while Creator's force became more and more advanced, and he ultimately had to GG out against his opponent's superior firepower. However, Solar still had Pride of Altaris as a bailout card and managed to get a 1-1 tie on his way out. He secured a fast gold base early on, and then used it to power the Roach-Ravager + Queen drop timing that won him the game.
NV.Bunny
and
KZ.TIME
also found themselves fighting their way to a 1-1 tie. Game one demonstrated how a little map control can snowball hard in TvT, with Bunny's early-game Hellions paving the way for a 'free' Tank push on TIME's third base a few minutes laters. TIME was forced to pull SCV's in a disastrous defensive battle, taking heavy casualties that ended up losing him the game. TIME got Bunny back with a different kind of snowballing victory in game two, inflicting heavy damage with a 2-Barracks Reaper rush and riding his advantage out to a win from there.
Despite Aligulac ratings painting
NV.DongRaeGu
as a heavy underdog against
KZ.Reynor
, the veteran Korean Zerg once again showed his knack for stealing ZvZ upsets in game one on Blackburn. DRG's fast gold expansion went unpunished, which gave him the income needed to execute a powerful Roach-Bane strike. Reynor barely survived against the first wave of attackers but had to GG out against DRG's continued onslaught. DRG tried to be the aggressor once more on 2000 Atmospheres, but perhaps due to the lack of gold minerals, he couldn't crack Reynor's defenses this time around. The Italian Zerg jumped ahead to a huge economic lead after thwarting DRG's early attacks, enabling him to easily win with mass Roaches later on.
Both teams decided to play it straight in the ace match, sending out the expected ace players in
KZ.Reynor
and
NV.Creator.
The two players geared up for an honorable duel on 2000 Atmospheres, with neither doing anything particularly tricky or aggressive in the early-game. Creator built up his favored ground based army based around Gateway units backed by Archons, Immortal, and Colossus. On the other hand, Reynor went for the swarming style he's played so well throughout the years, looking to overwhelm Creator with mass Roach-Ravager-Bane.
Reynor turned out to be the better player on the day, managing to hamstring Creator with his first major offensive. Creator's defensive multi-tasking faltered against a two-prong attack from Reynor, losing several Probes to a Baneling runby and also losing his key fourth base due to some slow reactions. While Creator was able to clean up the initial Zerg army, his crippled economy left him unable to sustain a continued fight. The second wave of Zerg forces were far too numerous for Creator to handle, and he GG'd out to give KaiZi Gaming the victory.
Team GP 4 - 2 Good Game Gaming
Watch VOD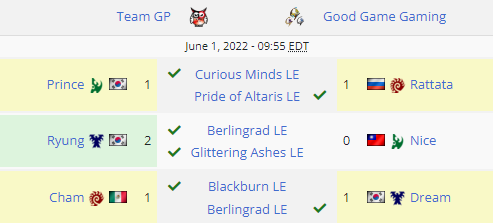 Team GP put in a solid performance where they looked like the scrappy underdog squad from last season, taking a 4-2 victory over Good Game Gaming.
GP.Prince
opened up by taking the first map off of
GGG.Rattata
, inflicting early-game damage with Glaive-Adepts and carrying that advantage to a mid-game victory. Rattata responded with the standard Zerg strategy of "pick Pride of Altaris and take the gold base," using the extra additional income to make enough Roach-Ravager-Queen to bludgeon Prince into submission.
Next up for Team GP was
GP.Ryung
, who put in an ace-worthy performance with a 2-0 against
GGG.Nice
. Ryung clinched the first map with a powerful two-base Marine-Tank push, where he deftly handled a backdoor Zealot attack while continuing to push forward on offense. Game two was also decided upon Ryung's first major attack, with his bio running over Nice's defenses before his crucial Chargelot upgrade was complete.
After a rough first four weeks where he only put up a 1-7 record,
GP.Cham
came through in a big way in week 5 by winning the series clinching map against
GGG.Dream.
The GGG ace put Cham against the ropes with aggressive 2-base play on Blackburn, but Cham managed to weather the storm and stabilize into an advantageous position. With the superior economy in hand, Cham massed an overwhelming force of Roach-Ravager-Bane and wrested the deciding GG out of Dream's hands.
While the series was already lost for his team, Dream didn't seem like he was in any hurry to sign off as he invited Cham to a late-game wrestling match on Berlingrad. The game had the makings of a 30+ minute slog at one point, but an abrupt semi-basetrade saw Dream clinch victory at just after the 22 minute mark.
While this might be a surprise award in a week that had two ace matches, but I think Rogue is the obvious MVP for his 2-0 over RagnaroK in DPG's victory against Alpha X. Whatever you think of RagnaroK in individual tournaments, there's no question that he's an especially strong player in the WTL. In fact, he was clearly the best player for Alpha X last season, and a big part of their respectable fourth place finish. Rogue's 2-0 victory against Alpha X's biggest threat is why DPG was able to win such a convincing victory this season, instead of struggling against the golden dragons like they have so many times in the past.
As for Reynor and Armani, our two ace match winners of the week, I can't really give them much credit. The reason they had to play ace matches in the first place was because they gave up 1-1's against weaker players—Reynor dropping a map to DRG (a pretty bad loss if we're just going by Aligulac rating), and Armani tying against Toodming.
Weekly MVP's:
Week 5: DPG.Rogue

Week 4: KDF.Armani

Week 3: GP.Ryung

Week 2: KZ.TIME

Week 1: SR.Harstem
Week 6 Preview
Friday, Jun 03 12:00pm GMT (GMT+00:00) Matches
Dragon Phoenix Gaming vs Team NV

Dark < Glittering Ashes > Bunny
Rogue < Hardwire > DongRaeGu
herO < 2000 Atmospheres > Creator

Ace Match: < Berlingrad >
Team NV were always going to be hard pressed to beat DPG without Maru, but they've drawn some unfortunate match-ups to make things even more difficult.
It's brutal for them off the bat, with arguably Korea's best ZvT player in Dark going up against a merely respectable TvZ player in Bunny. Rogue vs DongRaeGu is also a horrendous mismatch if you go by Aligulac rating, but Rogue's inconsistency + DRG's knack for upsetting people in ZvZ actually makes this the one good draw for Team NV in my opinion. DRG's still the underdog here, but I think he has a decent chance of stealing a map here.
However, the series turns against Team NV once more in the final match, with Creator having to play his worst match-up of PvP against herO. While Creator did play some fantastic PvP when he was preparing intensely for his Code S matches, his 'day-to-day' level of PvP lags behind his PvT and PvZ. All in all, I think this will be another comfortable victory for our reigning champions.
Prediction: Dragon Phoenix Gaming 5
- 1 Team NV
Shopify Rebellion vs SSLT (瘦死骆驼)

ByuN < Glittering Ashes > Toodming
Harstem < Hardwire > Firefly
Scarlett < 2000 Atmospheres > Silky

Ace Match: < Berlingrad >
I'm not going to overreact to SSLT's surprise 3-4 result against Kwangdong Freecs, considering that they still have the second worst map point differential in the league. Right now, it seems more reasonable to conclude that KeeN is a worse TvP player than I had expected, rather than say SSLT are underrated.
Still, with two mirror matches on the docket, SSLT might make Shopify sweat a little before it's all said and done.
Prediction: Shopify Rebellion 5
- 1 SSLT
Saturday, Jun 04 12:00pm GMT (GMT+00:00) Matches
Alpha X vs Platinum Heroes

Zoun < Glittering Ashes > iba
Astrea < Hardwire > Botvinnik
RagnaroK < 2000 Atmospheres > Rodzyn

Ace Match: < Berlingrad >
With each passing week, Platinum Heroes' 4-2 win over Team GP in week 2 is seeming more and more like an outlier. Besides that one victory, the Heroes haven't been able to win a single map in their other four matches. That one anomalous victory against Team GP might keep Platinum Heroes from finishing last in the final standings, but I'm getting a bad feeling that they're going to be last place in terms of map-differential.
Interestingly enough, the Heroes are fielding a new player in

iba
this week, which would give them a league-high six unique players deployed. That probably won't have any bearing on the outcome of this match—I just thought that was an amusing factoid.
Prediction: Alpha X 6 - 0 Platinum Heroes
Team Liquid vs Good Game Gaming

Kelazhur < Glittering Ashes > Rattata
Elazer < Hardwire > Nice
Clem < 2000 Atmospheres > Dream

Ace Match: < Berlingrad >
The playoffs are basically a pipe dream at this point for Liquid; the new goal is "get an actual win," followed by "don't get relegated." Now that Elazer is finally eligible to play, and has been in pretty good form on top of that, I doubt either goal will be hard to reach. In fact, I can see TL achieving an impressive second half turnaround that ends up being too little, too late.
Elazer might actually have to carry the team in his debut bout as he's the only one who has a clear advantage in the match-ups. Kelazhur and Rattata is a pretty even match on paper, while Clem's TvT weakness in the WTL makes him a liability against Dream.
I'm going to say 'beginner's luck' will go TeamLiquid's way, with Elazer securing a 2-0 to help his new team to their first win of the season.
Prediction: Team Liquid 4
- 2 Good Game Gaming
Sunday, Jun 05 12:00pm GMT (GMT+00:00) Matches
KaiZi Gaming vs Team GP

Spirit < Glittering Ashes > Cham
Reynor < Hardwire > Ryung
Solar < 2000 Atmospheres > Prince

Ace Match: < Berlingrad >
KaiZi might have been a victim to Team GP magic last season, but it looks like they might exact some brutal vengeance in this season's rematch.
It's encouraging that Cham got a big ZvT map win against Dream last week, but he's still an underdog against Spirit whose TvZ is still his best match-up according to Aligulac. Cham has mostly tried to play macro ZvT's so far this season, but I think it might be prudent for him to take a more aggressive approach against a strong late-game player like Spirit.
Drawing Reynor against Ryung is an absolute backbreaker for Team GP, with their ace player likely to suffer a 0-2 loss. One thing to keep in mind is Ryung's fondness for 2-base all-ins against stronger opponents—it might just pay off if Reynor plays too riskily (as he is prone to doing) and Drones excessively hard.
Finally, Solar should be a strong favorite against Prince, but perhaps not the 2-0 lock I'd have seen him as a few months ago. He's been surprisingly shaky in PvZ ever since the Void Ray patch, seemingly struggling to find his footing in the new meta.
Prediction: KaiZi Gaming 5
- 1 Team GP
Kwangdong Freecs vs PSISTORM Gaming

Trap < Glittering Ashes > GuMiho
Armani < Hardwire > SpeCial
soO < 2000 Atmospheres > MaxPax

Ace Match: < Berlingrad >
Trap is back in the line-up, but victory is hardly assured for the Freecs. You'd love for your ace player to have a 2-0 victory locked down, but Trap has drawn a tricky opponent in GuMiho. For all of GuMiho's troubles since returning from military service, he's been oddly strong against Trap, even taking a 2-0 against him in the most recent Code S tournament.
The ex-roommate derby between Armani and SpeCial feels like a match that's almost dead even—if either team takes a 2-0 win here, that would give them a massive edge.
Finally, soO vs MaxPax has to favor PSISTORM Gaming considerably. Despite qualifying for the next Code S Season, soO has yet to really impress us since his return from the military. I think MaxPax is too patient and shrewd to get sucked into the bloody mid-game brawling that soO prefers, and he should be able to take a 2-0 victory.
While I'm going to predict PSISTORM Gaming to win 4-2, I do think there's a decent chance this goes to an ace match. In that case, I still have to give PSISTORM the edge. MaxPax has an advantage against anyone the Freecs might field, and especially against Trap given the Danish Dynamo's mastery of PvP.
Prediction: PSISTORM Gaming 4
- 2 Kwangdong Freecs
---
Credits and acknowledgements

Writer: Wax
Stats: Aligulac.com & Liquipedia
Images: SCBoy