World Team League - 2021 Winter Season
by: Wax
After eight rounds of utter chaos, it felt like things were actually starting to wrap up in week nine of the WTL. There were no ace matches for the first time in three weeks as the favorites comfortably carried the day. The playoff picture started to come into focus, with it looking like Team GP, Team Liquid, and Afreeca Freecs will be contending for the seventh and final playoff spot.
Of course, considering how things have gone so far, there's every chance that things go bats*** crazy yet again in week ten. Make sure to tune into the final two weeks of the WTL regular season to see if things come to an orderly conclusion, or if there's drama until the very end.
Week nine matches will be played on Dec 14-16, returning to a schedule where two matches are played per day. Each match will start at 12:00 GMT (+00:00).
Week 9 Results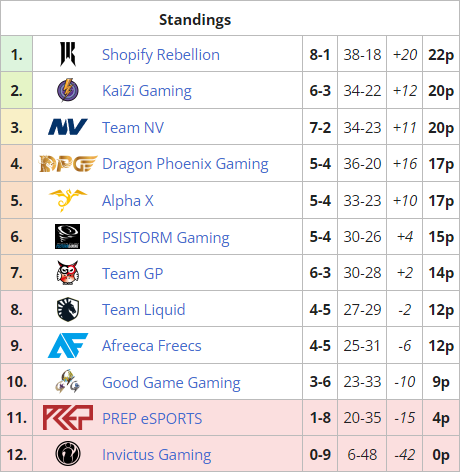 Top 7 teams qualify for the playoffs.
Points are awarded as follows:

3 points for a victory in a series that does not require an ace match

2 points for a victory in a series that requires an ace-match

1 point for a loss in a series that requires an ace-match

0 points for a loss in a series that does not require an ace match
Team NV 5 - 1 Shopify Rebellion
Watch VOD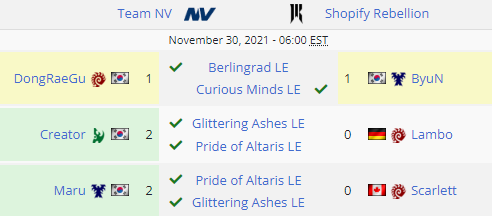 Shopify's undefeated run was finally ended in week nine as they were routed in a one-sided bout by the reigning champions Team NV.
SR.ByuN
started his series against
NV.DongRaeGu
by trying his signature build from a bygone era, going for 3-Rax Reapers off of one base. For a few moments, it seemed like ByuN had gone back to 2016 where he could out-micro any Zerg to death with the deadly cheese—unfortunately for ByuN, that nostalgic reverie was shattered when his Reapers dived too far into Zerg territory and were enveloped by Zerglings. ByuN opted for more conventional tactics in game two, opening with Banshees and a Hellbat push on the ground. While his early-game harassment wasn't very effective, his execution on the follow-up Marine-Tank push was good enough to defeat DRG anyway.
SR.Lambo's
track record against Korean Protosses is quite impressive, but it was
NV.Creator's
time to shine in this pivotal match. Creator took a one-sided win to start on Glittering Ashes, thanks to Lambo reacting a tad too slowly against mass Glaive Adepts after a Void Ray opener. Glaive Adepts were the Creator's key to victory in game two as well, as he loaded up for a big attack after Lambo took a fast gold base on Pride of Altaris. Exploiting some mispositioning/late Roach production on Lambo's end, Creator was able to smash through the Zerg defenses and take a vital 2-0 victory.
With his teammates having set the table beautifully,
NV.Maru
cleaned up as expected against
SR.Scarlett.
The series-clinching victory was rather anticlimactic—Maru followed a non-committal 2-Rax cheese with a fast Hellion drop, which caught Scarlett totally off guard to deal fatal Drone damage. With the series already decided in Team NV's favor, the two players went on to play a standard macro game on Glittering Ashes. Despite Scarlett's best efforts, her Muta-Ling-Bane play wasn't quite enough to withstand Maru's aggressive infantry pushes and she was eventually worn down.
Alpha X 5 - 1 PREP eSPORTS
Watch VOD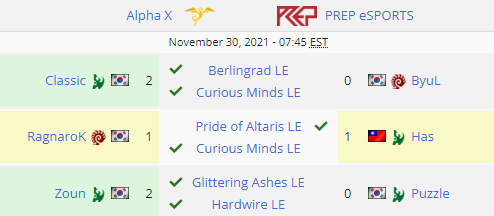 PREP eSPORTS became the second team to be officially knocked out of playoff contention with a 1-5 loss to Alpha X.
αX.Classic
got the ball rolling against
PREP.ByuL
, pulling out a peculiar 2-Stargate Tempest build on Berlingrad. ByuL tried to counter with a Hydra-Queen timing, but his Hydras and Queens ended up taking brutal chip damage from Tempests during their excruciatingly slow march across the map. Classic had no trouble defending and went on to win with a Skytoss + Templar army. Classic opted for a more typical version of 2-Stargate in game two, cranking out Voids initially and going into mass Gateway units. ByuL tried to counter with an 8-minute version of a Queen-walk, which ended up hitting after Classic already had Gateway production online. Classic was able to hold off the attack, and then rallied his forces for a winning counter-attack.
Next, it was time for
PREP.Has
to get his customary point on the board as he faced off against
αX.RagnaroK
. Has attempted a risky gold-mineral expansion on Pride of Altaris, which RagnaroK looked to stop with a Zergling-Baneling all-in. However, Has' great building placement allowed him to just barely hold off the attack, and his superior economy let him easily crush RagnaroK a few minutes later. RagnaroK got his revenge in game two, however, as he seemed completely unimpressed by Has' 2-Stargate Phoenix build. After absorbing some minor damage from the Protoss flyers, he simply attacked with a huge force of Corruptors, Queens, and Roaches that Has had no answer for.
αX.Zoun
then clinched the W for Alpha X against
PREP.Puzzle
, beating him in a fairly standard macro game on Glittering Ashes. His faster +2 attack timing combined with superior positioning allowed him to prevail in the first major Zealot-Stalker-Archon-Immortal fight, forcing Puzzle to GG out. Zoun then won an additional map to end the series (which might come in handy during ranking tiebreakers), going for a fast expansion and successfully holding off a 3-Gate Blink all-in from Puzzle.
PSISTORM Gaming 6 - 0 Invictus Gaming
Watch VOD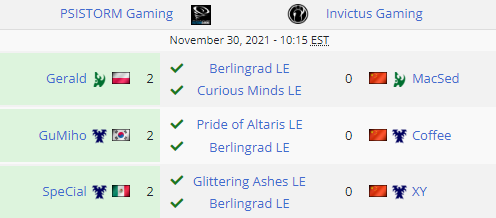 Despite resting ace player MaxPax, PSISTORM Gaming were still able to win all six maps against Invictus Gaming to maximize their chances of earning a playoff spot.
PSISTORM.Gerald
got the first two points on the board for his team with a clean takedown of
iG.MacSed
. Both games were relatively standard PvP's that saw both players build large ground armies off of three bases, with Gerald winning by taking the superior position in the critical engagements.
iG.Coffee
tried to cheese his way to a map win against
PSISTORM.GuMiho
, going for a 2-Barracks proxy-Reaper build. However, GuMiho executed a near-perfect defensive hold, which caused Coffee to GG without even bothering to try and play the rest of the game out. Game two also had a funky start as GuMiho went for proxy-Liberator while Coffee got aggressive with Hellions and Reapers on the ground. The early game hostilities ended up evening out, and the two headed to a more standard macro game (with some Banshee harass on both sides). While Coffee managed to give a decent account of himself in the Marine-Tank wars, he was eventually forced to surrender after his undefended Tank line was pounced on by GuMiho's Marines.
While
PSISTORM.SpeCial
has been forcing a lot of mech in other tournaments, bio was his weapon of choice in a 2-0 victory against
iG.XY
. Their first game on Glittering Ashes was the closest game of the series, and perhaps the biggest 'moral victory' iG have enjoyed in weeks. XY managed to compete closely with SpeCial for over twenty minutes, but was ultimately out-executed in the Marine-Tank-Raven wars. SpeCial didn't need as much time to close out the series, as he exploited XY's proxy-Starport strategy with a deadly push against weakened defenses.
Afreeca Freecs 2 - 4 KaiZi Gaming
Watch VOD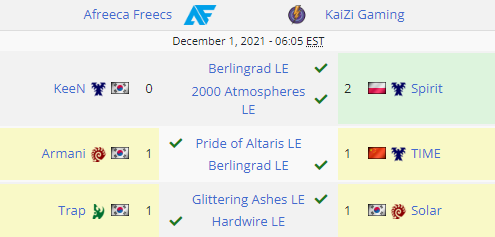 Afreeca dropped to ninth place after a painful loss to KaiZi Gaming, a full two spots out of a playoff berth. While the Freecs have the easiest remaining schedule with matches against PREP and iG, they'll still have to hope TL and GP's match results go favorably for them as well.
The outlook was bright for Afreeca to start the series, with
AF.KeeN
microing his way to an early lead against
KZ.Spirit
with a 2-Cyclone drop. However, Spirit held tight and forced his way into a standard Marine-Tank macro game. After some back and forth skirmishing with no one taking a clear lead, Spirit managed to take the game-deciding engagement by catching KeeN's tanks unsieged and out of position. Spirit had an easier time of it in game two, starting off with the advantage after completely shutting down KeeN's early drop. The KZ Terran snowballed his lead methodically, forcing the GG and taking the 2-0 victory.
KZ.TIME
vs
AF.Armani
began with TIME bringing out a variation of his Hellion-Ghost rush (a pet build he's been using sporadically for a few years now) on Pride of Altaris. While he got some decent trades with his early pressure, merely 'decent' trades weren't enough to slow down Armani from building a monster economy and production infrastructure on the giant map. While TIME did his best Maru impression on defense, he was inevitably overwhelmed by never-ending waves of Zerg units. Surprisingly, TIME brought out his Ghost build again in game two on Berlingrad. This time, he lucked out as it was a hard counter against Armani's fast Roach-Ravager attack, with the Ghosts easily shutting it down by sniping the Ravagers. Playing from a major economic deficit, Armani went for a desperation mid-game Roach-Ravager attack before GG'ing out.
KZ.Solar
then took the fourth and series-clinching map against
AF.Trap
. The game unfolded in a more traditional style, with Trap opening 1-Stargate and going into a ground army while Solar macroed up on his side of the map. Solar used a small flock of mid-game Mutalisks to disorient his opponent and keep him off balance, while gearing up for a big attack of Roaches on the ground. Trap was never really able to consolidate a strong army on defense, and was overrun by a constant stream of Zerg attackers. Trap at least managed to take a consolation point for his team to conclude the match, using 6-Gate Glaive Adepts to defeat Solar on Hardwire.
TeamLiquid 1 - 5 Dragon Phoenix Gaming
Watch VOD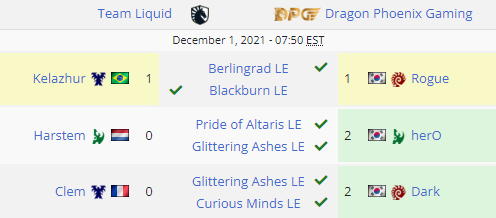 With Clem continuing to slump in TvZ, Liquid had no chance at scoring an upset against DPG—even with Kelazhur taking a surprise 1-1 draw off of Rogue.
It might very well have been a 2-0 for
Liquid`Kelazhur
, if not for an unfortunate late-game collapse in game one. Kelazhur's heavy Hellion production paid off early on, as he roasted a ton of
DPG.Rogue's
Drones while the defensive Speedlings were recklessly looking for a backdoor attack. For a while, it seemed like Kelazhur was snowballing his lead like an elite Terran—he refrained from being overaggressive while building up a powerful macro foundation at home. However, a handful of big plays swung the game back in Rogue's favor. On one side of the map, a big bio force from Kelazhur got wiped out by Ling-Bane due to Mines being unburrowed. On the other side of the map, a big run-by from Rogue massacred SCV's. And, perhaps most decisively, a massive
burrowed Lurker trap
from Rogue annihilated dozens of unsuspecting Marines. Just like that, Rogue turned things around and stole victory from the jaws of defeat.
Perhaps that comeback made Rogue a little overconfident, as he went a little bit too ham with Roach-Ravager in game two. It seemed like he believed he could simply bully Kelazhur with his macro mechanics and multi-tasking, but Kelazhur proved to be a far sturdier defensive player than Rogue expected. Eventually, Kelazhur was able to push out with a near-max army while Rogue was still stuck on mostly Roach-Ravager—this time, the Liquid Terran made sure to seal the deal.
DPG.herO
continued to look like a solid successor to Zest, taking a 2-0 victory over
Liquid`Harstem.
Game one on Pride of Altaris saw both players take fast expansions and start Phoenix-heavy initially, with herO taking the lead in workers by going for clever Phoenix raids after drawing Harstem's air force out of position. The game transitioned into a more ground focused game, with herO going for mass Stalkers while Harstem teched to both the Robotics and Templar branches. herO managed to strike just before the Harstem's tech got out of control, gunning down Immortals with Stalkers to force the GG. Game two on Glittering Ashes saw the two players go for more divergent openers, with Harstem taking a quicker expansion while herO went for 3-Gate + Stargate off one base. herO made the interesting decision of making a lot of Adepts, and then sacrificing them to kill as many of Harstem's Probes as possible. This actually turned out to be a winning move, as herO was able to scratch together enough defenders to stop Harstem's counter-attack and win the game.
The much-awaited duel between
Liquid`Clem
and
DPG.Dark
was disappointing for fans who wanted to see close and exciting matches, as Dark won rather one-sidedly. Game one progressed in rather mundane fashion, with Clem opening Hellion-Banshee while Dark went for Ling-Bane with double-Evo upgrades. After a fairly even build up, the game ended in jarringly abrupt fashion once Dark hit 2/2. His massive force of Ling-Bane attacked Clem's army head on, and it won by such a huge margin that it was enough to go on and win the game outright.
Dark didn't allow a consolation point for Liquid in game two. The game was somewhat similar to game one, except this time Dark went for Hydra-Ling-Bane in the mid-game. In any case, this game also ended abruptly at the first major engagement, with Dark smashing Clem after he ventured too far onto creep with his Tanks unsieged.
Good Game Gaming 5 - 1 Team GP
Watch VOD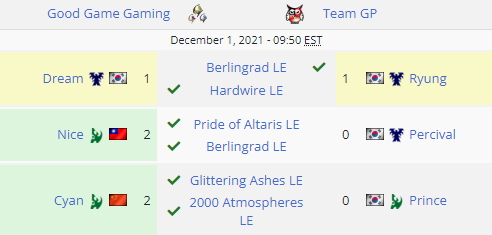 The magic might be gone for Team GP, as they gave up a 1-5 loss to what should have been a 'beatable' Good Game Gaming squad. While Team GP hold the seventh and final playoff spot for now, they still have two difficult matches against Alpha X and Team Liquid remaining.
GP.Ryung
drew first blood thanks to a blunder from
GGG.Dream
, who threw away his first Tank against a Reaper-Hellion poke by sieging it in a very questionable position. Ryung was clinical in showing how to properly snowball a one-tank advantage, constantly putting pressure on Dream until he was forced to tap out. Dream redeemed himself in game two, despite what seemed like another early game blunder. The GGG ace got overaggressive with his early Tank-Medivac pressure and ceded the Tank advantage to Ryung once again. However, Dream's superior Raven use in the subsequent pre-stim skirmish saw him turn things back around, and he was able to win out in the proceeding macro game.
GGG.Nice
looked very comfortable playing on Pride of Altaris against
GP.Percival
, opening defensive Stargate and facing basically no pressure as he transitioned into mass-Gateway units and Psi Storm. It ended up being a clear cut victory for Nice, as he won with his first big ground attack with Templar support. Things seemed dicier for Nice on Berlingrad, as his heavy Adept-Oracle pressure didn't get quite enough damage done to justify his investment. However, Nice managed to turtle up successfully with Phoenix-Colossus, forcing Percival into a late-game battle. At that stage of the game, things went extremely poorly for Percival, as his army was melted almost instantly by Colossus-Carrier-Disruptor.
GGG.Cyan
then finished the job against
GP.Prince
, who didn't have any nifty cheeses prepared on the day. Early game Oracle-Adept dueling on Glittering Ashes saw Cyan take a solid Probe lead, forcing Prince into a desperation attack with Stalkers. Cyan held on at home while continuing to burn Prince's Probes with Oracles on the other side of the map, giving him the series clinching victory. Cyan then took another map for good measure, winning a mid-game Blink-Stalker duel on 2000 Atmospheres.
This week's award goes to
NV.Creator
for his 2-0 victory against
SR.Lambo
, which was crucial to Team NV's 5-1 overall victory. Lambo has been excellent against Korean Protoss players in 2021—especially so in the WTL—and I even predicted him to take a 2-0 victory. Instead, Creator took a dominant victory against a difficult opponent, which powered his team to a one-sided win.
In a vacuum, I would have considered
DPG.Dark
taking a 2-0 vs
Liquid`Clem
to be a higher quality win than Creator's 2-0 over Lambo. However, Dark's second victory came
after
the series had already been decided in DPG's favor. While map victories can be meaningful in certain tie-breaker scenarios, I don't give these 'garbage time' wins the same kind of value for the sake of awarding weekly MVP.
Weekly MVP's
Week 1: GP.Cham

Week 2: NV.Bunny

Week 3: PSISTORM.MaxPax

Week 4: GP.Prince

Week 5: AF.Trap

Week 6: AF.Armani

Week 7: DPG.Dark

Week 8: NV.Maru

Week 9: NV.Creator
Week 10 Preview
Tuesday, Dec 14 12:00pm GMT (GMT+00:00) Matches
Team NV vs KaiZi Gaming
Maru
< Curious Minds >

Spirit
Creator
< Glittering Ashes >
TIME
Bunny
< 2000 Atmospheres >
Solar
Ace Match
:
< Berlingrad >
Maru's TvT winning streak may have been ended by Bunny in TSL8, but there's no doubt that he's still the best TvT player around. Spirit, despite taking a huge upset win against Cure in TSL8, is still the underdog here, and don't expect him to take a map.
Creator vs TIME is tricky to call. A few months ago, I would have said TvP was a problem match-up for TIME, as it caused him to finally relinquish the DHM China throne to Cyan. However, he really seems to have put a lot of effort into shoring up his TvP ever since then, and he's been putting up solid results in various online cups. Aligulac.com sees this match-up as near even, and I think a 1-1 is the most likely result.
Bunny vs Solar is another match-up that I think is quite even. Both players can play championship-tier StarCraft when they're at the top of their games, but consistency is a chronic issue for them both. This one could easily be a 2-0 in either direction, so I'll take the compromise and say it goes 1-1.
Prediction: Team NV 4
- 2 KaiZi Gaming
Afreeca Freecs vs PREP eSPORTS
KeeN
< Curious Minds >

YB
Trap
< Glittering Ashes >
ByuL
Armani
< 2000 Atmospheres >
Has
Ace Match
:
< Berlingrad >
With YB and ByuL having put up such poor results this season, an Afreeca Freecs victory can be the only prediction here. Though I liked some of the flashes ByuL showed us in ZvT throughout the season, his hapless late-game play has forced me to get off my one-man hype train. In any case, he's playing against Trap this week—that's not going to go well.
The only question here is how many maps will Has take off Armani. He seems to be guaranteed at least one map against anyone, but two wins would keep him in the running for best Protoss of the regular season.
Wednesday, Dec 15 12:00pm GMT (GMT+00:00) Matches
Shopify Rebellion vs Dragon Phoenix Gaming
ByuN
< Curious Minds >
Zest
Scarlett
< Glittering Ashes >
herO
Lambo
< 2000 Atmospheres >
Cure
Ace Match
:
< Berlingrad >
While the Rebellion have held the #1 spot for most of the regular season, a loss here could see KaiZi or Team NV overtake them at last. On the other hand, DPG have constantly underperformed throughout the Winter season, and decent match-ups give Shopify a chance of clinching the #1 seed with a victory.
ByuN vs. Zest is a brain-scrambling match-up. Not only are both players ridiculously inconsistent, but their head-to-head relationship is very peculiar as well. For a few months during the fall, ByuN seemed to be hard-countering Zest in every tournament they met in, single-handedly ruining the reputation of 'online-Zest.' However, Zest seems to have recovered in the last month or so, and has a slight head-to-head advantage against ByuN in their last few matches. 1-1 is the safe prediction here, but it could easily be a 2-0 either way.
Scarlett vs herO is another peculiar match. Recently, Scarlett has done well against Protoss players who play the standard 2-Stargate style, be it with well-executed Queen walks or intolerably patient late-game play. However, herO is far from a standard-style player, and seems to relish in making games weird with unorthodox all-ins or flat out nonsensical plays. Again, I can see this going 2-0 either way, so I'll make the cowardly move of predicting a 1-1.
I would have picked Cure to take an easy 2-0 over Lambo in the previous map pool, but the reigning GSL champion really seems to be struggling with TvZ as of late. On the other hand, Lambo has quietly been on a hot-streak in ZvT (including a victory over Clem in ESL Opens), which makes me wonder if this is the perfect time for him to try and upset the reigning GSL champion. Ultimately, I do think Cure will be able to pull out the 2-0 victory here, but it's not the most confident prediction I've made.
Prediction: Dragon Phoenix Gaming 4
- 2 Shopify Rebellion
Team Liquid vs Invictus Gaming
Harstem
< Curious Minds >
Coffee
uThermal
< Glittering Ashes >
XY
Clem
< 2000 Atmospheres >
MacSed
Ace Match
:
< Berlingrad >
Last season, a 1-10 Invictus Gaming squad was able to throw a wrench in Team Liquid's season by forcing them to an ace-match, which contributed to Liquid losing out on a playoff spot (Liquid underperformed in several matches, but the ace match against iG was the most notable failure). Could they possibly do it again…?
Eh, I doubt it. This isn't exactly scientific analysis, but there have been some seriously bad vibes around iG this season, be it Coffee's fast GG's or just the soul-crushing nature of their losses. iG just seem to be cursed by the StarCraft II gods this season, and they'll be hard pressed to even take a map off TL.
Prediction: TeamLiquid 5
- 1 Invictus Gaming
Thursday, Dec 16 12:00pm GMT (GMT+00:00) Matches
PSISTORM Gaming vs Good Game Gaming
MaxPax
< Curious Minds >

Rattata
GuMiho
< Glittering Ashes >
Dream
SpeCial
< 2000 Atmospheres >
Nice
Ace Match
:
< Berlingrad >
MaxPax returns to the line-up after a three week break, and I think it's safe to say that he's clearly a better player than when we last saw him—and he was damn good already! The young Dane is improving with every passing day, and I think he'll take care of business against Rattata (formerly known as Vanya) here.
GuMiho is another player who is improving rapidly—well, it's more like 'recovering' in his case. While GuMiho is most famous for his unorthodox strategies (especially mech), he's started to play some really impressive standard macro games as well (as he often did pre-military), so I think a 1-1 against Dream is a likely outcome.
TvP has been a weakness for SpeCial at times in the past, but right now, he's red hot in the match-up. Top Koreans might still give him trouble, but he's a deadly TvP player in the foreign scene. Taking that into consideration, on top of his massive head-to-head record advantage against Nice, I'm going to predict Juanito to take a 2-0 victory.
Prediction: PSISTORM Gaming 5
- 1 Good Game Gaming
Alpha X vs Team GP
RagnaroK
< Curious Minds >
Percival
Zoun
< Glittering Ashes >
Ryung
Classic
< 2000 Atmospheres >
Prince
Ace Match
:
< Berlingrad >
After a magical first half to the season, Team GP have had to suffer some harsh reality checks at the hands of Afreeca and Good Game Gaming. Cynically speaking, this seems like another loss for Team GP—there's not a single match-up where I think they're favored. Ryung probably has the best chance of the bunch, since he just barely lost a 2-3 to Zoun in the Super Tournament. But even then, I'd only pick a 1-1 tie.
In the end, it's up to Prince and Percival to conjure up the same miracles from earlier in the season. While I would love to have faith and to believe, it feels like the walls of reality are closing in on the Gon Pack.
Prediction: Alpha X 4
- 2 Team GP
---
Credits and acknowledgements

Writer: Wax
Stats: Aligulac.com & Liquipedia
Images: SCBoy