World Team League - 2021 Winter Season
by: Wax
Week eight only plunged the playoff race into further chaos, as if the mid-table teams were all conspiring to leave things uncertain until the very end. Team Liquid (#7), PSISTORM (#8), and Afreeca Freecs (#9) put up a sequence of very specific and very unlikely results that have resulted in a three way tie at twelve points, and it might very well be a deathmatch between those three teams for the final playoff spot.
However, the three teams tied at fourteen points aren't totally safe either, and there's just enough matches left for any of DPG (#4), Alpha X (tie #5), and Team GP (#5) to suffer a monumental collapse. The fan favorites Team GP seem to be in the most danger—their miracle run might very well end in heartbreak.
Will we have any more clarity about the playoff picture after week nine? Or will the playoff hopefuls stay neck and neck until the bitter end?
Week eight matches have been rescheduled to Nov 30 - Dec 1, with three matches played per day. Each match will start at 11:00 GMT (+00:00).
Week 8 Results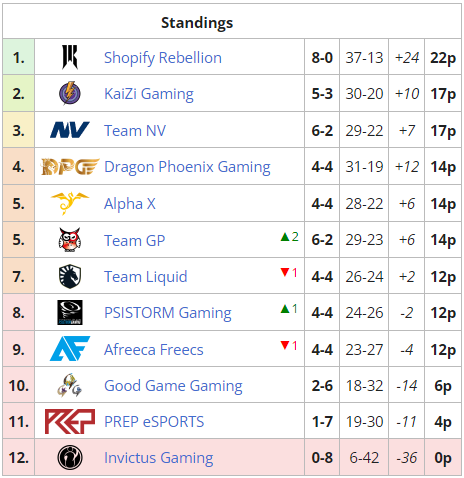 Top 7 teams qualify for the playoffs.
Points are awarded as follows:

3 points for a victory in a series that does not require an ace match

2 points for a victory in a series that requires an ace-match

1 point for a loss in a series that requires an ace-match

0 points for a loss in a series that does not require an ace match
Team NV 4 - 3 Afreeca Freecs
Watch VOD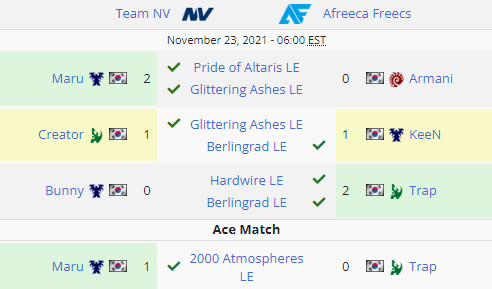 AfreecaTV fell to ninth place with a narrow 3-4 loss to Team NV, but the single point salvaged from the ace match could be absolutely crucial going forward. Now tied at twelve points with TeamLiquid and PSISTORM Gaming, the Freecs may actually be the favorites to clinch a playoff spot given their remaining strength of schedule.
AF.Armani
couldn't offer up much resistance against the red hot
NV.Maru
in the first match, conceding a one-sided 0-2 loss to Team NV. Armani even had the misfortune of going into game one with a build order loss, trying an early Roach poke against Maru's Marine-heavy 3-Barracks build. Seeing an opportunity, Maru quickly added Marauders to his composition as well, and beat Armani down with non-stop waves of infantry. Game two on Glittering Ashes was the Maru specialty: an excruciatingly patient turtle game. Armani, like most Zergs before him, couldn't find a way to crack the Terran defenses, and was eventually forced to GG after running out of steam.
NV.Creator
and
AF.KeeN
split the next series 1-1, with Creator taking the first game on Glittering Ashes by smashing the Terran army with a high-tech force of Carriers, Templars, and Disruptors. KeeN got Creator back on Berlingrad by playing a faster-paced game, where he punished Creator's ambitious triple-tech into the Stargate, Twilight, AND Robo branches by crushing him with a flurry of mid-game infantry attacks.
It was then
AF.Trap's
turn to mirror Maru's performance with a 2-0 victory over
NV.Bunny
, forcing an ace match. Trap actually seemed like he was in danger of losing the series for Afreeca in game one, when his Phoenix-centric defense failed to preempt a dangerous two-prong drop + frontal attack from Bunny. However, while Bunny inflicted heavy Probe damage, he sacrificed too much of his army to do so, and he had to GG out to Trap's immediate counter-attack with Colossi. The next game went more as planned for Trap, with his Phoenix opener guiding him safely into a strong 4-base setup. From there, he was able to launch a mid-game attack powered by Colossi, Archons, and Immortals, which was enough to finish the game.
Neither side tried to get cute for the ace match, with
NV.Maru
and
AF.Trap
taking on each other in a rematch of the Code S quarterfinals. While Trap won 3-1 that time, Maru was able to get his revenge with a very impressive TvP performance in the WTL. Maru was content to play a longer macro game
without
turtling, staying constantly active with his infantry while not getting overaggressive. For Trap, despite getting set up on five bases, seemed far from comfortable, with the Terran troops pinning him into a corner of the map. Maru ended the game in one fell swoop when he noticed the Protoss troops were slightly disorganized—with Disruptors and Templars lagging a bit behind the rest of the army—springing his attack and utterly destroying the Protoss forces.
Team GP 6 - 0 Invictus Gaming
Watch VOD - Part 2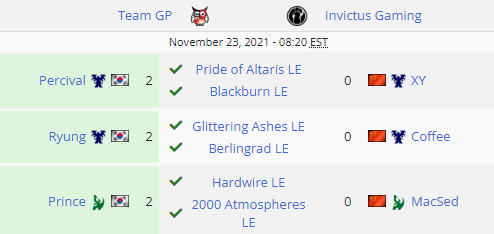 The Gon Pack took the maximum number of points and maps off Invictus Gaming, giving themselves a temporary buffer against the TL-Afreeca-PSISTORM pack that's nipping at their heels.
iG.XY
actually got off to a decent start against
GP.Percival
on Pride of Altaris, fending off his opponent's early Reaper-Hellion poke and getting some economic damage done with a drop. However, everything fell apart when he tried to push out on the ground, which resulted in him losing a ridiculous number of SCV's to a simple 3-Reaper backdoor attack. From there, all Percival had to do was play clean-up. Game two ended up being decided in an early-game base trade, with Percival's Stimpak and first-strike advantage helping him prevail.
GP.Ryung
got an even more one-sided victory in his 2-0 over
iG.Coffee
, smashing his opponent in the first major engagement of both games before rolling on to victory.
GP.Prince
got himself a 2-0 as well to close the series out. The first game on Hardwire saw
iG.MacSed
try to bust Prince's fast expansion with 3-Gate pressure off one base, but fail spectacularly against his opponent's fast Immortal follow-up (perhaps MacSed was expecting Stargate?). The second game saw both players go for Oracles, but with Prince having the advantage of proxying his Stargate. Prince used his proximity advantage—as well as his superior micro—to get far more damage done with his Oracles, giving himself an economic advantage that he easily snowballed into a victory.
Good Game Gaming 4 - 3 PREP eSPORTS
Watch VOD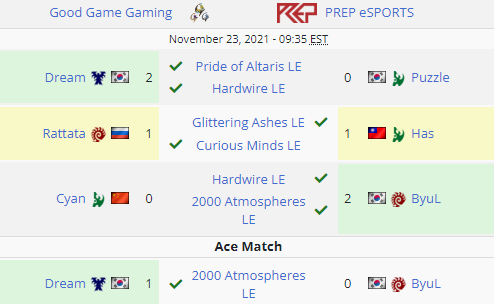 While neither GGG nor PREP had a realistic shot of making the playoffs to begin with, splitting the points by going to an ace match only served to further dampen both teams' hopes.
GGG.Dream
vs
PREP.Puzzle
played out as a curious repetition of two very similar games, with Dream taking two easy wins after using Widow Mines to hold off Puzzle's 3-Gate pressure (facilitated by a proxy-Gate). The first game on Pride of Altaris was slightly dicier for Dream as he sent his Mines off for a drop, but returned them back in time to defend. As for the second game on Hardwire, Dream was able to play defensively off the bat, and then crush Dream with a simple infantry-Tank move out.
PREP.Has
delivered yet another signature Has game to begin against
GGG.Rattata
(formerly Vanya), opening Dark Templar into TRIPLE EXPAND. Somehow, Has got away with this build scot free, and even did some damage with his Dark Templars. From there, he proceeded to A-move Rattata to death with random Gateway units. Game two saw Has incorporate DT's into his build again, opening Void Ray but quickly pivoting into Dark Shrine. At first, this seemed like a mind-game to bait out a Queen-walk from Rattata, and indeed, the DT's were able to surprise and kill a number of Queens off Creep. However, Has made the mistake of chasing onto Creep where an Overseer soon arrived, which meant the end of the DT's and the end of his game.
PREP.ByuL
finally got wins two and three on the board after a disastrous start to the season, taking down
GGG.Cyan
2-0. In game one, ByuL jumped ahead in the mid-game after dealing heavy damage with a big Roach-Ravager-Queen attack, but seemed like he was in danger of suffering yet another late-game collapse as he struggled to finish Cyan off. Fortunately for ByuL, he simply had too much of an economic advantage to be delayed for too long by DT's and Disruptors, and he was able to run over Cyan in the end. Game two on 2000 Atmospheres saw ByuL go to his preferred Muta-Ling-Bane composition, which Cyan made the fatal decision to fight with mainly Archons and Blink Stalkers. ByuL exploited his opponent's immobility, cruelly picking him apart until there was no choice but to GG.
PREP made the curious choice of sending out
ByuL
as their ace match player, while GGG went with the obvious ace card in
Dream
. Unfortunately for ByuL, the scouting report on him has been out for weeks: he's a terrible late-game player. Dream opted to play a passive mech strategy on 2000 Atmospheres, seemingly content to stay put and wait until ByuL self-destructed. And, indeed, that ended up happening after ByuL got frustrated by finding nothing to attack with his mass Muta-Ling-Bane. Eventually, he was goaded into an absolutely terrible attack, which ended with his swarm getting shredded by the waiting Terran defenders.
Team Liquid 3 - 4 Shopify Rebellion
Watch VOD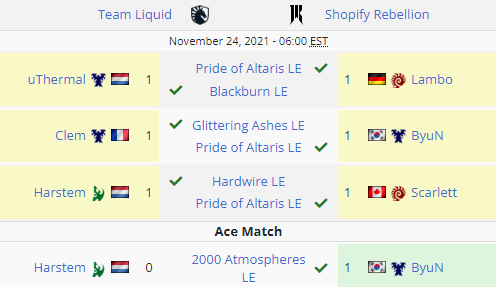 The Rebellion may have become the empire, as Shopify took their eight straight victory to go five points clear at the top of the rankings. While Shopify still have their two most difficult matches ahead (DPG and Team NV), that considerable buffer means they're still favorites to enter the playoffs as the #1 seed. As for Team Liquid, they're in a similar position as Afreeca where salvaging one point was hugely meaningful. That one point means they still 100% control their own destiny, and can clinch a playoff spot regardless of how the other teams perform.
The series of 1-1 ties started off with
Liquid`uThermal
vs
SR.Lambo
. The Liquid Terran got ahead in game one on Pride of Altaris, with his Hellion-Liberator harassment roasting a huge number of Drones early on. Unfortunately for uThermal, he failed to apply much additional pressure to Lambo with his Cyclone-mech follow-up, giving his Zerg opponent some breathing room to recover. In a sudden turnaround, uThermal found his Cyclones almost useless in delaying Lambo's aggressive advance with Roach-Ravager-Baneling, and was forced to GG out before he could transition to a more Tank-centric army. uThermal made an adjustment in game two—once again, he roasted several Drones early on with his Hellion-Liberator, but this time he followed-up with a traditional infantry composition. uThermal was able to close the game out, patiently advancing into Zerg territory, calmly dealing with backdoor attacks, and eventually forcing the GG from Lambo.
Game one of
Liquid`Clem
vs
SR.ByuN
followed a familiar TvT pattern as of late, with the winner of the first pre-stim Marine-Tank-Raven skirmish snowballing their lead into a victory. In this case, ByuN's decision to stay in tank mode backfired against Clem's decision to siege up, giving Clem an army advantage to work off of. Clem exploited this brilliantly, using the threat of a frontal attack to land a devastating drop in ByuN's natural. Clem kept a vice-grip on the game from there on out, using his economy and army advantage to roll to a win.
ByuN used his loser's choice to pick Pride of Altaris, and showed that it was a wise pick by defeating Clem in a drawn-out late-game TvT. Well, it didn't seem so wise for the majority of the game, as Clem seized air control early on and used it to methodically gain small leads all over the map. However, Clem made a huge error by trying to use his Raven advantage to clear out an entrenched group of ByuN's troops, only to see his own army massacred by back-line fire. Most importantly, Clem lost his Viking advantage in the failed attack, and ByuN capitalized with lightning speed. Adding Liberators to his army, ByuN attacked all across the map before Clem could replenish his own Viking count, taking out bases, stray groups of troops, and anything he could find. Clem was unable to fully stabilize against this barrage of blows, and he ultimately went to the mat for the ten count.
While
SR.Scarlett
has been clutch in recent competitions, she couldn't take it home for Shopify as
Liquid`Harstem
forced an ace match with another 1-1 draw (Wardi's stream cut out for a bit, so here's the
Chinese VOD
for this match). Game one on Hardwire saw Scarlett decide to not go for a Queen-walk against Harstem's modified 2-Stargate opener (which got a fast Robotics before going full-on air), opting to fight against Skytoss in a straight-up macro game. While Scarlett was ready for the Carriers with mass Queens + Microbial Shroud, she was rather underprepared for the supporting ground units of Archons and Disruptors. Scarlett ended up losing most of her Queens while only killing off Interceptors in return, while Roaches arrived at the battlefield far too late. With the core of the Zerg force broken, Harstem continued to push forward and extract the GG from Scarlett. Scarlett learned her less from game one—alas, it was probably not the lesson viewers wanted. After taking a fast gold expansion on Pride of Altaris, Scarlett went for a fast Queen-walk to end the game in swift fashion.
Lambo had taken on ace duties for Shopify in the past, and Scarlett had the best statistical record for SR on the season (13-3), but ultimately the Rebellion decided to go with
ByuN
as their ace. As for Liquid, they made the unexpected choice of sending out
Harstem
—perhaps predicting ByuN for Shopify and trying to spare Clem from his recent TvT woes.
In any case, neither side had anything too tricky prepared in the early game, and a standard macro-game slowly developed on 2000 Atmospheres. Harstem did a solid job of keeping up with ByuN's constant pokes and attacks, and was able to set himself up on five bases with plenty of Disruptors. But before a Skytoss transition could be seriously considered, Harstem ended up committing a fatal error: He was baited into chasing a group of Medivacs with a forward Blink, only to have his Stalkers smashed by infantry emerging from the fog of war. Similarly to his victory against Clem, ByuN immediately took advantage of Harstem's casualties by launching a multi-front offensive. And, similar to his game against Clem, ByuN didn't give his opponent any time to recover, and put him down for good with his continued attacks.
Alpha X 4 - 2 KaiZi Gaming
Watch VOD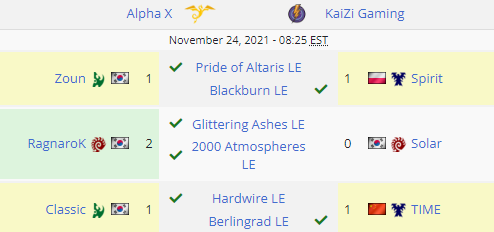 Alpha X scored a crucial victory over KaiZi Gaming to bring them into the 14-point pack and tie them at 5th in the standings with Team GP. With a relatively easy slate of games ahead, Alpha X seem likely to make the playoffs, but they'd still like to improve their seeding as much as possible. As for KaiZi Gaming, a potential run at the #1 spot seems to be dead after this loss. Actually, with matches against Team NV and DPG coming up, they may be due for an abrupt, late-season slide.
Game one between
αX.Zoun
and
KZ.Spirit
was a bit of a throwback to trends from earlier this year, with a Dark Templar drop going up against a Widow Mine drop. The mines hit first and did some moderate damage, but it was nothing compared to the utter havoc the DT's were able to wreak on the Terran half of the map. In fact, the Terran main was left so wide open that the DT's were able to finish the game outright. Game two on Blackburn featured more conservative starts, with Zoun going for the popular defensive Phoenix build while Spirit built up a bio force without going for any serious early aggression. The game ended in somewhat anticlimactic fashion, as Spirit finished Zoun off with his first major infantry-tank moveout. The KZ Terran hit with a two-prong attack just before Zoun's mass Gateways were about to come online and smashed through the Protoss defenders for a quick victory.
KZ.Solar
has been a consistent workhorse in the SCBOY team leagues for years, and it's a rare occurrence that he gives up a clean 2-0 to an underdog. But that's exactly what happened against
αX.RagnaroK
, who dominated his opponent in two one-sided games. The first game on Glittering Ashes saw the familiar Mutalisk-Ling-Bane (RagnaroK) vs Infestors-Hydra (Solar) scenario unfold, but Solar's reaction speed on defense left much to be desired. Far be it from using Fungals to stop Banelings from crashing in—Solar actually
lost
Infestors to numerous Baneling attacks. RagnaroK used his highly mobile swarm to reduce Solar's economy to tatters, forcing him to GG out after a desperation attack. RagnaroK then proceeded to seal his 2-0 victory in much quicker fashion, with his blade piercing deep in an early-game Zergling-Baneling knife fight.
αX.Classic
didn't afford KaiZi any suspense, and immediately clinched the victory for Alpha X in his first game against
KZ.Time
. Living up to his reputation, Classic brought out a creative and effective build, executing a delayed DT-drop followed by a double-Archon + Blink-Stalker attack. The strategy worked beautifully, inflicting enough early damage on TIME that Classic was able to snowball his way to an easy win. With all three points secured for Alpha X, Classic proceeded to try a 4-Gate Blink strategy on the final map. TIME was able to hold out against it without much trouble, and then force an advantageous base trade to get one win back.
PSISTORM Gaming 5 - 1 Dragon Phoenix Gaming
Watch VOD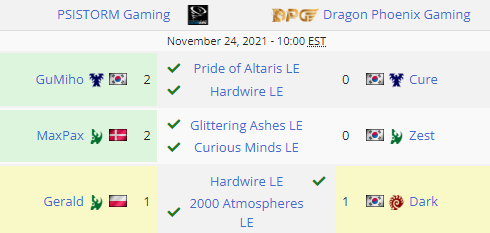 It seemed like DPG had righted the ship in week seven with a crushing 5-1 victory over Team NV, but they've ventured in rough waters once more after suffering a 5-1 upset at the hands of PSISTORM Gaming. For PSISTORM Gaming, this tremendous victory keeps them in the thick of the playoff race, just one spot below the cutoff at 8th in the rankings. As for DPG, they're unlikely to drop out of the playoffs completely, but there's definitely a chance that they'll start the playoffs as one of the lower seeds in the gauntlet.
PSISTORM's upset started off with
PSISTORM.GuMiho
taking a surprise 2-0 victory against reigning Code S champ
DPG.Cure
. No chicanery or trickery was required on GuMiho's end—he simply outplayed his opponent in straight-up macro games. Game one on Pride of Altaris featured a mutual slow build up to start, with both sides safely going up to three bases. In what's becoming a recurring trend on the map, GuMiho used his main army to threaten Cure from the map's multiple paths before making a decisive turn toward the 'side' corridor into the enemy natural. GuMiho was able to establish a strong siege position with his Tanks before Cure could react, which allowed him to win a decisive fight against Cure's defending forces. GuMiho continually reinforced this advance position with waves of troops and Cure was eventually forced to GG. The second game on Hardwire was perhaps an even more impressive victory for GuMiho, as he outplayed Cure in a longer split-map game. As is often the case, air control was a key point for the eventual victor, with GuMiho using his command of his skies to severely limit Cure's movements. GuMiho was able to transition into Battlecruisers with only a few minor hitches (Cure got in one good push at least) and used them to close out the game.
GuMiho then passed the baton to
PSISTORM.MaxPax
, who took PSISTORM across the finish line with a 2-0 victory over
DPG.Zest
. Though αX.Astrea defeated MaxPax's Stargate expand in the previous week, Zest couldn't find the same success against the young Dane's signature PvP build. Zest went for a 1-base Blink Stalker build and successfully found a Blink into the opponent's main... ...only to see MaxPax casually give up his main and play from his natural. This cynical sacrifice made perfect sense for MaxPax, since he was still going 1-base Void Ray-Immortal against 1-base Blink Stalker. Unable to go for a kill-move into MaxPax's battery-protected expansion, Zest was forced to pull back and try to play out a macro game. However, that didn't improve the situation for him at all, as it was still Void Ray-Immortal vs Blink-Stalkers—just with more bases. While Zest did transition to some higher tech units of his own, he was still left trailing far behind MaxPax who was effectively playing 'Protoss mech' with no Gateway units at all. The game eventually arrived at its inevitable conclusion, with MaxPax crushing Zest with his Carrier-Void Ray-Immortal-Disruptor death army. The next game on Curious Minds wasn't quite as quirky, as both players simply went for Stargate expands into a Phoenix war. MaxPax ended up winning the Phoenix war for whatever reason anyone wins a Phoenix war, forcing Zest to GG out and concede his team's defeat.
The largely meaningless final match of
PSISTORM.Gerald
vs
DPG.Dark
ended in a 1-1 tie, with Dark taking the first map with swarming waves of Hydralisks, while Gerald took the second map with a powerful Stalker-Disruptor attack in the mid-game.
Weekly MVP Award: NV.Maru
NV.Maru
takes the week's MVP award for his masterful 3-0 performance against Afreeca Freecs, defeating Armani 2-0 in regulation time before going on to defeat Trap in the ace match. While
GGG.Dream
also put up a 3-0 record on the week, his was obviously of lower difficulty as he faced Puzzle and ByuL.
PSISTORM Gaming's
GuMiho
and
MaxPax
deserve honorable mentions, earning 2-0 victories against Cure and Zest respectively. Those would have been MVP-worthy performances in previous weeks, but Maru's ace match performance put him over the top in week eight.
Weekly MVP's
Week 1: GP.Cham

Week 2: NV.Bunny

Week 3: PSISTORM.MaxPax

Week 4: GP.Prince

Week 5: AF.Trap

Week 6: AF.Armani

Week 7: DPG.Dark

Week 8: NV.Maru
Week 9 Preview
Tuesday, Nov 30 11:00am GMT (GMT+00:00) Matches
Shopify have had a back-loaded schedule in the WTL, and Team NV are the toughest team they've faced thus far. While the Rebels have drawn some good match-ups overall, it might not be enough to preserve their undefeated streak in the end.
I actually see Scarlett vs Maru as a great draw for Shopify. They hardly stand a chance against Maru no matter who they sent out, but having Scarlett as the 'sacrifice' (the
nonge
in old Proleague speak) gives the other Rebels the best chance to score a 4-2 victory.
To that end, DRG vs ByuN is an absolutely pivotal match. ZvT may be DongRaeGu's best match-up, but I still see him as a mild underdog against ByuN. If DongRaeGu can use the WTL format advantage to go at least 1-1, then Team NV should eventually win (perhaps in an ace match). If ByuN can get the 2-0, then he sets up Lambo to win in the final match.
Lambo is rightfully confident against Korean Protoss players, and I think he's favored to get a 2-0 over Creator. However, considering Creator's near-victories against Dark and Scarlett, and his peculiar style that avoids going Skytoss, he might be a trickier opponent than a vanilla Korean Protoss. As with DRG, any map win for Creator probably sets up an ace-match victory for Team NV.
Prediction: Team NV 4
- 3 Shopify Rebellion
While PREP managed to force an ace match in the previous week, this week it seems like we're going to return to the usual pattern of only Has getting some points on the board.
Say what you will about Classic's rate of improvement after returning to SC2—it's definitely faster than ByuL's. While ByuL has been solid in the mid-game when he can play his comfort composition of Muta-Ling-Bane, he's been hapless in other scenarios. Classic should take this match 2-0.
RagnaroK vs Has seems destined for a 1-1, with Has taking a map with some audacious nonsensical s***, while RagnaroK completely smashes him in the other set.
Unfortunately, Puzzle hasn't given us much to be optimistic about at all this season, taking his only maps of the season against league punching bag Invictus Gaming. Surely Zoun will finish him off with a 2-0?
Prediction: Alpha X 5
- 1 PREP eSPORTS
[I had wondered why Bly was missing from the PREP eSPORTS line-up in previous weeks; Tweets suggest COVID-19 may be the case. We wish Bly a speedy and full recovery!]
Invictus Gaming were only officially eliminated in week eight, but their games have suggested they've been checked out for a while now (including an unusually fast GG from Coffee in a certain match). While Invictus made a late season rally to eliminate Team Liquid from the playoffs last season, I seriously doubt they'll be playing spoiler this time around.
Oddly enough, PSISTORM Gaming have decided to rest MaxPax here, even though they're in a situation where they may face a map-score tiebreaker at the end of the regular season. Then again, even
I
am still picking PSISTORM to win 6-0, so I guess the team also feels like those points are free even without their ace.
Prediction: PSISTORM Gaming 6
- 0 Invictus Gaming
Wednesday, Dec 01 11:00am GMT (GMT+00:00) Matches
Afreeca Freecs vs KaiZi Gaming
KeeN
< Berlingrad >
Spirit
Armani
< Pride of Altaris >
TIME
Trap
< Glittering Ashes >
Solar
Ace Match
:
< Curious Minds >
The first two match-ups seem quite even on paper, and we're likely to go into the final match with the series tied 2-2.
Solar's Jekyll & Hyde nature makes the final match very difficult to call. When you see his WTL performances where he's giving up 0-2's to Has and RagnaroK, you have to think he's going to fail his team again. But when you see him rip through Dream and Zoun 3-0 in the Super Tournament, you end up convinced he's going to destroy Trap as well—especially given the Afreeca ace's current PvZ slump.
Ultimately, I'm going to pick Afreeca to win simply because they're in a more desperate situation. KaiZi could probably lose this match and still qualify for the playoffs, while Afreeca Freecs need to scrounge for every single point right now. I'm not sure exactly how much weight each team places on WTL, but it seems
probable
that Afreeca will be more prepared for this upcoming match.
Prediction: Afreeca Freecs 4
- 2 KaiZi Gaming
Kelazhur faces a brutal match in his return to the starting line-up, having to go up against a powerful ZvT player in Rogue. While I expect the Brazilian Terran to pull out some clever cheeses or all-ins, I doubt they'll be very effective against an in-form Rogue.
herO has improved so much since his return to SC2 that I think he might already be the favorite against Harstem, but I feel like Harstem can still force the tie. It's absolutely vital that he does (a 2-0 would be a godsend) so that Clem gets a chance to play in meaningful matches.
Clem vs Dark with actual stakes? That would be the marquee match-up of the week if it came to pass. Unfortunately for Liquid, I think it would be fair to say Dark is actually the slight favorite now, considering Clem's TvZ decline and Dark's recent 3-0 sweep over Clem 3-0 in an ESL Open Cup finals. A 1-1 result seems likely, which probably won't be enough to get Liquid the series win.
Prediction: Dragon Phoenix Gaming 4
- 2 Team Liquid
Funny enough, in a season where Team GP has won so many ace matches in miraculous fashion, this is the first match where I'd predict a 'normal' ace match victory for the Gon Pack. No one on the GGG side is so much better that I'd predict a 2-0 straight up—not even Dream, as he's been extremely inconsistent as of late (don't be fooled by the soft 3-0 he picked up against PREP).
Team GP have plenty of options to take down Dream in the ace match—prepared strategies from Prince or Percival, or a straight-up game from Ryung—and I think they'll come through with their fifth ace win of the season.
Prediction: Team GP 4
- 3 Good Game Gaming
---
Credits and acknowledgements

Writer: Wax
Stats: Aligulac.com & Liquipedia
Images: SCBoy