Tournament Spotlight:
King of Battles 2
2021's slate of DreamHack Masters tournaments may have wrapped up, but there's still plenty of exciting StarCraft II left to be played. One tournament you should definitely make time for this weekend is King of Battles 2, which Alpha X is looking to make a regular fixture of competitive SC by bringing it back for another year.
Just like the
first King of Battles tournament
(which Maru won), the biggest draw of King of Battles 2 is the stacked sixteen player roster. Unlike DHM Season Finals events, there are no regional quotas, which means that only the best players can advance through the brutal qualification process. In fact,
The top twelve players from the Aligulac.com rankings
have all qualified for this event—akin to September's
ASUS ROG Fall
.
Back at ASUS ROG,
Maru
went on a tremendous run to win the championship, defeating Neeb, Clem, Serral, HeroMarine, and Rogue along the way. That momentum carried over into last week's
DHM Winter Finals
, where the Team NV ace went on a similarly impressive run with victories over the likes of Dark, Clem, and Rogue on his way to another championship. Can Maru continue his hot streak and win his third major tournament in a row, and also become the back-to-back King of Battles champion?
Here's some key info about the tournament:
Schedule:
Group Stage Day 1: Friday, Nov 19 12:00pm GMT (GMT+00:00)

Group Stage Day 2: Saturday, Nov 20 12:00pm GMT (GMT+00:00)

Full playoff bracket: Sunday, Nov 21 10:00am GMT (GMT+00:00)
Format:
The format of the tournament is almost identical to GSL Code S. Sixteen players compete in four GSL-style groups, with eight players advancing to a single elimination playoffs. Group stage matches are best of three, quarterfinal and semifinal matches are best of five, and the grand finals are best of seven.
Prize pool & EPT points:
$15,000 total prize pool, 1280 total
EPT Global Points
awarded. First place wins $4,050 and 250 EPT points.
Players & groups:
The group names have been dedicated to the four most active Liquipedia StarCraft II editors. Groups Kashim and DARKING will be played on Nov 19, while groups hpjalpha and CynicalDeath will be played on Nov 20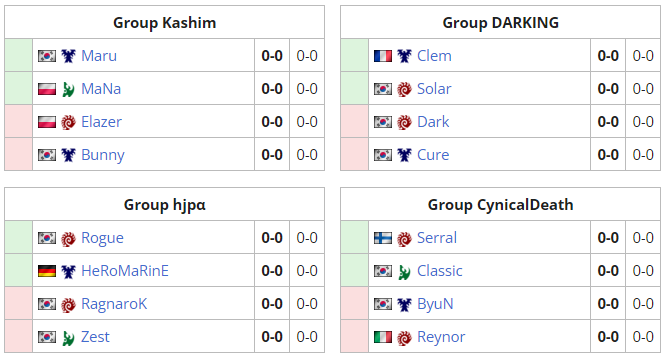 Streaming:
Split between
Alpha X
and
somedrunkcanadian
Twitch.TV channels.
---