World Team League - 2021 Winter Season
by: Wax
The season of chaos and parity continues in the WTL, with Week Four bringing even more surprising results.
Team GP claimed yet another head, felling reigning champions Team NV thanks to a 3-0 performance from GP.Prince. With wins over DPG, Team NV, and KaiZi—the top three teams from the previous season—it feels wrong to call Team GP underdogs anymore. God-Pillagers? Giant-Punishers? Get Protossed? Leave your suggestions below!
Unfortunately for Alpha X, that astounding performance from Team GP just barely overshadowed the Golden Dragons' fantastic victory over Dragon Phoenix Gaming, which would have been the headlining game from any other week.
Ultimately, all the upsets meant Shopify Rebellion stayed at the top of the table, having taken a clean 6-0 win against Afreeca Freecs on the week. Unfortunately for the Freecs, Trap's slump and lackluster performances of Armani and KeeN mean their losses are hardly registering as surprises anymore.
The action will continue almost immediately, as the StayAt HomeStory Cup delay has squeezed 'Weeks' 4 and 5 into a single real-time week.
Catch WTL 2021 Winter every Friday, Saturday and Sunday at 12:00 GMT (+00:00) on Wardi's channel!
Week 4 Results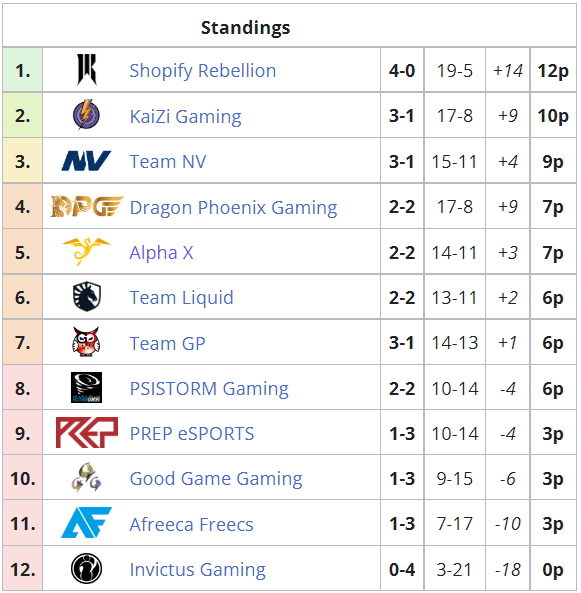 Top 7 teams qualify for the playoffs.
Points are awarded as follows:

3 points for a victory in a series that does not require an ace match

2 points for a victory in a series that requires an ace-match

1 point for a loss in a series that requires an ace-match

0 points for a loss in a series that does not require an ace match
Dragon Phoenix Gaming 2 - 4 Alpha X
Watch VOD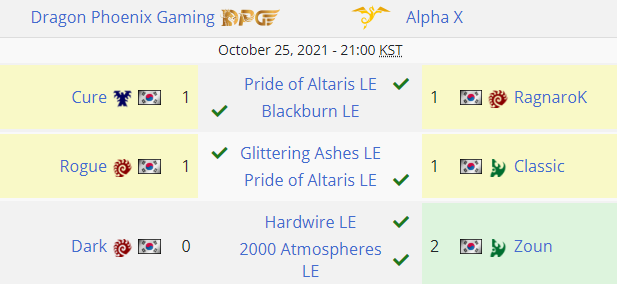 After giving up a 3-4 shocker to Team GP in week one, DPG were forced to swallow yet another unsavory upset in week four to Alpha X.
Having taken down Clem on Frost last week,
αX.RagnaroK
got another big ZvT win on an x-large map by defeating
DPG.Cure
on Pride of Altaris. RagnaroK completely shut down Cure's expand-into-3-Rax opener, and quickly overran him with Muta-Ling-Bane in return. Things went much better for Cure once he moved to the more familiar battleground of Blackburn, as he was able to take control early with Hellion-Banshee and keep RagnaroK at bay with continued infantry attacks. Though the Alpha X player was able to stall things out until the late-game, he was eventually left with no choice but to surrender to the superior Terran forces.
αX.Classic
almost regained the lead for Alpha X on Glittering Ashes, with his mid-game Blink-Stalkers hammering
DPG.Rogue
and keeping him pinned back. However, just as Classic was transitioning to Carriers, his defensive multi-tasking completely fell apart against Rogue's Nydus-Lurker harassment. In the span of two minutes, Classic's seemingly insurmountable lead evaporated, handing Rogue an unlikely victory. Classic did manage to tie the series on Pride of Altaris, opening with a fast Tempest + Void Ray opener against Rogue's fast gold base. Rogue's decision to skimp on anti-air until Spire tech proved to be his undoing, as his late and scattered Corruptors were ineffectual against the already gathered Skytoss units.
αX.Zoun
kept up his peculiar reputation as a counter to
DPG.Dark
, handing him a 2-0 defeat to cement the 4-2 victory for the Golden Dragons. The Alpha X ace weirded things up to begin on Hardwire, taking out Dark's natural with a cannon rush. Amusingly enough, this cheesy start segued directly into a late-game rush from both players, with Zoun assembling the standard Carrier task force while Dark went for Queens and Ultralisks supported by a slew of spellcasters. All that build-up did not lead to an exciting conclusion, however, as Zoun absolutely smashed Dark with his first move-out. Dark wasn't able to get off the crucial spells needed to match Zoun's firepower, and GG'd out after a disheartening defeat in the first battle.
The second game was somewhat anticlimactic as well. Zoun went for Oracle into delayed Glaive-Adepts, which just happened to be a great soft-counter against Dark's Queen-Ling-Nydus all-in. After holding off several waves of tunneling attackers, Zoun counter-attacked to force the final GG from Dark.
KaiZi Gaming 5 - 1 Team Liquid
Watch VOD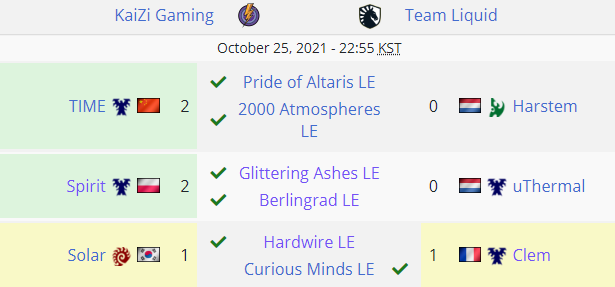 A week after taking a 3-4 loss to Team GP on the chin, KaiZi Gaming rose from the canvas to give Team Liquid a 5-1 pummeling.
The opening bout was effectively over before the four minute mark, with
KZ.TIME
proxying both his Factory and Starport to hit an extra-fast Hellion drop that bypassed
Liquid`Harstem's
Phoenix opener. The Dutch Protoss got some payback in game two, microing his way to a big early advantage with good Adept and Oracle micro. But unlike in many WTL games, Harstem was NOT able to snowball this advantage into a victory, as he fell to a well-timed mid-game infantry strike (aided by a supply block on the Protoss side).
KZ.Spirit
then turned it into a rout for his team, defeating
Liquid`uThermal
2-0 to lock in three points. uThermal pulled out a mech composition on Glittering Ashes, which seemed to be working out fine for him until his Tank push got mixed up with Spirit's Marine drop. The Liquid Terran came out on the losing end of the quasi-basetrade, which allowed Spirit to comfortably consolidate his victory with mass Vikings and Liberators. The following game on Berlingrad developed as a more standard Bio-Tank vs Bio-Tank affair, with things looking relatively even until the mid-game. Then, Spirit made the decisive move of dropping uThermal's main, drawing the defending units out of position and opening the pathway for a game-ending frontal attack.
While the series was already over,
KZ.Solar
salvaged a smidge of his lost pride from his ace-match loss to Percival last week with a 1-1 draw against
Liquid`Clem
. Solar took the first map, deflecting Clem's 2-rax Bunker rush and finishing him off with Hydra-Bane. After that, it was Clem's turn to save a little honor for himself and his team by winning the final map, snowballing successful Hellion-Banshee harassment into a mid-game win.
Shopify Rebellion 6 - 0 Afreeca Freecs
Watch VOD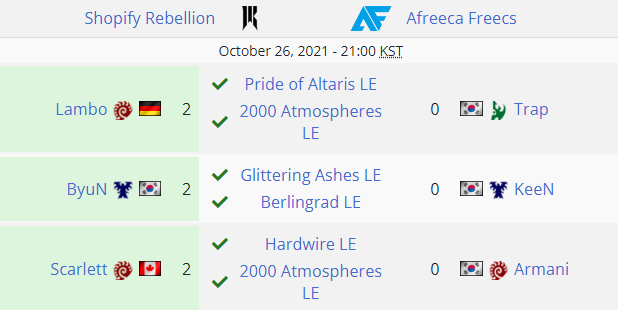 After losing 2-4 to PSISTORM in week three, the Afreeca continued its downward spiral with a 0-6 loss to Shopify.
SR.Lambo
had one of the best performances of the WTL Summer playoffs, when he went a combined 4-2 against
AF.Trap
to eliminate AfreecaTV from the playoffs. Months later, the German Zerg showed that he still had Trap's number by dealing him a 2-0 loss. Playing first on the massive Pride of Altaris, Lambo deployed an altered version of his signature Queen-walk strategy against Trap's 2-Stargate opener, attacking with mass Queens and Corruptors at around the nine-minute mark. Lambo had enough Corruptors to wipe out the Protoss armada before it hit critical mass, and continued to finish the game with Brood Lords. Trap tried to go for a 2-Stargate opener once again on the smaller 2000 Atmospheres, but that only let Lambo win even faster with the 'traditional,' 6-minute version of the Queen-walk.
SR.ByuN
also tried to show off his signature skills against
AF.KeeN
, but was unable to get anything done with his 2-Rax Reaper opener in game one. However, the early-game disadvantage ended up being of no consequence to the Terran Rebel, as his superior speed and positioning allowed him to defeat KeeN in the mid-game Marine-Tank wars. KeeN got in an even better early position on Berlingrad, with his Tank-Marine-Raven push able to deal a significant blow to ByuN. Unfortunately, he was once again outplayed in mid-game Marine-Tanks battles, and surrendered the series victory to Shopify.
With three points already in hand,
SR.Scarlett
ran up the map-score on
AF.Armani
to close the series. She achieved this in under six minutes of combined game-time, succeeding with a Zergling-Spine Crawler all-in in game one, and holding out against Armani's attempt at the same strategy in game two.
Team NV 3 - 4 Team GP
Watch VOD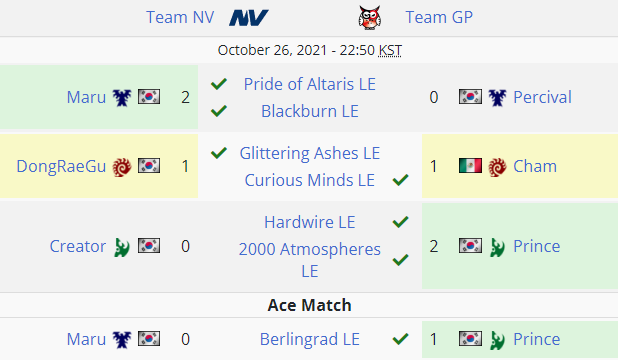 What the hell, Team GP? The enigmatic team continued to be THE story of WTL Winter in week four, taking out reigning champions Team NV in a 4-3 reverse-sweep.
Obviously, as is the case in a reverse-sweep, things didn't start pretty for Team GP.
NV.Maru
hasn't lost a TvT series since IEM Katowice, and
GP.Percival
was a non-threat to end that streak in the initial series. Coming off of an ace-match win against Solar in the previous week, Percival tried to dupe Maru with a DOUBLE Barracks-float into the main on Pride of Altaris. However, Maru scouted it at the last second with his initial Reaper (Percival might have needed to fine-tune his Barracks positioning), and defended it easily to get the first win. Percival tried a different early-game gambit in game two, going for a creative 1-base 1/1/1 strategy with a curious mix of Hellions, Reapers, Marauders, and a Medivac. Unfortunately, Percival's force was ambushed by Maru's Hellion-Reaper force while it was disorganized and on the move, after which Maru consolidated his advantage into a victory.
NV.DongRaeGu
kept NV's momentum rolling in his first game against
GP.Cham
—the hero of Team GP's upset over DPG—countering his Muta-Ling-Bane with Corruptor-Roach to put his team up 3-0. However, DRG was unable to finish off Team GP on the next map, as his attempt to go straight from Lings to Roaches was fatally punished by Cham's well-timed Ling-Bane strike.
Still, no problem for Team NV, right? With
NV.Creator
set to take on
GP.Prince
, they'd surely win at least a map, right? And even if Creator somehow lost, Maru would clutch out the ace match, right? RIGHT?
No, actually that one map win from Cham ended up being the seed for Team GP's ridiculous comeback, with Prince finishing Team NV off with a marvelous 3-0 run.
Prince had already shown his strategic cunning in last week's match against Solar with his Cannon-Rush-Into-Tempests build (
go watch it, really
), and he was at it again as he took his first map off Creator with an all-in cannon-rush. However, the upstart Protoss got to show he was not a one-trick-pony in game two, challenging Creator to a standard macro game and defeating him in the Zealot-Archon-Immortal wars.
The 3-3 tie drew out Maru as the ace for Team NV, looking to end the nonsense. As for Team GP, Prince was given the go-ahead to try and complete the miracle.
The ace match should have given fans a sense of
deja vu
from the old CTC grand finals, where
Maru was cannon-rushed by Firefly
at a critical juncture. Similar to that match, Maru was forced to lift off his CC and relocate his main-base entirely and play from a significant disadvantage. In a comical moment that momentarily broke the tension, Prince pulled all of his Probes to try and finish Maru off, but ended up recalling them back almost instantly once he saw that Maru was actually in better shape than he had imagined.
That ill-advised move from Prince gave Maru a sliver of hope, but he was already playing from far behind after taking heavy damage to the initial Cannon rush. The disadvantageous positioning of his new main base meant he didn't have a real 'natural' to take, and he was easily contained by Prince who transitioned into a macro game with his economic advantage. Prince was able to avoid making any major mistakes, and calmly closed the series out with Gateway units and Psi Storm.
Invictus Gaming 2 - 4 Good Game Gaming
Watch VOD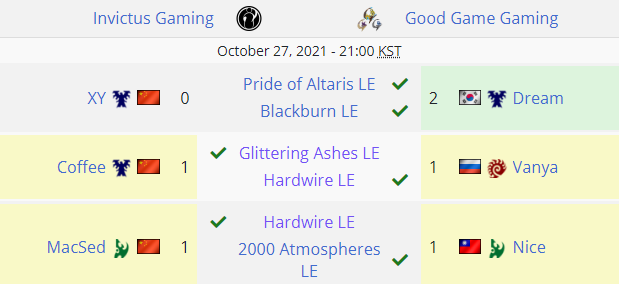 Alas, the only predictable thing about this season of WTL seems to be Invictus Gaming taking a loss. Even so, the last place team managed to put up a better fight than usual, taking two maps off of Good Game Gaming.
The start was still ugly for iG, however, as
GGG.Dream
took a 2-0 victory over
iG.XY
. The series began with Dream failing to get much done with his 2-Rax Reaper opening on Pride of Altaris, but winning regardless with his superior control of Tank-Marine-Raven armies. Dream followed-up with another straight-forward victory on Blackburn, inflicting damage early with Hellion-Reaper and closing out with an early Tank push.
iG.Coffee
managed to get a point on the board for iG, and his first win of the season as well against
GGG.Vanya
. After inflicting some solid early damage with Hellion-Liberator harass, Coffee turned up the heat on Vanya with Marines to make him taste the bitterness of defeat. Vanya was quick to hit back, however, as his pool first into Roach-Ravager attack gave him the 1-1 tie in game two.
iG.MacSed
gave Invictus some hope that there might be Team GP-esque heroics in the next game, defeating
GGG.Nice
by holding off a Blink-Stalker attack while also wreaking havoc with a DT counter-attack at the same time. Unfortunately for iG, Nice swung the executioner's axe in the next game, dealing heavy damage to MacSed early on with a fast Oracle. MacSed couldn't find a way to recover from that early deficit, and ceded the 4-2 victory to GGG.
PREP eSPORTS 2 - 4 PSISTORM Gaming
Watch VOD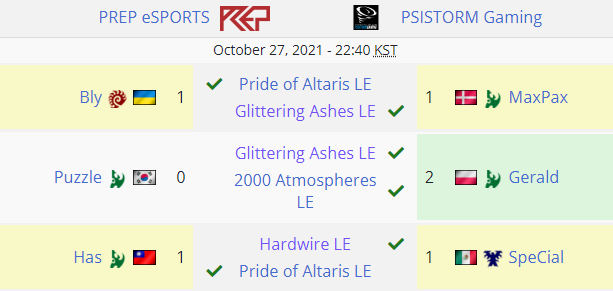 PREP.Bly
drew first blood on Pride of Altaris, smashing
PSISTORM.MaxPax's
2-Stargate Void Ray opener with a good ol' Queen Walk. While Bly was aided by a fast gold base, it's unclear how much it helped considering the number of minerals he was floating at the time of the attack. In any case, the series moved on to Glittering Ashes, where we saw a double-cheese opener with Bly going for an proxy-Hatch (his third Hatchery) at his opponent's natural, while MaxPax went for a cannon-rush. While both players defended each other's attacks, MaxPax came out much better for the exchange, and this time he was able to go for his 2-Stargate Void Ray opener in peace. Bly didn't have the tech or economy to handle the quickly assembled Protoss Armada and was forced to GG out.
PSISTORM.Gerald
ended up doing the heavy lifting for his team on the day, taking a crucial 2-0 win over
PREP.Puzzle
. The Polish Protoss took a serious early lead on Glittering Ashes, dealing Probe damage with his Stalker-Oracle harass while also getting back in time to nullify Puzzle's fast Dark Templars. Further Oracle harassment put Puzzle in a deeper hole, and he GG'd out after a futile basetrade attempt. Gerald then made it 3-1 for PREP on 2000 Atmospheres, exploiting his slight tech lead to kill off Puzzle with a mid-game attack of Stalkers, Immortals, and Zealots.
PREP.Has
tried to save his team with a most Has-like strategy, going for a double proxy-Gate against
PSISTORM.SpeCial
—one in the center of the map, and one in the
opponent's main
. SpeCial held off this cheese at the cost of many SCV's, but still had a card left to play with his army advantage. Juanito geared up for a one-base all-in, while Has desperately tried to buy enough time to turn his income into units. After some fierce skirmishing, SpeCial survived with just enough troops to take all three points for his team.
Having already entertained the viewers with a very Has-like game, the mad scientist gave us an encore performance by taking not one, but TWO fast gold bases on Pride of Altaris. On any other map, the game would have been close to over after SpeCial's Widow Mine drop hit home, AND after Has randomly flew his first Warp Prism into a Bunker, but it turns out Gold Minerals are really, really good. With the power of 3000+ mineral income, Has executed the "make lots of Gateway units" strategy to perfection, overwhelming his Terran opponent.
Forgive me if I'm being myopic, Artosis, but this week's MVP award might be the most deserved of ALL TIME.
GP.Prince
hard-carried his team to a victory over the reigning WTL champions, besting Creator 2-0 in the regular matches and then going on to defeat Maru in the ace match.
Yes, Prince made things unnecessarily dicey for himself with a bizarre Probe-pull in the ace match. No, I'm not sure that Prince would take even a single game in ten rematches with Maru. But weekly MVP is exactly what it says on the lid: the most valuable player THIS WEEK. And in that regard, Prince was worth more than ANY of the multiple-time champions in the WTL.
αX.Zoun
and
SR.Lambo
were the runner-ups, having scored 2-0 wins over DPG.Dark and AF.Trap, respectively. A 2-0 win over a championship-tier player would have been MVP-worthy in many other weeks, but the extraordinary circumstances of an ace match give Prince the edge with three victories.
Weekly MVP's
Week 1: GP.Cham

Week 2: NV.Bunny

Week 3: PSISTORM.MaxPax

Week 4: GP.Prince
Week 5 Preview
With the condensed schedule this week, I didn't have time to write out full previews for the matches. However, since you guys love our predictions (or mocking them, at least) I've included my winner picks for the weekend.
Friday, Oct 29 12:00pm GMT (GMT+00:00) Matches
At first glance, these look like good match-ups for PSISTORM Gaming. At second glance, maybe KaiZi is just a weaker team than I thought at the beginning of the season. In any case, I think this match will be close, but I will pick PSISTORM to win with MaxPax prevailing in the ace match.
Prediction:
KaiZi Gaming 3 -
4 PSISTORM Gaming
Even with the shame of losing to Team GP hanging over them, Team NV still feel fine sending out NightMare this week against Invictus Gaming. Still, given the match-ups, it's highly doubtful that Team NV are going to be paying for their hubris.
Prediction: Team NV 5
- 1 Invictus Gaming
Saturday, Oct 30 12:00pm GMT (GMT+00:00) Matches
I love it when PREP play the chaos line-up of Bly, Has, and anyone else. Last week, both Bly and Has delivered games that matched their reputations (two, in the case of Has), and I desperately hope they can do it again.
As for Team GP, I kind of wish they would keep doing well… ...but I would also be entertained if they turn into the boogeyman team that only defeats top half opponents and loses to the bottom half of the table.
Prediction: PREP eSPORTS 4
- 3 Team GP
Dragon Phoenix Gaming vs Good Game Gaming
Dark
< Curious Minds >
Dream
Cure
< Berlingrad >
Nice
Zest
< Pride of Altaris >
Cyan
Ace Match
:
< Blackburn >
Last week, DPG had a bunch of wonky match-ups against Alpha X where the underdogs had a history of unusually good individual success against the all-star roster. It's not the case this week, and I expect DPG to demolish GGG as their reputation demands.
Prediction: Dragon Phoenix Gaming 5
- 1 Good Game Gaming
Sunday, Oct 31 12:00pm GMT (GMT+00:00) Matches
While this is a very even bout, I think the Shopify players have the
slightest
of advantages in every match-up. Could the Rebellion really be 5-0 as we near the halfway mark of the season?
Prediction: Shopify Rebellion 4
- 2 Alpha X
While I still think Trap can bounce back from whatever mini-slump is ailing him now, I'm less confident in Armani and KeeN's ability to back him up. Meanwhile, Liquid are also bringing in some question marks in the form of the 0-2 MaNa and the 0-0 Kelazhur. Even with Afreeca looking shaky lately, I still have to pick them to win in a match where Trap has drawn a PvT.
Prediction: Afreeca Freecs 4
- 2 Team Liquid
---
Credits and acknowledgements

Writer: Wax
Stats: Aligulac.com & Liquipedia
Images: SCBoy