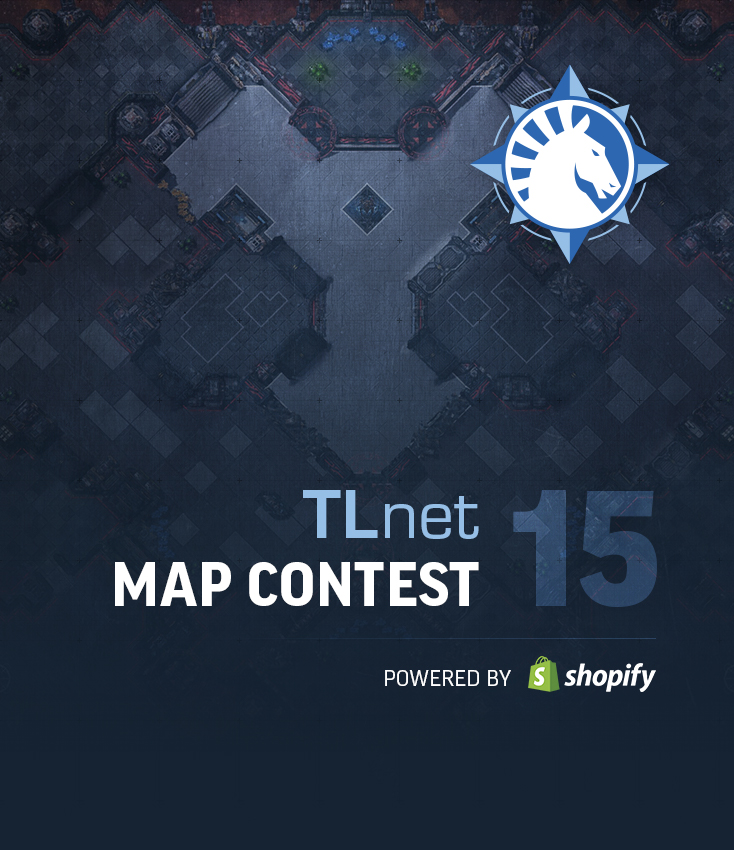 After much deliberation, we have decided on the sixteen finalists for the 15th edition of the TL.net Map Contest. Judging was especially difficult this time around, with 176(!) individual maps submitted in one of the highest turnouts in contest history. Each iteration of TLMC has seen the average quality of maps increase, and this was most certainly one of the strongest TLMC fields ever.
Now that the Judging Phase comes to an end, the Tournament and Public Voting Phase is set to begin. We've decided to adjust the period of public voting by a few days from the initial schedule, and will now run from July 3rd to July 12th (ends on July 12th 23:59 PDT). As in previous tournaments, fan voting decides the winners of the TLMC and the payouts, but the actual maps selected for the competitive ladder may differ.
The
TL.net Map Contest Tournament
itself will be hosted thanks to the ever-loving grace of WardiTV, and will run from July 6th-12th. While voting will open before the tournament concludes, we recommend that you watch the maps in action before voting, if you have the time.
Some notes before we unveil the maps:
All maps are accompanied by comments from the map-maker.

The maps are listed in random order, and do not reflect their score in judge voting.

TLMC #15 sought to reintroduce maps with 3 or more starting positions, reserving four finalist spots for such maps. Maps in this sub-category have been noted.

Voting is open until Tuesday, Jul 13 6:59am GMT (GMT+00:00)
Alright, enough preamble! Let's get on to our sixteen finalists!
Standard
The standard category is a staple of the TLMC, and is the most popular category by far. A standard map challenges a mapmaker to stand out without using any gimmicks or tricks. This is StarCraft at its most fundamental level, ensuring strong competition for both players and the mapmakers themselves.
Judges' picks/Designated 3+ starting position maps
Rush
These maps with short rush distances and smaller overall area favor aggressive and cutthroat gameplay. Frantic early and mid-game activity is a hallmark of these maps.
Macro
While the macro category shares some similarities with the "Standard" category, we've challenged mapmakers to design a slower playing map where players feel safe to expand. This allows for a longer 'wind up time,' leading to more explosive late-games!
Judges' pick/Designated 3+ player map
Freestyle
A new category to make use of the new Terrain Height features, alongside other new ideas for how StarCraft II can be played. This is a category which seeks unorthodox, outside-the-box maps!
Judges' pick/Designated 3+ player map
Voting
TLMC uses a voting system where voters assign points to their
top five
maps in order of preference. Please follow these instructions when voting:
You may only vote for a total of FIVE (5) maps.

Among your top five maps picks, assign your points/votes as follows:


Highest rated map: 5 points

Second highest rated map: 4 points

Third highest rated map: 3 points

Fourth highest rated map: 2 points

Fifth highest rated map: 1 point

You may only assign each specific point value once (only one map can be awarded 5 points, etc).
Vote Now
Public voting via TL.net determines the final rankings in TLMC #15. All sixteen finalists, as selected by the judges, receive $200 per winning entry. The top five entrants, as determined by public vote, will be awarded additional winnings as follows:
Maps that place high in TLMC #15 are
not guaranteed
to be added to the competitive ladder. ESL and Blizzard will reference TLMC #15 and choose which maps to add at their own discretion.
Prize money has been provided by Shopify and ESL, and we thank them for their support of the map making community.
Voting closes in .