World Team League - 2021 Summer Season
by: TheOneAboveU
We're over the finish line! Well, at least for the regular season.
The final week of play saw Dragon Phoenix Gaming lose to arch-rivals KaiZi Gaming, but they still survived with enough points and map wins to secure a first place finish in the regular season. DPG had been chased into the final week by Team NV, who had a chance to snatch away the #1 spot with a clean victory over Afreeca Freecs. However, Team NV botched this chance by being forced to an ace match by the Freecs, ultimately matching DPG's 27 points but losing the tie-breaker due to map-score differential (we told you this would be important!).
DPG have now secured a direct seed into the Grand Finals, while Team NV end up with a disappointing second place seed due to their late season collapse after an otherwise dominant campaign. Defending champions KaiZi Gaming finished in third, while Afreeca ended up in fourth place.
The Freecs will face the Shopify Rebellion in the first match-up of the playoffs, with the Canada-based squad able to 100% lock-in their playoff spot with a victory against Team GP. Of the five playoff teams, three are newcomers that joined the WTL this season, demonstrating the increased level of competition due to new participants.
Besides taking a look how the Regular Season results compare to our initial Power Rank, we're also giving out a bunch of TL.net awards to recognize some of the best performers of these eleven weeks of play.
Catch the WTL 2021 Summer Season Playoffs on the stream of Wardi on July 10th and 11th at 11:00 GMT (+00:00)!
Week 11 Recap - Final Week of the Regular Season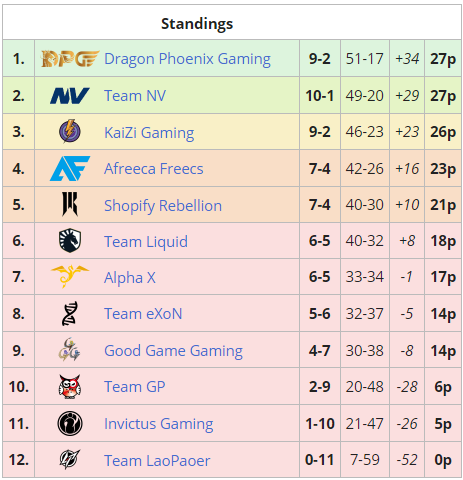 Top 5 teams qualify for the playoffs.
Points are awarded as follows:

3 points for a victory in a series that does not require an ace match

2 points for a victory in a series that requires an ace-match

1 point for a loss in a series that requires an ace-match

0 points for a loss in a series that does not require an ace match

Invictus Gaming 2 - 4

Alpha X
Watch VOD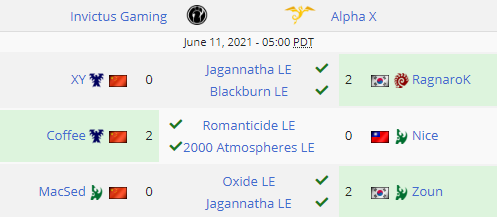 *****



Team Liquid 3 - 4

Team eXoN
Watch VOD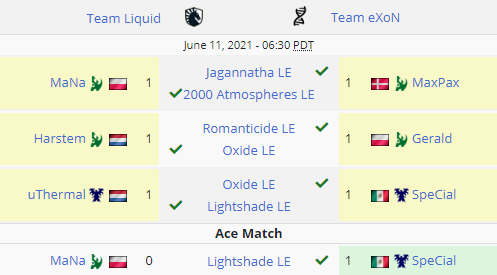 *****



Team NV 4 - 3

Afreeca Freecs
Watch VOD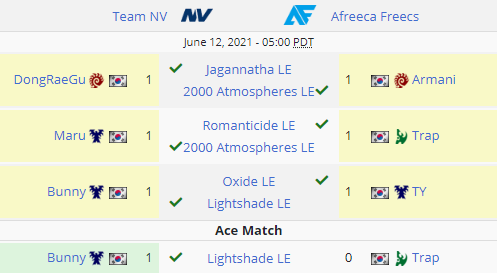 *****



Shopify Rebellion 4 - 2

Team GP
Watch VOD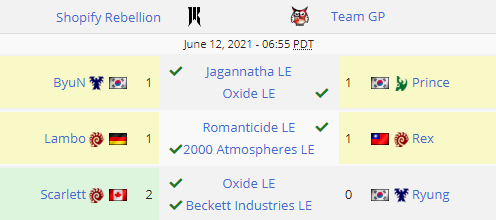 *****



Good Game Gaming 4 - 2

Team LP
Watch VOD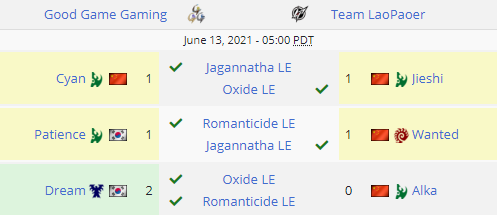 *****



KaiZi Gaming 4 - 2

Dragon Phoenix Gaming
Watch VOD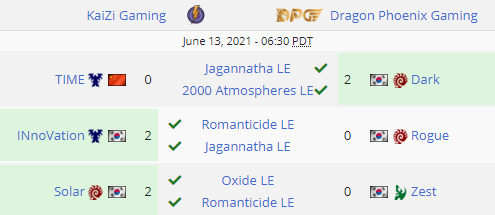 Weekly MVP Award: NV.Bunny
Stepping up against the world's best Protoss player in an ace match against Afreeca Freecs' AF.Trap,

Bunny
brought home victory for Team NV and secured second place for the Korean organization. Bunny even set up the ace match himself, taking a critical map against AF.TY earlier in the match. Without Bunny's heroics, KaiZi Gaming would have overtaken Team NV for second place, swapping positions on the playoff totem poll. Thanks to Bunny, Team NV now is merely one series away from the Grand Finals.
Weekly MVPs

Week 11: NV.Bunny

Week 10: DPG.Rogue

Week 9: Shopify.ByuN

Week 8: GGG.Patience

Week 7: αX.RagnaroK

Week 6: AF.Trap

Week 5: DPG.Cure

Week 4: NV.Maru

Week 3: Shopify.Lambo

Week 2: Liquid`Clem

Week 1: NV.Creator
Regular Season AwardsAfter eleven weeks of matches, it's time to celebrate the best players of the World Team League Summer Regular Season!

Best Terran & Regular Season MVP: DPG.CureCompetition in this category was fierce indeed, with four of the top five map-winners being Terran players. Each player had a solid argument to be named top Terran: KZ.INnoVation won the most maps with a 19-5 record, including 2-0 in ace matches. Liquid'Clem went 18-7 with a 3-2 record in ace matches, helping his team contend for a playoff spot. NV.Maru amassed a 17-3 record while going 2-0 in ace matches, and played a big part in keeping Team NV undefeated for a large stretch of the season.

More impressive than all the others, however, was Cure. He may have less total map wins than the other Terrans at 'just' sixteen (and one ace win), but his 16-1 record and 94% win-rate means he had more positive value than any of the other players. NV.Percival was the only player to score a 100% win rate during the season, but he played in just four maps in total. Cure went undefeated until Week 10, when Maru broke his streak by taking one map from him, meaning that for the entire Regular Season Cure didn't actually LOSE a single series. While the same holds true for Maru, he gave up more 1-1 ties, including the Week 10 tie against Cure which contributed to Team NV losing the #1 seed.

Overall, the Dragon Phoenix Gaming player is fully deserving of the award as Best Terran of the Regular Season as well as the Most Valuable Player award.

Maru and INnoVation are tied for runner-up in the Best Terran category with their strong performances. Clem, despite doing a fantastic job at carrying Liquid to 6th place, still wasn't an absolute killer like his peers. While it's unfair to pin TL's failure to reach the playoffs on just one player, you have to look at his map losses to iG.Coffee and αX.Nice and wonder what could have been.

Best Zerg: KZ.SolarHaving played in all five seasons of the SCBOY team league under its various names so far, Solar has always ranked among the top five players at the end of the Regular Season. This marks the second season where he's notched the most map wins, the first time being in the inaugural season of the league. Going 19-4 with an ace record of 0-1, the Zerg achieved a ridiculous 15-1 score against Protoss players throughout the season. He truly is a man to be relied upon in this format, sharing the workload of carrying KaiZi to a top three finish with INnoVation. In terms of historical consistency in these leagues, only the Machine can really rival Solar.

Shopify.Lambo is the clear runner-up in this category, going 16-7 overall and 1-0 in ace matches over his impressive rookie campaign. The German Zerg punched above his weight class several times during the season, becoming the Rebellion's best and most reliable player and playing a critical role in their qualification for the playoffs. He sometimes struggled when favored and took some really unnecessary losses, which is why he couldn't come closer to Solar's overall record, but this season really showed how Lambo can thrive in a format like this.

Best Protoss: DPG.ZestIn the two previous seasons, Alpha X Protoss players claimed this award by helping the Golden Dragons punch above their weight class and reach the playoffs. This time around, Alpha X weren't able to resist against the might of the WTL's superteams, and it's a member of the super-est superteam who wins this award.

Going 14-4, Zest was simply the strongest Protoss player of the Regular Season and almost always secured at least one map for his team when he was fielded (the exception being Week 11 when he faced the even more dominant KZ.Solar). It was hard being a Protoss player this season: Zest is the only representative of his faction to reach the top ten in map wins, while six of the ten lowest win-rate players were Protoss.

AF.Trap is the runner-up for this award, achieving a 13-8 record while going 0-1 in ace matches, keeping Afreeca afloat in concert with AF.Armani after Stats left for the military, and AF.TY—at least mentally—joined him there. NV.sOs quietly played a very solid season with a 10-4 record, perfectly filling his role of supporting Maru, but wasn't fielded often enough to really contend for this award.


Power Rank Review: How Has it Aged?You might remember us starting off our coverage of WTL 2021 Summer with a good old-fashioned Power Rank. Now that the Regular Season has wrapped up, it's time to see how accurate we were.

Bottom TierTeam LP (Actual Rank: 12 | Power Rank: 12)
Invictus Gaming (Actual Rank: 11 | Power Rank: 11)
Team GP (Actual Rank: 10 | Power Rank: 10)

The three bottom tier teams were fairly predictable in terms of pecking order. Team LP fielded what was clearly the weakest and most inexperienced roster, and the team quickly became the league's punching bag. Invictus Gaming and Team GP were pretty close to each other in the Power Rank and in reality. The Koreans earned one point more than their Chinese rivals, who actually ended the season with a better map differential. While outclassed in most of their matches, both Team GP and Invictus Gaming had their moments this season. iG even managed to influence the playoff picture, with their unexpected ace match series against Team Liquid costing the Dutch team the one "free" point needed to keep pace with Shopify.


Middle TierGood Game Gaming (Actual Rank: 9 | Power Rank: 8)
Team eXoN (Actual Rank: 8 | Power Rank: 9)
Alpha X (Actual Rank: 7 | Power Rank: 5)
Team Liquid (Actual Rank: 6 | Power Rank: 6)
Shopify Rebellion (Actual Rank: 5 | Power Rank: 7)

Things were a bit less clear in the highly competitive mid-table, where an intense battle for fifth place and the final playoff spot ensued between several parties. Good Game Gaming suffered from unreliable performances from Dream and Patience, who we expected to be more consistent when taking past seasons into consideration. Team eXoN was probably one of the weirdest teams to follow this season. The North American squad was a wild card, able to challenge top teams on a good day, such as when they forced the ace match against Team NV. But in turn, their lack of consistency across the entire roster saw them give up an ace match against Team GP. By winning the direct duel with GGG, eXoN ensured themselves a finish one rank above TL.net's expectations.

The three-way fight between Alpha X, Team Liquid, and Shopify Rebellion was one of the great stories of this Regular Season with the underdogs from the Rebellion coming out on top. The Golden Dragons earned themselves a lot of credibility in the two previous seasons where they outperformed expectations by leaps and bounds, but they couldn't quite live up to that standard this season—largely due to Zoun and Astrea failing to repeat their clutch heroics. In contrast, Shopify benefitted massively from the surge in form of Shopify.Lambo, who single-handedly changed the course of their debut season and enabled them to clinch a playoff spot. Liquid landed exactly where we thought they would with Liquid'Clem carrying a huge load and generally receiving solid support from his teammates. Ultimately, Liquid's downfall was their lack of finishing ability, being forced to a number of ace matches when a clean victory seemed within grasp.


Top TierAfreeca Freecs (Actual Rank: 4 | Power Rank: 2)
KaiZi Gaming (Actual Rank: 3 | Power Rank: 3)
Team NV (Actual Rank: 2 | Power Rank: 4)
Dragon Phoenix Gaming (Actual Rank: 1 | Power Rank: 1)

Afreeca suffered from the departure of Stats for mandatory military service during the season, and the situation worsened when AF.TY went through a deep slump. While Stats' departure was foreseeable (the exact date wasn't revealed until mid-season), TY's collapse really threw a wrench into the Power Rank. In contrast, Team NV's players brought what felt like Proleague-level focus to the WTL, with a nearly impeccable NV.Maru living up to his reputation as a dominant team league force. Many readers did actually predict Team NV higher than TL.net, so good intuition there!

Both Chinese powerhouses KaiZi Gaming and Dragon Phoenix Gaming pretty much performed as expected, although DPG didn't look quite as invincible as their roster suggested, and they needed a bit of luck to secure the #1 seed. Still, our pre-season prediction that DPG was 'the team to beat, no matter how you look at it.' has held true—quite literally! By securing the direct seed into the Grand Finals, any team gunning for the title will inevitably have to challenge DPG in a face-to-face duel.



---



Credits and acknowledgements
Written by:
TheOneAboveU
Editor: Wax
Stats: Aligulac.com & Liquipedia
Images: SCBoy