World Team League - 2021 Summer Season
by: TheOneAboveU
Week 9 of the Regular Season of WTL 2021 Summer has given us excitement and drama aplenty: the Shopify Rebellion have won a critical victory over Team Liquid in a somewhat controversial ace match, securing themselves the prime position to bring home a top five finish in their first ever team competition, and with it, a ticket to the playoffs. With both Alpha X and Good Game Gaming suffering clear losses, their chances to make a last-minute dash towards the playoffs have been greatly diminished, but Team Liquid may yet pull off a comeback in the last two weeks of Regular Season play—a difficult task indeed, as their remaining match-ups are a lot harder than the Rebels' schedule.
Going into Week 10, we're not only in for the likely conclusion of the playoff race, but we'll also be witnessing a direct duel for the first place in the rankings between the Regular Season's undeniable top performers Team NV—still undefeated—and former champions Dragon Phoenix Gaming with three absolute highlight matches. NV could secure the direct seed into the Grand Finals with a three-pointer, but for once it looks like they may have found prey too big for them swallow. Facing Good Game Gaming, the Shopify Rebellion is favored to deal the final blow to the playoff ambitions of both the Chinese team as well as their rivals from Team Liquid, which has a monumental challenge ahead of itself: if Shopify takes three points against GGG, so must Liquid against none other than KaiZi Gaming. Currently sitting on third place, the defending champs have crushed both Afreeca and Alpha X in dominant fashion over the past two weeks—can the storied outfit conjure up an early Christmas miracle?
Please note another irregularity in the schedule coming up:
Week 9 & 10 matches are played on Sunday, Monday and Tuesday with the usual start time
.
Catch the WTL 2021 Summer Season on the streams of Wardi and CreightonOlsen every Friday, Saturday and Sunday at 11:00 GMT (+00:00)!
Week 9 Recap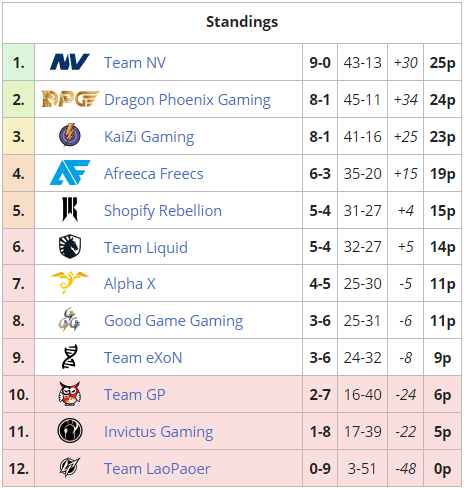 Top 5 teams qualify for the playoffs.
Points are awarded as follows:

3 points for a victory in a series that does not require an ace match

2 points for a victory in a series that requires an ace-match

1 point for a loss in a series that requires an ace-match

0 points for a loss in a series that does not require an ace match

Team NV 5 - 1

Good Game Gaming
Watch VOD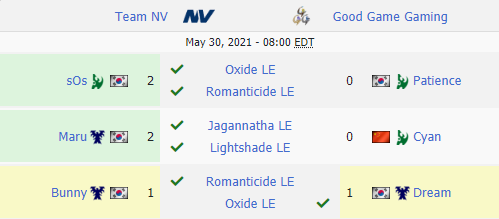 Good Game Gaming needed to break Team NV's win streak to mount a big comeback in the playoff race, but the Korean club remains remarkably consistent even as we near the end of the Regular Season.
NV.sOs
delivered a tour de force of PvP in the first match against
GGG.Patience
, dominating the game with his Blink Stalkers despite bleeding workers due to Patience's steady air harassment. sOs then overcame a Disruptor-based army with his pure Blink Stalker-Chargelot force, with his ballsy moves overcoming the balls of death. Mistaking this for a match of The Settlers, both players remained peaceful for about eight minutes in the second game before sOs started the action with a big push, but thanks to quick Disruptors, Patience held on. Still, sOs continued to dictate the pace of the game and ran circles around Patience, who was stuck putting out fire after fire. A multi-pronged attack by sOs destroyed Patience's main base and fourth, giving him a decisive advantage in the great Disruptor war to end the series.
The matches between
NV.Maru
and
GGG.Cyan
went pretty much as expected: The Chinese Protoss succumbed to Maru's mass Widow Mine style on the first map, but got to show some good moves with his Blink Stalkers as well. The second map was a bit closer and could've even been a win for the GGG player as Cyan got his army into Maru's main base and force-fielded the Terran out, but a misplaced blocker ruined his chances of exploiting this move more—perhaps he was a bit nervous, but that wasn't a great look for sure. From there, NV's ace took control and ran away with the game.
A merciless
NV.Bunny
continued kicking Good Game Gaming while they were already on the ground, taking apart
GGG.Dream
's mech play with his hybrid style in a duel of almost 20 minutes length. Salvaging at least one map win from this wreck of a series, the GGG Terran secured the second game in a more classic Marine-Tank duel, working out an army advantage for himself over the course of the match and then crushing his opponent with one final massive attack.

Team Liquid 3 - 4

Shopify Rebellion
Watch VOD Part 1
Watch VOD Part 2
Delivering on all the hype and drama ascribed to it beforehand, the deathmatch between Liquid and Shopify for the prime position to advance into the playoffs went down to the wire and even ended with a bit of a controversy. The Rebellion got off to a very comfortable start with
Shopify.Lambo
shutting down
Liquid'MaNa
's attempt at an Immortal-Chargelot push with brutal efficiency. The Polish Protoss did have some fight left in him, however, and came back stronger on the second map with an air-based build. Excelling at this sort of play, MaNa chose his attack timings and avenues perfectly to keep his Void Ray armada and their ground escort healthy against whatever Lambo threw at it, wearing the Zerg down and scoring an important map win for Liquid against the ZvP expert.
In the first clash between the two ace players
Liquid'Clem
and
Shopify.ByuN
, the game came down to a semi-basetrade, with ByuN taking advantage of Clem's mispositioned forces to go in for a deep attack. While the Frenchman retaliated with a drop, ByuN was eventually able to defend at home while Clem could not, bringing an end to the game. The Rebel also got the better of the first stages of game on the second map, holding off Clem's Marauder-Hellion attack and then doing massive economic damage with his counterattack. Liquid's youngster expertly used the single remaining card he had to play to claw his way back into the game, using his air superiority to repeatedly deny ByuN the use of his third base, transforming his disadvantageous position into one of strength. The Korean successfully broke through the containment with a few counter attacks, but by then it had been too late: Clem had taken more bases and fired up the war machine, overwhelming ByuN's struggling forces on two fronts to once again even the scores.
Both teams now counted on
Liquid'Harstem
and
Shopify.Scarlett
to deliver the decisive blow to the opposition. The Dutchmen played a fantastic first game against the Canadian's Swarm Host style, catching the forces out in the field and reducing their numbers before they could ravage his bases. Continuous Zealot counterattacks also were a huge problem for Scarlett, who never really got her economic engine running at full power. All the while, Harstem was producing a grand fleet fitting for the Captain and used this flying armada to slowly chip away at Scarlett's strength, who had concede after several inefficient engagements. Unfortunately for Liquid, the Dutchman could not quite close the series out in the second game. He did attempt to confront Scarlett with her greatest nightmare—Adepts—but was too slow in the execution as his opponent's Queen march hit him earlier and outright crushed his defenses. Dark Templars also failed to turn the tide, leading to an ace match.
Naturally,
Clem
and
ByuN
were put in charge by each side to bring home this critical win, but an external force also exerted influence. Clem was scheduled to play a DreamHack match later that day, admins put pressure on him to finish this match quickly to be ready half an hour before his series was supposed to start. Clem ended up opting for a proxy Marauder attack, which was easily stopped by ByuN who seemed to be on the lookout for early-game tactics. Indeed, the Korean did more damage with his counter Reaper than he took from the cheese. Transitioning into a one base all-in from there, Clem tried his best to score the decisive point, but too experienced and shrewd was ByuN to fall for such a gambit: he knew he simply had to buy time and hold on, doing so expertly to win his first ace match of the season.
The situation looked worse once the DreamHack broadcast actually started, with ad breaks and TalkCraft resulting in Clem playing his DHM match 40+ minutes after the start of the broadcast—more than enough time to play any reasonable length best-of-one in TvT. All-in-all, it seemed like an unfortunate lack of flexibility from the organizers, though for the sake of fairness, we suggest you read the organizer's thoughts about the situation
here
and
here
(Liquid players did not blame DH either).

Invictus Gaming 3 - 4

Team GP
Watch VOD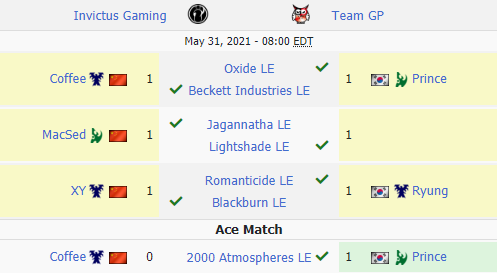 In a surprising twist, iG vs GP delivered a far more exciting showdown than αX vs KaiZi, despite the lesser stakes involved.
GP.Prince
struck the first and already critical blow of the first map against
iG.Coffee
after just four minutes with a quick Warp Prism attack, killing heaps of SCVs and then riding out the advantage towards the end. A similar move on the next map was also quite successful, but backfired heavily as Coffee had a good chunk of army left and simply opted for a massive counter with SCV pull, which ended the game with brute force.
Proving his strength in longer games,
iG.MacSed
played a very solid first game against
GP.Rex
with basically every Protoss unit in the race's arsenal seeing some action after the initial Adept-Void Ray opener. GP's Zerg tried to grasp air superiority with Mutas and then Corrupters, but just like the quick flyers had not done the trick for Shopify.Lambo on Sunday against Liquid'MaNa, they could not make any great impact against the Chinese Protoss. Slowly but steadily, MacSed wore Rex down and took the lead for Invictus Gaming. The Zerg's counter in the second game was quick and dirty, as he played a proxy Hatchery and went for a successful Spine Crawler rush from there—a classic Zerg cheese from WoL-times which Rex has turned into one of his signature builds.
GP.Ryung
once again brought his team into the lead in a one-sided first game against
iG.XY
, taking the win with a simple brute force attack against XY's natural, which could not be cleared even with some great sacrifices by the Invictus Terran's SCVs. Things continued to look rosy for the Koreans on the next map as Ryung forced XY to evacuate his third base, but a daring doom drop in the GP Terran's main base turned the tide: XY interrupted Ryung's unit production by destroying infrastructure, killed workers and also forced him into an inefficient engagement to retake this position, creating space for XY on the map to break Ryung's stranglehold on his own (former third) fourth base. It took XY a great deal of time to actually force his opponent's capitulation, but the Chinese player never let go of the reins from this point and forced the second ace match for his team in as many weeks. It may be late into the season, but iG finally found some rhythm.
Coffee
and
Prince
extended their previous duel into a Bo3 with their ace appearances, continuing the trend of early Warp Prism attacks. Unlike the first two games, the offensive in the ace game led to a direct conclusion of the match as Prince overwhelmed Coffee's defenses entirely, killing swathes of workers and army units to claim victory for his team.

Alpha X 1 - 5

KaiZi Gaming
Watch VOD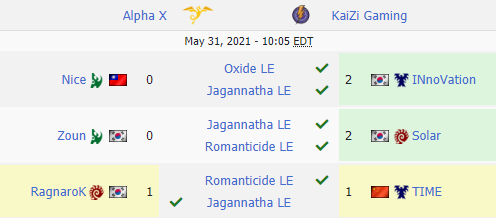 In his quest to score a map win against
KZ.INnoVation
,
αX.Nice
brought back the build he had successfully used to win his shocking ace match victory over Liquid'Clem earlier in the season: proxy Tempests supported by a field of Shield Batteries. However, the Machine turned out to be more cheese-proof than his young Terran peer. Holding out against the Tempest siege in his main and doing some counter damage with Vikings in Nice's base, the KaiZi Gaming player even snuck a Command Centre out onto the map, which remained hidden from his opponent's view and delivered bonus income to sustain his defense. Overall, things went much worse for Nice here than against Clem, leading to a pretty comfortable win for INnoVation. Bringing even more exquisite cheese on the second map, the Protoss attempted to steal a map win with a Phoenix-Colossus push supported by a proxy Nexus with Shield Batteries in front of the Machine's base, but once again INnoVation executed a flawless defense.
KZ.Solar
crushed any remaining blossoms of hope the Golden Dragons might have had ruthlessly under his heels, taking down
αX.Zoun
with overwhelming Queen-Roach-Ravager attacks on both maps, before the Protoss could really do anything with his amassed Void Rays as they still lacked substantial support forces on the ground. While Alpha X technically didn't get knocked out of the playoff race with this blow, Solar likely hammered the final nail into their coffin with these wins.
Showing no mercy for the vanquished,
KZ.TIME
took apart
αX.RagnaroK
in their first game with a continuous stream of harassment and attacks, which started with a Hellbat-Marine push early on, but expanded to include Marine drops, Widow Mines and Liberators chipping away at RagnaroK's economy as well as army. Before the Zerg could reach a critical number of Lurkers and Vipers, the Terran delivered the coup de grace with a massive Bio-Tank attack. Securing at least one map for Alpha X, RagnaroK took a straight-up Muta-Ling-Bane win by driving a devastating counterattack deep into TIME's territory while the Terran was on the offense.

Team eXoN 6 - 0

Team LP
Watch VOD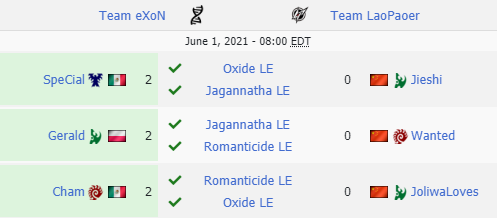 Tuesday delivered two series going 6-0, though only one was expected. Naturally, Team LP was on the receiving end of a predictable beatdown. Starting things off were
eXoN.SpeCial
and
LP.JieShi
with a disappointing performance from the Chinese player, which contrasted with his great showing against KZ.TIME in the DHM China regional. A Bio-Tank attack delivered the first map into the Mexican's hands, and the same composition supported by Widow Mines proved JieShi's undoing in a longer second game, where a foolhardy attack by the Chinese player into a set Terran defence sealed the deal.
LP.Wanted
once again provided the most solid performance from his team, as he was holding his own in the first game against
eXoN.Gerald
very well, keeping the Protoss on his toes with regular Baneling counterattacks during the macro game. But in the end, he perhaps stayed on Roach-Ravager for far too long against the Polish player's Disruptor-based composition, as one bad engagement marked the end for the Zerg. Gerald took a more convincing win in the next game, battering his opponent down with a sustained Chargelot-Archon-Immortal attack on two fronts, which Wanted could not hold.
Team LP team consistently rotates its three more inexperienced players in and out, so on Tuesday it was
LP.JoliwaLoves
' turn to take a beating and perhaps learn a few lessons from it.
eXoN.Cham
was happy to provide a lecture, though his program was more directed towards a Zerg audience as he shut down his opponent's Adept harassment and kept firm control over the entire game, finally ending it with a Roach-Ravager-Hydra attack against JoliwaLoves' third base. That said, the Chinese player was the closest out of any of his team mates to grab a win in this series, as he caught Cham with his pants down in their second game with a strong mass Chargelot timing attack, which included a second wave with Immortal-support. The Mexican had to sacrifice a majority of his Drones to hold off both waves, but was able to scrape just enough Roaches together to keep himself alive. Things were looking alright for JoliwaLoves as he had a third base up and had a good chance to hold Cham's desperate counterattack off, but two well placed Biles from Cham sniped his Warp Prism with two heroic Immortals inside as it was returning home. The two critical units and their micro potential wiped out, JoliwaLoves immediately conceded.

Afreeca Freecs 0 - 6

Dragon Phoenix Gaming
Watch VOD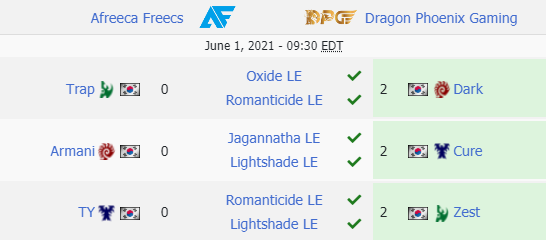 While Dragon Phoenix Gaming had good odds to take a win over Afreeca without an ace match given the line-ups, not many would have counted on an outright stomp to happen. Most surprising was the performance from
DPG.Dark
against
AF.Trap
, as the Super Tournament champion had a long running win streak over the Zerg going, whose performances in WTL have been more than lackluster this season. Dark being Dark played his Queen attack on the first map with Lings and Banes instead of Roaches and Ravagers, dealing a massive blow to Trap to secure his transition onto Hive tech and the Queen-Ultralisk composition that would win him the game later on. Hive tech was also the name of the game on the second map with Dark relying on Brood Lord-Infestor-Viper to hold his position defensively, while Baneling-Ultralisk counterattacks kept Trap's economy in check. Having sufficiently sapped the Protoss player's will to live—whose own deathball, to be fair, did not do much to enhance the game's entertainment value—Dark forced his opponent into a suicidal attack into his swarm, which was bogged down under waves and waves of Broodlings with some spellcasting-support.
Dark regaining the ability to actually win series was good news for the Chinese team, but
DPG.Cure
made the club's day even better by expanding his awe-inspiring 13-0 win streak in the league with two additional victories over
AF.Armani
. Snatching victory from the jaws of defeat, the Terran turned an almost lost game around on the first map with a desperation parade push. Armani had done crippling economic damage earlier and only needed to hold off any last-ditch attacks, but he was felled by the determined Cure. Gaining steam from this miraculous recovery, Cure put on a very impressive showing against Armani's Muta-Ling-Bane on the next map by keeping the Zerg pinned on his own side of the map with a whirlwind of attacks and drops until he had finally worn him down so much that a final push could close the game out.
Due to his recent form a win by
AF.TY
over
DPG.Zest
would have been surprising in any case, but with the series already lost the Terran seemed to be even less motivated than usual to be a threat to his opponent. The Protoss was more than ready for the proxy Barracks at the start of the series, held the cheese off and won a comfortable macro game, then won a base trade on the second map to fully complete a triumphal victory for his team.
Weekly MVP Award: Shopify.ByuN
Controversy aside,

ByuN
finally fulfilled his role as the Shopify Rebellion's ace player with success this week, scoring what might become the most valuable map win of the entire Regular Season with a very mature and solid performance. Lesser players might have acted less careful in the situation at hand or lost focus, but ByuN stayed on target and did what had to be done to secure this critical victory for the Rebels, breaking his losing streak in ace matches this season.
This week's honorable mention goes out to GP.Prince for establishing his team's supremacy over the bottom of the field and essentially securing a tenth place finish for the Koreans.
Weekly MVPs

Week 9: Shopify.ByuN

Week 8: GGG.Patience

Week 7: αX.RagnaroK

Week 6: AF.Trap

Week 5: DPG.Cure

Week 4: NV.Maru

Week 3: Shopify.Lambo

Week 2: Liquid`Clem

Week 1: NV.Creator
Week 10 Preview
Sunday, Jun 06 12:00pm GMT (GMT+00:00) Matches

Invictus Gaming vs.

Team eXoN


Coffee
< 2000 Atmospheres >


Cham


MacSed
< Lightshade >


MaxPax


XY
< Blackburn >


Gerald
Ace:
< Romanticide >
While this match won't have any impact on the playoff battle, both Team eXoN and Invictus Gaming still have honor and prize money to play for. Odds are, as usual, stacked against the Chinese team as all the pairings lean quite heavily in toward their opponents. On
paper
, the closest duel should happen between
iG.Coffee
and
eXoN.Cham
, who are clashing for the first time ever in their careers. The Terran walked away with some impressive wins in the last two weeks, stealing maps from Liquid'Clem and GP.Prince to lead his team into two ace matches. His Mexican adversary, too, had a good last two weeks in WTL with a map-split against DPG.Dark and a clean, though a but shaky, win over LP.JoliwaLoves. Problematically for Coffee, however, he is not really in his element in TvZ, sporting a lacking recent winrate of 37,84% in the match-up. While his Zerg opponent is not a beast in the battle against humans either, his more solid winrate of 52,78% surely indicates more comfort in the match-up. If Cham is aware of how Coffee likes to play his TvZs—lots of proxy Barracks, lots of heavy two-base Marine-Tank attacks—he should be able to provide his team with a great start here.
Despite PvP being
iG.MacSed
's strongest suit in recent times,
eXoN.MaxPax
enters their bout as the
heavy favorite
to win a clean victory and perhaps already secure the series for his team. As the Chinese player seems to prefer standard practices over more creative approaches, there is little chance of him surprising the young Dane with anything unconventional. It's not given that MaxPax will do anything crazy himself, as he's gotten better and better on the macro side of things in recent months and can probably grind down MacSed in a standard duel as well—the Chinese Protoss' best chance is probably to deliver a solid macro performance and hope MaxPax shows more of the overconfidence that cost him some maps earlier in the season.
Rounding out this series are
iG.XY
and
eXoN.Gerald
in another match
leaning heavily
towards the American team's member. XY has shown excellent TvT performances in the past two weeks, flexing his strategic muscles in the mirror match-up. Unfortunately for Invictus Gaming and XYFANS, the Terran's TvP is his worst match-up by far, scoring literally one single map win against the race in the entirety of this year so far (a map-split against GGG.Patience in WTL). His Polish opponent on the other hand has been posting solid PvT results recently, though it's certainly not an excellent match-up for him. If he scouts carefully—XY has some creative proxy builds in his repertoire—and otherwise simply plays a solid game, he should be able to close things out for Team eXoN here comfortably.
Prediction:
Invictus Gaming 1-
5 Team eXoN

Afreeca Freecs vs.

Team GP


Armani
< 2000 Atmospheres >


Rex


Trap
< Lightshade >


Prince


TY
< Blackburn >


Ryung
Ace:
< Romanticide >
Losing against the two top teams from China in the past couple of weeks, the Afreeca Freecs fell down to rank four and thus face a grueling run through the entirety of the playoff gauntlet if they are to make a bid for the championship—hardly an ideal situation for the manpower-starved team. Climbing back up in the last two weeks of the Regular Season is going to be extremely hard, but not impossible. In any case they'll need a clear win over their Korean colleagues to change the standings in any way. The line-ups certainly give them a good chance to score such a victory:
AF.Armani
has been the team's most stable performer since Stats left for the military, almost breaking DPG.Cure's win streak last week. His ZvZ overall has been looking quite solid as of late,
beating
Rex' good record. Though the mirror match-up is the GP player's strongest suit at the moments, his stats are heavily propped up by the regional opposition he's faced, which is no match to the daily competition Armani has to contend with. The Korean has never lost a map to Rex in the past, this record looks to stay intact on Monday.
GP.Prince
has been one of the stand-out performers on his team over the course of the season, but has really not been able to score huge upsets that would've sent shockwaves through the league. He wins over players he's favored against and is beaten by superior players quite clearly with little potential to exceed expectations. It's relatively easy, then, to follow the
stats
and make
AF.Trap
out to be the heavy favourite for victory in this duel. The Afreeca Protoss has won another Super Tournament finals with his strong PvP recently and there is no reason to think his abilities might have been diminished since then, maintaining a winrate of over 70%.
It's a good thing Afreeca frontloaded their line-up so hard, since the unreliable
AF.TY
once again acts as the rear guard.
Historically
, he should be the overwhelming favourite over
GP.Ryung
, but the last weeks have shown that TY's pre-military IDGAF-attitude has to be accounted for when talking about his match-ups. That said, TY didn't look too bad in the previous week against DPG.Zest, certainly more motivated than in the week before against KaiZi Gaming, so perhaps he's decided to at least attempt to help his team mates out. If that is indeed the case, Ryung will have his work cut out for him, especially as iG.XY has shown in the previous week that his TvT is all but flawless, with surprising moves being able to throw the Korean completely off balance. Still, Ryung should be good for a map win at least here.
Prediction: Afreeca Freecs 5
-1 Team GP
Monday, Jun 07 12:00pm GMT (GMT+00:00) Matches

Alpha X vs.

Team LP


Zoun
< 2000 Atmospheres >


Wanted


RagnaroK
< Lightshade >


mymy


Nice
< Blackburn >


JieShi
Ace:
< Romanticide >
While Alpha X have to hope for complete collapses from Shopify and Liquid in order to qualify for the playoffs, there's still some work to be done on their end. Securing a clean 6-0 against Team LP would help out Alpha X in the case in the miracle scenario where they tie their rivals on points, and thus need map-score differential to break the deadlock. Now, given that Team LP is 3-51 in maps for the entire tournament, you might think that 6-0 for Alpha X is actually the MOST likely outcome, and that we're just trying to inject some fake drama into this otherwise boring match.
But hear us out a little here. Typically in a Team LP preview, we'd mention that their players have either no past record against their opponents or have a brutally one-sided losing record. While that's the case for
αX.Zoun
vs
LP.Wanted
(0-0) and
αX.RagnaroK
vs
LP.mymy
(0-0), that's NOT true of αX.Nice vs LP.JieShi. The team LP ace (yes, Jieshi has a worse record than Wanted this tournament, but whatever) actually has a winning record of
12-5 against
Nice, including an active four match win streak. We're pretty sure this the biggest head-to-head advantage a Team LP player has had against ANY opponent this season.
Book it! Map win #4 is on the table for Team LP, and they won't be denied their rightful glory! Nevermind that Jieshi had a
slight advantage
against MacSed as well, and proceeded to go 0-2!
Prediction: Alpha X 5
-1 Team LP

Team NV vs.

Dragon Phoenix Gaming


sOs
< 2000 Atmospheres >


Rogue


Bunny
< Lightshade >


Zest


Maru
< Blackburn >


Cure
Ace:
< Romanticide >
Many teams have tried to stop Team NV's undefeated streak, all of them have failed. Dragon Phoenix Gaming, the only team to ever finish a regular season of an SCBOY team league without a loss, has probably the best shot out of anyone to put a halt to NV's triumphant march, though the battles ahead are quite unpredictable as we're in for a bit of a Jin Air Green Wings reunion party. On a side note, former Jin Air players have been absolutely dominating in this league with a combined record of 63-18 in maps. The two players responsible for about half of these wins will clash later on in this series, so this should be very exciting.
There is also quite a bit at stake: With three points here, NV could already secure the direct seed into the Grand Finals, while three points for DPG would expand the battle for first place into the last week, where they will face KaiZi Gaming while NV clashes with Afreeca. To emphasize the importance of finishing #1, we'll remind you that the team with the direct seed into the finals won the title in the last two seasons.
Opening the festivities are
NV.sOs
and
DPG.Rogue
, two former teammates and prime agents of chaos with an unimaginable range of builds and tricks up their sleeves. The Protoss player has quietly put together a very solid season with a 10-2 record thus far and seems to benefit from a general increase in form lately. His Zerg opponent follows not far behind with a 9-3 record and is, of course, the reigning champion of GSL Code S. Though they sport very comparable overall records, there is a considerable and perhaps critical difference in the very match-up they're about to clash in, which may well give Rogue the
decisive advantage
. sOs has just played two PvZ series in May, losing 0-2 to KZ.Solar in the GSL qualifiers and getting away with a 1-1 against Shopify.Lambo in WTL. Rogue did take that spectacular reverse-sweep loss against αX.Zoun in Super Tournament, but can also sport some wins to compensate. In the end, we must come to the conclusion that a map-split is the statistically most likely result here, but would it really surprise anyone if one these two players just swept the other one on two maps?
On paper,
DPG.Zest
should provide the decisive advantage for his team over their Korean opponents as he holds a clear edge over
NV.Bunny
on
paper
. This consists of his historical domination over the Terran, Bunny's lackluster recent TvP record compared to Zest's very solid stats in the match-up and the Protoss player's general good form. Yes, Bunny has been in great shape recently as well and he did actually beat Zest 2-1 in the GSL qualifiers at the end of May (though before that he's lost twelve maps in a row against the DPG player), sporting a solid 6-2 record in WTL. It's hard to argue against Zest's 13-1 overall record (5-1 in PvT) this season, however. On match day, anything can happen and Bunny definitely has the ability to score one or two maps here, but we have to give Zest the edge.
Naturally, everything could well turn around in the end with
NV.Maru
taking the stage against
DPG.Cure
, but for once the prodigy may not become the savior of his team. Maru sports an impressive 15-1 record this season, but he now faces the one man with even more impressive numbers on his side, for Cure has gone 15-0 so far with a critical 9-0 in TvT. Outside of WTL, the stats look
quite close
as well: the former teammates have historically been evenly matched and can rely on excellent overall and match-up specific stats to back them up with Maru having slight edges in all these categories. Throughout the season, these two players have done a lot of carrying work for their teams, with NV leaning on their ace slightly more than DPG. While—again—this could go any way and it seems probable that Cure's fantastic streak might finally be broken here, there is a good chance for him to secure at least one map here. That might be all DPG needs to close the series out, but with how uncertain all these matches really are, take our prediction with a titanic grain of salt—this might become chaotic quickly with a sweep from any side to an exciting finish in the ace match all being possibilities that can't be ignored. It's a real top match between the two best teams of the Regular Season, how could it not be evenly matched?
Prediction:
Team NV 2-
4 Dragon Phoenix Gaming
Tuesday, Jun 08 12:00pm GMT (GMT+00:00) Matches

Shopify Rebellion vs.

Good Game Gaming


ByuN
< 2000 Atmospheres >


Cyan


Lambo
< Lightshade >


Patience


Scarlett
< Blackburn >


Dream
Ace:
< Romanticide >
Sitting four points behind Shopify, GGG have one last chance to keep their playoff chances alive in this Week 10 clash. Considering the fact that Shopify have a relatively easy match against Team LP in the final week, it might merely be vain hope for GGG—but it's hope nonetheless.
Looking at the match-ups, Shopify seem to have stumbled their way into the vaunted
nonge
/sacrifice strategy, with their weakest player facing the enemy's ace while the remainder of the roster have drawn rather preferable match-ups. Pencil in a 2-0 start for Shopify, as
Shopify.ByuN
comes into his match with
GGG.Cyan
holding a
dominant, 9-0 head-to-head record
against the Chinese Protoss. Overall, Cyan's record against Korean Terrans has been
rather dreary
, so it's hard to see ByuN losing barring a complete meltdown.
The second duel seems to favor Shopify as well, as the surging
Shopify.Lambo
gets to play his best match-up of ZvP against Patience. While the German Zerg has
won over 70% of his ZvP matches this year
, he's been curiously mediocre against Protoss in WTL, being forced to settle for 1-1 draws in all of his clashes—even against MacSed! Still, Shopify seems plenty confident in his ZvP ability, sending him out as their ace against Afreeca Freecs when Stats and Trap were his likely opponents. Lambo proved to be worthy of that faith, defeating Stats to secure the victory for Shopify. Patience, despite his folk hero status as one of the SCBOY team league's most unpredictable and dangerous players, really hasn't lived up to his wild card billing this season. While Lambo's aforementioned 1-1 draw against MacSed is definitely a concern, it feels like it's more on Lambo to give up the draw than for Patience to steal it.
GGG's favored match-up might come too late, as recent Code S semifinalist
GGG.Dream
takes on Shopify's worst performing player in
Shopify.Scarlett
. Somewhat similarly to Patience, Scarlett hadn't really lived up to her reputation as a dangerous cheeser this season. Still, she managed to force a 1-1 draw out of Harstem last week with a Roach-Ravager-Queen bust. Dream has a penchant for making risky plays against stronger opponents—be it all-ins or excessive greed—but it seems unlikely he'll feel compelled to take such drastic measures against Scarlett. If Dream plays it safe, he should be able to take two maps against Scarlett—but will it be enough to force an ace match?
Prediction: Shopify Rebellion 4
-2 Good Game Gaming

Team Liquid vs.

KaiZi Gaming


MaNa
< 2000 Atmospheres >


Solar


uThermal
< Lightshade >


TIME


Clem
< Blackburn >


INnoVation
Ace:
< Romanticide >
One would have thought Liquid's realistic playoff aspirations ended with their loss to Shopify, but a relatively decent draw against KaiZi might be enough to keep Liquid fans praying for another week. We should emphasize the "relatively" part of the last sentence, because KaiZi are still favored to take care of business against their European opponents.
We start off with an intriguing first match which may not be as one-sided as it seems on paper, as
Liquid`MaNa
takes on
KZ.Solar
and his ridiculous 12-0 ZvP record in the WTL. Whether it's ruthless Queen busts or methodical late-game play, Solar seems capable of doing it all when he's playing in WTL—now why can't that player show up in the AfreecaTV studio? Interestingly enough, Aligulac.com only projects this match at around
65% in Solar's favor
, which is a testament to MaNa's own fantastic form in PvZ. MaNa has quietly racked up an impressive
99-38 map record against Zergs this year
, which while somewhat padded with matches against mid-tier European opposition, still includes a respectable
10-8 in overall map score
against Korean opponents. While you have to give Solar the advantage here, there's an outside chance that MaNa forces a 1-1 tie.
Similar to the first match, KaiZi seems to have the edge in
KZ.TIME
versus
Liquid`uThermal
, but perhaps not enough to lock in a 2-0 victory. Aligulac gives TIME a slight
60:40 advantage
in a best of three match, which makes a 1-1 tie seem like the most likely outcome. Interestingly enough, both players have given up maps to the fabled iG.XY this season, with TIME dropping a clean 0-2 while uThermal went 1-1. Perhaps we should follow the new "XYnalytics" metric and predict a victory for uThermal?
After a 1-1 draw and unfortunate ace match loss against ByuN last week,
Liquid`Clem
takes on another fearsome Korean Terran in the form of
KZ.INnoVation
. By the time you read this, Clem may already have won DHM Europe on the back of his world-best TvZ—alas, TvT is still his Achilles' heel, stuck at 'merely' a top-tier level. The upper echelon of TvT is an unusually deep region of Starcraft II, with Clem, ByuN, Cure, Maru, and INnoVation all capable of defeating each other on any given day (Dream and HeroMarine are creeping up into this tier, if they're not already there). As with most match-ups in this heavenly sphere, a 1-1 outcome seems like the most reasonable prediction.
It might be worth pointing out that KZ have been forced to ace matches by two of the 'mid tier' teams in Shopify and GGG. Should Liquid also pull off that feat, we're likely to see Clem and INnoVation clash once again in an ace match. Again, that match is almost a complete coin flip for me—all I can hope for is we'll get a more entertaining game than in Clem vs ByuN.
Prediction:
Team Liquid 2-
4 KaiZi Gaming
---
Credits and acknowledgements
Written by:
TheOneAboveU
Editor: Wax
Stats: Aligulac.com & Liquipedia
Images: SCBoy