World Team League - 2021 Summer Season
by: TheOneAboveU
With only four weeks of play left in the Regular Season, the playoff race is reaching its critical phase. The Shopify Rebellion are losing their grip on the fifth and final playoff spot, having given up a painful loss to Alpha X in Week 8. The Golden Dragons will look to consolidate their gains with another victory against Good Game Gaming in Week 8, while the Rebels' woes seem likely to continue as they take on the undefeated Team NV. Meanwhile, Team Liquid are expected to take an easy three points of Invictus Gaming, which could give them temporary control of the #5 spot.
Week 8 also features important clashes at the top of the table, with #1 Afreeca Freecs facing #4 KaiZi Gaming in a match that could shake up the standings. Though both teams seem like virtual locks to qualify for the postseason, obtaining a good seed is still extremely important in the WTL's gauntlet-style playoffs. The same goes for Dragon Phoenix Gaming, who are expected to take three points against Team eXoN, but the American organization has proved to be able to frustrate and draw blood from the giants of the league. Full commitment and concentration are demanded even from the top teams until the very end, as they scramble to seize the high ground on the WTL ranking table.
Catch the WTL 2021 Summer Season on the streams of Wardi and CreightonOlsen every Friday, Saturday and Sunday at 12:00 GMT (+00:00)!
Week 7 Recap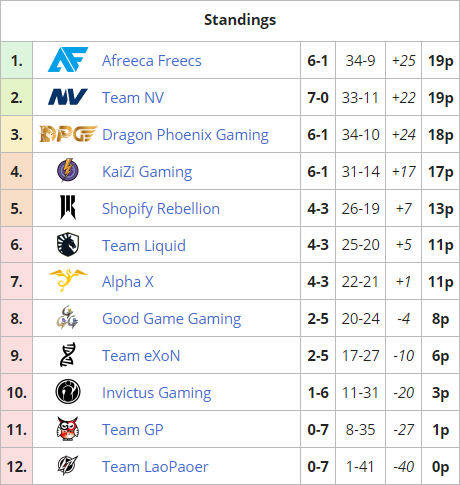 Top 5 teams qualify for the playoffs.
Points are awarded as follows:

3 points for a victory in a series that does not require an ace match

2 points for a victory in a series that requires an ace-match

1 point for a loss in a series that requires an ace-match

0 points for a loss in a series that does not require an ace match

Team LP 0 - 6

Invictus Gaming
Watch VOD
Rarely do Invictus Gaming live up to their name, making occasions like last week truly special. Against Team LP, the entire squad put in strong performances, securing the storied club three points and six map wins. While the result looks one-sided on paper, it doesn't quite reflect how all the matches went. In the opening series,
LP.Wanted
aimed for macro games on both maps, setting himself up early with a good economy and tech. However,
iG.Coffee
followed the time-tested plan of 'don't let them get there' and fully played to his own strengths by pressuring his opponent early on with Marine-Tank pushes (Hellbats in the second game), which Wanted simply could not hold well enough to reap the benefits of his economic efforts.
The TvT's between
LP.mymy
and
iG.XY
were much closer, with both players having several chances to win both maps, and both players blowing those chances with very foolhardy attacks and army movements. Just as during his series against DPG.Cure, the LP Terran showed some very solid macro and mechanics, which enabled him to bounce back from difficult situations, but his maneuvers were all over the place. XY on the other hand seemed a bit overconfident at times, trying to close the games out at inopportune moments, which led to him requiring a bit more time than necessary to close out the 2-0 victory.
Completing the triumph for Invictus was
iG.MacSed
against
LP.JieShi
in a PvP series featuring what is likely one of the weirdest recalls in history. As MacSed was ravaging his opponent's main base via Blink and Warp Prism drop, he sent a horde of Zealots to take care of the third base at the same time. The LP player's forces were already depleted heavily in the main after some previous fighting, his third remained undefended—so he recalled his dying units from the main to the third, only for them to be swarmed there and also die, making absolutely sure that he'd lose on both fronts. The Invictus Protoss wrapped the series up with another clean and clear macro victory on the next map, leaving Shopify.ByuN with the 'honor' of remaining the ONLY player to drop a map against Team LP so far this season.

Team eXoN 2 - 4

KaiZi Gaming
Watch VOD
Enhancing his reputation as a strong ZvP player ever further,
KZ.Solar
took his WTL win streak in the match-up to 10-0 against
eXoN.Gerald
. He rolled over Gerald in game one with a Lurker-Viper composition after the Polish Protoss failed to put any sort of stop on the Zerg economy, with the Disruptor-based defense unable to deal with the Zerg swarm. On the second map, Solar crushed an Oracle-Adept attack by his opponent with minimal losses, countering with a devastating Roach-Ravager push to secure another win.
Putting on a little pre-show before their Super Tournament match,
eXoN.SpeCial
and
KZ.INnoVation
were the next players to duel. The Korean Terran chose a much more macro-oriented build in game one, quickly gaining a worker lead over his opponent, who instead went for heavy two-base pressure. Thanks to his air superiority, The Machine was able to hold on, forcing SpeCial to concede after his final attack was thwarted. A Reaper rush from two proxy Barracks gave the Mexican Terran an early advantage in the second game, but a counter from INnoVation equalized the situation once again for a short while. SpeCial exploited holes in INnoVation's defense, however, eluding his opponent's mispositioned forces to launch devastating Marine attacks that secured eXoN a 1-1 map split.
Trying to force the ace match,
eXoN.MaxPax
opened his series against
KZ.TIME
with his namesake build, gaining a solid economic lead through early aggression. As has often been the case this season, however, he didn't know when to halt his offensive. His Warp Prism and Blink play was wasteful against TIME's solid defence, giving the Chinese Terran a window to close out the series with his first Bio-Tank attack. However, an overcharged Battery kept MaxPax's crucial Colossus alive, extending the game a bit further. Back-and-forth maneuvering and fighting commenced from there, with TIME generally managing to get the better of the situation despite some uncomfortably close calls. TIME finally landed the killing blow when MaxPax split his Zealots away from his main army for a flanking move, but somehow thought it would be a great idea to do this right in front of his opponent. TIME pounced with his Bio to crush the high-tech core of the Protoss army—Colossi, Disruptors and Archons—and cruised to victory from there. The eXoN player salvaged one map win with all-out Blink and Warp Prism aggression hitting the Terran economy in the next game, forcing TIME into a desperation push which was relatively easily defended.

Afreeca Freecs 5 - 1

Good Game Gaming
Watch VOD
GGG.Dream
got his team off to a good start against
AF.Trap
, stoking hopes for a positive outcome as he wore down the Protoss player during their initial game on Oxide with relentless fights and some great army movement. Things looked bright on the second map as well when Dream's Hellions entered the Protoss main base via proxy Medivac—a recurring build in Dream's WTL arsenal—and destroyed a lot of Probes there. However, a combined force of Oracles, Phoenixes and Adepts infiltrated Dream's natural in return and could not easily be dislodged from the position, costing Dream even more workers and a great deal of mining time. Having turned the tide in his favor, Trap closed the game out with a big Chargelot-Archon-Phoenix attack his opponent did not have the power to withstand.
In the second series of the day,
AF.TY
took a fairly straightforward win on Beckett Industries, slowly strangling
GGG.Patience
from a nearly unbreakable siege position at his third base after a chaotic early game, where both armies missed each other on the map and found themselves unopposed in their respective opponents' naturals. That exchange went better for TY, as it turns out that Siege Tanks blow up workers quicker than Stalkers.
Romanticide proved to be something entirely different, producing one of the oddest and most entertaining games of the season. TY opened the map with a single proxy Barracks and a Bunker at Patience's natural, parking a Reaper there and then floating the building into the Protoss main base, where he calmly built a Tech Lab to research Concussive Shells while building Marauders. At home, TY delayed his expansion to pump Hellions out of his factory. As the hidden Barracks was discovered, TY unleashed his secret Marauder attack, though only managing to take down four Probes. Crucially, however, Patience activated his Oracle to help with the defense, leaving it without energy for an immediate counter. TY kept up the pressure while finally expanding with two Command Centres in his main, with his Hellions and remaining Marauder getting ten more Probes. As TY tried to take his natural, it was Patience's time to do damage with frontal attack, forcing the Terran to pull SCVs to help in the initial defense. Unhinged, the Protoss sent wave after wave of Adepts into the natural where they died in droves, but managed to take plenty of workers and units with them each time. To make things even more ridiculous, Patience transitioned into mass Blink DTs, which then initiated a base race when TY marched his army over the map, forcing the Terran to lift all his buildings and turtle up on one of the high ground bases in the centre of the map. More shenanigans ensued with TY chasing Patience's growing number of bases on the outer rim of the map and groups of DTs to the tune of the Benny Hill theme song while another horde of the invisible warriors wreaked havoc on his new main base. This assault proved too costly for the Protoss, however, leaving TY free to hunt down the remnants of his forces to end one of the most unique professional TvP matches to date.
GGG.Cyan
tried to keep his team in the series with a passable Adept attack against
AF.Armani
, but lost control of the match when he moved out onto the map and a Zergling counter ate up his economy, whereupon he marched into a deadly concave of Roach-Ravager and got hit with some nasty bile shots. In the second game, the Cyan again managed to do some reasonable damage with Adepts and Oracles, but his follow-up push with Immortals failed to achieve any solid goal besides killing swarms of cheap Zerg units. Armani caught Cyan right during his transition to Carriers, keeping the number of ships below their critical mass with continuous attacks, until the Protoss was finally worn down enough to deliver a finishing blow.

Team GP 1 - 5

Dragon Phoenix Gaming
Watch VOD
Keeping his promise from the GSL finals,
DPG.Rogue
did not fall into a post-championship slumber and secured two maps for his team against
GP.Prince
. The underdog Protoss went for heavy pressure from the start, using Adepts and Immortals to keep his opponent occupied, but Rogue held him off well enough to secure a solid economy and flip the table with Mutalisks, destroying half of Prince's economy with his first raid to force him into a desperate attack with his army, which he defended with two waves of his Roach-Ravager swarm. Having some fun with Prince on the second map, Rogue gave the tricky Protoss a taste of Zerg cheese by putting a Hatchery into his wall-off at the natural, though he didn't get much done besides forcing some static defense. Still, the GP player's build was disrupted enough for Rogue to grab two bases and hold off the following Adept pressure. Already having recognized the possibility of a DT follow-up, the Zerg prepared accordingly and took an easy victory.
Getting the thankless job of fighting a Terran on Beckett Industries,
DPG.Dark
tried a straightforward macro game with Lurkers against
GP.Ryung
, doing his best to keep the Terran busy with Nydus Worms and burrowed Roaches in the meantime. The efforts were quite in vain, however, as not even Dark was able to stand his ground against the countless advantageous positions for Terran armies on the map, which Ryung utilized without remorse and great ability. Base after base fell with Siege Tanks laying down heavy fire from unassailable spots, while Dark's counters were unable to turn the tide. The DPG player took his revenge on Lightshade, crushing the Ryung with Ling-Bane-Viper before his Ultralisks could even make an impact on the game.
GP.Rex
served up some more Zerg cheese against
DPG.Zest
during their first map, proving to be more entertaining than Rogue in this instance. Though his proxy Hatchery near Zest's natural was killed pretty quickly and the attempt at putting up Spine Crawlers there failed, a drop of Zerglings did manage to do some economic damage—though not nearly enough, especially as Rex' Nydus Worm failed to provide any benefits as well. Zest played it safe, using Oracles to keep the Zerg economy low and eventually even force Rex' surrender as their damage piled up. Glaive Adepts caused devastation in Rex' Drone lines in the second game, leading him into an unwise Roach attack with Nydus support against Zest, who was more than prepared to deal with it and then won the match with the counter attack.

Alpha X 4 - 2

Shopify Rebellion
Watch VOD
Alpha X achieved an extremely important win on Sunday, securing three points against the Shopify Rebellion to get into promising position for the playoff battle. The Golden Dragons quickly found themselves in the lead over the Rebels thanks to a great ZvZ performance by
αX.RagnaroK
, who broke
Shopify.Lambo
's eight map win streak in the match-up. On the first map, early Ling-Bane skirmishes gave the advantage to the German Zerg, but as his first flock of Mutas flew toward the enemy bases, a massive ground attack from RagnaroK hit his natural to force a retreat. Crucially, Baneling speed was also denied by RagnaroK, which made his Hydralisks all the more powerful against Lambo's composition. RagnaroK maintained his advantage on the ground while keeping Lambo's Mutas busy fighting army units instead of raiding, which eventually let him snowball his lead into a victory. The second game also featured a Mutalisk strategy from Lambo, but RagnaroK came up with the victory once more due to a perfectly timed Queen-Roach-Nydus attack.
The Rebels fought their way back into the series thanks to
Shopify.ByuN
, who wore down
αX.Astrea
on Beckett Industries through a series of Bio-Tank pushes combined with harassment, while keeping his own workers as safe as they could be. Creating a large army advantage for himself, ByuN finally started a two-pronged attack with overwhelming numbers on both fronts, which the Protoss could no more hold off. The second map went much quicker, as the ByuN played an early Bio-Tank push to which Astrea succumbed before his economy could really pay dividends.
Bringing the perfect build for the occasion,
αX.Zoun
took the first map against the
Shopify.Scarlett
in relatively comfortable manner with heavy Adept pressure into a Gateway-Immortal-Colossus push, using the Zerg player's well-known weakness to Adepts in his favor. Scarlett desperately tried to turn the tables with an early Queen-Roach-Ravager all-in on the second map, but Zoun had done his homework and played it safe: enough Shield Batteries stood at the ready to keep his crucial Void Rays alive. Though Scarlett gave it her all, wave after wave of units broke upon Zoun's iron defenses without having an impact, securing Alpha X the series.

Team NV 5 - 1

Team Liquid
Watch VOD
Alpha X's victory over Shopify gave Team Liquid an opportunity to seize the #5 spot, but the boys in blue couldn't come up with a victory against a resolute Team NV squad.
NV.sOs
and
Liquid'Harstem
began the show after a schedule change on short notice, with the Korean Protoss sitting firmly in the driver's seat. Oracles from a proxy Stargate, joined by Adepts and Blink Stalkers, kept the Dutchman under so much pressure that sOs was eventually able to win with a superior army of Stalkers and Zealots. Another proxy Stargate, this time with a different flavor, was the foundation for sOs' game plan on the second map. He began a Shield Battery-powered siege of Harstem's natural with Void Rays and also managed to hide a Pylon in the Liquid player's main base, which enabled Adepts to harass the Probes during the fighting at the front. sOs played out his lead well, eventually forcing Harstem to tap out.
Continuing the overall aggressive approach of his colleague,
NV.Bunny
also opted for lots of pressure against
Liquid'uThermal
. Sneaking two Reapers into his main base, Bunny killed nine SCVs for free while holding off the Liquid player's Hellion-Reaper attack without any worker losses. Gearing into full-on aggression from there, the Korean Terran controlled the map with a rag-tag force of Cyclones, Marines, a Raven and Tanks, laying siege to the Dutchman's natural and eventually breaking through thanks to Interference Matrix. A more even start promised a longer game on the second map, but a strong Tank-Viking-Raven-Cyclone push from Bunny at uThermal's third base broke through the local defences due to good Auto Turret usage, utterly crushing the Liquid player's forces and massacring his SCVs.
With team NV having secured the series win, there was only pride, honor, and map score on the line was
NV.Maru
and
Liquid'Clem
finally entered the stage. Going for similar Hellion-drop strategies in game one, Clem got the upper hand by proxying his Starport and Medivac, thus arriving a bit earlier than his opponent. While both initial attacks killed a similar number of SCVs, Maru's units died for their efforts while the Liquid player saved them for an incisive second attack later on. Things snowballed out of control for Maru from there, leaving Clem in a commanding position. Perhaps underestimating the Korean Terran's skill at turtling, the Frenchman made some questionable decisions about engaging, which gave Maru some unnecessary comeback chances through a base race, but eventually even the stubborn NV player had to give in and accept his first loss of the season. A straightforward macro game followed with Clem taking the initiative for the most part due to his massive air superiority, laying siege to Maru's fourth base for a long time, who simply didn't find a way to break the position until after the fortress fell. Unbeknownst to Clem, however, Maru had invested a ton of income into building up a fleet of Ravens with the Corvid Reactor upgrade, finally unleashing them to contest the Liquid Terran's air power with a mix of all the Ravens' abilities. The roles were reversed, with Clem having to scrap units together to hold on as Maru assaulted his outer bases and drove a deep push into his natural. Alas, Clem's efforts didn't avail him in the end—the Liberators he had invested so many resources into turned out to be useless when faced with an unlimited amount of Raven energy, and Maru earned a 1-1 split against Europe #1 Terran.
Weekly MVP Award: αX.RagnaroK
Breaking Shopify.Lambo's undefeated ZvZ streak to propel the Golden Dragons on their path to a clean victory over the Shopify Rebellion,

RagnaroK
did Alpha X a great service on Sunday. His 9-5 record makes him the team's most solid contributor so far this season and moments like his games against the Shopify Zerg show that the Dragons can count on him to bring out his best performances when things get really serious.
Weekly MVPs

Week 7: αX.RagnaroK

Week 6: AF.Trap

Week 5: DPG.Cure

Week 4: NV.Maru

Week 3: Shopify.Lambo

Week 2: Liquid`Clem

Week 1: NV.Creator
Week 8 Preview
Friday, May 21 12:00pm GMT (GMT+00:00) Matches

Invictus Gaming vs.

Team Liquid


XY
< Romanticide >


uThermal


MacSed
< 2000 Atmospheres >


Kelazhur


Coffee
< Lightshade >


Clem
Ace:
< Blackburn >
Invictus Gaming had a fun Week 7, being on the better side of an uneven match-up for once, but the cold and harsh reality of things will come back to them in Week 8. Team Liquid are the favorites to claim three points against the all-Chinese squad, and it seems likely that they will seize the #5 spot with a victory. However, should Invictus Gaming actually be able to take points from Liquid here, they could have a massive impact on the playoff race.
iG.XY
's TvT is never to be underestimated, and while
Liquid'uThermal
got mauled pretty badly by NV.Bunny in the previous week, there's still a bit of a difference in level between the two players. It's also a clash of styles with the Dutchman preferring aggression, while XY usually likes to sit back. Putting out their weakest player in
Liquid'Kelazhur
is certainly a sign of confidence from TL, which is not unwarranted: Even far from his peak, the Terran has
good odds
to take a clean win over his
iG.MacSed
here.
Prediction:
Invictus Gaming 1-
5 Team Liquid

Shopify Rebellion vs.

Team NV


Lambo
< Romanticide >


sOs


Scarlett
< 2000 Atmospheres >


Maru


ByuN
< Lightshade >


Bunny
Ace:
< Blackburn >
After the events of Week 7, the Shopify Rebellion have been put in a difficult spot where they will have to scrap for every last point until the end of the season. One might even argue they have the toughest remaining schedule among the contenders for the #5 spot, meaning that it would be a great success if they even recovered one point against the Korean juggernauts.
That certainly is a reachable goal for the squad, but it'll be difficult:
Shopify.Lambo
seems to have lost a bit of his mystic WTL mojo, whereas
NV.sOs
not only remains undefeated in the league, but also won his first series in the GSL Super Tournament to show that he's in good form. We should note that there is a new complication in that both players now have major individual tournaments to work on as well, whereas before they could focus most of their time and energy on WTL. The
statistics
paint a very even picture of the duel, but it's not a complete one: the reclusive sOs has played precious few PvZ's recently, leaving the meticulous Lambo at a relative disadvantage. With the NV player being victorious on all fronts at the moment, we may consider him the slight favorite.
The bad news for the Rebels is that
Shopify.Scarlett
is the
very clear underdog
against
NV.Maru
, though perhaps she could channel her best Rogue-impression and abuse recent traumatic memories to steal a map. If things go disastrously for Lambo in the first series, the Rebels are thus in real danger to just straight-up get demolished like Liquid in the previous week. But if you look on the bright side, 'sacrificing' Scarlett to Maru might have been the best outcome for Shopify, affording the other Rebels a better chance at forcing an ace-match.
Certainly there is no overwhelming advantage for
Shopify.ByuN
against
NV.Bunny
, as both players do not possess the most impressive
TvT stats
of all time, with the Rebel especially struggling to put clean results on the board in the match-up in WTL (he's 4-4 in TvT up to this point). Their most recent battle went 3-2 in favor of Bunny in the GSL Super Tournament, which casts doubt on ByuN's ability to post a clear win which his team desperately needs. The solace of online competition might give ByuN the edge he needs to take a 2-0, but Bunny's recent results suggest he should be able to lock in three points for his team.
Prediction:
Shopify Rebellion 2-
4 Team NV
Saturday, May 22 12:00pm GMT (GMT+00:00) Matches

Good Game Gaming vs.

Alpha X


Patience
< Romanticide >


Zoun


Dream
< 2000 Atmospheres >


RagnaroK


Cyan
< Lightshade >


Astrea
Ace:
< Blackburn >
Alpha X took an important step towards the playoffs in Week 7, and with duels against Invictus and LP coming up in their remaining matches, they have the easiest schedule remaining among the contenders for the #5 spot (should it come to the FINAL tie-breaker, they've beaten both Shopify and Liquid in head-to-head matches). But the Golden Dragons shouldn't look too far ahead, as they still need to take care of Good Game Gaming and end their playoff hopes. The Chinese team would have to walk an extremely difficult road to qualify for the postseason, but a win against Alpha X would keep it within the realm of reality.
As it turns out, the match-ups are relatively favorable for GGG.
GGG.Patience
had racked up a winning streak over
αX.Zoun
until April 2021, when the Alpha X Protoss finally put an end to that, coinciding with his surge in PvP form. Overall, the Alpha X player should be a
favorite
to secure both maps in this duel, but Patience is always a danger to steal a map.
The pendulum swings the other way in
GGG.Dream
against
αX.RagnaroK
: The historical record between both players is exactly 50-50 (
or, more precisely, 31-31
), but the Terran has won the majority of their clashes in the current year, which enables him to claim the role as a slight favorite for himself despite RagnaroK sporting the better match-up stats recently. With their last encounter ending 4-3 for Dream, a 1-1 split seems rather likely here.
Things may very well turn out so that
GGG.Cyan
and
αX.Astrea
will decide the fates of these two teams. Fortunately for Alpha X, Aligulac considers this series to be the
most one-sided
of the three. As is often the case, we must put these stats into context: While Astrea for sure has confidence in his Protoss mirror at the moment and his recent stats in the match-up look very good, they are massively boosted by farming weaker Protoss players in the American ESL Open Cups. Cyan, on average, met far stronger opponents both from Korea and Europe, which blunts Astrea's statistical advantage a bit. Their meetings in the past year have yielded very even results, but it also feels like Cyan played much better in 2020 than he did so far in 2021, so the computational fomrula may yet be right about this one—the American Protoss has the edge to close things out for his team here.
Prediction:
Good Game Gaming 2-
4 Alpha X

Dragon Phoenix Gaming vs.

Team eXoN


Rogue
< Romanticide >


MaxPax


Cure
< 2000 Atmospheres >


SpeCial


Dark
< Lightshade >


Cham
Ace:
< Blackburn >
Forcing an ace match against Team NV and being close to do so against KaiZi Gaming, Team eXoN have shown they have the potential to dance with the top teams of the league, even though they do fall short of victory in the end most of the time. Dragon Phoenix Gaming, hungry to further climb the ranks before the playoffs start, thus will have to take their challengers seriously to avoid a disastrous upset.
To that end, the match-ups look good enough for the Chinese team:
DPG.Rogue
and
eXoN.MaxPax
have had a
close battle
this year already with the Zerg coming out on top and as he's proven so far this season, the young Protoss is always good to take a map off his opponent. Rarely, however, was he able to do more than that. Being a connoisseur of cheese himself, the reigning GSL Code S champ might have some things to show MaxPax himself, making this a potentially very entertaining duel.
In the clash between these two TvT experts,
DPG.Cure
has gotten the better off
eXoN.SpeCial
in the majority of their
past encounters
. The Mexican Terran put on an impressive display recently in the GSL Super Tournament, but the close series against KZ.INnoVation also revealed a lot about his approach to the match-up. One hasn't got the impression throughout the season that the eXoN player cared too much about success in the WTL, so it's likely he'll try to get over with this series as quickly as he can to focus on Super Tournament, where he may have to play another grueling TvT series against NV.Maru. Cure, meanwhile, is the single undefeated player in the top echelon of the WTL's individual rankings and has brought his best performance every week, so he should be considered a slight favorite here.
Whatever might happen in the first two matches, bar an unlikely and catastrophic 0-4,
DPG.Dark
should be able to wrap things up against
eXoN.Cham
without many problems despite the recent trend of him not being able to take 2-0 wins in WTL. Cham recently suffered a setback by failing to advance from the group stages of the DreamHack Latin American regional, and Dark could take advantage of a demoralized opponent to build momentum for himself.
Prediction: Dragon Phoenix Gaming 4
-2 Team eXoN
Sunday, May 23 12:00pm GMT (GMT+00:00) Matches

Team LP vs.

Team GP


Wanted
< Romanticide >


Puzzle


Alka
< 2000 Atmospheres >


Ryung


JieShi
< Lightshade >


Prince
Ace:
< Blackburn >
Having already scored one point, Team GP could once again overtake Invictus Gaming with a win over the underdogs from Team LP to take the spot as the best of the low-tier teams. While Team LP have shown the potential to upset opponents throughout the season, things simply tend to not go their way even when the opportunity arises. It feels like they should have played
LP.mymy
again this week, trying to get him all the experience they can to help him develop more, since he was by far the most impressive of their players this season so far. As things stand, the line-ups look very favorable for Team GP as was expected.
Prediction:
Team LP 0-
6 Team GP

KaiZi Gaming vs.

Afreeca Freecs


INnoVation
< Romanticide >


Trap


TIME
< 2000 Atmospheres >


Armani


Solar
< Lightshade >


TY
Ace:
< Blackburn >
KaiZi Gaming have a buffer of four points from falling out of the playoffs, but the defending champions don't have the easiest path ahead of themselves as they still face the hungry pursuers of Alpha X and Liquid, as well as their arch-nemeses in Dragon Phoenix Gaming. For now, they must contend with ranking leaders Afreeca Freecs in the marquee series of the week. A victory would give KaiZi much more security regarding the playoffs, but could also give them a better seed down the line. Likewise, the Freecs are not in immediate danger of missing the cut-off, but surely would like to keep the #1 spot for a direct seed into the Grand Finals. With Stats having left to start his military service, the Freecs now have much less power in the gauntlet playoff format, making it all the more important to finish high in the regular season.
All three clashes between
KZ.INnoVation
and
AF.Trap
in the current year have been exceedingly
close affairs
in terms of score, which bodes well for the overall excitement of this series as it's likely that neither player can provide a critical advantage to their team early on. That said, Trap sports the much better general and PvT form with both players being top scorers in the league: INnoVation is 13-3 (4-0 in TvP) and Trap is 10-2 (1-1 in PvT), showing high consistency from both opponents every week. While this could go any way realistically and Trap may have a Super Tournament match to still prepare for, a map-split looks likely here. Besides the gameplay itself, this match should be entertaining just for the trash-talk between the two former teammates, who are not shy about exchanging barbs.
KZ.TIME's
diminished WTL form has cost KaiZi Gaming some points this season, but the Terran showed up last week when it mattered against eXoN.MaxPax and closed the series out for his team. It's understandable how certain members of the Chinese community are slamming the panic button right now, but as neutral observers, we prescribe patience.
AF.Armani
is a strong opponent for sure, but he has an
unusually poor record against TIME
in particular. Armani has a solid ZvT record against all other opponents and has a very impressive WTL record of 10-2 so far this season (equal to his teammate Trap), so it will be interesting to see who prevails in this particular match.
The final tally or the need for an ace match may then be decided by
KZ.Solar
and
AF.TY
in one of the last team league matches the Terran may ever play. TY has had Solar's number this year with a very thin map win advantage in their
personal meetings
, but his TvZ numbers overall do not exactly look hot, whereas the KaiZi Zerg sports quite a solid win rate in the match-up. Especially after being cheesed out of his final GSL tournament before starting his military service by NV.sOs, TY will want to put up a great result for his faithful employer before saying his goodbyes… ...or he could be focused on enjoying his last remaining days as a free man. Again, this one is too close to call decisively for either party, which indicates a high probability for a map-split, but if a favorite had to be named it would be Solar.
While TY securing the win would make for the best story, chances for an ace match in this series are pretty high. Trap vs Solar are the likely ace picks, but considering Solar's overwhelming form in ZvP (10-0 on the season), Afreeca might have to consider a different option. Could we even see TY take on INnoVation in one last ace match? In any case, we're looking forward to a close and exciting series!
Prediction: KaiZi Gaming 4
-3 Afreeca Freecs
---
Credits and acknowledgements
Written by:
TheOneAboveU
Editor: Wax
Stats: Aligulac.com & Liquipedia
Images: SCBoy