The first Code S semifinal match has been locked in, with Dream and Rogue set to clash after advancing from day one of the quarterfinals.

Dream took a 3-0 sweep over Bunny in the first quarterfinal, leaning heavily on the Proxy-Barracks Reaper cheeses that served him well in his RO16 matches against Cure. According to Dream, it was a second-layer mindgame—after he used such strategies in the RO16, certainly Bunny wouldn't expect him to use them again? Dream also revealed he had been monitoring Bunny's practice activity, and had seen that Bunny had played several lengthy TvT's against Team NV teammate Maru. In Dream's estimation, a player good enough to force long macro games out of Maru was best handled in the early game.

Despite being a one-sided series, Dream vs Bunny produced a uniquely entertaining bout in game two. Playing on new map Blackburn, Dream looked dead in the water after his 3-Barracks Reaper all-in was stopped. However, thanks to a Command Center-float to the 'island' expansion on the map, in conjunction with an all-time disastrous collapse by Bunny, Dream was able to miraculously turn the game around (TL.net user Insidioussc2 might be pleased to know that Dream thanked the mapmaker after the series).

Rogue had a much more difficult time in advancing to the semifinals, having to claw back from a 0-2 deficit against Zest to win in a 3-2 reverse-sweep. Risky strategies defined the series—be it Drone drills, Nydus all-ins, DT drops, or Carrier rushes, the games were mostly decided by the success (or failure) of either players' gambits. Rogue ended up getting the last laugh in game five on Lightshade, holding off Zest's 6-Gate Glaive-Adepts to complete the reverse-sweep (the infamous Zest bank made an appearance during a critical Adept attack, though it's unclear whether or not it actually decided the game).

Rogue was typically self-deprecating in his post-match interview, saying "[I was] embarrassed by my level of play." Still, he seemed happy to get the chance to "punish" Dream in the semifinals, mentioning how Dream had expressed his confidence in a head-to-head match when they went out for drinks after the RO16 group selections. Dream, while admitting a match against Rogue would be tough, seemed to find a silver lining in the fact that the new map pool favors Terrans.

Code S will resume on Thursday, Apr 22 9:30am GMT (GMT+00:00) with day two of the quarterfinals, featuring Hurricane vs Maru and INnoVation vs Trap.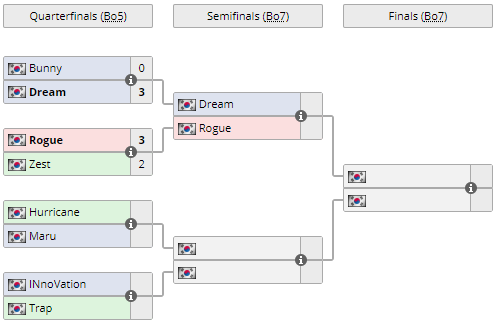 ---
Match Recaps

Quarterfinal #1: Bunny vs Dream

Game 1 - 2000 Atmospheres: Dream opened up with 2-Barracks Reapers, proxying one Barracks out on the map. On the other hand, Bunny played a more conservative Barracks-Factory expansion strategy. Dream didn't commit too hard to Reapers, applying some early pressure with four Reapers and transitioning into a macro game himself. The two players ended up with their expansions starting mining at similar times (with Dream quickly adding a third Command Center as 2-Rax Reaper players commonly do), but with Bunny having a tech/gas advantage from his opener.

Bunny's tech advantage manifested in a dangerous early/mid-game army with 3 Tanks, 2 Ravens, and an assortment of supporting Vikings and Marines. This force handily won a battle against Dream's Marines and Tanks in the middle of the map, and it seemed like Bunny might push on to victory. However, due to some sloppy control from Bunny (notably, losing his two Ravens by letting them fly headlong into Marines), Dream was able hold the line at this third base by mustering some SCV militia on defense.

While this left both players on three bases with similar army counts, Dream came out ahead on upgrades. Bunny's investment into early tech units hadn't given him a satisfactory return, while Dream's earlier focus on double-Engineering Bay upgrades was about to pay off. Dream used his initial 1/1 vs 0/0 infantry advantage to take a fourth base, but didn't force a fight. However, once he had 2/2 vs 1/1, he pushed forward to start a Marine-Tank siege just outside of Bunny's third base. Despite not being within range of Dream's tanks, Bunny made the puzzling decision to charge Dream's siege line (inferior Marine upgrades and all), which ended in disaster for the Team NV Terran. While he eventually did dislodge the Tanks with the help of SCVs, he was left with a huge deficit in terms of both army and worker count.

Dream played out his lead a bit sloppily, losing small groups of troops here and there. However, he eventually brought his superior economy to bear, and crushed Bunny with a massive army of 3/3 Marines backed by Tanks and Ravens.

Game 2 - Blackburn: Dream went for a very drastic Reaper all-in, making one Barracks in his main and proxying two Barracks out on the map. Bunny played Barracks-Factory again, and managed to SCV scout the proxy-Barracks a few moments before the first round of Reapers was ready to move. Bunny's initial defense ended up being quite good, successfully finishing a Bunker and starting to build up his Hellion count. He even felt safe enough to proxy a Starport at Dream's natural in order to make a Liberator.

Once Bunny's Liberator came out to stop Dream's mining at his main, the game seemed like it was all but over for Dream. Instead, Bunny ended up committing one of the more remarkable throws in GSL history. We won't give a precise play-by-play of Bunny's collapse (it's much better to watch the game than read about it), but basically, Bunny showed extreme indecision in dealing with Dream's remaining Reapers. Bunny's confusion led to him having barely any mineral income at all, while Dream was able to lift his Command Center and restart his economy from scratch at the southern 'island' expansion. Why didn't Bunny's Liberator follow Dream's Command Center? Well, it sort of did, and then it didn't. Again, this was a hectic game that's better viewed than read about—Bunny's confusing Liberator was just one part of a complicated sequence of poor crisis management that led to defeat.

Eventually, mass Marines from Dream's new base arrived to destroy whatever remained of Bunny's main. In a truly desperate move, Bunny floated his buildings and then tried to micro a single Banshee to victory. While he managed to notch 20 kills on the Banshee, his control wasn't quite perfect and the Banshee was eventually chipped to death by unupgraded Marines.

Game 3 - Oxide: Both players opted for Barracks-Factory expansions this time around. Predicting an early Reaper-Hellion poke from Bunny, Dream snuck two of his Reapers around for a backdoor attack while planning to defend with a Cyclone back at home. This proved to be a great move from Dream: while his building Command Center was somewhat delayed by Bunny's Reaper-Hellion attack, he made it more than worth his while by killing a huge number of SCVs on the opposite end of the map.

Bunny was forced to recall his troops to chase out Dream's Reapers, but he looked to resume attacking almost immediately with a Hellion-Reaper-Cyclone force. Dream responded by sending his own Cyclones for another backdoor attack, relying on Tanks to defend back at home. Once again, the exchange went far better for Dream, and he jumped out to a huge economic lead.

Realizing he was very far behind, Bunny cut SCV production to go all-in with Vikings and Tanks off two bases. This set up a threatening low-ground siege outside of Dream's main (away from the natural)—to which Dream responded to by going for a third backdoor attack, this time with mass Marines. Dream's superior firepower let him win the basetrade with ease, and he clinched the 3-0 sweep.

Quarterfinal #2: Rogue vs Zest

Game 1 - 2000 Atmospheres: Zest went for an Oracle opener, while Rogue faked a regular 3-Hatch macro build before cutting Drones at 22 and going for a Speedling all-in with a Drone-drill. Zest was 100% ready for this kind of cheese, keeping his initial Gateway units safely at home and having a Probe in place to fully wall-off with a Pylon. As a result, Rogue's all-in failed miserably, and he quickly GG'd out without even trying to play from his awful position.

Game 2 - Blackburn: Zest played a Robotics-first build, while Rogue went for a regular macro 3-Hatch start. Zest followed his Robo with a Twilight Council, but it was spotted by a scouting Zergling that he allowed to slip into his main. Despite this, Zest continued to tech up to Dark Shrine, while applying some light pressure with a Warp Prism and three Stalkers.

Though Rogue had scouted the Twilight Council, he didn't expect the Dark Templars—or he simply underestimated the detection he would need (it was unclear from his post-match interview). Zest's DT's were able to end the game outright, hacking down Rogue's hastily built Spore Colonies.

Game 3 - Romanticide: Rogue went for another macro opener, while Zest matched him with an extremely quick third Nexus after making an initial Void Ray. Zest then followed with a second Stargate to try and play the mass Void Ray-style he had innovated several months ago.

However, Rogue didn't give Zest a chance to play his signature strategy. While using Speedlings to keep Zest distracted at his natural and third, he managed to sneak an Overlord into the Protoss base from an unexpected angle to get vision for a Nydus Worm. Zest only had a handful of defending Void Rays when Rogue's Queens and Zerglings tunneled into his base, leaving him with no choice but to surrender.

Game 4 - Oxide: Zest returned to Oracle openers in game four, nabbing six Drone kills and following up with the 2-Stargate Carrier rush he showed against Armani in the RO16. Unlike Armani, however, Rogue went for a fast speed-Overlord scout that discovered this strategy very early on, putting Zest in a very precarious position.

Zest decided to forge ahead with the Carrier rush anyway, while Rogue droned up gleefully and started a Spire (Zest's sloppy loss of Oracles to a fake Queen-walk from Rogue helped the Spire remain undetected). Rogue seemed to have his response to this Carrier rush down pat, even going for a cheeky Zergling drop exactly as the first two Carriers crossed the map.

After holding off the first two Carriers with mass Queens, Rogue surprised Zest with a big flock of Corruptors out of nowhere. The Corruptors hunted the Carriers down, and were basically free to kill whatever new Stargate units that were produced while Zest desperately tried to warp-in Stalkers in response. Rogue followed-up with a mass Roach-Ravager attack, which Zest quickly GG'd out to without even bothering to fight.

Game 5 - Lightshade: Zest's 2 Oracle build got him off to a good start, managing to get an impressive ten Drone kills. Zest then followed up by going for mass-Adepts from six Gateways, while also getting a third base as a fake/fallback option. Rogue wasn't fooled, however, resisting the urge to Drone-up too heavily and keeping Zest at bay with a strong standing army of Zerglings and Roaches.

After faking several aggressive moves, Zest decided to pull the trigger on an audacious shade dive into Rogue's main. While he managed to kill the Roach Warren, it was ultimately a poor trade for Zest that saw his Adept count get cut down for little gain. Rogue even had extra Zerglings to spare, which he sent for a backdoor attack that killed Zest's third base in the meanwhile.

The loss of his third Nexus put Zest in a tight spot where he was stuck on two bases after a failed Adept gambit. Zest decided to take drastic measures, building two Robotics Facilities for Disruptor production. When Rogue came knocking with his main Roach-Ravager army, Zest made the decisive move of going for a backdoor attack with his remaining Adepts while trying to stall with Disruptors at home.

The backdoor attack part of this ploy worked out for Zest, as he was able to kill all but one of Rogue's Drones. Unfortunately for him, things didn't go quite so well on the defensive end, as he didn't have enough time to get out a significant number of Disruptors (not even having the time to get a Warp Prism for juggling micro). Zest GG'd out to the Roach-Ravager force razing his main, sending Rogue on to the semifinals.