Dark joined elite company in Group B of IEM Katowice 2021, becoming the first player to achieve a perfect 10-0 map score in the IEM World Championship since MMA in Season VI (2012).

Serral came in second place, mangling the Terrans in the group but losing in a surprisingly one-sided fashion to Dark (he tapped out to Dark's speedling all-in in game one, and then failed to bust Dark with Nydus-Roach-Queen in game two). INnoVation claimed the third place spot in the group, losing to both Zergs but managing to win all his TvT's against SpeCial, TIME, and Bunny to earn a 3-2 record.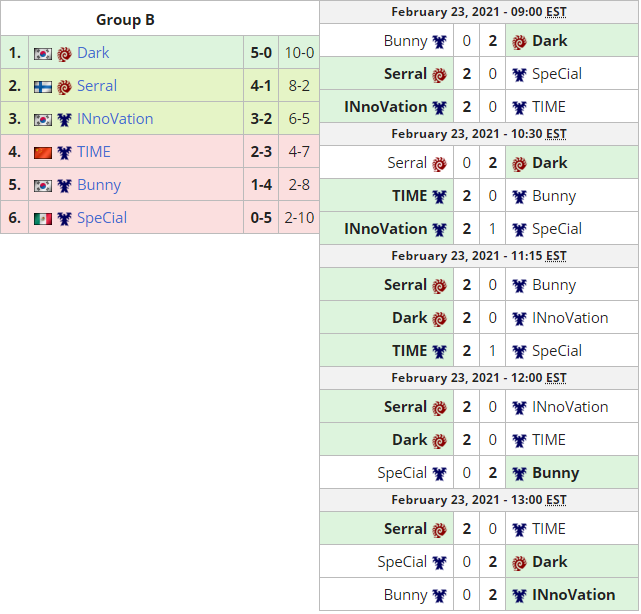 Group C was the site of a shocking upset, with title contender Trap crashing out in flames with a 1-4 record. Trap was only able to defeat Dream, who was also eliminated with a 1-4 record.

First place ended up going to IEM Katowice 2020 runner-up Zest, who finished with a 4-1 record despite face-tanking Corrosive Biles and accumulating the infamous Zest-bank at times. Surprisingly, Zest's only loss came to Astrea, who Zest had considered the weakest opponent heading into the group. It was no surprise to see Reynor also advance to the playoffs (despite his IEM woes in past years), with the Italian Zerg also putting up a 4-1 record (only losing to Zest).

Trap's poor play opened the door for one of the underdogs to reach the playoffs, and it ended up being HeroMarine who rose to the occasion. HeroMarine took down Trap, Dream, and Astrea, securing a 3-2 record that was good for third place.

While Astrea was eliminated in 4th place with a 2-3 record, he certainly deserves a shoutout for executing the most audacious strategy of the group. Not only did Astrea defeat Trap and throw Group C into chaos, but he did so by using a bizarre proxy-Nexus strategy.

IEM Katowice continues on Thursday, Feb 25 2:00pm GMT (GMT+00:00) with Group D of the RO24, featuring Rogue, Stats, Cure, PartinG, Neeb, and RagnaroK.