Tournament Spotlight: Wardi Winter Preliminaries
by dbRic1203
Over a week remains until IEM Katowice, but there's plenty of great StarCraft II to hold you over until then. One such event is the the
WardiTV Winter Championships
, the second significant online event brought to you by WardiTV in 2021, coming just weeks after the similarly named
WardiTV 2021
wrapped up earlier in February.
While most of the top players appear to be sitting this one out due to
IEM Katowice
, this is a prime opportunity to look at the players who might break out in the 2021-22 EPT Season.
GSL Super Tournament 1
runner up

Zoun
and the young Dane

MaxPax
are the obvious players of interest, but there are other prospects and even returning veterans to look out for.
WardiTV Winter is a two stage tournament with the first stage, the preliminaries, running before
IEM Katowice
, and the main event starting after the World Championships are done. The total prize pool is $4200 with $2700 paid out at the main event, $1200 at the preliminaries and another $300 for the qualifiers.
The preliminaries are composed of four, five-player round robin group stages, where the top players get a direct seed for the Ro8 while 2nd and 3rd place players get seeded into Ro12. The group stage will be played between 9th and 13th of February and the Playoffs are scheduled for the 17th and 19th of February. The top 8 in the preliminaries also get automatically invited to the main event, where they will meet 8 more invited Players.
Preview & Predictions

Group A
: Armani – MaxPax – Vanya – Gerald – Ryung

Armani
and

MaxPax
are looking like the clear favorites in Group A. Armani made it to the RO4 in the
Code S Season 3
in 2020 and is one of the few participants qualified for IEM Katowice. Him getting out of this group should be pretty much a lock. What remains to be seen is if he manages to get out of it in first place, securing himself a direct seed to the RO8. The biggest obstacle he has to overcome to get there is probably

MaxPax
. The Danish Protoss can be a bit inconsistent at times, but his highest highs show us why he's such an intriguing prospect. He put in a Code S-tier performance in the group stage of the
previous WardiTV event
, beating

Solar
and

Creator
2-0 and taking maps off

ByuN
and

Trap
. The competition for the last remaining spot is going to be fierce among

Ryung
and the Europeans

Vanya
and

Gerald
. Both EU players made it to the top 8 in one of the DH EU events last year and are actually ranked 13 and 14 in the
EPT Europe standings
. Ryung obviously doesn't have any EPT points to show for himself, but his recent results after returning to competitive SC2 (discussed in more detail below) suggest he'll be on a similar level to his EU peers for this event.
Predictions:
1st Armani - 2nd MaxPax - 3rd Ryung - 4th Vanya - 5th Gerald
Group B
: Zoun – Harstem – Bly – SortOf – AqueroN
In the 2nd group, the Super Tournament runner-up

Zoun
stands head and shoulder above his peers. The Alpha X Protoss showed strong PvP and PvZ in the first Premier Tournament of the year. While he struggled a bit against

Ryung
and

souL
in the qualifiers for this event, there isn't too much to be worried about for the Korean Toss. The fight for spot two and three in this group is going to be tough for all remaining players.

Harstem
and

Bly
appear to be slightly favored, but both

SortOf
and

AqueroN
can give them a run for their money on a good day though. Bly's performance in recent tournaments has been rather mediocre though, as he's suffered upsets at the hands of players like Milkicow, ForJumy, and Ashbringer in the last two weeks. Harstem looks the most solid among the EU players in this group, getting off to a strong start in 2021 with an impressive
70%+ winrate
across all competitions.
Predictions:
1st Zoun – 2nd Harstem – 3rd SortOf – 4th Bly – 5th AqueroN
Group C and D
With the final two groups not being finalized at the time of writing it is hard to make any specific predictions about the remaining players. A name that stands out among the remaining qualified players is definitely

Cure
. The DPG Terran is actually the only player in the WardiTV preliminaries who is also qualified for 24-player main event stage of IEM Katowice.
Cure was widely considered one of the best Terrans in 2020, but he has been more shaky in the most recent months. His performance in the GSL Super Tournament #1 in 2021 was something to forget completely, as he got bopped pretty hard by PartinG in the first round. However, the fearsome online-Cure came to play in the
$8300 WardiTV 2021 tournament
, where he topped his EU-heavy group and nabbed a top four final finish. No matter what players get put into Cure's group, he should be able to qualify for the playoffs pretty handily and could be considered to be a favorite to win the entire tournament.

SouL
, who actually won his qualifier and also got a nice little confidence boost by defeating his arch nemesis

Denver
in a
Grudgematch
for nearly $1000, should also be expected to get out of whatever group he draws (unless Wardi unveils a slew of IEM-qualified players as the remaining participants). The other confirmed participants Prince, Skillous and SouLeer might need quite a bit of bracket luck to make it out of their groups, but it's hardly out of the question.
Spotlight Players
Most of the players in the WardiTV prelims should be familiar to regular viewers of StarCraft II, so we decided to focus on some of the lesser-known players in the mix.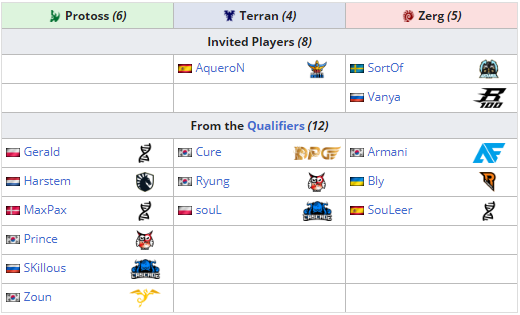 Player list at the time of writing. Subject to change.
SouLeer is a 20-year-old Spanish Zerg player for Team eXoN, who actually has been around for a while with mixed results. He has been participating in every live DreamHack event in his hometown of Valencia
since 2014
, and started to attend the European WCS Circuit Championship events in in 2018 and 2019 as well.
In 2020 he managed to qualify for two
DreamHack Masters: Europe
tournaments, though he he didn't make much of an impact as he went out 0-7 and 1-6 in matches. Lately, SouLeer has had some strong showings in other online events, beating

Rogue
in
OSC Championship 8
and finishing top four in
EPT NA Weekly #52
(beating

Nice
and

Astrea
along the way). SouLeer was also the very first player to qualify for WardiTV Winter, earning himself a spot with a 2-0 win against Korean blast from the past

TAiLS
. SouLeer's ZvZ has been by far his
best matchup
with a 60+% win-rate, while his other matchups sit at a solid 50+% win-rate over 2020. Despite his poor showings in DH Masters tournaments in 2021, he could become a solid mid-tier player yet. WardiTV Winter will show us if SouLeer can consistently punch up above his weight, as he did in OSC and the EPT weekly already.
The Protoss player for Team GP had his most noteworthy performance ever in
Code S Season 2
of 2020, beating

Zest
2-0 in the qualifiers and taking maps off both

Maru
and

Scarlett
with creative builds in the group stage. He didn't come out of nowhere, though, as he had been sporadically participating in the
GSL qualifiers since 2017
. Prince didn't really play in a lot of other tournaments until early 2020, when he got picked up by team Black Knight. Since then he's upped his activity, and has been a more frequent sight in tournaments such as WardiTV Winter.
Prince qualified for this event with a solid 2-0 vs

Gerald
and 2-1 vs

Bly
. Unfortunately for Prince, he survived a 40 minute game against the Ukrainian Zerg only to get beaten by Danish Protoss

MaxPax
in less than 10 minutes. Prince hasn't been able to show his best matchup yet, as his
highest win-rate in 2020 was in PvT
and he stated that he was happy about playing Maru back in GSL Code S S2. If he takes some time and prepares some interesting builds again, he can still be considered a dangerous opponent and it can be expected to make an impact in the groups.
Ryung is hardly a lesser-known player, but he's been absent from the scene for a while. The veteran Korean Terran completed his military service in the summer of 2020, but only started to get back into the competitive SC2 toward the end of the year. While his return got overshadowed by the stellar comeback of

ByuN
, any Korean returnee is welcome for the added depth they bring to the scene.
Since Ryung's return
, he has been playing in a variety of tournaments such as the Chinese
Kung Fu Cups
,
Olimoleague
, and the
EPT KR weekly
. So far, he's yet to get any further than the RO8 in those weeklies.
In the most important performance since his return, the
GSL Super Tournament 1
qualifier, he was eliminated by INnoVation and Patience. Ryung's qualifier run for this event was anything but smooth sailing either. His first try was ended by Bly in the qualifying match, and his 2nd try by Cure. In his 3rd try he finally pulled through with a close 2-1 win against TAiLS, where the first match even was a tie. Still even the closest possible win is a win.
It's definitely been a slow start for Ryung since returning from the military, but there's reason to be optimistic going forward. He looks to be taking things seriously, joining Team GP and really ramping up his participation in events. Given his multiple top four finishes in the past, and the fact that he only really started playing competitive events again back November of 2020, Ryung deserves to be treated with some patience.
---
Writer:
dbRic1203
Editor:
Wax
Images & Art:
WardiTV, Blizzard
Statistics and records:
Liquipedia
and
Aligulac.com