ByuN wins ASUS ROG Online 2020
On August 18th,
ByuN
announced the completion of his eighteen month mandatory military service with a short tweet:
"ByuN is back."
Three months later, ByuN defeated
Maru
4-2 in the finals of ASUS ROG Online, winning the first championship of his post-military career.
Back in September, ByuN's almost instant return to the GSL
Code S
round-of-16 suggested he might be the strongest military 'returner' yet. Still, few could have expected his
tour de force
showing at ASUS ROG Online.
ByuN kicked things off by taking out
Reynor
3-2 in a thrilling series, and then proceeded to beat
Stats
3-1 to top his group. Things didn't get any easier for ByuN in the quarterfinals, as he drew the other top European Zerg in
Serral
(who had a lower seed after an upset loss to
ShoWTimE
in the group stages). ByuN topped his earlier performance against Reynor with an even more electrifying 3-2 victory against the Finnish Phenom, clinching victory on Romanticide after almost mining out the entire map. In both series, ByuN looked like an absolute monster in late-game TvZ, using Ghosts and Mines to take incredibly efficient trades and win slow wars of attrition.
ByuN got a minor reprieve in the semifinals, sweeping
Solar
in a series where the Zerg barely got a chance to even see the Terran natural (an undeservedly one-sided end for Solar, who had defeated Maru, Clem, and PartinG earlier on). Then, it was finally time for ByuN to face Maru.
Maru was actually the player who had ended ByuN's comeback GSL run in the RO16, shutting down ByuN's aggressive, mid-game Marine-Tank style before finishing him off with mass Ravens. This time around, ByuN was able to prevent Maru from activating turtle-mode, forcing the games to early/mid-game conclusions with constant action. The finals came to an end on Pillars of Gold, with ByuN narrowly holding off Maru's proxy-Reapers and follow-up all-in to collect the last GG of the tournament. Three months after concluding his military service, and four years after lifting the trophy at
BlizzCon 2016
, ByuN was a champion once more.
Surprisingly, ByuN almost failed to qualify for ASUS ROG at all, barely claiming the final qualifier spot with a narrow 2-1 victory against Elazer. If ByuN had not gotten a safety bunker down in the final set, or if Elazer had microed his Ravagers just a bit better, we may never have seen ByuN's incredible ASUS ROG run. ByuN himself was humble in the post-finals interview, saying he was very "lucky" to win. But BYuN did allow himself a moment of cheeky confidence as well, saying his upcoming
Super Tournament 2
opponent Dark was a very powerful player, but still predicting himself to come out on top.
The Super Tournament will be quite important for ByuN as he looks to secure a spot at IEM Katowice. Winning ASUS ROG awarded ByuN with not just $6,000 in prize money, but 250 precious EPT points that place him just beneath the Katowice cutoff in the
Korea's point rankings
. While there are some
unusual variables
in the Korean rankings that might make ByuN's qualification easier, he'll surely want to control his own destiny and 100% confirm his spot with strong performances in his remaining tournaments.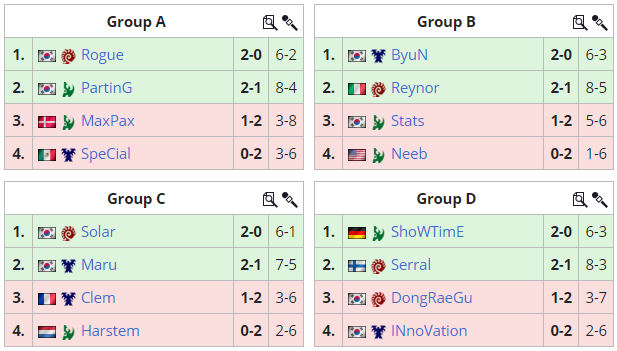 Besides ByuN's triumphant return to international StarCraft, the broader story of ASUS ROG was of how Korea salvaged some pride after a humiliating
DreamHack Winter
performance two weeks prior. Back then, four out of six Korean representatives failed to even make it out of the group stage. At ASUS ROG, the world warriors were the ones falling short of expectations (which may have been overinflated from Dreamhack), with Clem going out in the group stages after losing to Maru and Solar, Serral losing in the aforementioned quarterfinal clash with ByuN, while Reynor was stopped by Maru in the semifinals (a highly entertaining series that was overshadowed by ByuN vs Serral). Still, with the ByuN vs. Serral and Maru vs. Reynor series both going the distance, ASUS ROG left us with some rather interesting "what-if's" headed into the next major international of
TeamLiquid Starleague 6
.
---